Best Way to Prepare for Christmas All Year
Note: As an Amazon Associate, I earn from qualifying purchases. If you click on a link from Amazon or another of my advertising affliates, I will earn a small commission at no additional cost to you. Please see my full disclosure policy here.
Christmas is the most wonderful and magical time of the year, but it takes hours of behind the scenes action to make that magical season and holiday special for your loved ones. I want to share my Christmas Journal and how you can use it to prepare for Christmas all year long so you can have a stress free holiday and enjoy all the wonders the season has to offer.
Learn how to Prepare for Christmas All Year
The Christmas Journal is a book about all things Christmas.
In the journal I list:
Stocking Stuffers Ideas/Items Bought
Gifts Purchased through the year
Christmas Card List
Gifts my Family Received at Christmas
Christmas Memories
Items Purchased during After Christmas Sales
This is what mine looks like, very simple. It's been a busy summer and I have not updated my book, I will have to go downstairs and write down all the stocking stuffers I have been picking up at the store. I also can't show the other pages because I don't want to give away Christmas surprises.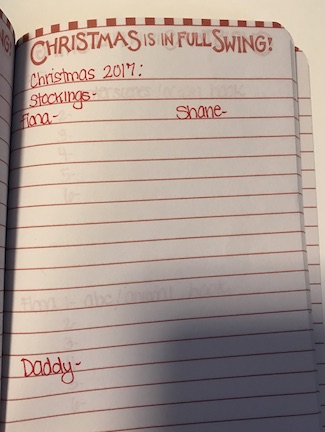 Plus remember you can add any category that you need to help you have a stress free and organized Christmas.
For example
Christmas dinner or brunch
Travel plans
Christmas tree or decorations
Christmas photos
Holiday events
Stockings have always been a favorite tradition in my family, I loved waking up on Christmas morning and finding all the wonderful stuff in my stocking. It's a tradition I have carried on for my children. For stockings I like to give items that can be used all year long (not just Christmas related). All year long I check the Target Dollar Spot, Dollar Store, and clearance items for stockings. In the journal I list all the items I buy throughout the year. A great time to buy stocking stuffers is at back to school time (crayons, markers, glue, glitter, and learning materials, dry erase board, pencils and more). Check back in a couple months and I will be adding a stocking stuffer blog post.
I like to purchase gifts throughout the year for Christmas.
Here are some reasons why it's great to shop all year long:
Less stressful
Enjoy shopping without the Christmas rush
It's not a financial strain
Wider selection of gift choices because stores carry different items at different times of the year
For example my mom loves anything for her garden which is hard to find at Christmas time so I purchase her presents during the gardening season. In my journal I list each family member and the gifts I purchase throughout the year. Even for the kids I buy gifts throughout the year because my husband and I have set a gift limit and we always give a new book, a game/learning activity/puzzle, a toy they really want (this is usually the last thing we buy), something creative, more items for a favorite toy they already have, for example more LEGOS for a lego fan or dress up clothes for someone who loves to play dress up.
Keeping track of what you buy will help you stay organized and you won't forget presents you purchased. Designate a special box/bag to put the presents and stocking stuffers in so they don't get misplaced.
Then to be even more prepared, start wrapping the presents once you have purchased them. Yes, I know it's not Christmas time, but during the season you will love relaxing sipping your coffee (or whatever your favorite drink is) watching the snow fall enjoying a Christmas movie without worrying about your "To Do List." During the After Christmas Sales buy wrapping paper, tissue paper, boxes, gift bags, bows, and tags so you are ready to wrap anytime during the year.
Every year I list who I send a card to. I feel like the card list is always changing as you create new friendships. To be prepared for Christmas cards I start looking for a card now and list the website and the card name in my journal. Since having kids we always send a photo card, but if you like to send a regular card buy your cards during the After Christmas Sales. If you buy your cards a year ahead start addressing them or create address labels. I know some feel address labels are not personal, but I think if you make an adorable label and if it saves you time and stress- go for it. This will help you have your cards ready to mail as soon as the season starts.
If you do photo cards start making plans for Christmas photos or decide if your going to use photos from throughout the year. I noticed last year the best sales for photo cards are before Thanksgiving and during the Thanksgiving holiday sales. I feel like this makes it hard to take cute Christmas photos because the season hasn't started yet. I am thinking about going to a tree farm or park with evergreens to try and take some photos for our card.
After the Christmas holiday, I love to write what happened, the favorite toys, the kids excitement, funny things said and all the memories that make Christmas magical and wonderful. I also list what the kids received as gifts. I like to list the gifts the kids receive because I have a horrible memory and during late summer/early fall I start preparing for all the new toys that will be coming. I start cleaning out toys that are not played with, missing parts, broken (all broken toys go into the trash) and donate or sell. My toy rule is, if it hasn't been played with in a year, then its time to make room for something new.
The day after Christmas I'm exhausted! Being a parent/grown up at the holidays is tough work, but I make my way out to the stores to find those deals and steals. I usually buy wrapping supplies from the Dollar Store and toys from Target (for next year). I've had luck at drug stores for finding paper products or stocking stuffers for next year.
I hope this helped you and gives you ideas to prepare for Christmas and have a stress-free holiday. I feel like preparation is key because now I get to enjoy the Christmas season with my family, going to different events, and not feeling overwhelmed with the preparations to create a magical and memorable Christmas.
Below are some affiliate links and I may make a commission for purchases made through the following links.

Do you love Christmas, but dread the preparation? Check out how I prepare for Christmas all year long. Learn my tips and ideas to use and create a Christmas Journal to have an organized and stress free holiday.