Merry and Bright Front Porch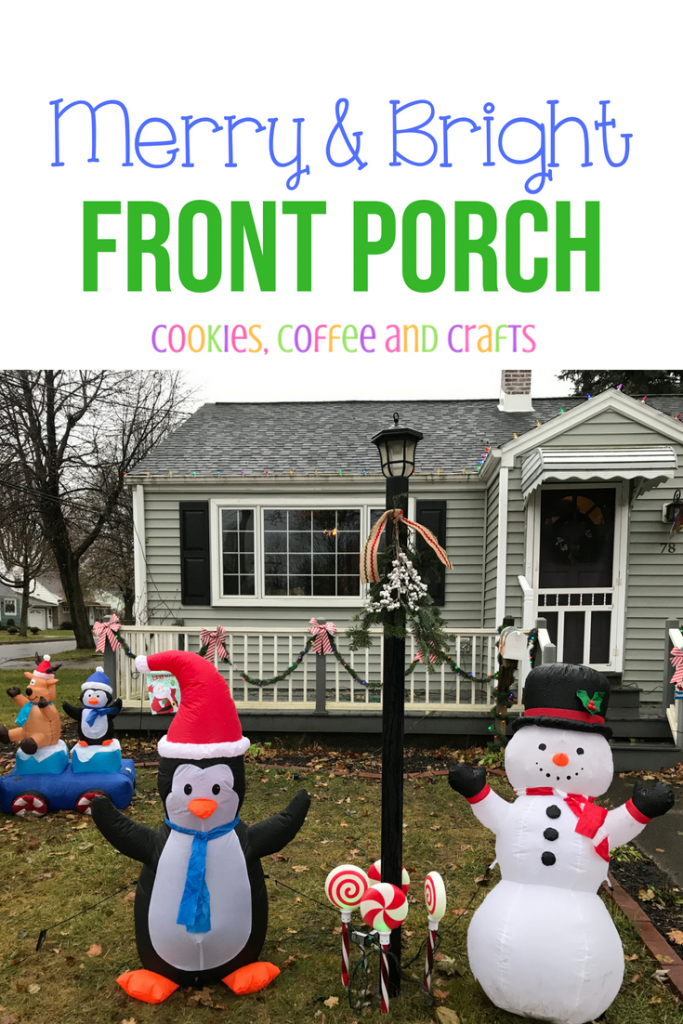 Note: As an Amazon Associate, I earn from qualifying purchases. If you click on a link from Amazon or another of my advertising affliates, I will earn a small commission at no additional cost to you. Please see my full disclosure policy here.
Welcome to the 11th day of the Christmas Blog Hop. I can't believe we are on the 11th day. December is going by very fast to me. Today I am going to share my front porch and yard with you. My son is so excited to share his blow ups on my blog, he always takes pictures for me to put on my blog, he's my mini assistant. From our house to yours- Merry Christmas!
---
They have all been busy as Elves creating, decorating, cooking and crafting tons of new ideas for you to try this holiday season!
Shirley~Intelligent Domestications I Alli~An Alli Event I Michelle~Our Crafty Mom I Marie~DIY Adulation 
Erlene~My Pinterventures I Beverly~Across The Blvd. I Debra~Shoppe No. 5 I Victoria~Dazzle While Frazzled
Megan~C'mon Get Crafty I Michelle~Michelle James Designs I Amanda~Domestically Creative
Deborah~Salvage Sister & Mister I Jeanie~Create & Babble I Sherry~Olives & Okra
Jenny~Cookies Coffee & Crafts I Emily~Domestic Deadline I Bonbon~Farmhouse 40
Leanna~Of Faeries & Fauna I Pam Larmore~P.S. I Love You Crafts I Kelly~North Country Nest I
Marie~The Inspiration Vault I Gail~Purple Hues and Me I Lynne~My Family Thyme I
Karen~Dragonfly and Lily Pads I Trisha~Blowing Away Out West Lorrin~Embrace The Perfect Mess I
Terri~Christmas Tree Lane I Sam~Raggedy Bits I Cyn~Creative Cynchronicity  Valeria~Val Event Gal 
Yami~The Latina Next Door I Jeannee~Centsably Creative I Tania~Little Vintage Cottage
 Lauren~Wonderfully Made I Vanessa~DIY 180 I Kimberly~A Wonderful Thought I
Kim~Everyday Parties  I Dru~Polka Dot Poplars
---
One of the main reasons I chose our house was because of the front porch, I have always wanted a house with a front porch. The front porch is a great place to make memories.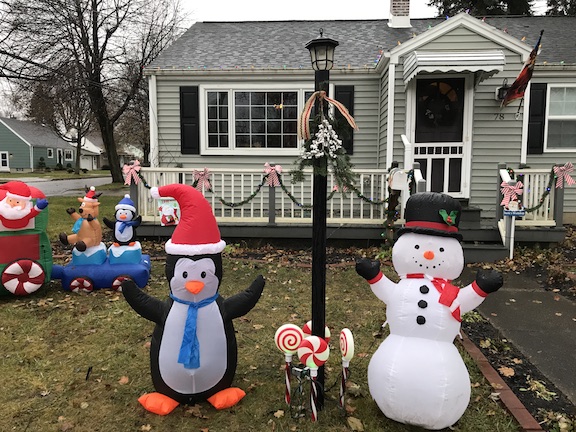 Since I have an open front porch, Christmas decorations can be challenging because of the winter weather. I live in WNY outside of Buffalo, NY so lake effect snow is a part of life. When planning my Christmas decorations I always have to take in account the weather. My pictures show how the weather changed from leaves on the ground to frost to snow at the end. I love garland with lights and snow piled on top.
My front porch is a collection of Santas with candy cane ribbons and garland with lights. We are big fans of Santa around here! The kids are so excited for him to come and love counting down the days to Christmas Eve.
Below are some affiliate links and I may make a commission for purchases made through the following links.
Candy Cane Ribbons- I bought these years ago when we moved in, I think from AC Moore. They are awesome because they are plastic and hold up great in the weather (I've had them for 5 years). I use zip ties to attach them to the porch.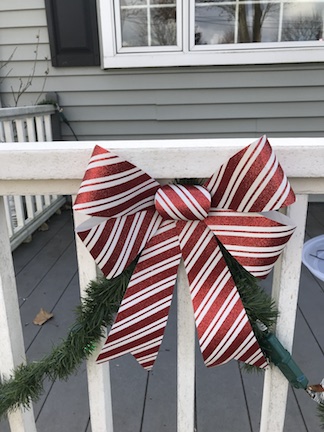 MailWraps Tis the Season Mailbox Cover 03929
– my mom loves these and has started my collection for me of mailbox covers and magnetic yard signs.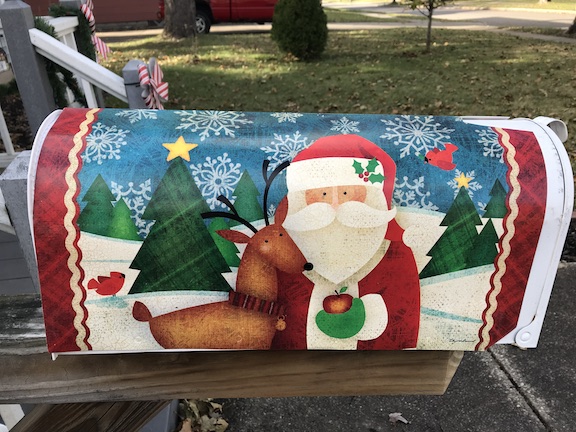 Yard Design Santa Gifts Yard Sign 74026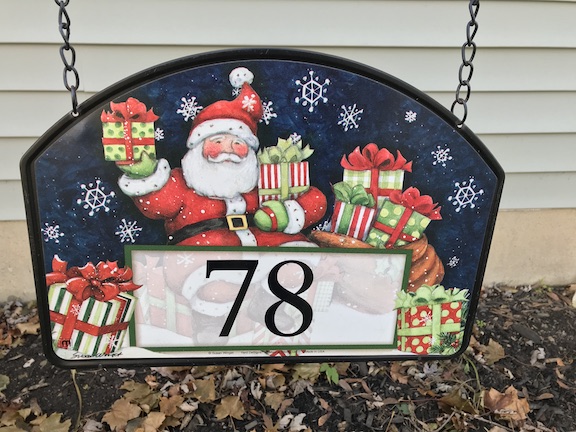 Santa Yard Sign- This santa is so cute, he just makes me smile. I think I bought him at Walgreens 5 years ago for our First Christmas in our first home.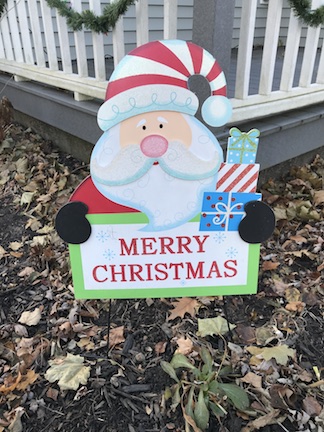 Garland with Lights- The garland was 50 Foot Non-Lit Green Holiday Soft Garland

and my dad added the lights to them for me. Then I just drape it on the porch and wrap it around the mailbox post. I love garland on porches because it looks great during the day time to.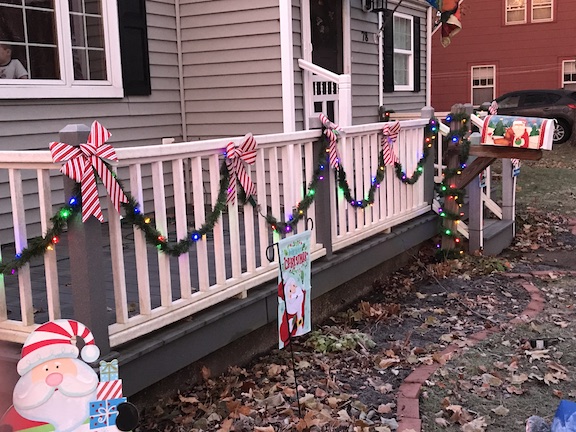 These are my sons pride and joy. He has had a love for blow ups since he was little. They are his favorite thing. He even has a few on his Christmas list.
Santa Train Blow Up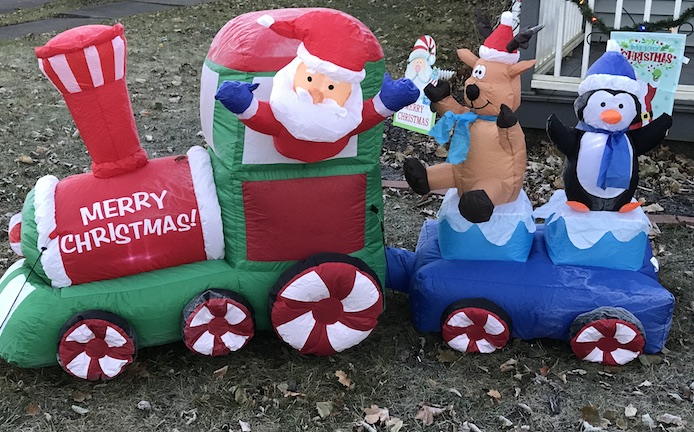 Lamp Post Display with Awesome 4 Foot Self Inflating Illuminated Snowman Holiday Yard Decoration Blow Up

and Blow up 4 Foot Self Inflating Illuminated Penguin with Santa Hat Yard Decoration Inflatable
– I added the lollipops around the lamp post and created the swag from the branches we cut off the bottom of the christmas tree. These LED Lightshow SynchroLights – FOUR LOLLIPOP PATHWAY MARKERS
are very similiar to mine, its so bright and cheery when the lollipops change colors.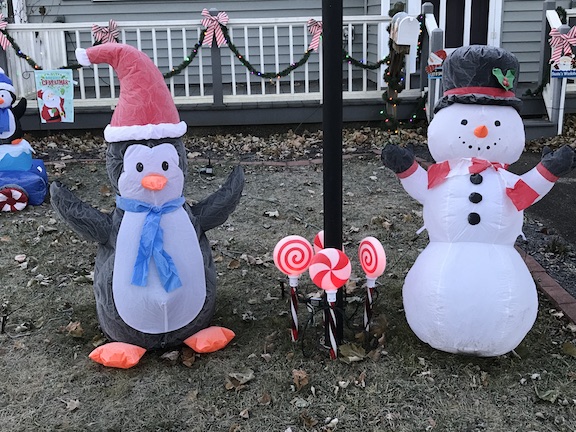 Swag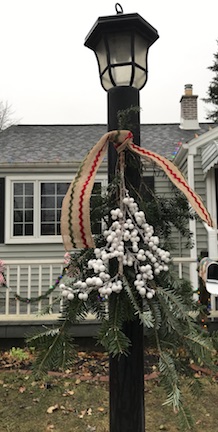 Rustic Christmas Wreath on the front door- this is a wreath that I made for the front door and I designed it around the burlap ribbon because I loved it so much. This wreath can also stay up for January becuase it has a winter feel to it. Find out how I made it https://www.simplycraftylife.com/christmas-wreath/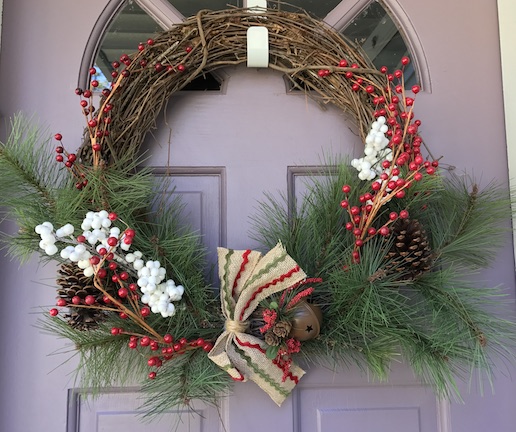 Merry & Bright- this is my newest decoration for the front porch this year. My dad built a new deck and gave me the extra deck wood, which is perfect for making outdoor signs. I painted them white outdoor paint and added the red vinyl to create the signs.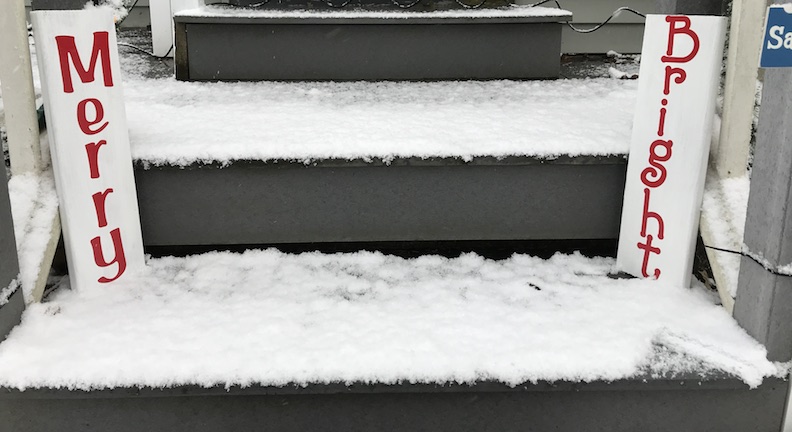 Decorating for Christmas is one of my favorite things to do because I hope my house adds a smile to someones face and brings them Christmas cheer when they drive or walk by. Merry Christmas, Happy Holidays, Happy New Year! We hope all your holiday wishes come true!
This is what my porch looks like most of the winter and Christmas season. The snow has fallen and it will be here to stay.