DIY Fall Yard Decor for Every Home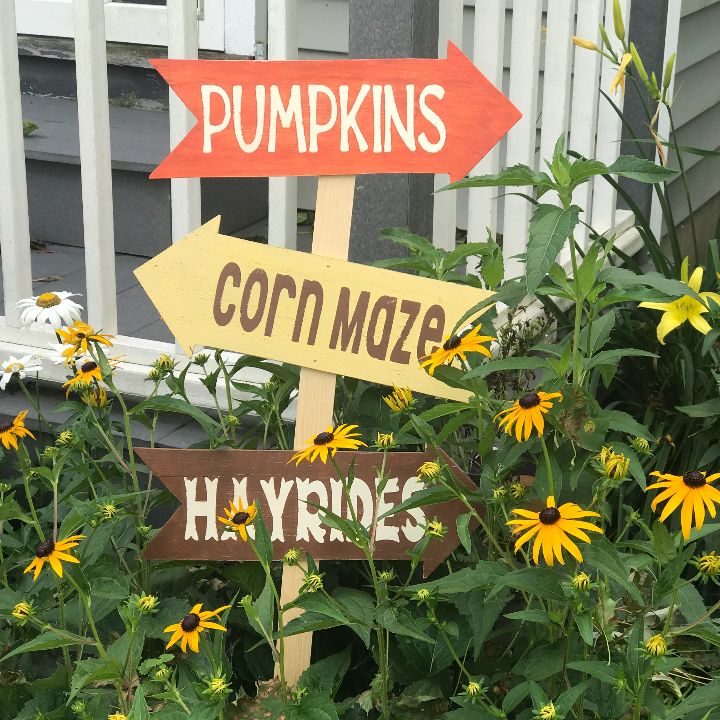 Note: As an Amazon Associate, I earn from qualifying purchases. If you click on a link from Amazon or another of my advertising affliates, I will earn a small commission at no additional cost to you. Please see my full disclosure policy here.
You know those crazy people who wait for fall all year? Thats me! It's only August, but I"m feeling the fall vibes. I've had many people ask "When can you start decorating for fall?" Labor Day is usually when I start. My new wooden DIY Fall Yard Decor is just waiting to decorate.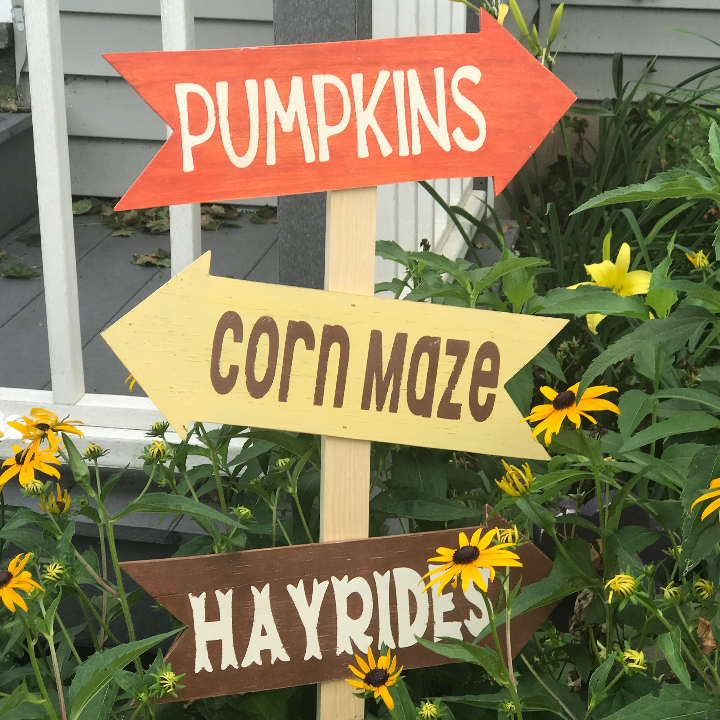 The DIY Fall Yard Decor can be broken down into 3 parts- creating the arrows out of plywood, painting/decorating them and creating the DIY fall yard stake. My pin inspiration used already made arrows and you can do that too. I chose to make the arrows out of plywood because it's cheaper than buying the arrows already made.
Materials for DIY Fall Yard Decor
2×2 Quarter Inch Sheet of Outdoor Plywood
Jigsaw
Cricut Maker (Buy it on Amazon or Buy it on Cricut)
Card Stock
220 Grit Sandpaper
Removable Vinyl
Plaid Paint- Folkart Sunflower , Folkart Vintage White, Harvest Orange , Nutmeg Brown
Raffia Ribbon
Make Up Wedge
Plaid Flat Paint Brush Set
Cricut Weeding Tool
Mod Podge Clear Acrylic Spray in Matte
Cricut Design Space File
1×2 for Stake
Creating the Wooden Arrows for the Fall Outdoor Decoration
In Cricut Design Space, I created the arrow design and cut it in card stock. Then use the card stock arrow to trace the shape onto the plywood. For this decoration, I used a 2×2 sheet of a quarter inch plywood that was $8 at Home Depot.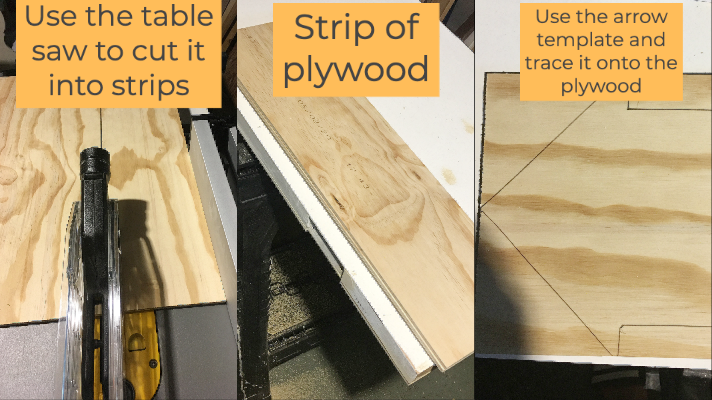 Follow the directions in the above picture to cut the plywood to make the arrows. Cut the arrow shapes out of the plywood using a jigsaw. Give the arrows a light sanding with 220 grit sandpaper and now they are ready to paint and decorate.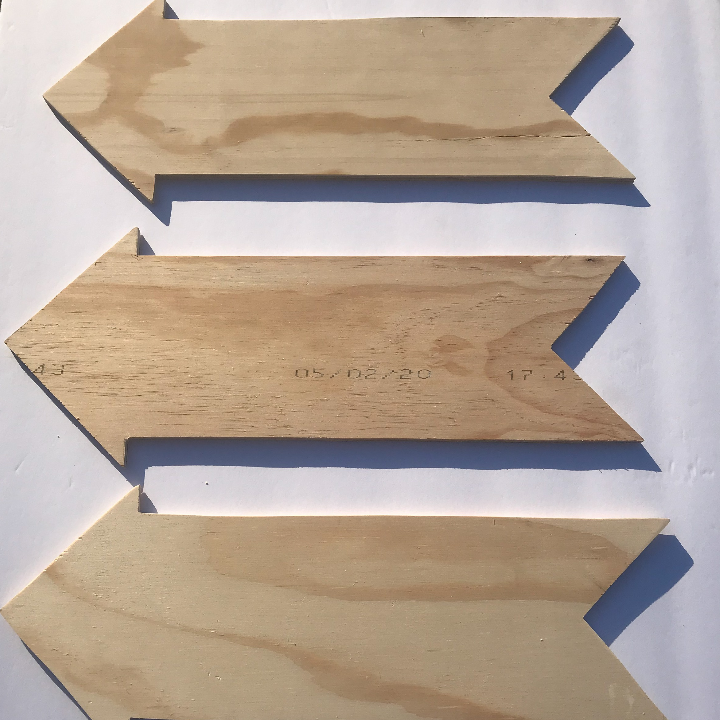 Creating the Yard Decor in Cricut Design Space
For this sign, I chose our families favorite things to do in the fall- pumpkins, the corn maze, and hayrides. I created the arrows and the words in Cricut Design Space, use this **Cricut file to create your own.
Painting the Arrows for the DIY Fall Decor
For painting the arrows, I'm going to use the technique of painting over removable vinyl. I'm giving two of the arrows a base coat of Folkart Vintage White and one in Nutmeg Brown (the corn maze one).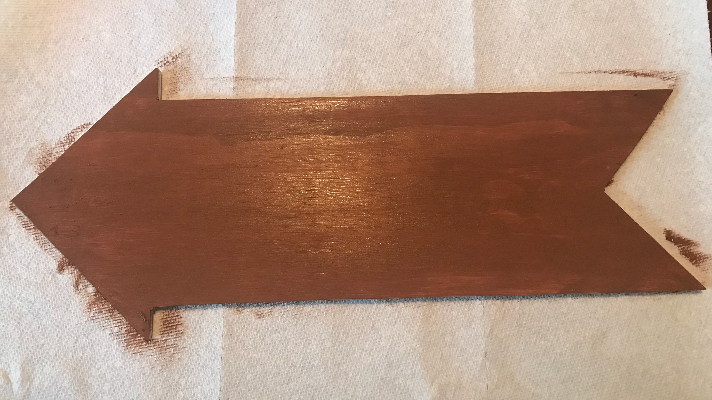 Just paint the top part of the arrows. This will be the color of the words on the yard decor.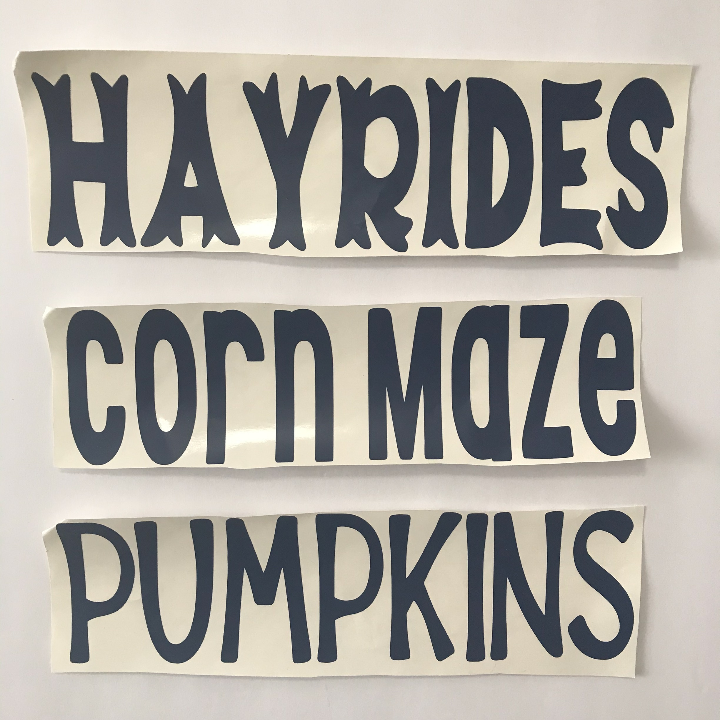 Cut the words for the sign in removable vinyl and use transfer tape to add them to the signs.
My plan was to use this painting over removable vinyl technique, but it just didn't work out. For some reason I couldn't get the colors blended. So I thought, lets just paint over the removable vinyl and see what happens. Honestly I'm a perfectionist and didn't like it, but my husband and mom both said to leave it, that it was perfect. They said it had a nice rustic pumpkin patch look and feel.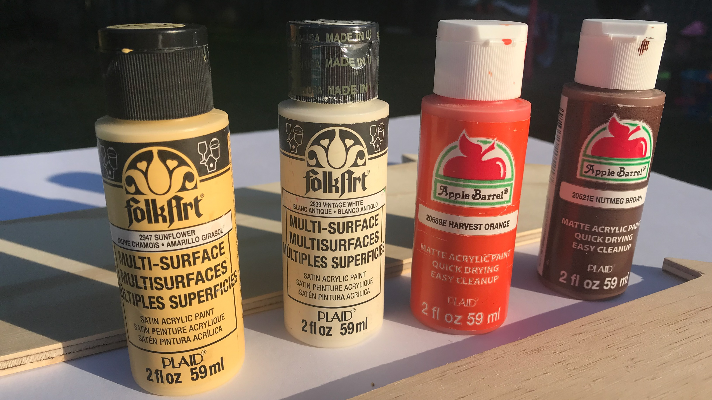 Pumpkin arrow- a mix of Harvest Orange and Nutmeg Brown
Corn maze- Folkart Sunflower
Hayride arrow- Nutmeg Brown
As I was painting the pumpkin sign, I realize the Harvest Orange paint was just to bright and wasn't going to work. I didn't want to completely start over, so I mixed the Harvest Orange and the Nutmeg Brown together to make the sign. It's even better than I could have imagined.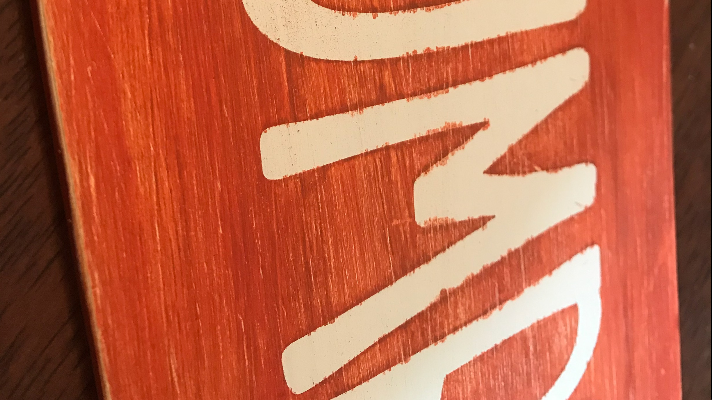 After two coats of the paint, use the Cricut weeding tool and remove the words in removable vinyl. I did a light sanding over the entire arrow to give it a weathered rustic look (I fell in love with them).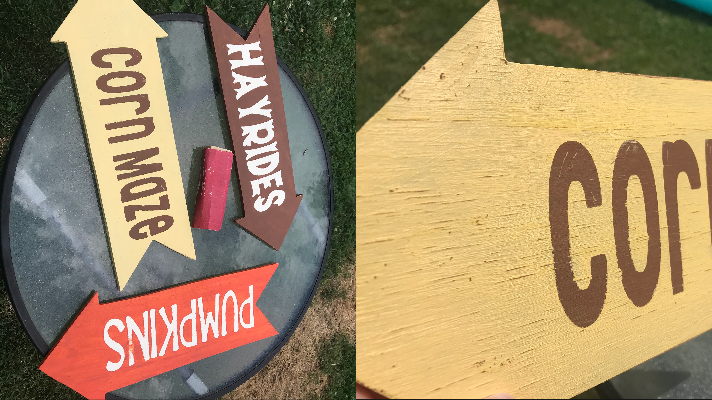 Since the fall yard decor will be outside, I sprayed it with the Mod Podge Clear Acrylic Spray in Matte. I gave it 3 coats of the sealer. This is my favorite sealer to use on all my outdoor projects.
Attaching the Arrows to the Fall Yard Stake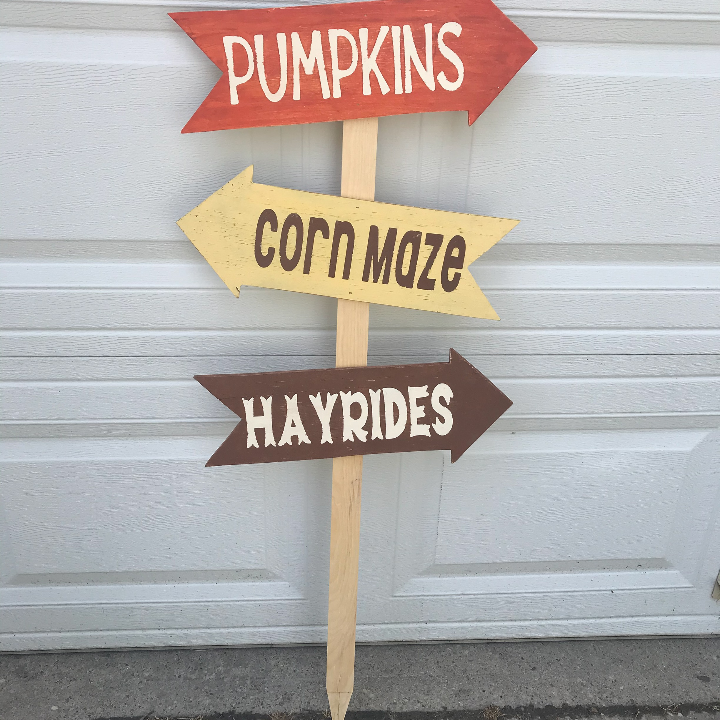 The last step is to attach the arrows to the stake with wood glue and the nail gun. My plan was to put raffia ribbon on the arrows, but my words are to big and the raffia would cover them. I'm in love with this yard stake and I'm fine with that.
DIY Fall Yard Decor for your Home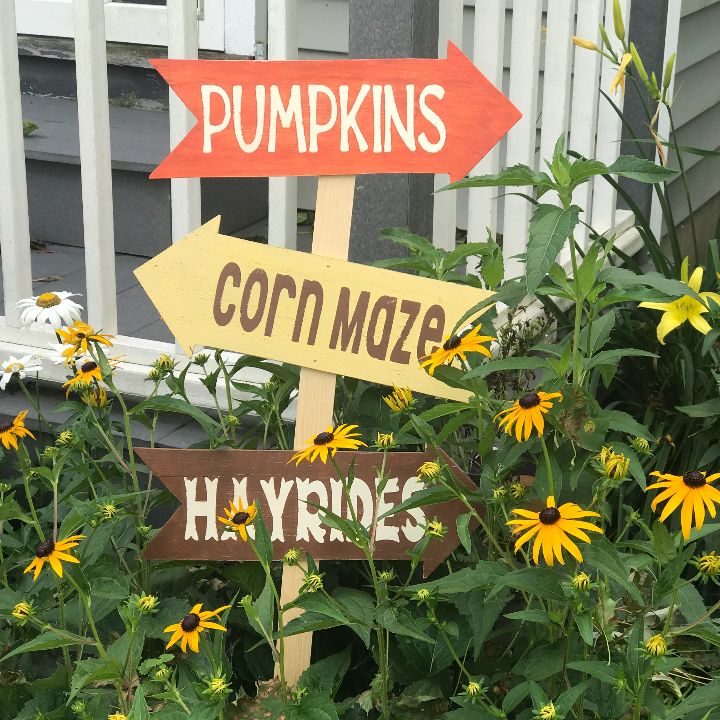 If you are wondering "How do I decorate the outside of my house for fall?" well just add a hay bale, pumpkins, mums, corn stalks and a scarecrow to complete your outside fall decor with this super cute fall yard stake. Your yard or front porch will be falltastic!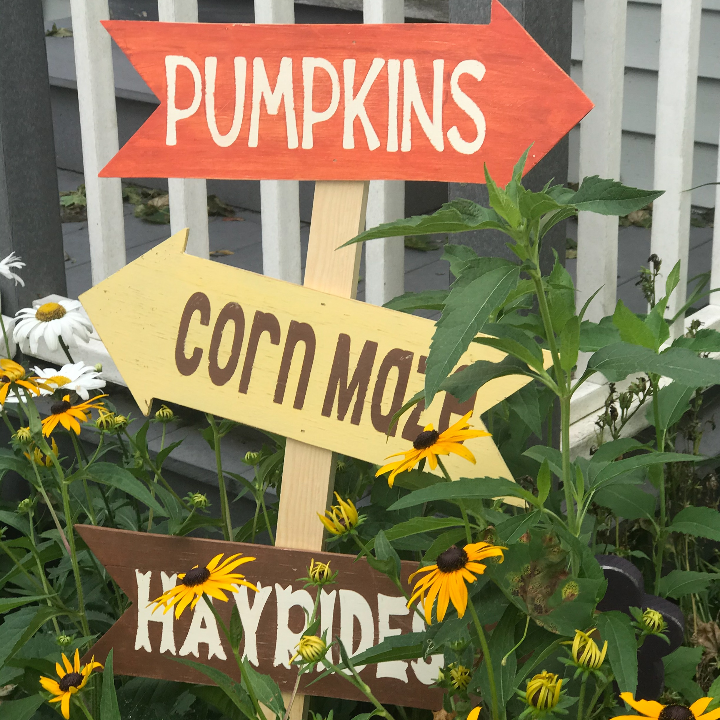 You are invited to the Inlinkz link party!