DIY Jack Skellington Ping Pong Ball Lights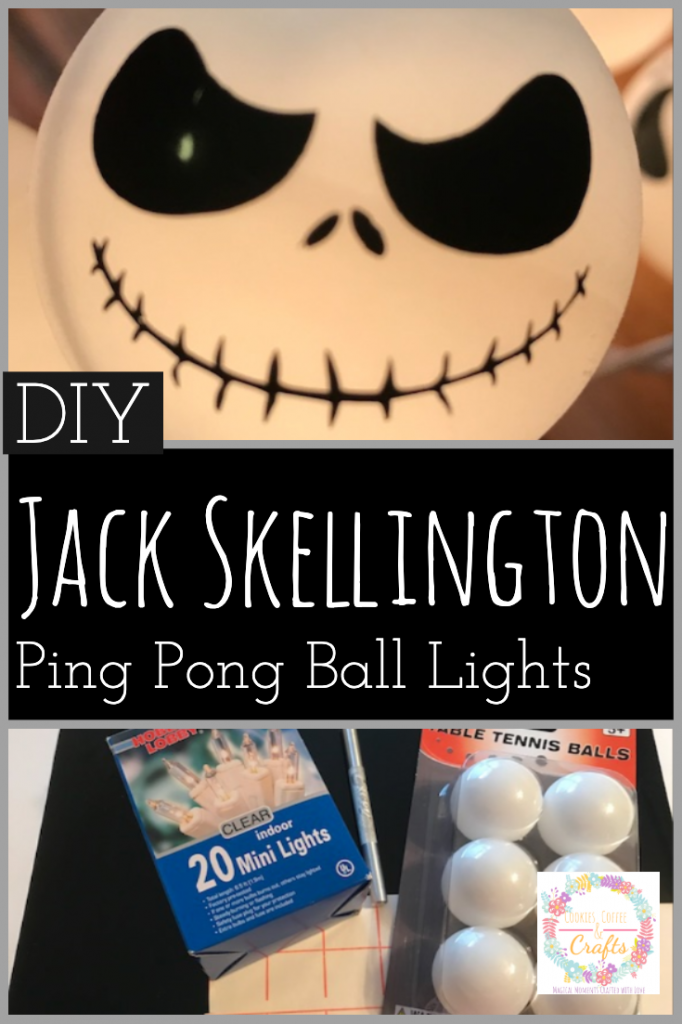 Note: As an Amazon Associate, I earn from qualifying purchases. If you click on a link from Amazon or another of my advertising affliates, I will earn a small commission at no additional cost to you. Please see my full disclosure policy here.
This is Halloween, this is Halloween, Halloween, Halloween. I hear this song so much by the kids singing along with Alexa, I hear it in my sleep. It really is a catchy tune though. Since Jack Skellington and The Nightmare Before Christmas has taken over my home, this will be the theme for our Halloween decor. On Pinterest I saw Jack Skellington lights, but they were just a picture, but it's that time of the month again for October Pinterest Challenge Blog Hop, hosted by My Pinterventures. The purpose of this Pinterest Challenge is to motivate all the participants of this hop (and you too) to not just pin, but to make it happen! So I'm going to create DIY Jack Skellington Ping Pong Ball Lights.
I remembered the DIY Ping Pong Ball Lights by Created by V.
These DIY Ping Pong Ball Lights will be perfect to create Jack Skellington lights, I just have to add his face.
To join next month's #pinterestchallenge, click here to sign-up ⇒ November Pinterest Challenge
Let's Create Jack Skellington Ping Pong Ball Lights
Supplies
Craft Knife
20 Clear Lights
20 Ping Pong Balls
Black Vinyl
Transfer Tape
Cricut Maker
Cricut Tools
I followed the tutorial to create the lights. This was a very simple project, just use a craft knife to cut the top of the ping pong ball in an x and insert the light. I was surprised at how hard the ping pong balls were to cut. Some where easy to cut and some where not. Since this is like a small specialty set of lights, I was able to find a small set of 20 clear lights at Hobby Lobby and I found them by the materials to make the lighted glass blocks. I was nervous to push the lights all the way into the ping pong balls (I didn't at first), but I did when I added on the Jack Skellington faces.

To create the Jack Skellington face I used black vinyl and uploaded his face into Cricut Design Space. I used transfer tape on a few, but decided it was easier to just peel and stick the vinyl. Jack's nose was a real pain (with and without transfer tape) due to the small size.

These lights are perfect for my kids who love anything Jack. My kids are in love with them and ask to plug them in everyday after dinner. The ping pong ball lights are super easy to make, but putting on Jack's face took forever. They will bring our family joy (and spookiness) for many Halloweens to come!
---
Now let's see what other things Pinterest inspired! Head over and visit the other hosts to see what they crafted, cooked, built, or tried!
Erlene – My Pinterventures • Gail – Purple Hues and Me
Kristie – Teadoddles • Lynne – My Family Thyme
Joanne – Our Unschooling Journey • Jenny – Cookies, Coffee and Crafts
Shirley – Intelligent Domestications • Debbee – Debbee's Buzz
Beverly – Across The Boulevard • Julie – Sum of their Stories
Chelsea – Making Manzanita • Katrin – Kreativ K
Michelle – Our Crafty Mom • Marie – The Inspiration Vault
T'onna – Sew Crafty Crochet • Chelc – Inside the Fox Den
Laurie – My Husband Has Too Many Hobbies • Alexandra – Eye Love Knots
Katrin – Nothern Feeling • Emily – Domestic Deadline
Terri – Our Good Life • Leslie – Once Upon a Time & Happily Ever After
Roseann – This Autoimmune Life • Toni – Girl, Just DIY
Blogghetti • Lauren – Mom Home Guide
Debra – Shoppe No.5 • Lydia – Lydia's Flexitarian Kitchen
Susan – Suzer Space • Habiba – Craftify My Love

Attachments area