Easy Mason Jar Dollar Tree Christmas Ornament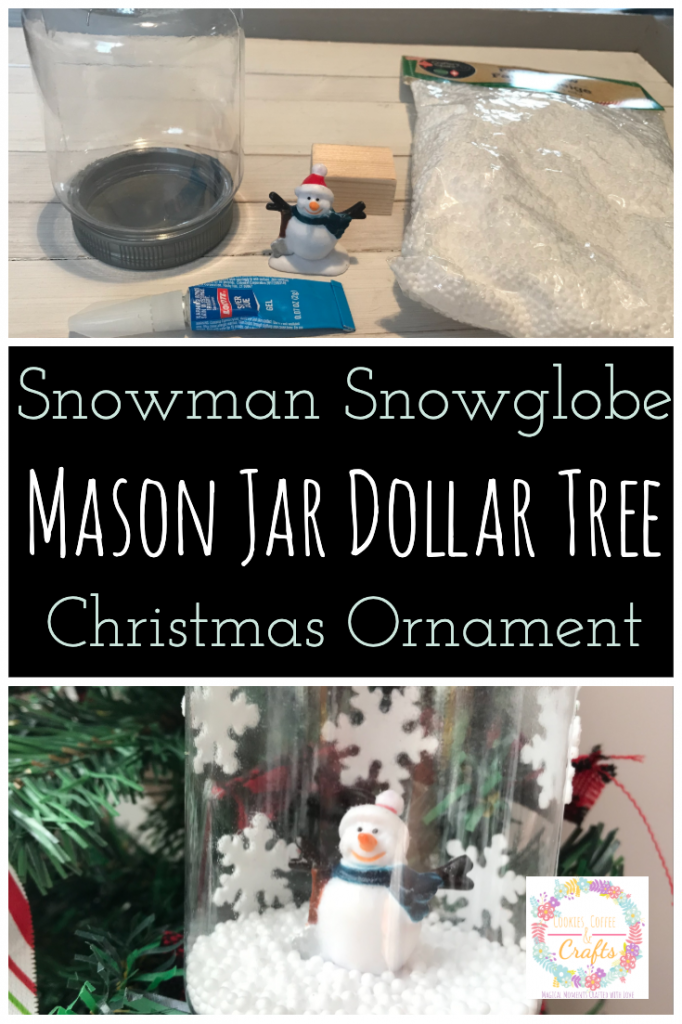 Note: As an Amazon Associate, I earn from qualifying purchases. If you click on a link from Amazon or another of my advertising affliates, I will earn a small commission at no additional cost to you. Please see my full disclosure policy here.
We have an ornament tradition in our house to gift a new ornament every year. I love making my kids homemade ornaments of what they love that year. It just captures that special moment in time and makes it last forever. So far I've had luck finding something for my son, but not for my daughter. I had this idea to make them both a mason jar dollar tree Christmas ornament.
This page contains affiliate links at no extra cost to you. Please see my full disclosure here.
I can't believe it's the 5th week of the Deck the Home Challenge! How time flies when you are DIYing the holidays away. Today is all about DIY Ornaments.
My son loves snowman and I found the cutest snowman in the Christmas miniatures at the dollar tree. Did you know you can buy online at Dollar Tree
And pick it up in the store really cool right? I got off track, but I'm searching for a Christmas miniature that my daughter would like also. If you've seen a Christmas cat, horse or unicorn, let me know!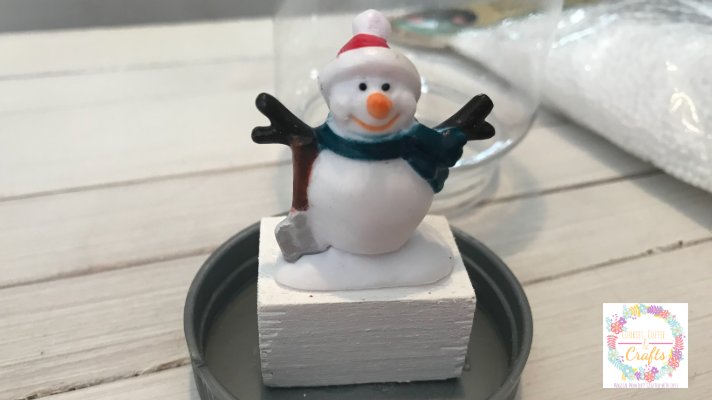 My son loves snowman and constantly makes them out of paper and his favorite books are about snowman. He is collecting all the snowman at night series . The books are just the cutest about what snowman do at night when you go to sleep.
The great thing about this ornament is that it's super easy and anyone can make it. It would be a great ornament for kids to make and give (just help them out with the glue). Plus it's another cheap, but adorable Dollar Tree craft. The whole ornament cost $4, but you have plenty of snow, miniatures, and stickers for more ornaments.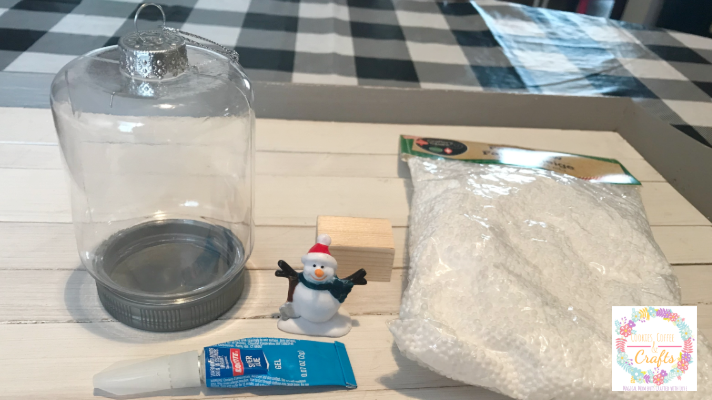 Supplies for Dollar Tree Christmas Ornament
Mason Jar Plastic Ornament
Super glue
Wood block
Snowman miniature
Faux snow
Foam glitter snowflake stickers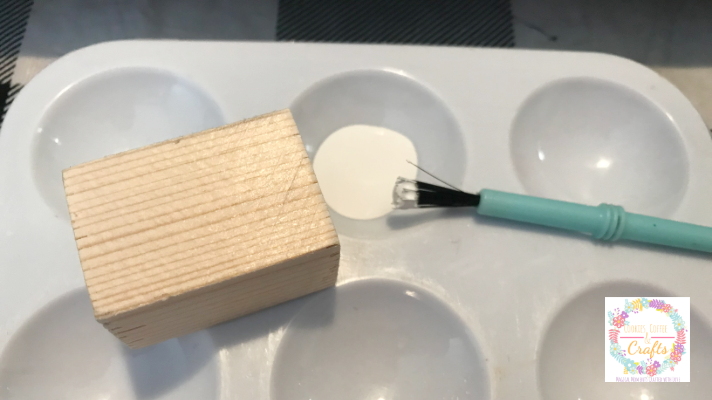 To get started cut a small piece of wood (I just used scrap wood) and painted it white. Honestly it doesn't show at all unless the ornament is tipped upside down, but I felt white would be better than the wood.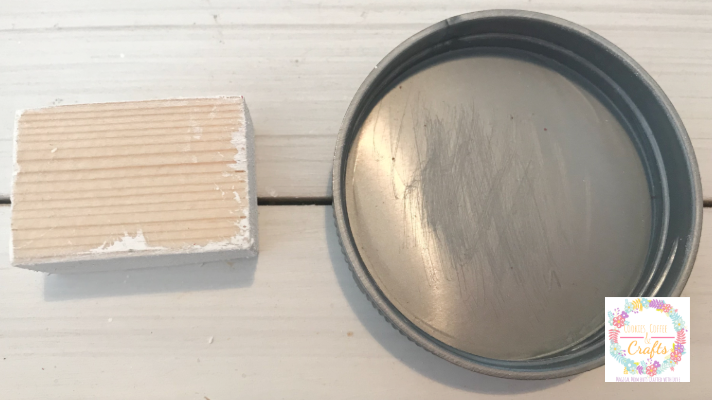 Sand the bottom of the wood and the plastic lid of where you will be glueing the block. The block let's the snowman show above the lid and is the perfect height to display the snowman. The Jenga like blocks at Dollar Tree would work good too.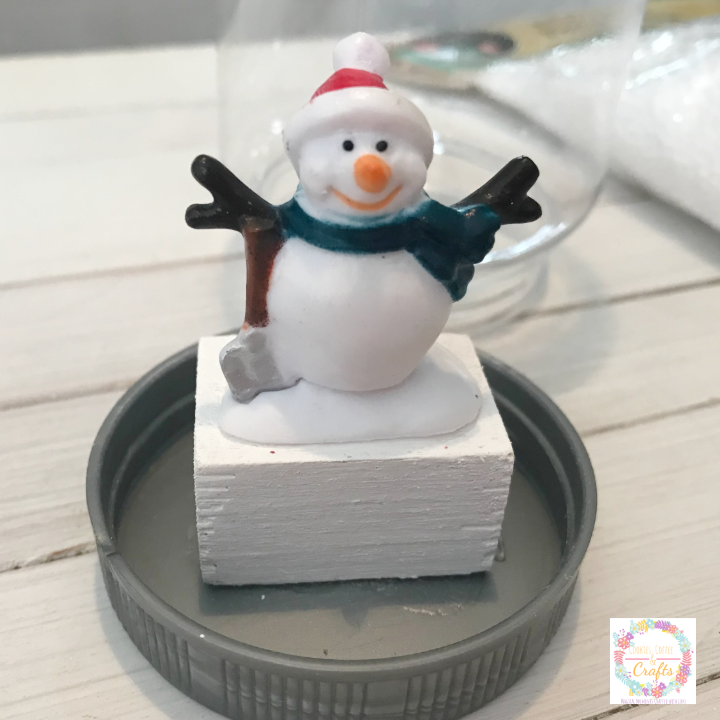 Super glue the block to the lid, but be sure to check and make sure you place the block correctly so the seems of the mason jar aren't in the front of your block. I didn't do this the first time and wrestled the block off before the glue set and redid it. It was close!
Then super glue the Christmas miniature to the top of the block. Let the glue completely dry for an hour and then fill the mason jar with the faux snow. Add a little at a time until you like the look. At first I almost covered the snowman in the snow (uh oh!)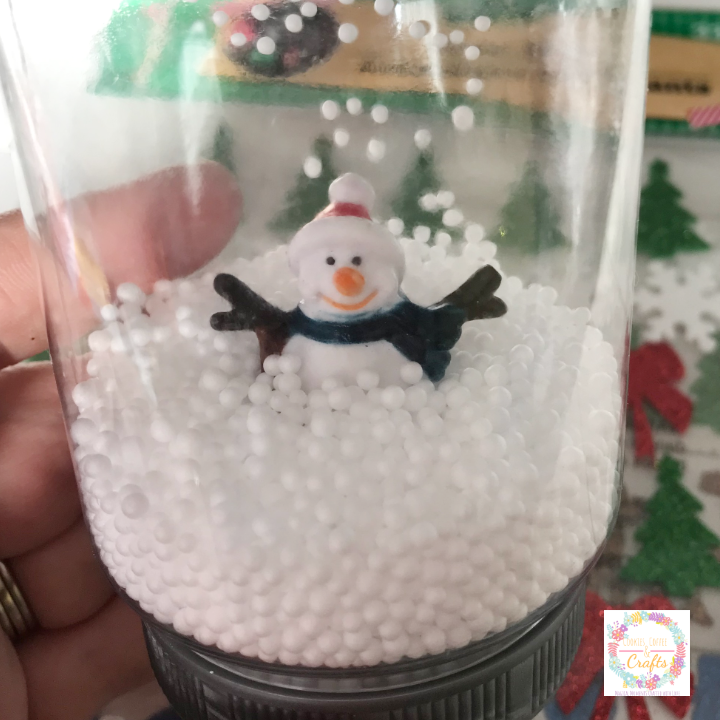 The last thing I did was add the foam glitter snowflakes to the outside of the jar. This wasn't in my original plan, but it's about my son who I'm making this for and he loves these types of stickers.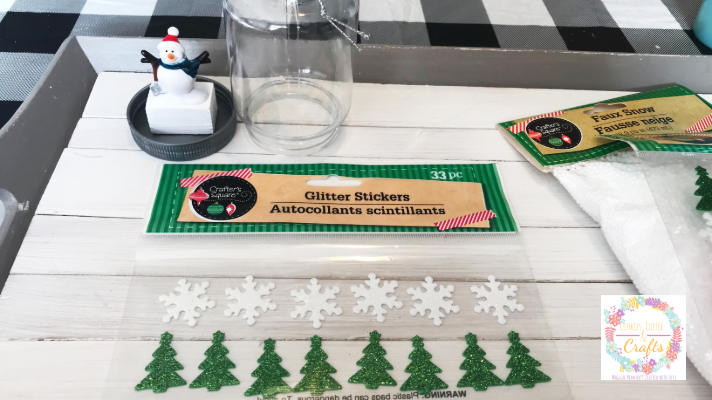 I plan on personalizing it for my son with his name and the year, but life happened and I couldn't get it done before the Thanksgiving festivities. I'll update as soon as I personalize it. Plus he was homesick and there was no way I could personalize it without him checking out what I was doing.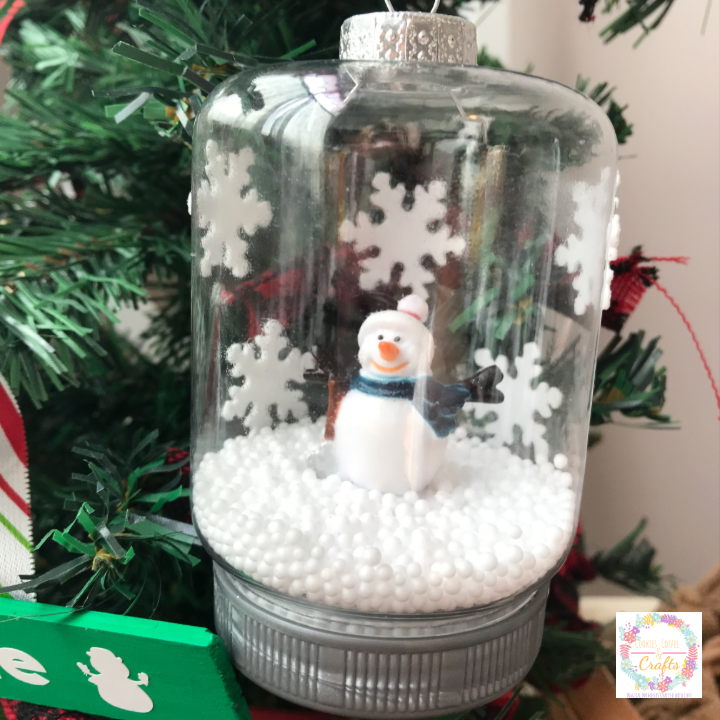 I just love an easy DT ornament and I know this is something my son will love hanging on the tree for years to come. I'll be searching the stores for my daughters ornament supplies now.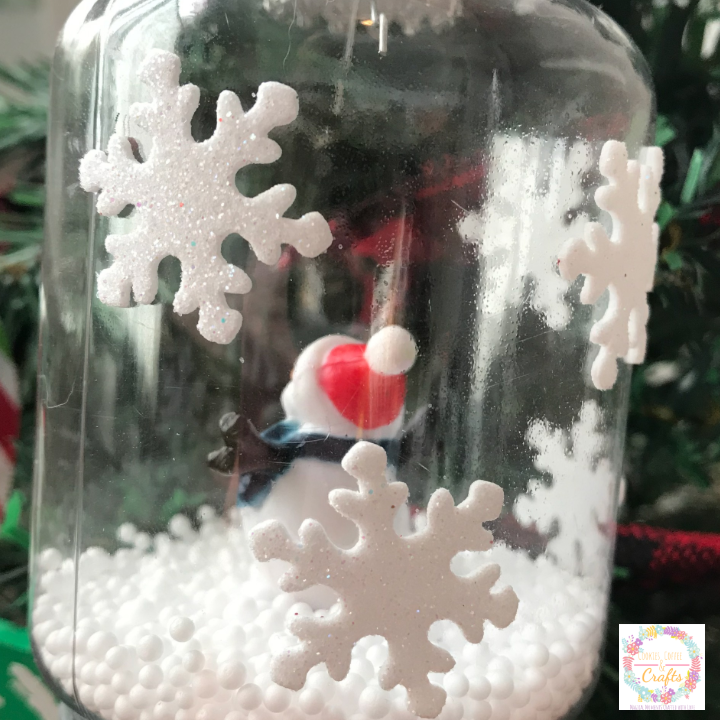 See More DIY Holiday Ornaments Projects