Fall Burlap Wreath from the Dollar Store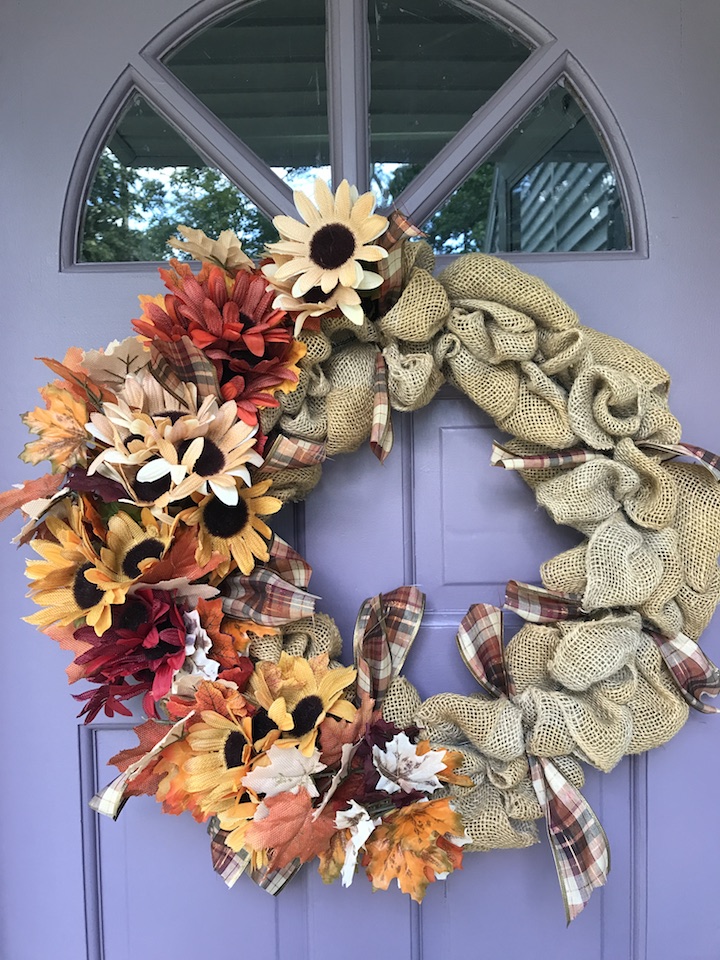 Note: As an Amazon Associate, I earn from qualifying purchases. If you click on a link from Amazon or another of my advertising affliates, I will earn a small commission at no additional cost to you. Please see my full disclosure policy here.
If you follow my blog, you know I love all things burlap. I had a burlap wreath with ribbon for spring, but I just never liked it. I'm going to reuse the wreath to make a fall burlap wreath. I went into the dollar store to buy sponges and I saw all the new fall items. The amazing burlap sunflowers and leaves caught my eye. They were perfect for this project. Does anyone else go into the dollar store for one thing and come out with so much more? That's me every time.
Before we get started with this beautiful wreath tutorial, Would you like your home to smell like fall too? I have a special offer from Simply Earth – use the coupon code CCCFREE and receive the Essential Oil Recipe Box with the big bonus box and a $20 Gift Card for Future Purchases.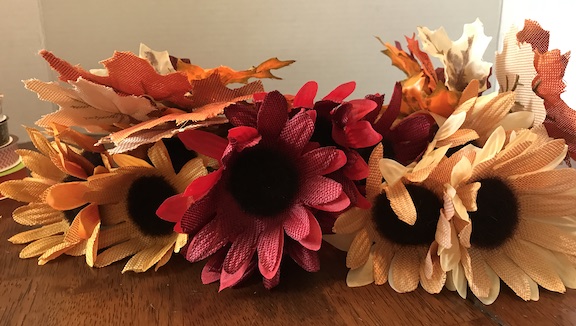 Supplies for Dollar Store Wreath:
Burlap
Wire Wreath
6 Floral Garden 4 Stem Harvest Sunflower Bushes
6- Burlap Leaves
Floral Wire
Fall Plaid Ribbon
Let's Create a Fall Burlap Wreath from the Dollar Store
The wreath from and burlap is from another wreath, that looked sad and needed a makeover. I used the bubble method to make the wreath on the wire wreath frame. I turned the burlap inside out to hide the fading from where the old ribbon used to be on the side of the wreath that is only burlap.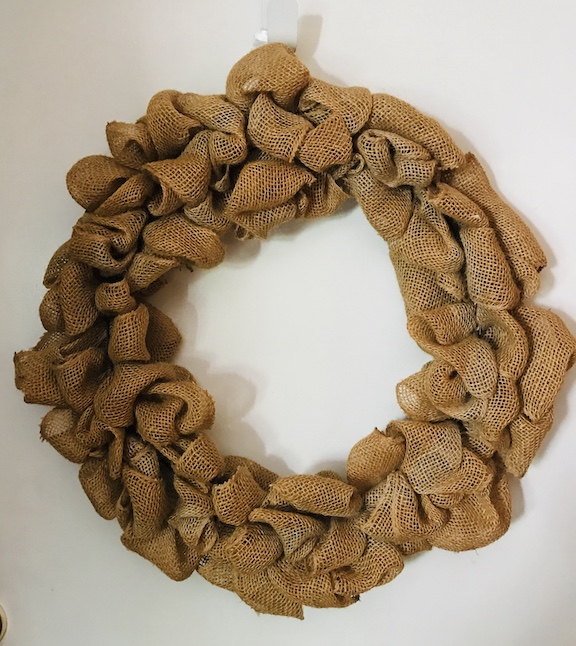 For the wreath design I did a sunflower with leaves behind it and repeated it around the wreath. Once I decided how to decorate it, I didn't have enough sunflowers and went back to the Dollar Tree. It's so hard to judge how much you need sometimes (it's a good thing I live really close to the dollar store).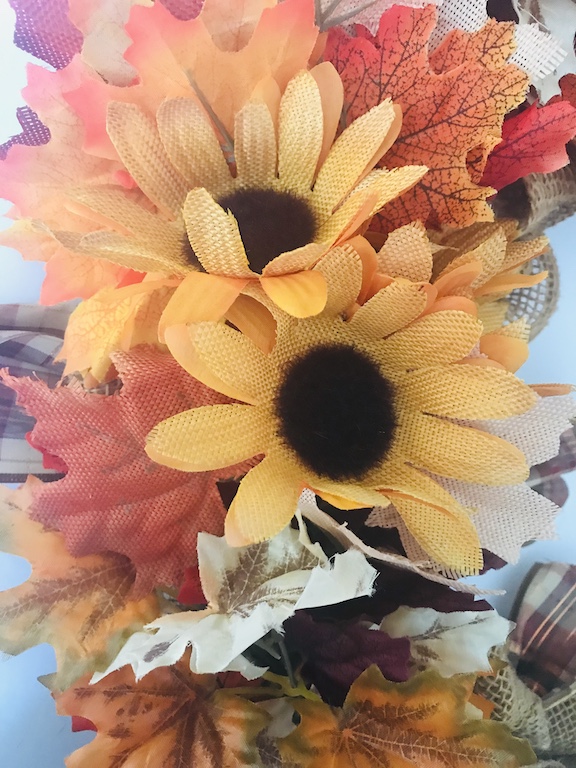 Sometimes it's easier to hung it on the door as I decorate the wreath. Making the wreath this way gives you an idea of what it will look like on your front door. Once I liked the way it looked, I attached everything with floral wire.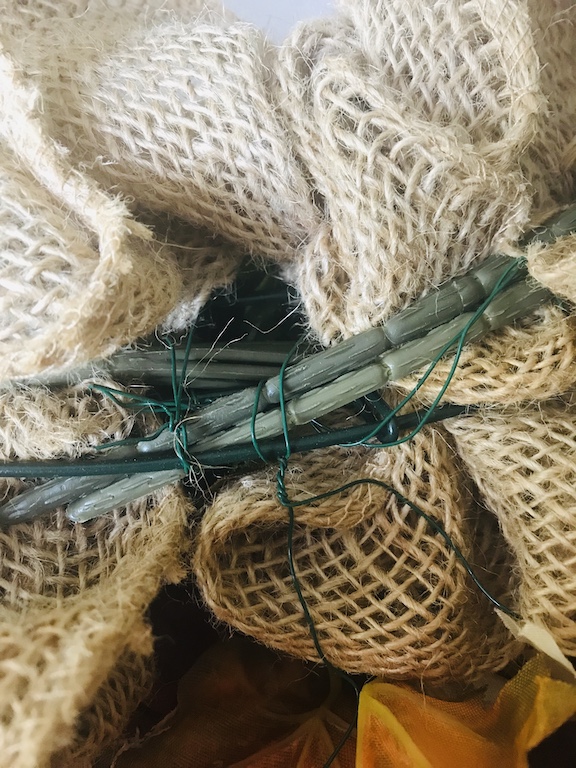 When I went back to the dollar store to get more flowers, I checked out the ribbon and the plaid ribbon matched perfectly. I cut strips between 10-12 inches long and attached them around the wreath, I just put them randomly around the wreath. I love the way it turned it out. I'm so glad I had to go buy sponges today and found these amazing sunflowers and leaves.
Fall Burlap Wreath on the Front Door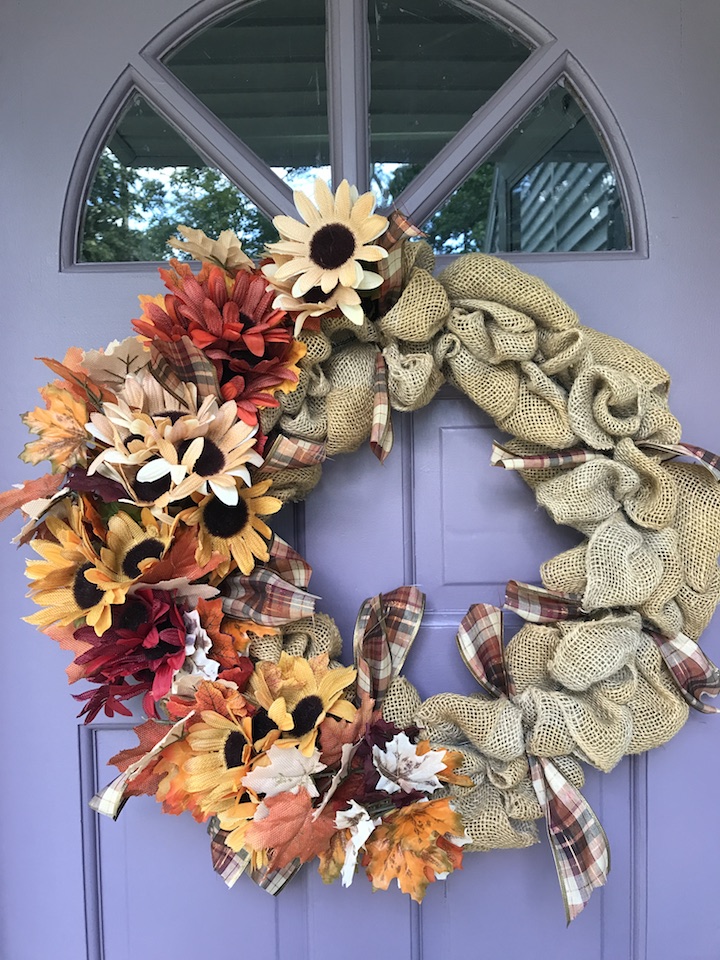 This fall burlap wreath is going to look beautiful on my front door. I feel like this burlap wreath went from being an ugly duckling (the spring wreath) to a beautiful swan (the fall wreath). What a difference sunflowers, leaves and ribbon make. Happy Fall!