Farmhouse Storage Bin Made with 2x4s- Pinterest Challenge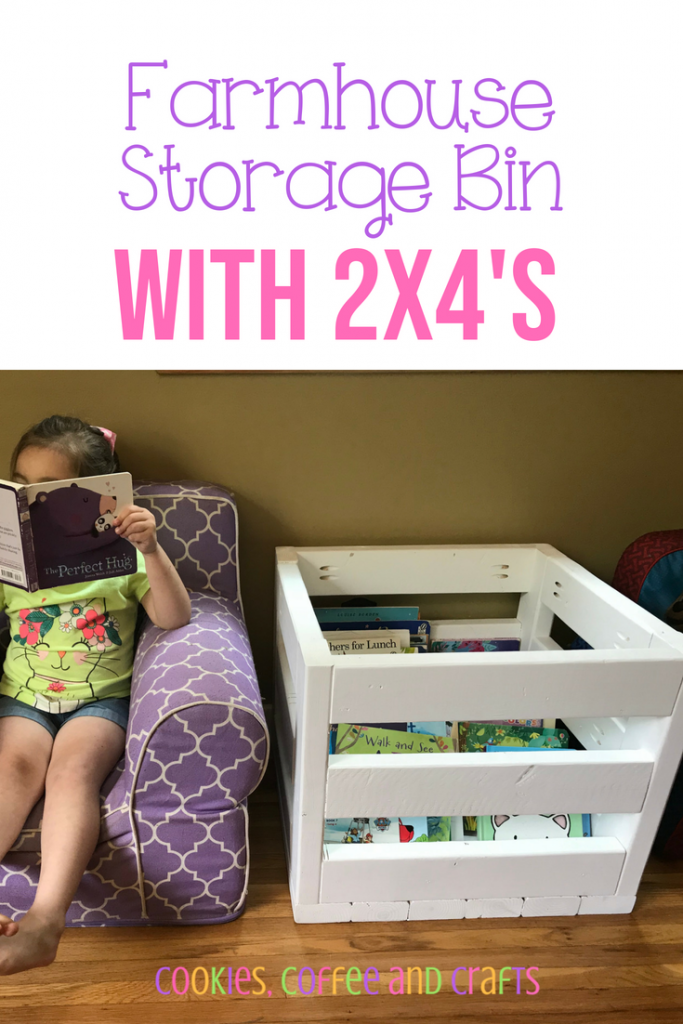 Note: As an Amazon Associate, I earn from qualifying purchases. If you click on a link from Amazon or another of my advertising affliates, I will earn a small commission at no additional cost to you. Please see my full disclosure policy here.
It's that time of the month again for my favorite post- the Pinterest Challenge hosted by My Pinterventures. The purpose of this Pinterest Challenge is to motivate all the participants of this hop (and you too) to not just pin, but to make it happen! It's time for me to create and make a pin I've been hoarding.I've seen on Pinterest all the great projects made with 2x4s and I'm always looking for storage ideas. This farmhouse storage bin is going to be perfect for storing our munchkins books in the living room. This is my inspiration Build it With 2x4s Simple Storage Bins from More Like Home.
This post contains affiliate links which means I may make a small comission of any sale that is made by clicking on any of the products with no cost to you. Your support is greatly appreciated.
Let's Create a Farmhouse Storage Bin with 2x4s
My husband and I worked on this together, he did the building and I did the painting. We followed all of More Like Home's plans to create the rolling storage bin. Even though my kids are still small it's time to start taking back some of our house. Our house is small and doesn't have a playroom so a lot of the munchkins stuff is in the living room. So this will be a much nicer way to store their books. This will be our first farmhouse project for the living room and I'm really excited about this.
I will be painting the storage bins white and maybe distressing them (I haven't decided yet). These won't go great with the wall colors, but the living room will be getting a paint makeover early next year (I think it will be a good winter project).
My husband was in charge of the photos this time since he was in the basement building and I was watching the kids. Sorry for the dark photos, the lighting is not the best in the basement.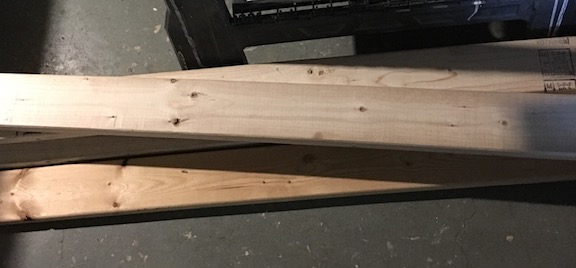 Below are some affiliate links and I may make a commission for purchases made through the following links.
Supplies:
4- 2×4's 8 feet long
Kreg Jig
Kreg Jig Screws
Wood Glue
Clamps
2 1/2 inch wood screws
Caster Wheels
Sander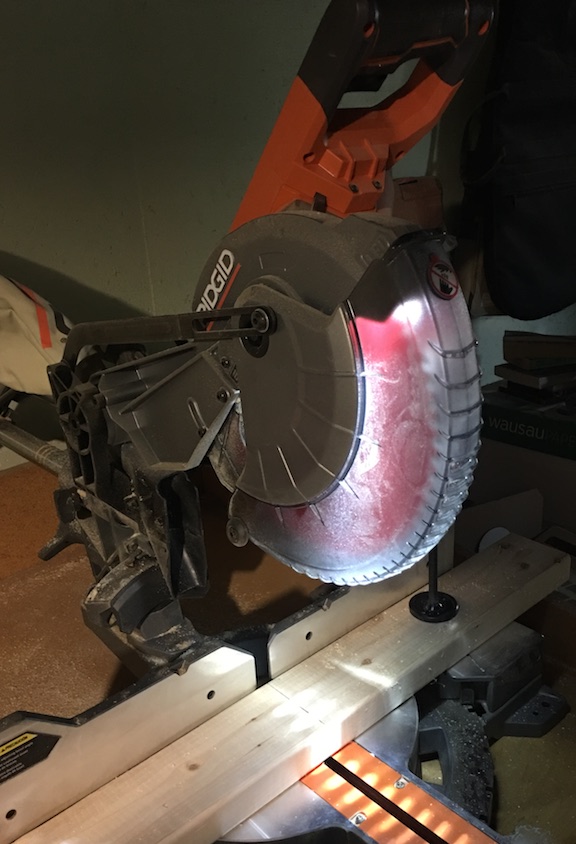 He cut everything with his Miter saw and started putting it together.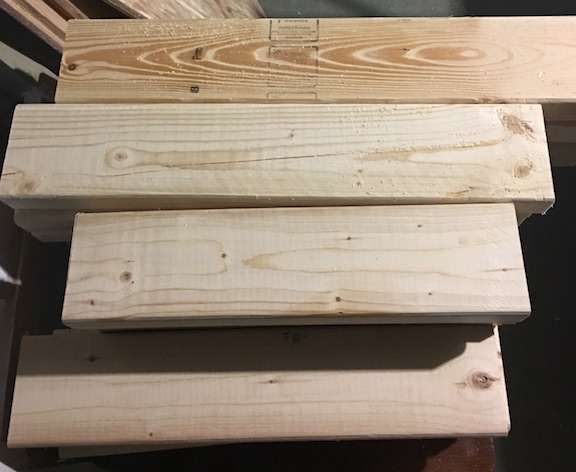 The Kreg Jig
has been so handy for the building projects.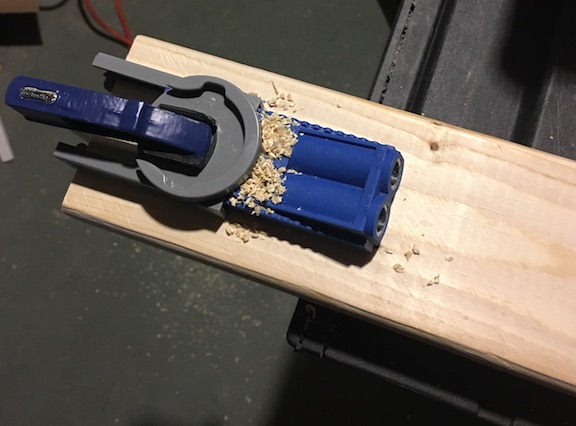 I was shocked at the size, from the pictures I didn't realize how big it was (and heavy). This will hold a lot of books. Plus I might use it to put the leftover kid toys in the living room at night. During the day the toys are fine, but at night when I get to relax I like a mess free living room.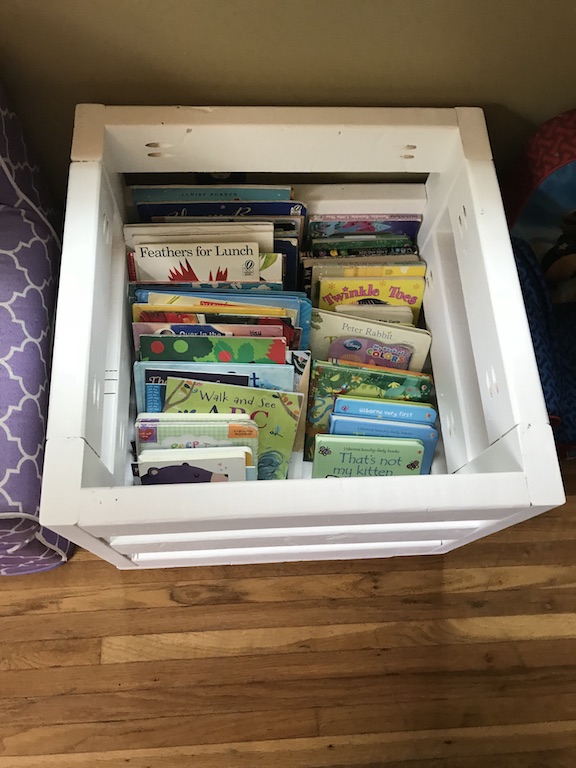 Before painting, I gave it a good sanding. Now it was time for me to paint it white. I forgot to order the Caster Wheels
so I don't think they are going to make it in time, but I will be adding them.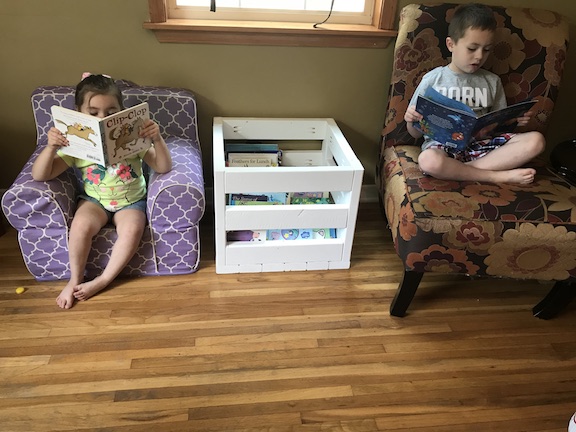 We are in love with this rustic, farmhouse storage bin and will be adding another one and possibly the table. So many projects, so little time. Plus my son loved it for all of his sea creatures and has requested one for his room (we will gladly make him one because these sea creatures need a home).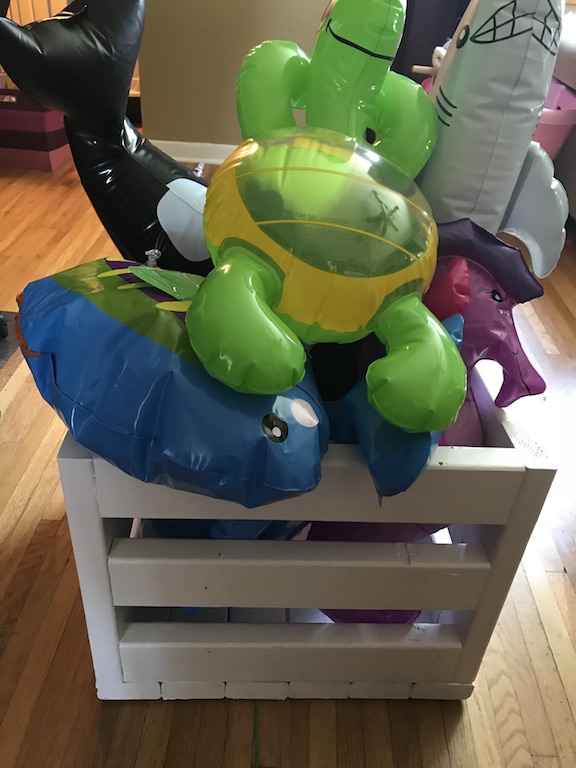 To join next month's #pinterestchallenge, click here to sign-up ⇒ August Pinterest Challenge.
---
Now let's see what other things Pinterest inspired! Head over and visit the other hosts to see what they crafted, cooked, built, or tried!
Erlene – My Pinterventures • Jenny – Cookies Coffee and Crafts
Debbee – Debbee's Buzz • Laurie – My Husband Has Too Many Hobbies
Bri – Halfpint Design • Julie – Sum of their Stories
T'onna – Sew Crafty Crochet
Beverly – Across the Boulevard • Debra – Shoppe No. 5
Roseann – This Autoimmune Life • Terri – Our Good Life
Chelc – Inside The Fox Den • Cherryl – Farm Girl Reformed
Leslie – Once Upon a Time & Happily Ever After • Katrin – Kreativ K
Kelley – Simply Inspired Meals • Joanne – Our Unschooling Journey
Toni – Small Home Soul • Gail – Purple Hues and Me
Rebecca – Hello Central Avenue • Gwen – Geez, Gwen!
Marie – DIY Adulation • Sam- Raggedy Bits
Kristie – Teadoddles • Marie – The Inspiration Vault
Lydia – Lydia's Flexitarian Kitchen • Maria – Simple Nature Decor
Michelle – Our Crafty Mom • Emily – Domestic Deadline
Alexandra – Eye Love Knots