Glittery Christmas Ponytail Holder from The Dollar Tree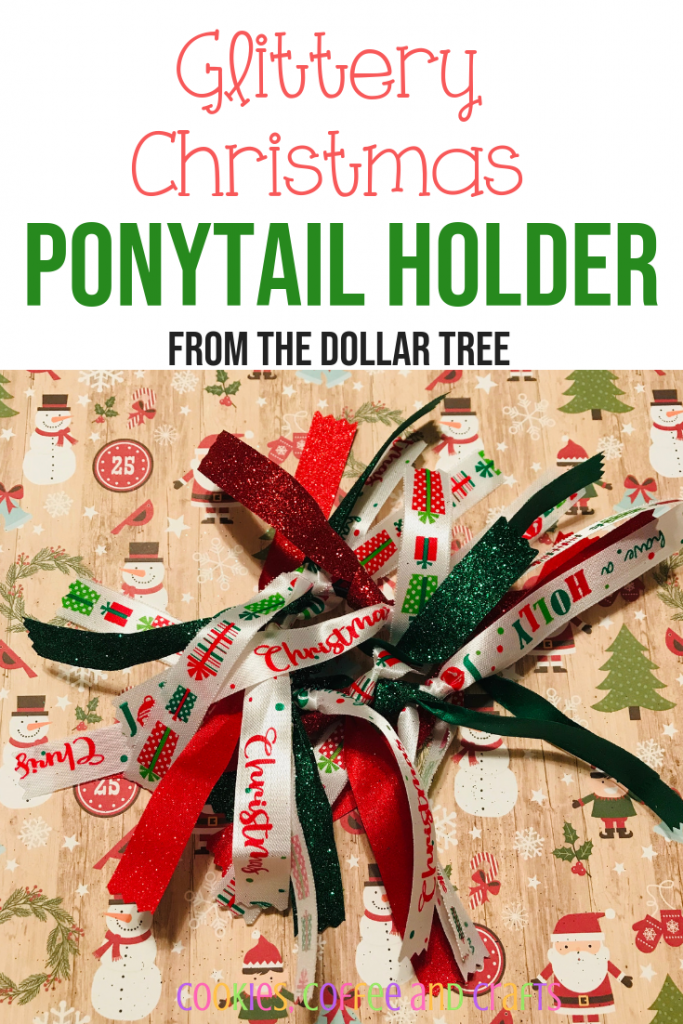 Note: As an Amazon Associate, I earn from qualifying purchases. If you click on a link from Amazon or another of my advertising affliates, I will earn a small commission at no additional cost to you. Please see my full disclosure policy here.
Ever since my daughter was born, I have always put a hair bow, barrette or headband on her. My husband used to pick on me that the bows were bigger then her head, but it was so adorable. I just couldn't help it. When I was grocery shopping I saw this Halloween ponytail holder and I was inspired to make her more. It combines my two loves of ribbon and making my daughters hair look adorable! Learn how to make this easy and simple Glittery Christmas Ponytail Holder from the Dollar Tree.
I was compensated for this post from Dollar Tree. This post also contains affiliate links and I will be compensated if you make a purchase after clicking on my links.
Here is my inspiration for the glittery Christmas Ponytail holder. It's super cute right?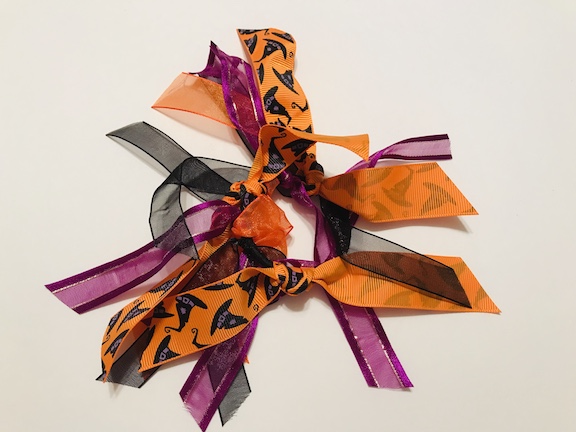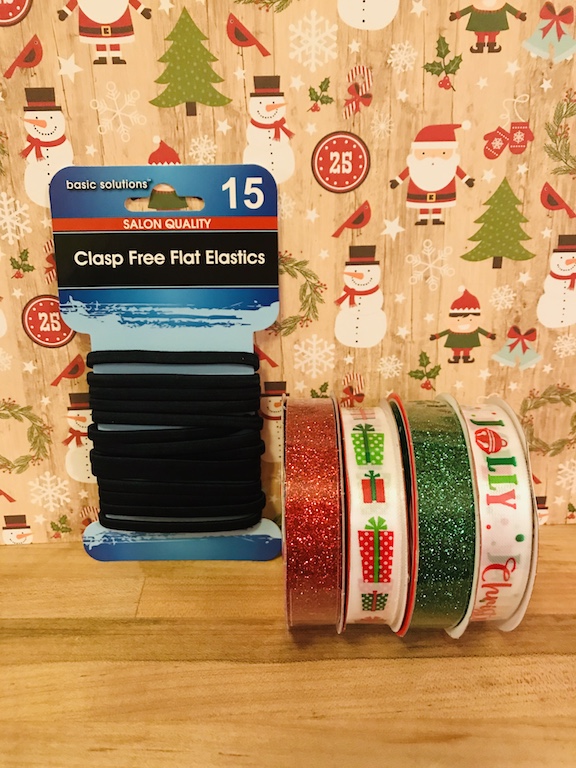 Supplies
Black Ponytail Holder
Red Glitter Ribbon
Green Glitter Ribbon
Have a Holly Jolly Christmas Ribbon
Christmas Present Ribbon
Pinking Shears
Since I had the Halloween Ponytail Holder, I just took a ribbon off and measured it. It's 8.5 inches long and I'm going to use it as my guide to cut the other ribbon.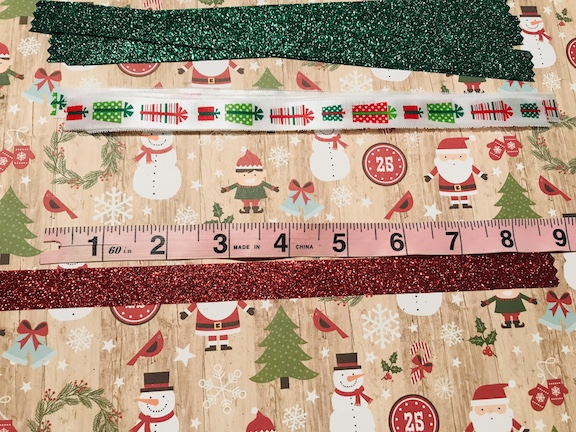 The ideal number that worked for me was 12 strips of ribbon. I chose 4 different Christmas ribbon styles from Dollar Tree and cut 3 strips of each ribbon. Watch out if you use glitter ribbon because glitter will be everywhere, but who doesn't love a little sparkle.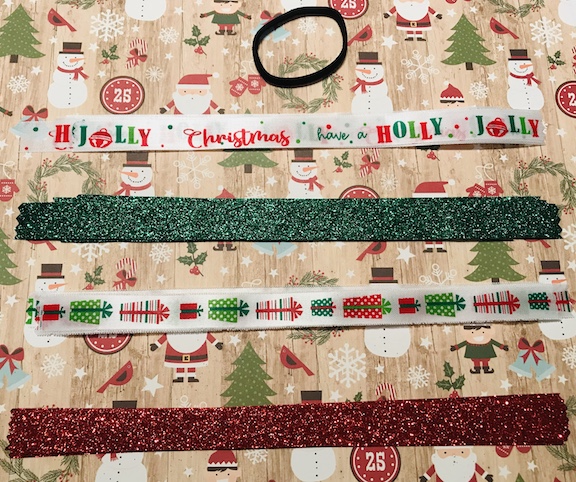 Once your ribbon is cut, let's create a cute Christmas ponytail holder by just tying on the ribbon in a pattern. Super simple right? It takes about 10 minutes and now my daughter has a super cute ponytail holder.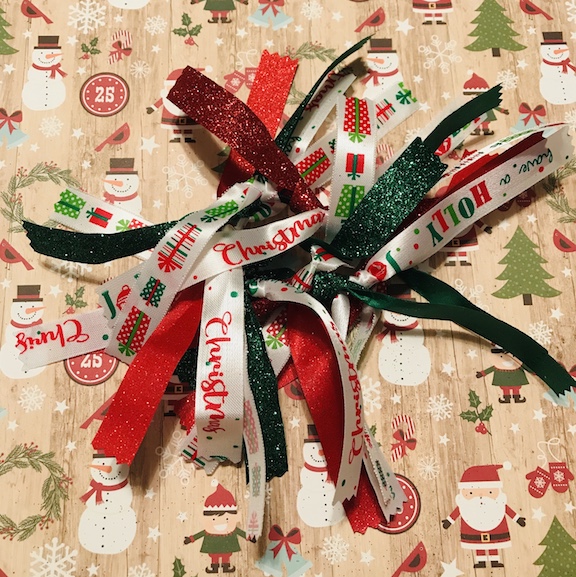 Creating your own cute ponytail holder will save you money, especially if you have more then one daughter or little girls in your life. I only have one daughter, so I have plenty of Christmas ribbon for more projects. This is also a great project for ribbon scraps too. You could also use fabric too. I chose to use my pinking shears, but if you don't have pinking shears just use regular scissors.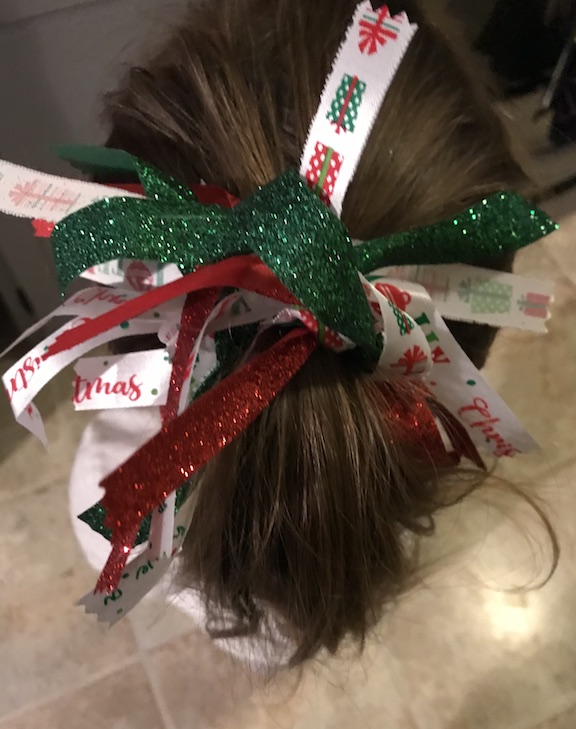 Have fun creating new ponytail holders for the little girl in your life.