Magic Halloween Potion Bottles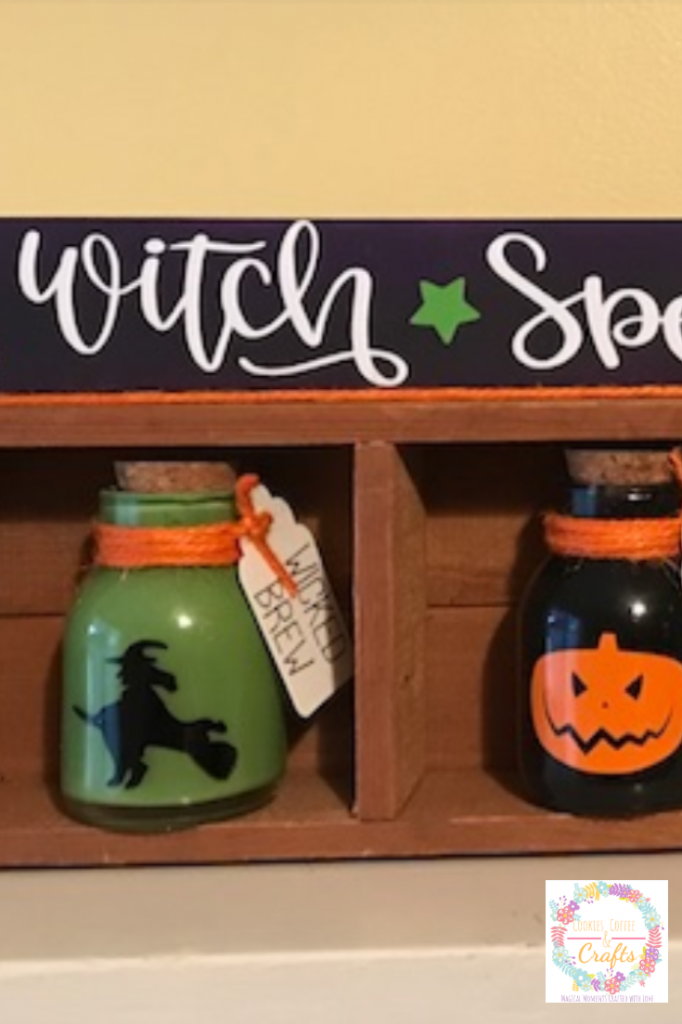 Note: As an Amazon Associate, I earn from qualifying purchases. If you click on a link from Amazon or another of my advertising affliates, I will earn a small commission at no additional cost to you. Please see my full disclosure policy here.
How do you like to decorate for Halloween? I'm all about cute Halloween decorations, but my husband likes spooky. I found this old shadow box at the thrift store and decided to turn it into a witches shelf. Magic Halloween Potion Bottles are exactly what every witch needs. My favorite witches are the Sanderson Sisters (Hocus Pocus). My husband wanted me to decorate the bottles like a mad scientist, but I went with cute magic potion bottles (it's just how I am).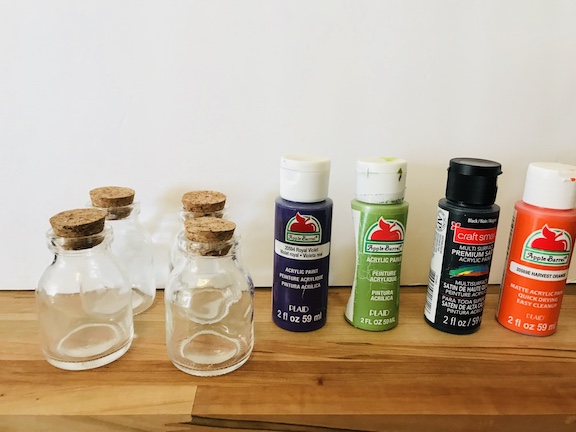 Supplies for DIY Halloween Decorations
4 Small Bottles from Dollar Tree
Craft Paint- Harvest Orange, Leaf Green, Royal Violet, Black
Vinyl
Cardstock
Transfer Tape
Orange Jute
Cricut Maker
Let's Create Magic Halloween Potion Bottles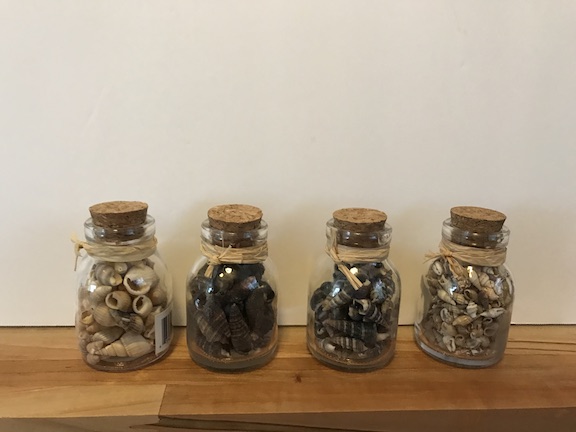 The hardest part of this project was getting the dollar tree tags off. They were stuck on there. I had glue all over my hands and used nail polish remover the glue. Also remove the shells from the bottles. To paint the inside of the bottles, I squirt a small amount of paint inside the bottle. Then rotate the bottle around slowly so the entire bottle gets covered with paint.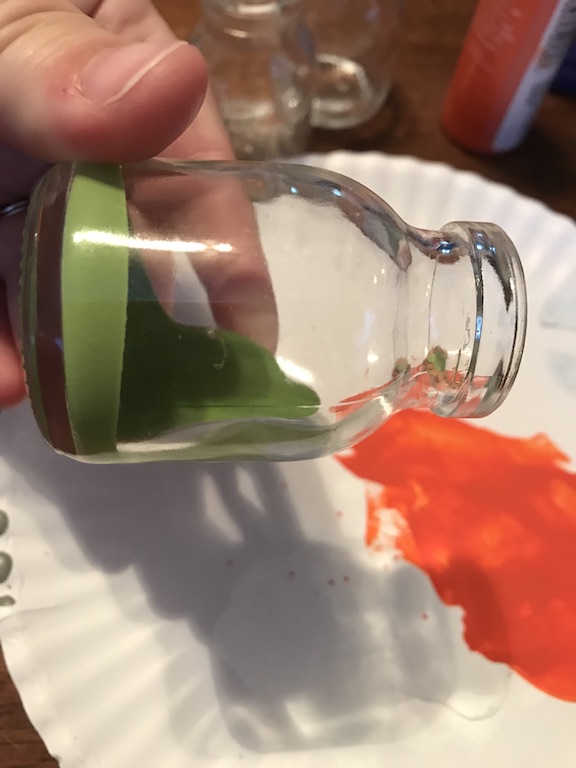 If the paint stops moving tap the bottle as you turn it.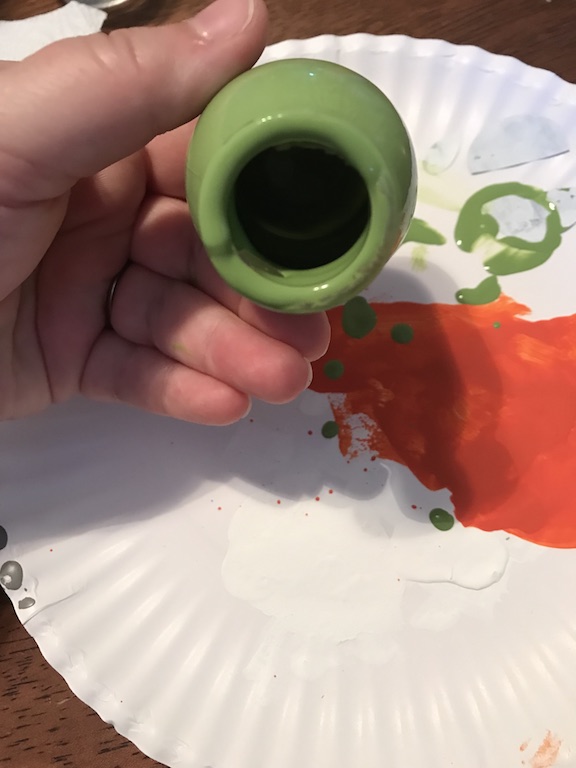 Leave the bottles upside down to dry. I do move the bottles around the paper plate (as they dry) so they don't stick.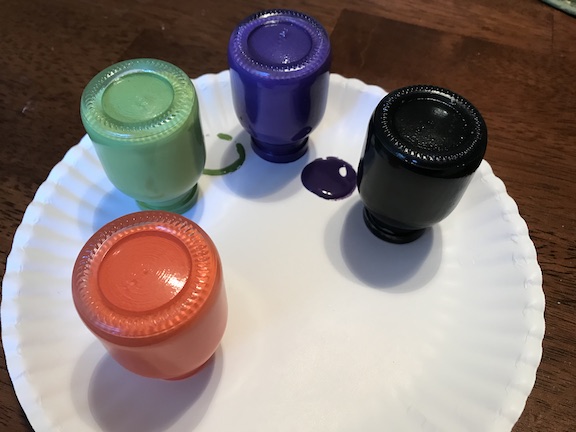 It's time to decorate the bottles. For each bottle I am going to put an image in vinyl and attach a small tag with the name of the potion on card stock with jute.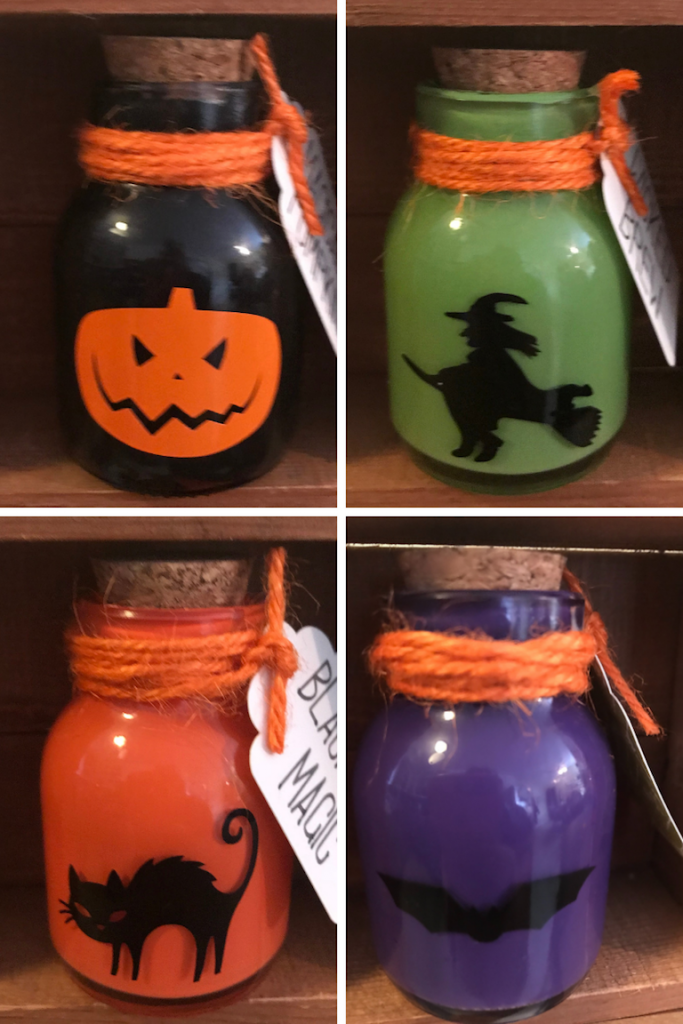 In Cricut Design Space™ I chose the images with my Cricut Access Premium and cut them in permanent vinyl. Then use Transfer Paper
to add the images to the potion bottles.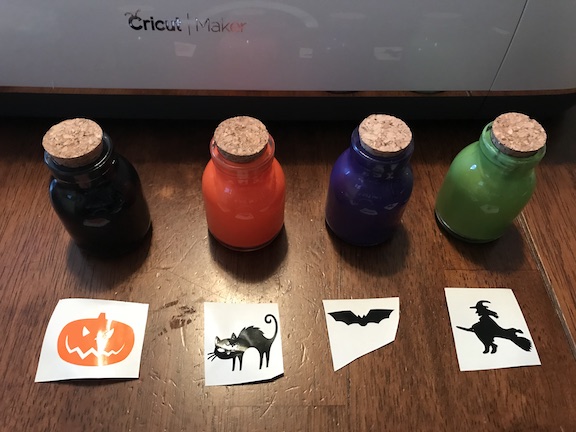 Also in Cricut Design Space I created the tags and cut them on card stock and attached them to the bottles with orange jute.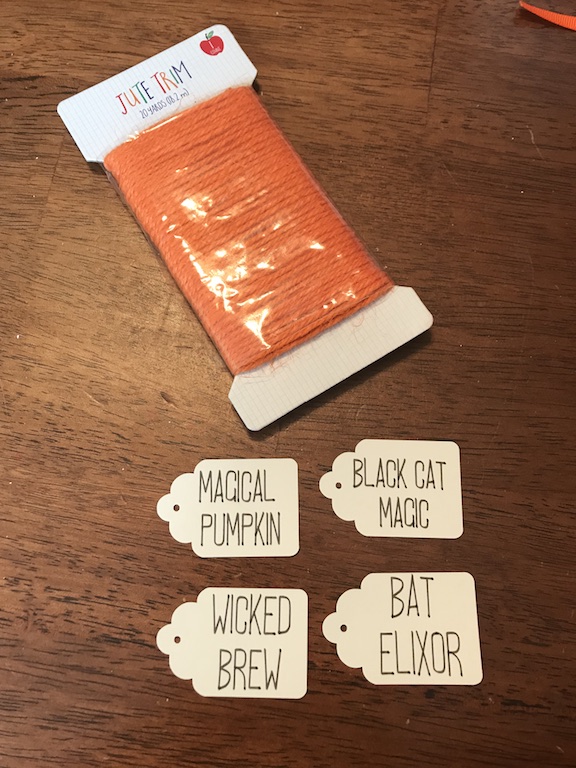 Magic Halloween Potion Bottles
The magic Halloween Potion Bottles are ready to whip up a spell! Are you a mad scientist or cute potion bottle fan? I'll be giving the shadow box and update too, stay tuned!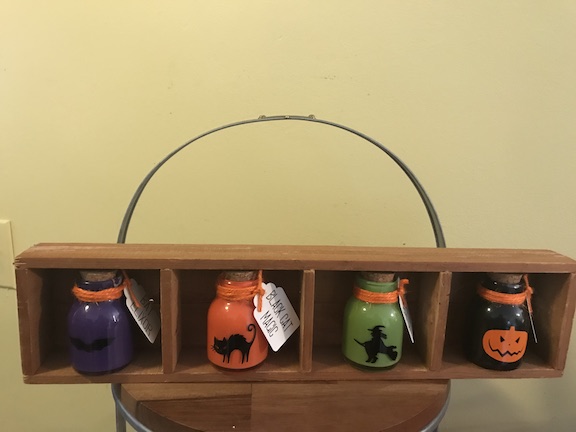 It's the perfect addition to my Halloween decorations and my Halloween Mason Jars.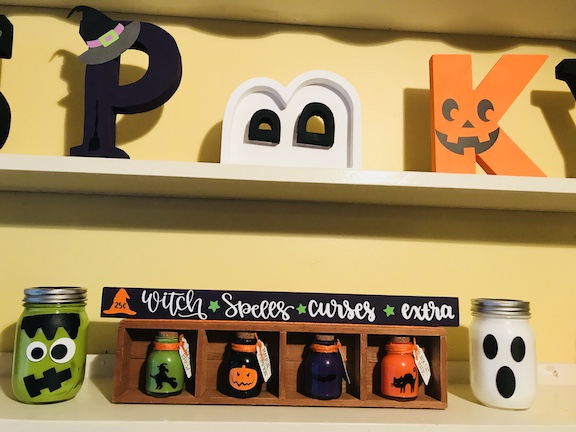 amzn_assoc_placement = "adunit0";
amzn_assoc_search_bar = "true";
amzn_assoc_tracking_id = "jsparmo-20";
amzn_assoc_search_bar_position = "bottom";
amzn_assoc_ad_mode = "search";
amzn_assoc_ad_type = "smart";
amzn_assoc_marketplace = "amazon";
amzn_assoc_region = "US";
amzn_assoc_title = "Shop Related Products";
amzn_assoc_default_search_phrase = "craft paint ";
amzn_assoc_default_category = "All";
amzn_assoc_linkid = "1c02043de4cc9b9804f6d5a203b528ee";