Spring Tulip Wreath in a Basket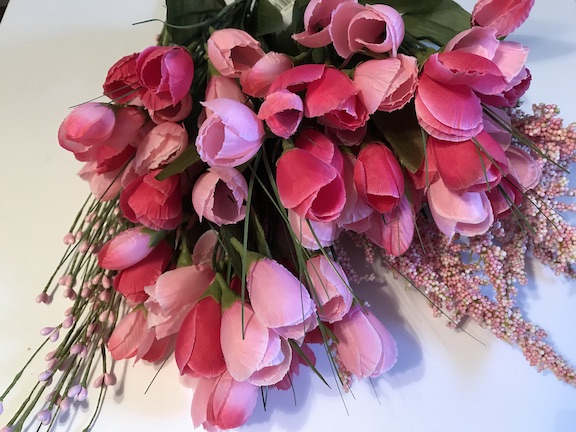 Note: As an Amazon Associate, I earn from qualifying purchases. If you click on a link from Amazon or another of my advertising affliates, I will earn a small commission at no additional cost to you. Please see my full disclosure policy here.
Spring is in the air! For spring I love to decorate with florals. On my last trip to the thrift store, I was so excited to find this embroidery hoop and this rustic grapevine basket. Both are perfect projects for indoor upcycling until the weather gets warmer. This grapevine basket was under $3 and I'm creating a spring tulip wreath in a basket for the front door. My spring decor is all about pink and natural tones this year.
To celebrate the start of spring, I'm sharing my Spring Tulip Basket for the Welcome Spring Link Party and this months Upcycle. If you have a spring post, please stop by the party and share it and see all the inspiring spring projects.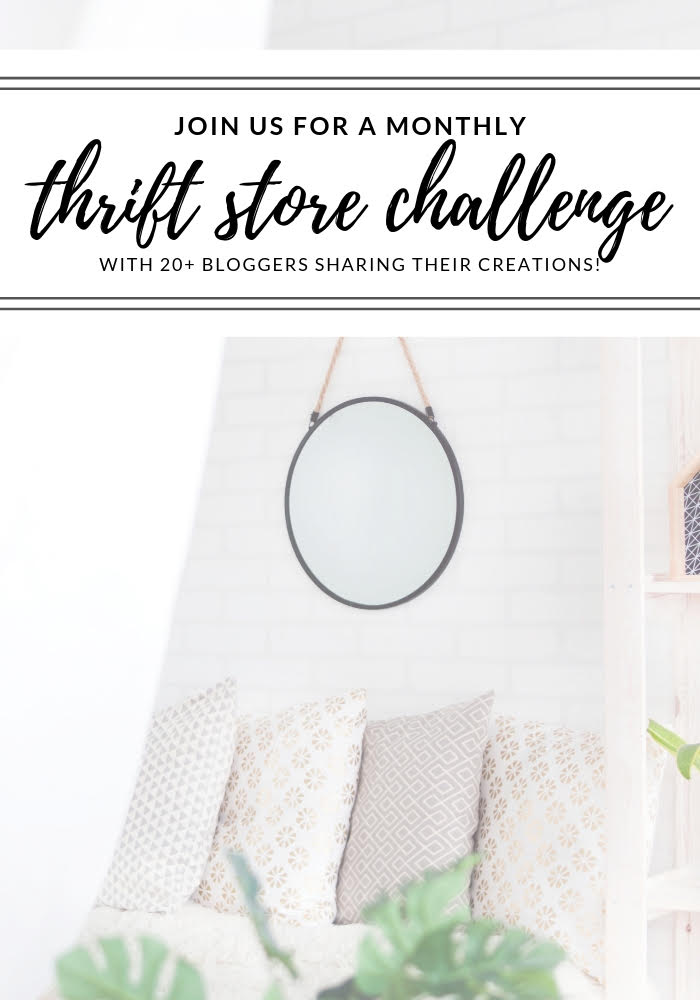 The Rules:
Upcycle an item(s) from a thrift store, resale store, or garage sale into a new piece of decor.
There's no monthly theme.
There's no budget to stick to.
Meet the Hosts
Angela | Simply Beautiful By Angela – Deborah | Salvage Sister & Mister – Angie | Flippin Fanchers – Denise | My Thrifty House –
Jenny | Cookies Coffee and Crafts – Lynne | My Family Thyme –
Meredith | Southbound Blog – Marie | The Inspiration Vault – Gail | Purple Hues and Me – Molly | Just a Little Creativity –
Pili | My Sweet Things – Amanda | Domestically Creative – Ali | Home Crafts By Ali – Carmen | Living Letter Home –
Emy | Semigloss Design – Jeanie | Create and Babble – Marie | DIY Adulation – Heather | Glitter On A Dime
Make sure you follow our board on Pinterest for more upcycled decor inspiration!
Supplies for Tulip Wreath Tutorial with Grapevine Basket
4 Bunches of Pink Tulips
I Bunch of the Pink Beads
1 Bunch of the Pink and White florals
Rustic Grapevine Basket
Wire Clippers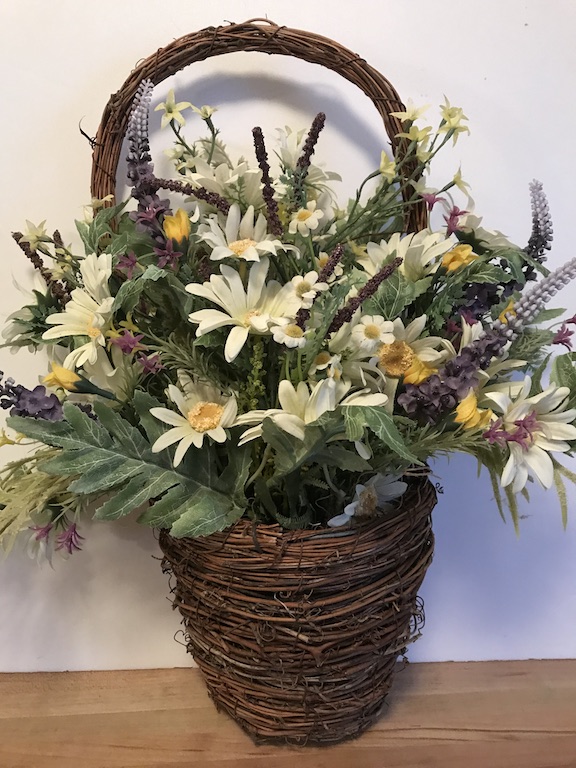 Let's Create a DIY Spring Tulip Wreath for the Front Door
My favorite spring flower is the tulip and every fall I plant tulip bulbs, but every year the squirrels and deer eat my tulips. Those pesky squirrels just dig them right up and if they have a chance to grow the deer come by and eat them. Honestly I didn't plant any last fall, I'm sticking with daffodils because no one seems to bother them.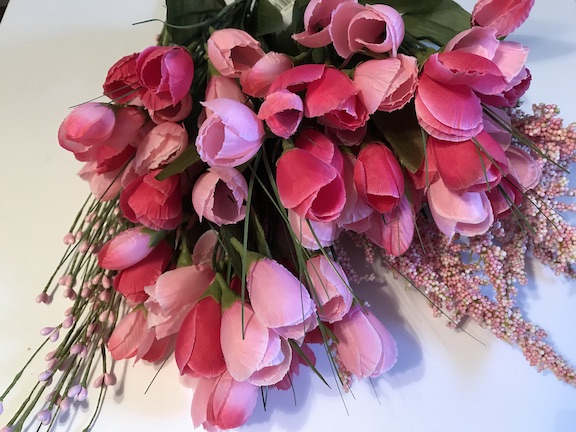 This year I'm going to have tulips for spring that no one can eat. When I was thinking about creating this tulip basket, I pictured myself in a field of flowers with a basket, picking whatever my heart desired. Doesn't that sound amazing? I pictured the basket in layers, for example you pick tulips first then you move onto the next flower and the flowers become layered in your basket. That's how I saw my basket coming to life.
To get started I took out the old flowers and set them aside. These daisies are in decent shape and I'm going to create a simple wreath for our shed.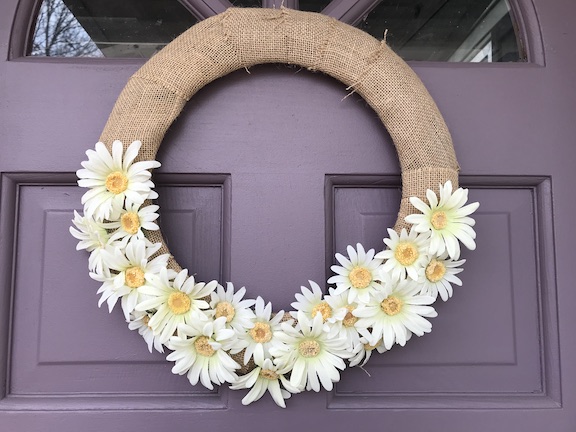 The daisies also get a second chance to be a pretty decoration. I just have to wait for the weather to get nicer to hang it up on the shed.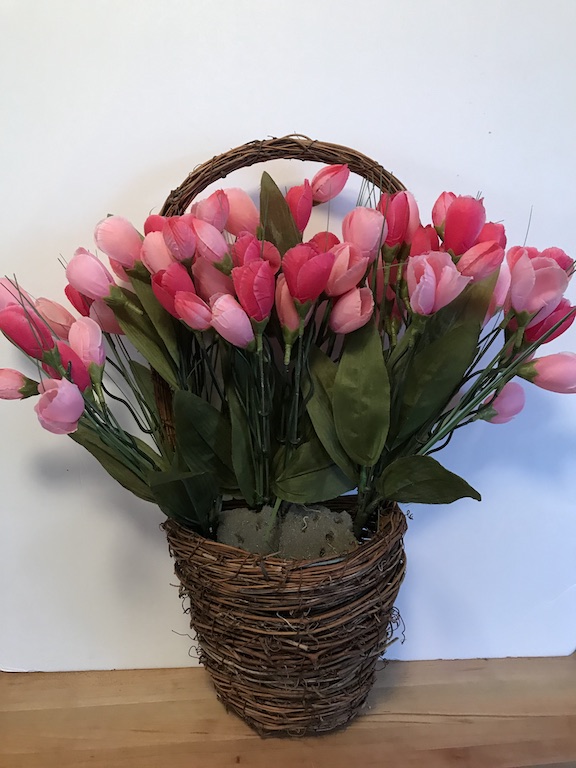 The foam floral piece inside the basket was in great shape. I kept it in their because it seemed easier. First I put the tulips in the back of the basket and they fit perfectly.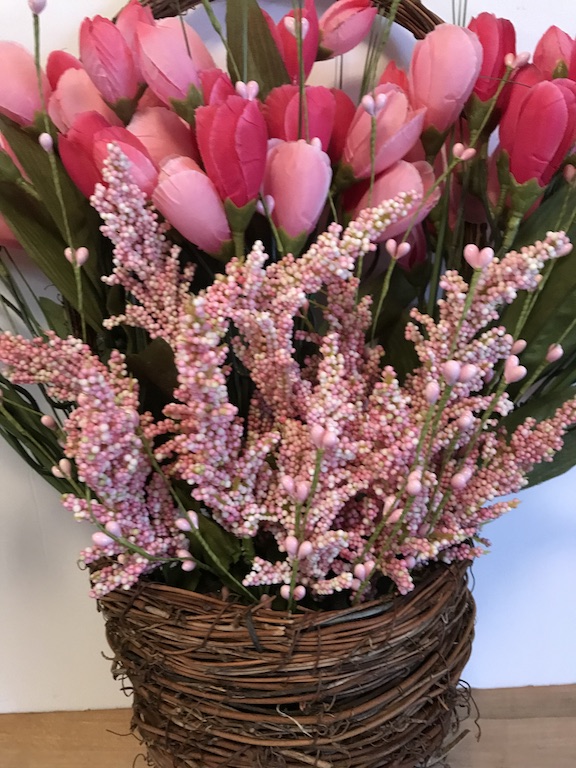 Then I cut the white and pink flowers off the stem and pushed them into the foam.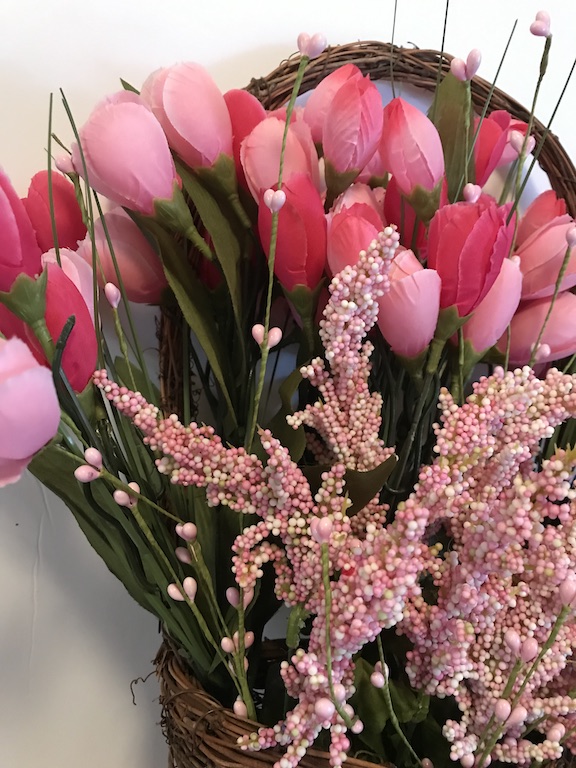 To finish the basket, I added in the pink beads. I add the beads to almost all my floral arrangements because I just love them. I did some shorter beads in the front and some taller pieces with the tulips.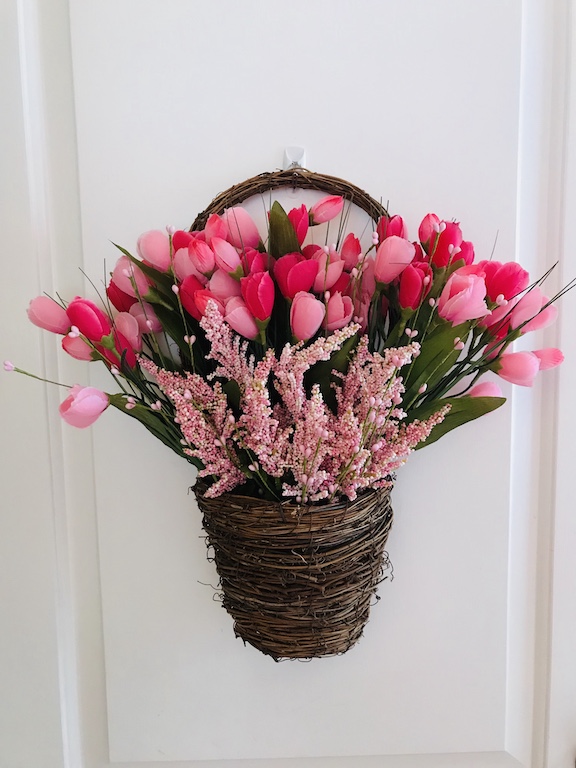 My daughter thought I made the basket for her (since it's pink) and asked for it to hang on her door. I told her it could for a few days before I put it outside. She doesn't know it yet, but soon she will be getting a new bedroom decoration with pink flowers.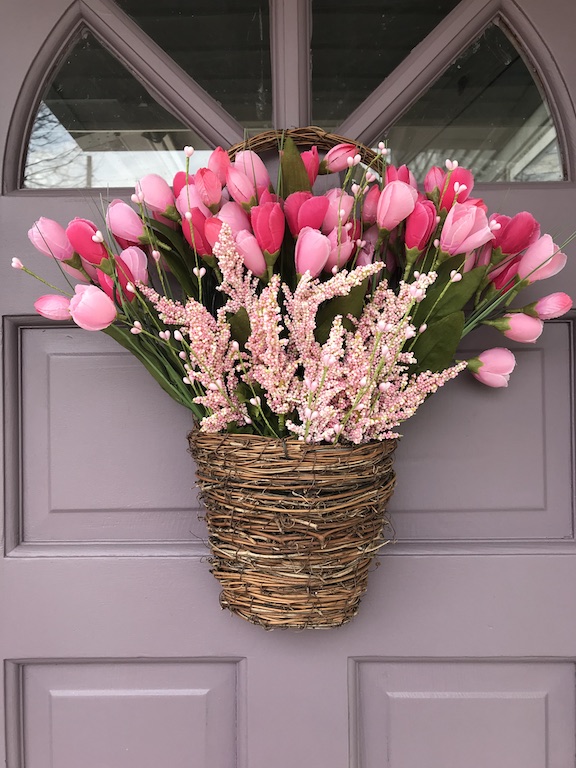 Spring Tulip Wreath in a Basket
The Spring Tulip Wreath in a basket took less then 15 minutes to make and is so pretty. This spring basket is perfect for the whole season from Easter to Mother's Day. If your mom loves floral door hangers, this basket would make an excellent Mother's Day Gift.
My spring tulip basket matches my Easter Egg Wreath perfectly. I know my door decor makes me smile when I come home and I hope they make someone smile as they drive or walk by.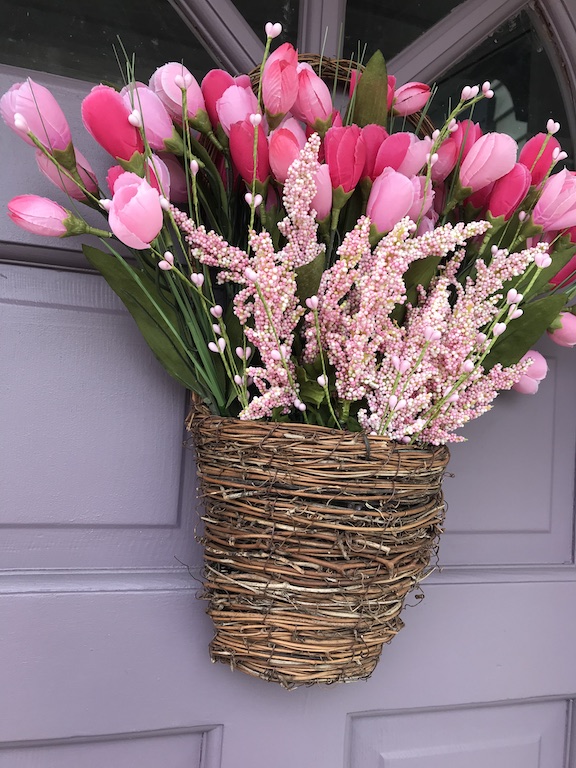 And now for more thrifty goodness!
Check out what my fellow upcyclers created below!