Super Bowl Cupcake Decorations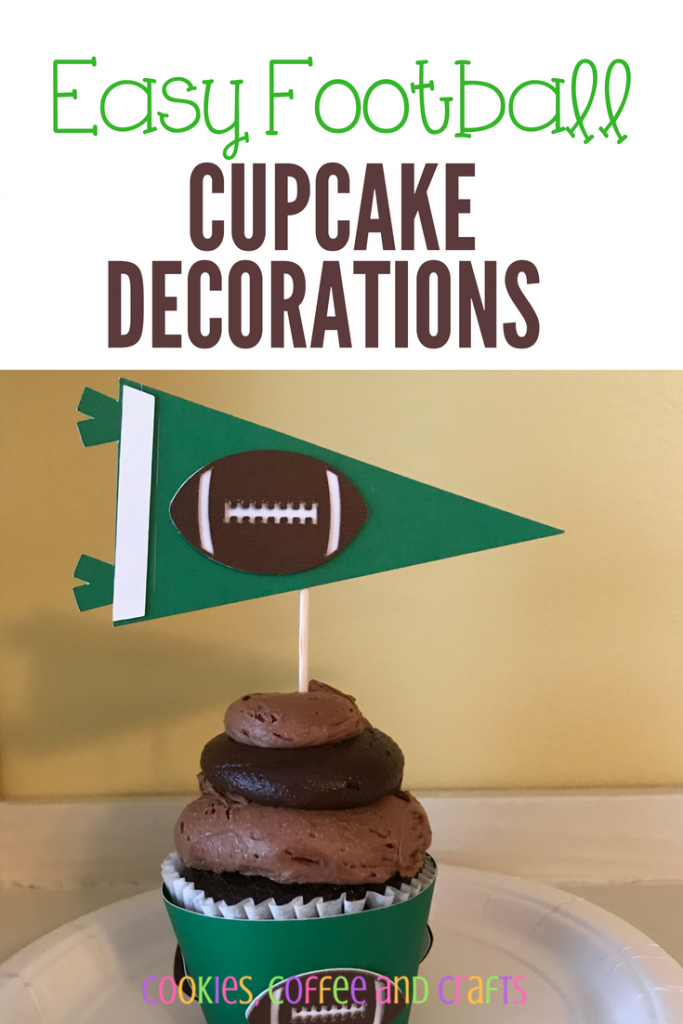 Note: As an Amazon Associate, I earn from qualifying purchases. If you click on a link from Amazon or another of my advertising affliates, I will earn a small commission at no additional cost to you. Please see my full disclosure policy here.
Today I am going to share easy Super Bowl Cupcake Decorations to wow your guest or to have cute cupcakes at home. These Super Bowl Cupcake Decorations are neutral and can be used for any Super Bowl party or a football themed birthday party. These cupcake decorations can be created with your Cricut using images in Cricut Design Space. This is an easy way to take a regular cupcake and make it extraordinary.
Below are some affiliate links and I may make a commission for purchases made through the following links.
How to Make Super Bowl Cupcake Decorations using your Cricut:
Supplies:
Card stock in green, brown, white
Cricut
Cricut Mat
Hot Glue
Toothpicks
Step 1:
In Cricut Design Space™, click images and search for a pennant. Add the pennant to your project and size it for your cupcake toppers. I made my pennant 4.24 by 2.133.  For the pennant, I had to hide the extra layers because I only wanted the one layer and white strip. All of the images I used for the cupcake decorations are available with Cricut Access Premium.
Step 2:
Then click on images and search for a football. Add the football to your project and size it to fit on the pennant.  The football is 1.753 by 1.072.
Step 3:
Then cut your pennant and football images on the Cricut and then glue the white strip and the football on the pennant using a Hot Glue Gun
. Then attach a toothpick to the back of the pennant using hot glue gun.
Step 4:
To add even more football frenzy to your cupcakes, make a custom cupcake wrapper. To do this I searched for cupcake wrappers in images in design space.
Step 5:
For the cupcake wrapper I chose a few layers have to be hidden by clicking on the eye.  Then change the wrapper to green just like the pennant.
Step 6:
I then duplicated the football from the pennant three times to add to the cupcake wrapper.
Step 7:
Cut out your cupcake wrapper on the Cricut and use the hot glue gun to glue the footballs and to glue the footballs to the cupcake wrapper.
I wanted to share with you the file for these Super Bowl Cupcake Decorations.
Make or buy your cupcakes and add your wrappers and toppers and your cupcakes are ready for the Super Bowl or football themed birthday party.