11 Great Cricut Projects with Cardstock You Can Make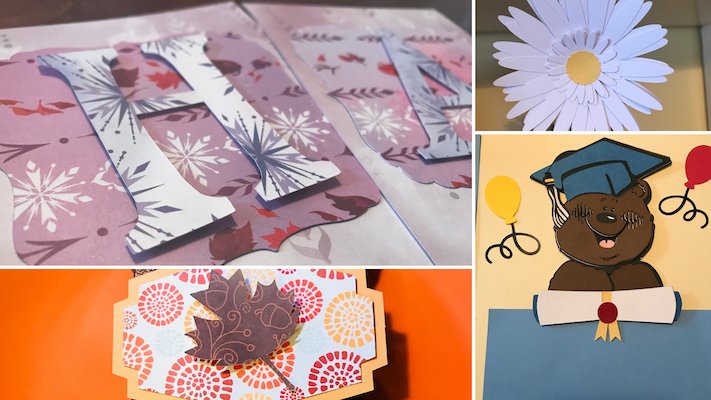 Note: As an Amazon Associate, I earn from qualifying purchases. If you click on a link from Amazon or another of my advertising affliates, I will earn a small commission at no additional cost to you. Please see my full disclosure policy here.
If you live somewhere snowy and cold like me in the winter, then you get to spend a lot of time indoors. Or living during a pandemic like we are now. It's a great time to do some Cricut paper crafts with cardstock. Many years ago my husband gave me my first Cricut for paper crafts and scrapbooking. . I've learned how to use many more materials with my Cricut, but my first love will always be Cricut projects with Cardstock.
Most of these projects can be created with any Cricut machine except for the few that use scoring. The Cricut Joy does not have a scoring function right now (who knows, maybe it will happen) and some projects may be to large for the Cricut Joy.
Questions About Creating Cricut Projects with Cardstock
What mat should I use to cut the cardstock on?
I recommend using the light grip (blue mat) for cardstock because the cardstock won't stick or curl. Now if you have an older green mat that's not crazy sticky, that will work too. If your green mat is brand new, the cardstock will stick to it and curl. I always feel like I'm in a battle between loving new mats (because everything sticks so well) and having difficulty removing my paper from it.
How to remove cardstock from the Cricut mats?
Use the spatula looking tool and the tweezers to remove the projects from the mats. The spatular works great for this. Then to clean your mats of any small pieces, use your scraper after you've removed your project.
What cardstock can you use for Cricut?
Truly any cardstock will work. I've used many brands of cardstock through the years and my favorite is Close To My Heart Cardstock. It cuts smoothly, evenly and the cardstock is a nice weight to use for projects. Also if you are writing on cardstock, you definitely want a smooth cardstock to write on with the Cricut pens. Anytime I see pretty color paper, I buy it and give it a try. See what works for you, everyone has different experiences.
11 Great Cricut Projects with Cardstock You Can Make
What Cricut cardstock project are you ready to go make?