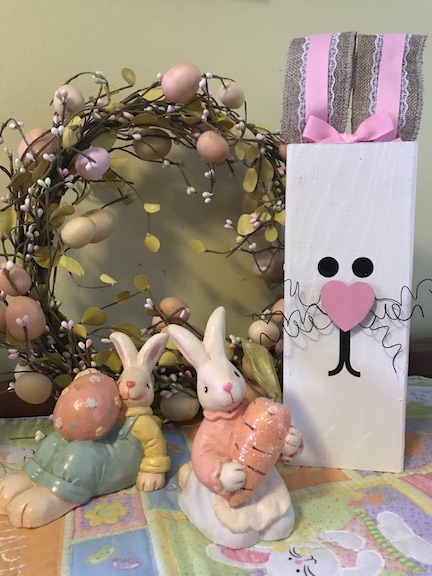 Note: As an Amazon Associate, I earn from qualifying purchases. If you click on a link from Amazon or another of my advertising affliates, I will earn a small commission at no additional cost to you. Please see my full disclosure policy here.
Welcome to the March Pinterest Challenge Blog Hop, hosted by My Pinterventures. The purpose of this Pinterest Challenge is to motivate all the participants of this hop (and you too) to not just pin, but to make it happen! So this month, I chose to create/make a 2×4 Scrap Wood Bunny. I have been thinking about my Easter decorations and decided I needed some new ones. I have lots of 2×4 my parents gave me and I've been trying to think of ways to use them. Creating a 2×4 Scrap Wood Bunny would be perfect! Plus I was looking for a project that I could make out of items I already had. I found these 2×4 Wooden Bunnies from Creative Me Inspired You that inspired me to try out this pin-2×4 Wooden Bunnies via Creative Me Inspired You.
Before getting started on this adorable bunny, I wanted to share my challenge from last month Confetti Cake Batter Cookies. These cookies are scrumptious.
Materials for Scrap Wood Easter Bunny
2×4
White Paint
Wooden Heart
Pink Acrylic Paint
Foam Brush
Floral Wire
Black Acrylic Paint
Black Glitter Vinyl
Pink Ribbon
Burlap Ribbon
Rubberbands
Hot Glue Gun
Black Wire
For the Bunnies, I wanted to use supplies I had so my bunny will look a little different. I ended up painting the floral wire black for the whiskers because real life interrupted my craft life. I forgot it when I went to the craft store and my husband was waiting in the car so no way was he turning around to go back. Anyone else ever been in that situation? Plus I got the look that said I took to long (that's why I usually go by myself), but you can't rush creativity.
Let's Create a DIY 2×4 Scrap Wood Bunny
For the 2×4 bunny body I used white paint. My bunny is 9 inches tall. I just used a scrap piece of 2×4 and had my husband cut a clean cut on the top and bottom.
For the eyes I am made circles in Cricut Design Space™ and cut out the Black Glitter Vinyl
using my Cricut Explore. I'm just not good at painting details like that.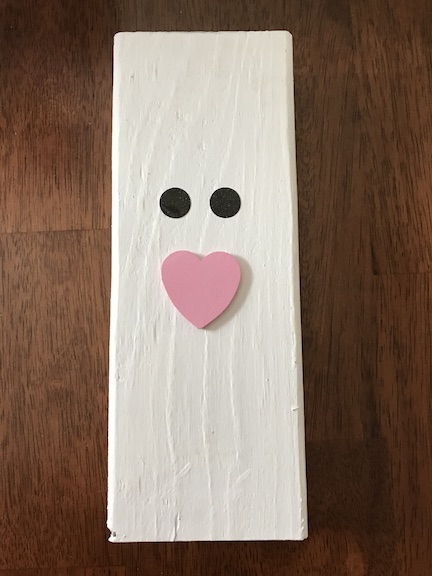 For the nose I painted a wooden heart with Think Pink Acrylic Paint
.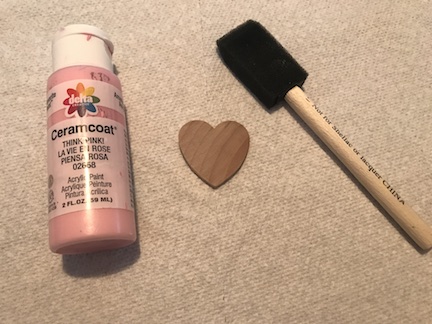 As I was making this, my son told me it needed a mouth so I made one in Cricut Design Space and cut it in the black glitter vinyl.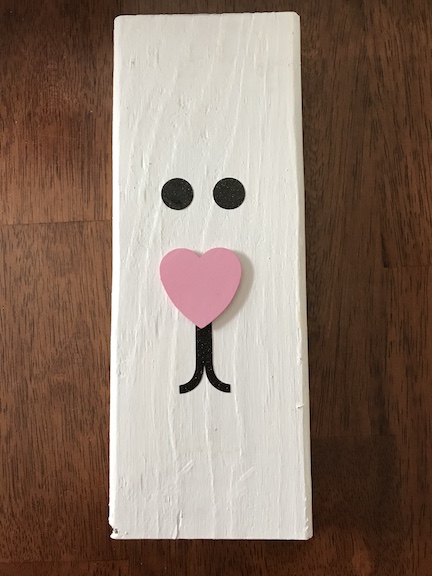 For the bunny ears, I chose the burlap and pink ribbon. I hot glued the pink ribbon on top of the burlap ribbon in the center and then used a rubber band at the bottom. Then I hot glued the ears to the 2×4 and added a pretty bow.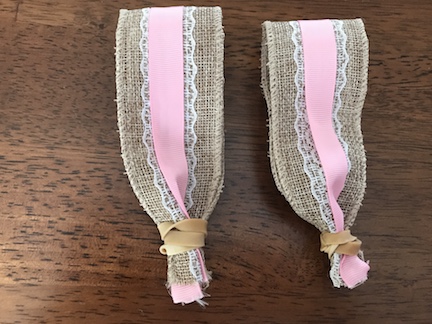 To put the adorable bunny face together, I added the eyes and then the whiskers. Then on top of the whiskers, I hot glued the heart nose. For the whiskers I didn't have any black wire, so I improvised and painted my green floral wire with black acrylic paint.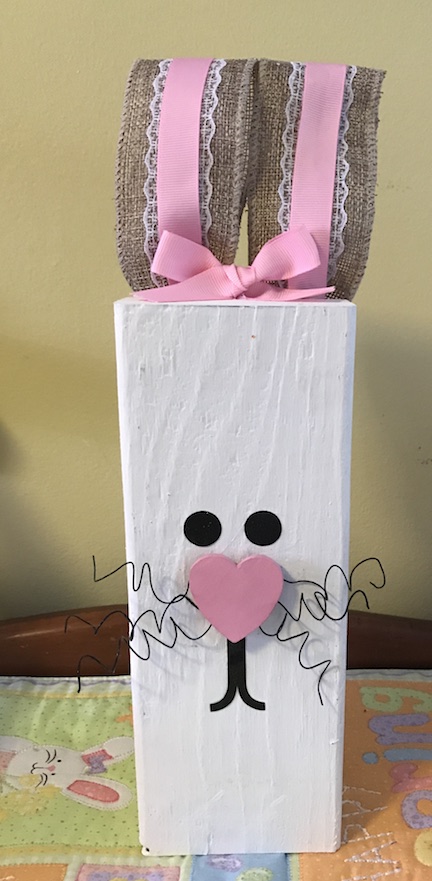 This bunny was easy and fun to make. I think I am going to make a bunny family now, one for each of us because I feel this decoration needs some friends. This was a great project to use up extra 2×4 scrap pieces and to use items from my craft stash. Creating items from your craft stash, gives you an adorable new decoration and you can go buy more craft supplies. This Pinterest Challenge was a win!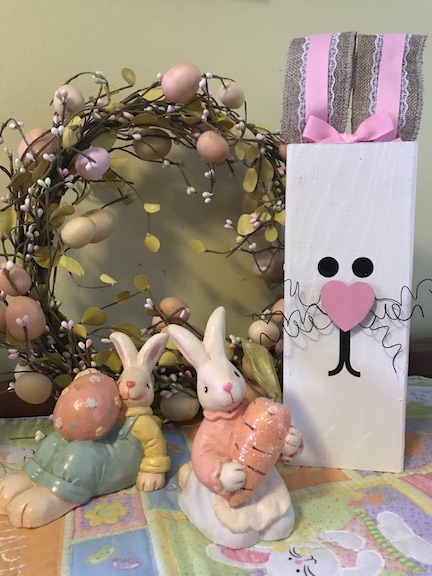 To join next month's challenge, click here to sign-up ⇒ April Pinterest Challenge
---
Now let's see what other things Pinterest inspired! Head over and visit the other hosts to see what they crafted, cooked, built, or tried!
Erlene – My Pinterventures • Shirley – Intelligent Domestications
Jenny – Cookies Coffee and Crafts
Joanne – Our Unschooling Journey • Magen – The Kusi Life
Roseann – This Autoimmune Life • Kelli – The Olympic Nest
Lynne – My Family Thyme • Beverly – Across the Blvd.
Debra – Shoppe No. 5 • Pili – My Sweet Things
Laurie – My Husband Has Too Many Hobbies • Kristie – Teadoddles
Julie – Sum of their Stories • Gwen – Geez, Gwen!
Marie – The Inspiration Vault • Candice – Fearlessly Creative Mammas
T'onna – Sew Crafty Crochet • Kenyatta – My Design Rules
Cherryl – Farm Girl Reformed • Lisa – Blogghetti
Leslie – Once Upon a Time & Happily Ever After
Micah – Home Faith Family • Kelley – Simply Inspired Meal
Lauren – Mom Home Guide • Deborah – Salvage Sister & Mister
Gail – Purple Hues and Me • Terri – Our Good Life
Lauren – Wonderfully Made • Sue – A Purdy Little House
Toni – Small Home Soul • Maureen – Red Cottage Chronicles
Marci – Stone Cottage Adventures • Michelle – Our Crafty Mom
Emily – Domestic Deadline • Maria – Tinselbox