4th of July Treat Bags for the Parade or Fireworks
Note: As an Amazon Associate, I earn from qualifying purchases. If you click on a link from Amazon or another of my advertising affliates, I will earn a small commission at no additional cost to you. Please see my full disclosure policy here.
Do your red, white, and blue cuties get bored waiting for the parade? The 4th of July will be here soon and I see the stores are filled with red, white, and blue fun stuff. The kids are bubbling over with excitement in anticipation of the parade, but it's hard to sit and wait for it to start. Creating 4th of July Treat Bags for the parade to keep them busy until the parade started was a lifesaver. It also doubles as a place to put the candy from the parade.
This post contains affiliate links which means I may make a small comission of any sale that is made by clicking on any of the products with no cost to you. Your support is greatly appreciated.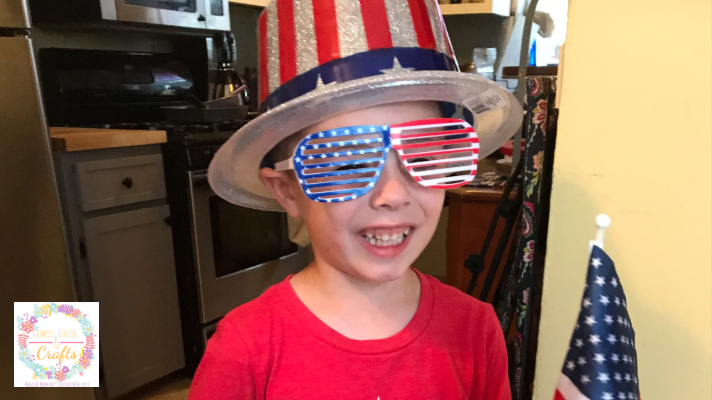 4th of July Treat Bags to keep the Kids Busy
The treat bag is easy to put together. Put in things to keep them busy at the parade and items for later (either for the picnic or fireworks). A great place to pick up items is the Dollar Tree or the Target dollar spot, but Amazon has so much cute stuff too. I'm buying the I love USA bubbles this year and the stamp set. Everything for the treat bag is usually red, white, and blue- a patriotic theme for a patriotic day!
Who else likes to save money? These will keep your children busy and they won't beg (I mean ask) for you to buy them things from the vendors walking around. It will save you so much money and headaches too! I try to buy everything for the parade bag (without my childre)n so it's a surprise on the 4th of July.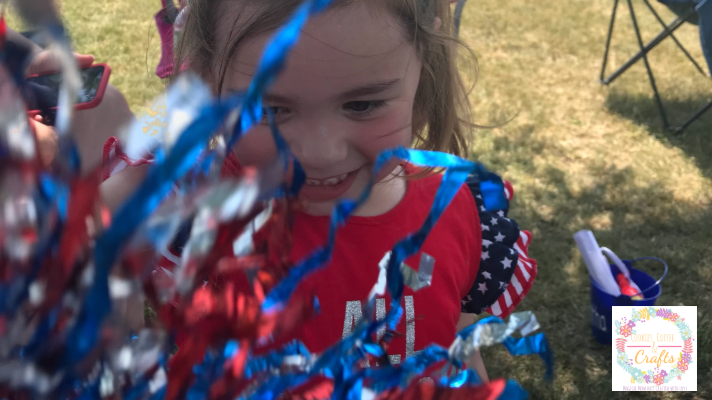 Kid Approved Parade Bag Ideas
Parade Bags 4th of July- Fireworks Themed

Plastic Bucket

Patriotic Bubble Bottles for Kids

24 Piece Patriotic 4th of July Stamp Set

Patriotic Inflatable Beach Ball

Red, White & Blue Pom Poms

Patriotic Necklace

Patriotic Pinwheels

America Sunglasses

Forth of July Patriotic Red, White, and Blue Glowstick Wands

Patriotic Red White Blue Star Foam Wands – 4 Count

American Flag Water Bottle

Patriotic Children's Art Coloring Set

Patriotic American Flag Wristband

Small American Flag

Crayola Crayons

Crayola Washable Markers

Squirt Guns for Kids

Snacks- of course because the kids are always hungry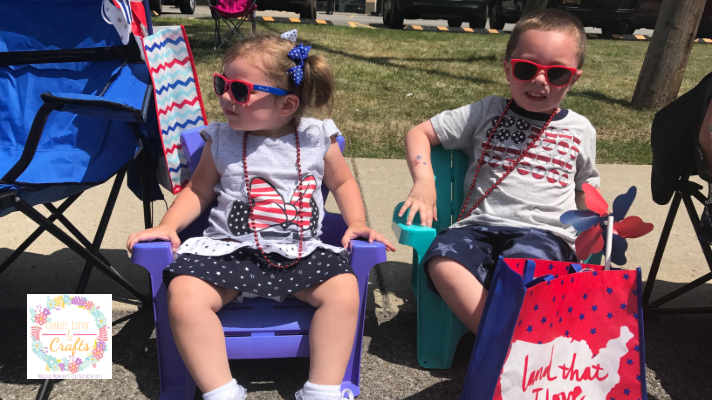 Do you want to make a treat bag now? The kids will love them and look forward to them every year. I hope your family has an amazing 4th of July!