Note: As an Amazon Associate, I earn from qualifying purchases. If you click on a link from Amazon or another of my advertising affliates, I will earn a small commission at no additional cost to you. Please see my full disclosure policy here.
A couple years ago I started creating cards using my Cricut Explore and I love it. Card making has become one of my favorite things to create. I love looking at all the creative cards on Pinterest and the ideas for homemade cards are endless. I love creating personalized cards for family members, such as a fishing card for Papa or a soccer card for my nephew.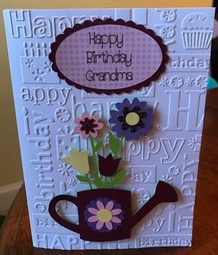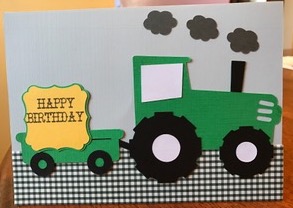 Here are some tips for creating cards that will help you as you begin this creative adventure.
Buy already made cards at the store and add paper, text, and embellishments to them. If you purchase them with a coupon from any of the craft stores or when they are on sale, it's a great deal.
Keep leftover Christmas Card envelopes because they are usually 5×7 and you can reuse them for your homemade cards. I always do photo Christmas cards and you have to purchase them in sets of 20 so I always have leftover envelopes. Honestly I have not bought any envelopes for my cards this year and I probably have enough envelopes for next year to.
If you use a Cricut Explore only write on the smooth side of the card stock or buy smooth card stock to use for the writing. I have had bad luck with the pen smearing on the rougher side and the writing does not look as nice.
The number one rule for card making for me is less glue is the best because you can always add more glue. I absolutely love the EK Tools Zig Memory System 2-Way Squeeze and Roll Glue Pen, New Package it dries clear and a little dot of glue does the job. For adding paper to the cards, I like to use the double sided Thermoweb Mounting Squares 750/Pkg, White 1/2-Inch because they are permanent, but you can reposition the paper easily without ruining your card. I also love the 3D Foam Adhesive Tape Small Squares – 1 Sheet of 940 Squares to make things pop on your cards.
If you have a Cricut Explore or another machine, using the colored pens on cards just adds an amazing element to your card. I would suggest investing in different colored pens. I am still building my pen collection because I just started using the colored pens and I love them!
When you mail your homemade card, tell the postal worker you would like a stamp and the non-machine fee, right now it's .21 cents. Your card will be hand sorted and will not get ruined going through the machine. The post office also puts a special stamp on it to.
These are basic card making tips and if you have other great tips please add it in the comment section. I feel I am always learning as I create and I am trying new things on my cards.
Happy Crafting! I have included some links on Amazon that have amazing deals for everything you need to start creating homemade cards.
Below are some affiliate links and I may make a commission for purchases made through the following links.