North Pole Christmas Table for Kids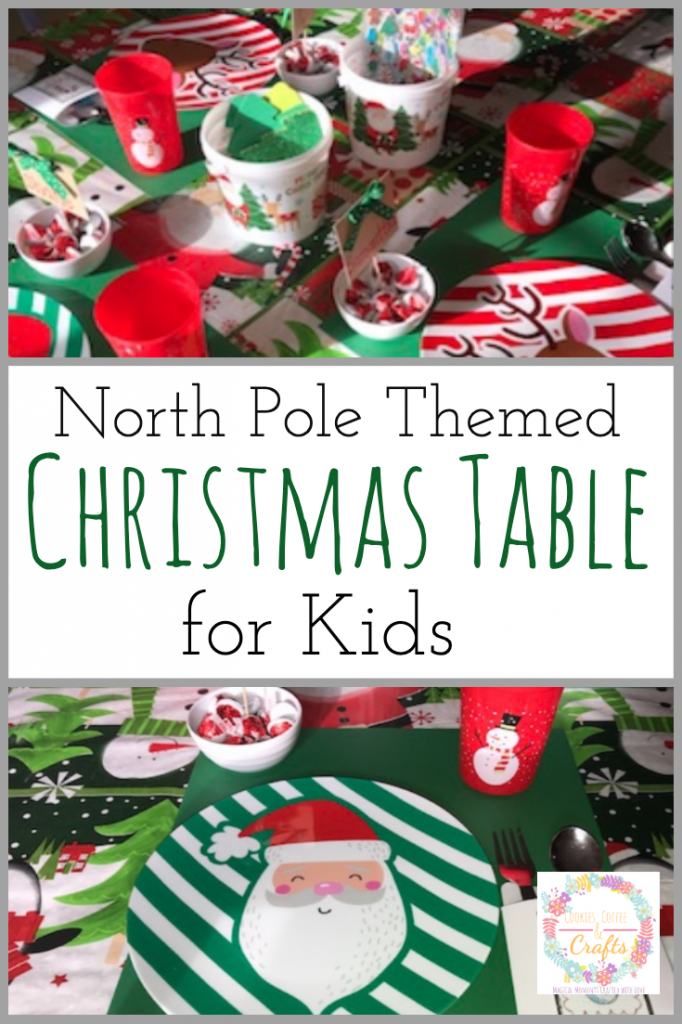 Note: As an Amazon Associate, I earn from qualifying purchases. If you click on a link from Amazon or another of my advertising affliates, I will earn a small commission at no additional cost to you. Please see my full disclosure policy here.
Kids make the holidays exciting, unpredictable, memorable, and bring so much joy to everyone around them. The magic, the wonder, and the cheer is evident on every child's face during Christmas. Christmas is also a time when family and friends gather and connect. My children love seeing their cousin and being together and of course sitting at the "Kids Table." I have created a fun North Pole themed table for the kids to enjoy and I'm hoping this will keep them at the table.
---
They have all been busy as Elves creating, decorating, cooking and crafting tons of new ideas for you to try this holiday season!
Shirley~Intelligent Domestications I Alli~An Alli Event I Michelle~Our Crafty Mom I Marie~DIY Adulation
Erlene~My Pinterventures I Beverly~Across The Blvd. I Debra~Shoppe No. 5 I Victoria~Dazzle While Frazzled
Megan~C'mon Get Crafty I Michelle~Michelle James Designs I Amanda~Domestically Creative
Deborah~Salvage Sister & Mister I Jeanie~Create & Babble I Sherry~Olives & Okra
Jenny~Cookies Coffee & Crafts I Emily~Domestic Deadline I Bonbon~Farmhouse 40
Leanna~Of Faeries & Fauna I Pam Larmore~P.S. I Love You Crafts I Kelly~North Country Nest I
Marie~The Inspiration Vault I Gail~Purple Hues and Me I Lynne~My Family Thyme I
Karen~Dragonfly and Lily Pads I Trisha~Blowing Away Out West Lorrin~Embrace The Perfect Mess I
Terri~Christmas Tree Lane I Sam~Raggedy Bits I Cyn~Creative Cynchronicity Valeria~Val Event Gal
Yami~The Latina Next Door I Jeannee~Centsably Creative I Tania~Little Vintage Cottage
Lauren~Wonderfully Made I Vanessa~DIY 180 I Kimberly~A Wonderful Thought I
Kim~Everyday Parties I Dru~Polka Dot Poplars
---
To design this North Pole table setting, I went to my favorite places, the Target Dollar Spot and the Dollar Stores. Christmas can be expensive and I like to reuse items I already have. I am using the buckets from the Hot Chocolate Bar and the tablecloth for the kids table. I found the plates at the target dollar spot, the foam christmas trees, and the stickers. I found the snowman cups at the Dollar General (4 for a $1).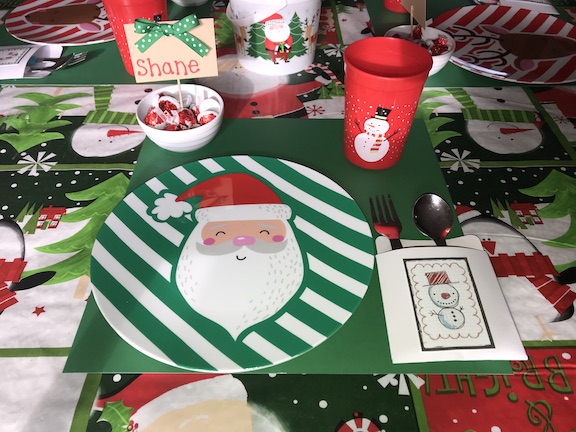 I am using 12×12 card stock as the placemats because kids can be messy and it also gives them a place to draw or add stickers to. It's also an easy clean up.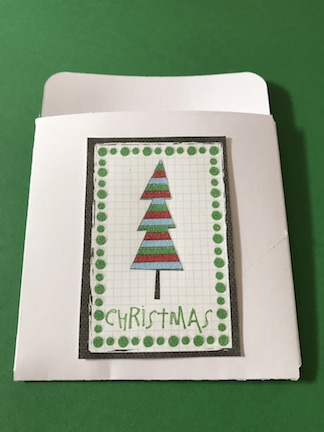 I made the silverware holder on my Cricut by creating a card holder and sizing it to hold children size silverware, then I added a picture to the front of the silverware holder.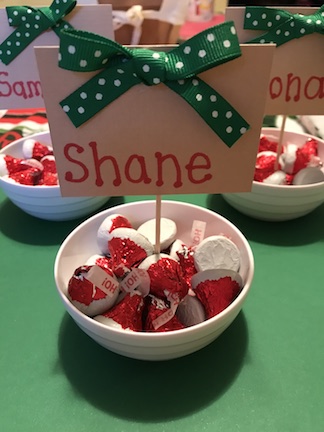 Since it's Christmas I made cute gift name cards and placed them in a bowl of Hershey Kisses (it's ok because it's Christmas). I found these cute plastic bowls at Wegmans (69 cents each) that are the perfect size.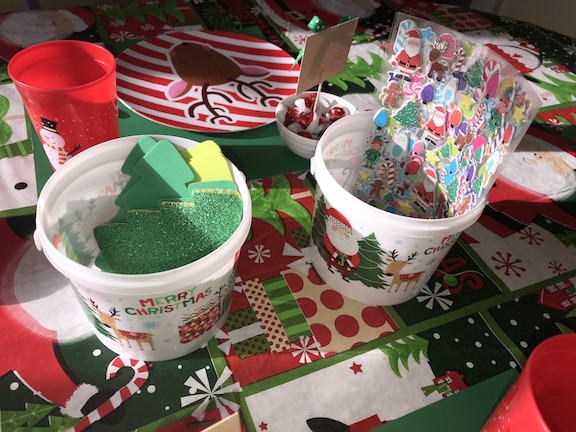 In the center of the table is a bucket with foam Christmas trees and stickers for the kids to decorate. I wanted to choose something that could be done independently and mess free.
North Pole Christmas Table Supplies:
Christmas Plastic Plates
Tablecloth
Hershey Kisses
Toothpicks
Hot Glue Gun
Christmas Trees
Small Plastic Bowls
Snowman Cups
Card Stock
Foam Chrismtas Trees
Stickers
My children have been watching me create this for days and can't wait to get their hands on all of it. I am putting away most of it for Christmas, but I will be going back to Target for more foam trees and stickers because the kids are in love with them. I promised they could decorate the trees as soon as I was done.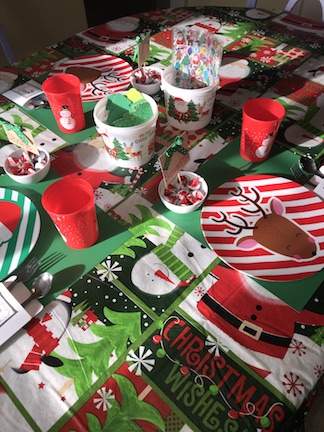 The North Pole Christmas Table for kids is bright, colorful, and full of Christmas cheer. The kids will love decorating the trees and munching on some chocolate.
---
Be sure to visit our fellow 12 Days of Christmas Bloggers below for even more creative ideas this holiday season!