5 DIY/Crafting Goals for the New Year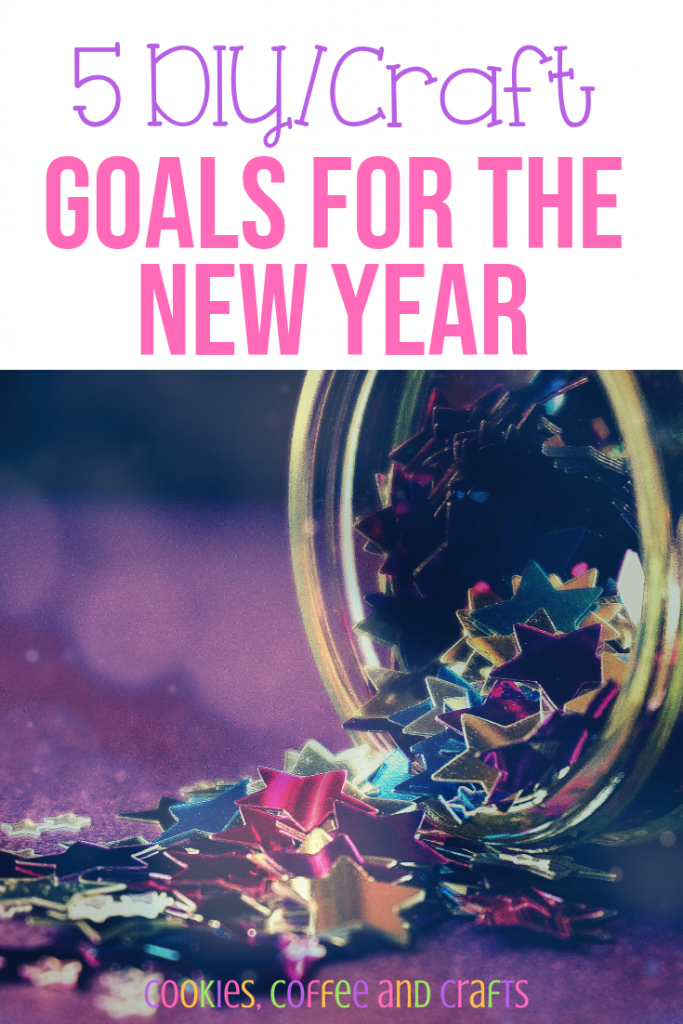 Note: As an Amazon Associate, I earn from qualifying purchases. If you click on a link from Amazon or another of my advertising affliates, I will earn a small commission at no additional cost to you. Please see my full disclosure policy here.
Crafting is something I love to do, it's my outlet for stress, fun, and brings me joy. As a new year starts, my mind wanders to all the amazing projects I have seen throughout the year. If you are a Cookies, Coffee and Crafts regular, you are familiar with the blog hops I participate in. Like Craft and Create with Cricut, the Pinterest Challenge, Bring on the Crafts, Inspire My Creativity, and many more! This year I am setting 5 Crafting Goals for the New Year. I'm going to try out 5 new crafting tools or techniques in my creative journey.
This post contains affiliate links which means I may make a small comission of any sale that is made by clicking on any of the products with no cost to you. Your support is greatly appreciated.
My 5 Crafting Goals for the New Year
Bow Maker
I love creating wreaths, but I just can't figure out the bows. Plus I have seen some beautiful bows made by my blogging friends using a bow maker. So this is definitely on my list of crafting goals this year. Plus if I get a bow maker, I can add bows to my Christmas tree and I can create bows for my porch for the seasons and holidays. I'm looking at this one Bowdabra Bow Maker
.
Wood Burning
Have you seen those lovely wood burned signs? Spoons? Coasters? Hangers? Anything with a wood burned design, just looks amazing. I have seen so many amazing projects on Pinterest that I would love to try. I would love to learn how to do this and create any of the above and more. A Wood Burning Tool
will be fun and create some beautiful pieces for my home.
Hand Lettering
I love SVG's that are hand lettered and choose those designs all the time to create with my Cricut, but it would be awesome to hand letter designs myself. For my children's birthday I love creating birthday boards and I really want to be able to hand letter them this year. This is my goal by the spring to create hand lettered birthday boards. I better start practicing.
Cricut Knife Blade
Using my Cricut for projects is one of my favorite tools, but I haven't gotten the knife blade yet. The Cricut Knife Housing & Blade
can cut wood, leather, and chipboard. I'm really excited to try this and create some new items. I'm thinking chipboard coasters will be my first project.
Rainbow Layered Cake
This one isn't related to crafting, but it's a DIY to make my daughter a layered rainbow unicorn cake. As of right now she would like the same one as on Nailed It. Her birthday isn't until May so we will see, but either way what little girl wouldn't love a rainbow cake. Creating cakes and cupcakes is a great DIY to be able to do because it will save you a lot of money. I've always wanted to try to create a rainbow cake and I'm going for it this year. I'm going to try the Wilton Easy Layers!
.
Has this inspired you to try something new this year or maybe to take the leap and start creating? I'm excited for these goals and I'm getting to work right away to get started!