DIY Christmas Survival Kit with Printable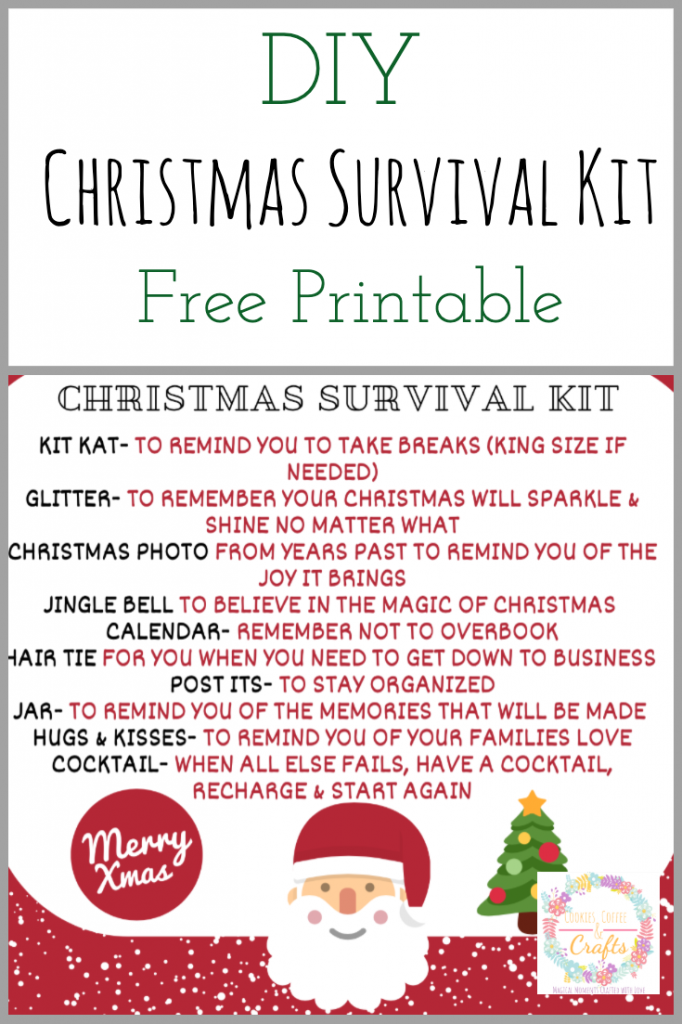 Note: As an Amazon Associate, I earn from qualifying purchases. If you click on a link from Amazon or another of my advertising affliates, I will earn a small commission at no additional cost to you. Please see my full disclosure policy here.
Christmas time can be stressful and the to do list is never ending, but it's also a great time to have fun with friends and family. A DIY Christmas Survival Kit is perfect for friends, family, neighbors as a fun way to remind everyone that the hard work (the to do list, shopping, baking, etc) truly pays off. Just add this cute printable to go with it, just put it in a mason jar.
Welcome to the 5th annual 12 Days of Holiday Ideas event, hosted by Shirley of Intelligent Domestications and Erlene of My Pinterventures Between Nov. 11th and December 6th there will be hundreds of new ideas shared by over 55 Co-host bloggers!
Go Here to see our kick-off collection of Holiday ideas as well as all of this years talented participating DIY and Foodie Blogs. Download this years November and December calendars with all of the topics and dates so you can make plans to watch for ideas!
DIY Christmas Survival Kit in a Mason Jar
Kit Kat
Kit Kat's are to remind you to take a break and relax (get a king size if needed)
Glitter
Glitter is to remember that your Christmas will sparkle and shine no matter what happens or doesn't happen. Some how it all comes together every year.
Christmas Photo
Put in a Christmas photo from years past to show all the joy that your hard work and surviving Christmas brings to your family.
Jingle Bell
I'm a total Polar Express fan and the bell is to believe in the magic of Christmas.
Calendar
The Christmas season can be very busy with all kinds of extra things to do. Remember not to overbook and to schedule time to relax and enjoy the Christmas season.
Hair Tie
For when you need to put your hair in a messy bun and get down to business. I do my best work in a messy bun with coffee of course.
Post It Notes
Post it notes are great for those ideas that pop in your head, to keep track of your to do list or perfect for a shopping list. They help me stay organized everyday. If you need more ideas of how to stay organized for Christmas, I share all the ways I stay organized and prepare.
Jar
Put your cute holiday survival kit in a mason jar and think of all the new memories you will fill it with during this Christmas season. Your jar will overflow with all of the new memories.
Hugs & Kisses
These edible hugs and kisses are to remind you of your families love. Plus you can eat them when you need a chocolate snack.
Cocktail
When all else fails and you're just had enough holiday fun and are barely surviving, have a cocktail, recharge and start again.
DIY Christmas Survival Kit Printable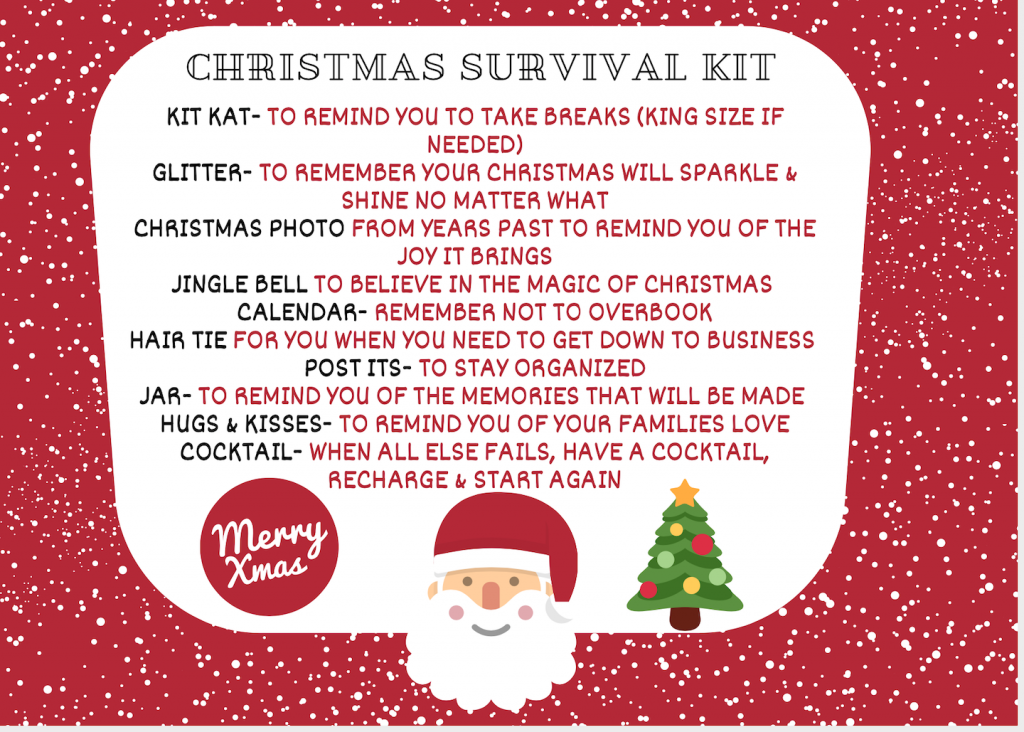 To get your free Christmas Survival Kit Printable, just download here. Regular computer paper will work, but for more of a note card feel, print it on card stock.
All of this in a mason jar with the cute tag and your Christmas season will be off to a great start. Its a fun, easy, and inexpensive Christmas gift and a fun way to kick off the holiday season. Mason jars make great gift ideas, this one is the perfect gift for crafters.
My Christmas Survival Kit will be on my kitchen counter and when I need a pick me up or are feeling down with the holiday struggle, I'm going to look at my jar, eat some chocolate and reads this funny note. It brings a smile to my face and I know it will make you smile too.
You are invited to the Inlinkz link party!