DIY Fall Wood Decor- Book Stack Craft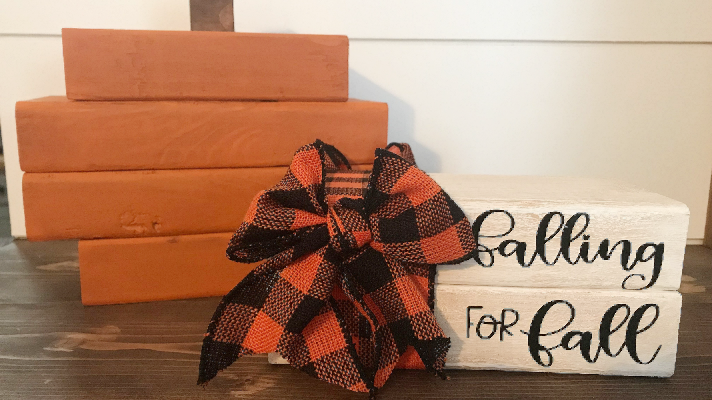 Note: As an Amazon Associate, I earn from qualifying purchases. If you click on a link from Amazon or another of my advertising affliates, I will earn a small commission at no additional cost to you. Please see my full disclosure policy here.
Let's talk fall decor. It's my favorite time of the year to decorate and I had to make a fall book stack for the season. The cool thing is that I made this DIY Fall Wood Decor double sided so I can use it for the beginning of fall and for Thanksgiving. 2×4 book stacks are an easy craft idea to make for decorating your home. These are my happiness is homemade 2×4 book stack that I keep year round in the kitchen, I just love them.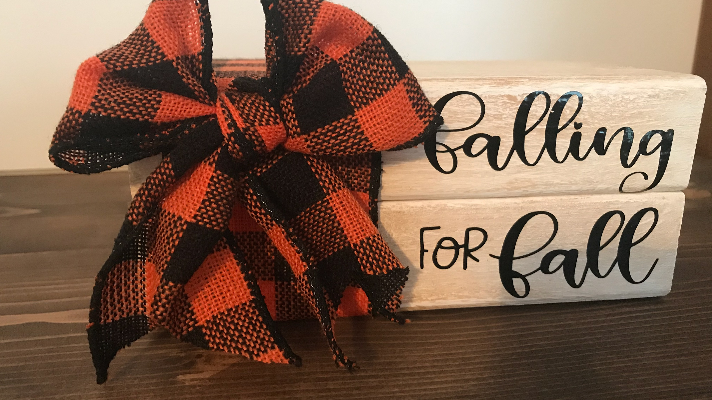 Materials for Easy Fall Scrap Wood Craft Idea
2- 2×4 cut to 7 inches
White Adirondack Folkart Home Decor Chalk Paint
Nylon Chip Brush Set
Folkart Antique Wax
Folkart Clear Wax
Lint Free Cloth
Black Permanent Smart Vinyl
Transfer Tape
Cricut Joy (Buy on Cricut/Buy on Amazon)
Cricut Tools (Buy on Cricut or Buy on Amazon)
Fall Ribbon
Hot Glue Gun
Let's Create a DIY Fall Wood Decor- Book Stack Craft
As with all of my crafts, I always try to go for simple and easy. I don't have as much time as I would like to craft (well what can I say I would craft all day if I could).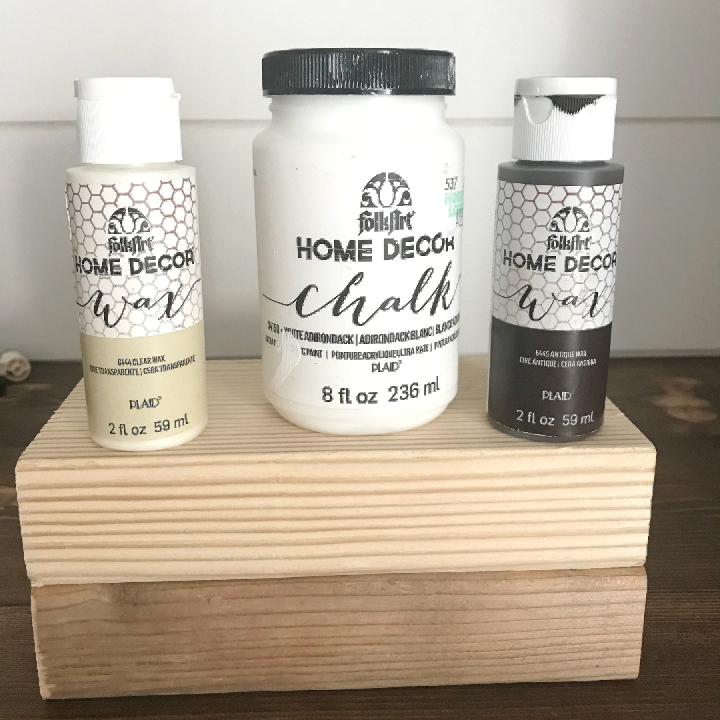 Start with your scrap 2×4 cut them to 7 inches. Then give them a good sanding. They can be any size you want. I just used a scrap piece that was already 7 inches and cut the other to match.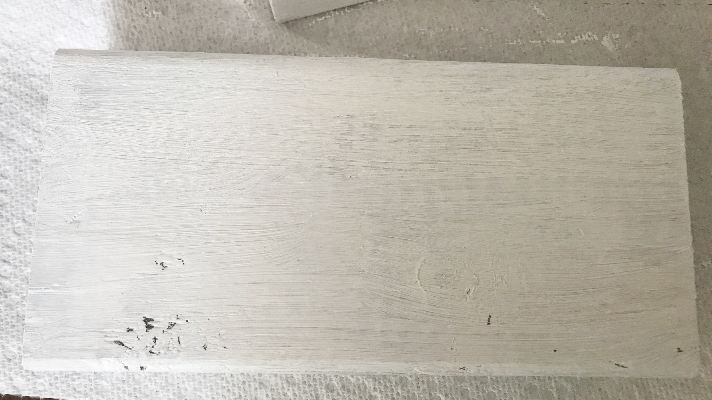 Paint all of the 2x4s in the White Adirondack Folkart Home Decor Chalk Paint and let them dry. Use the lint free cloth to cover the chalk paint with the Folkart Clear Wax .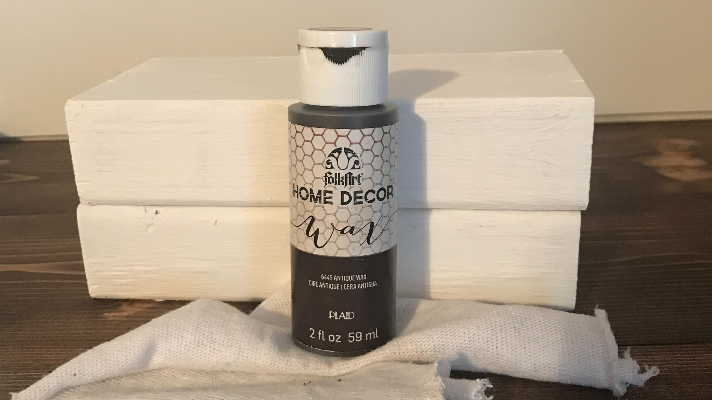 If you choose to use chalk paint and clear wax, you have to wait 24 hours before applying the antique wax.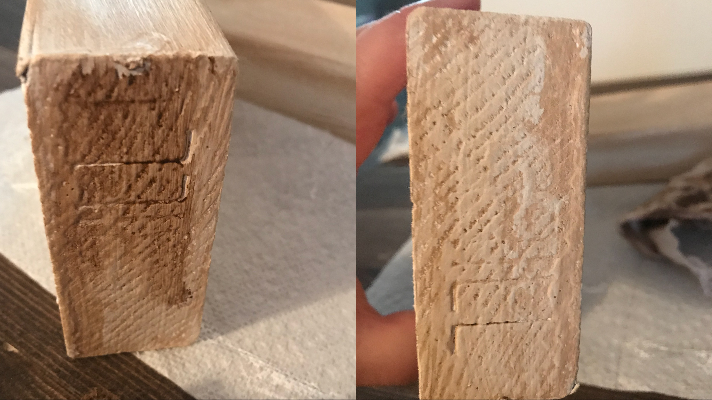 Then I took the antique wax and put some on the books and then I wiped it off with the lint free cloth to give it an aged look. The longer you leave the wax on the darker it will get. The 2×4's were a little darker than I wanted, so I took 220 sand paper and sanded them a little bit.
In Cricut Design Space™, make your design. On the fall side, I put falling for fall. For the Thanksgiving side, I put Thanksgiving Blessings. Create the designs to fit on the 2×4's.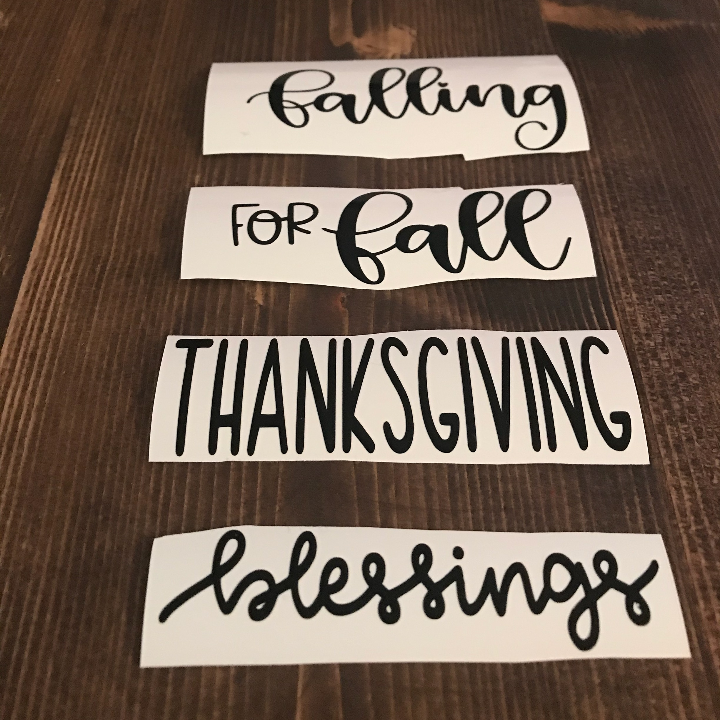 Cut the sayings with the Cricut Joy and the Black Permanent Smart Vinyl. Weed the design and use transfer tape to add it to the wooden books.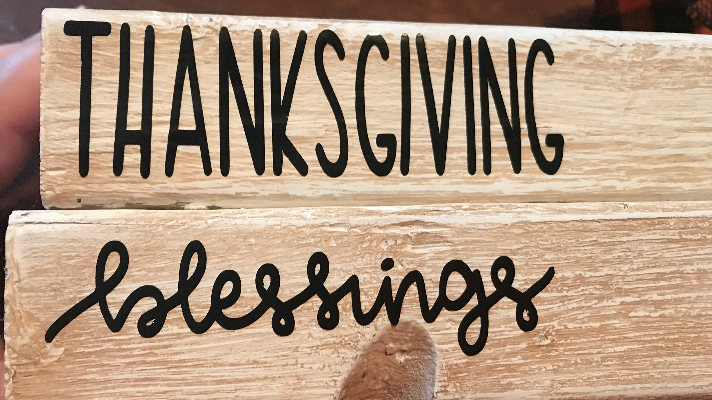 Decorating the Fall Book Stack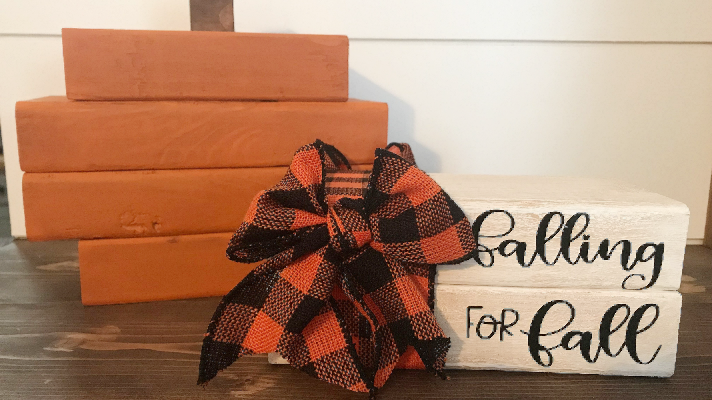 I added on the ribbon and bow to finish the books with the hot glue gun. I used wire ribbon so you can easily bend down the bow on the other side or just leave it. It's super cute either way.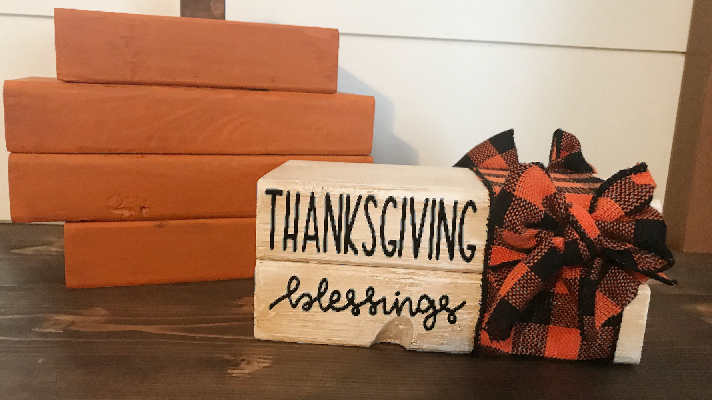 The fall wood decor is perfect and goes with so many design styles. Plus you can make it double sided for all of fall. Who's ready to go make some 2×4 fall book stacks?