DIY Thrift Store Tray Makeover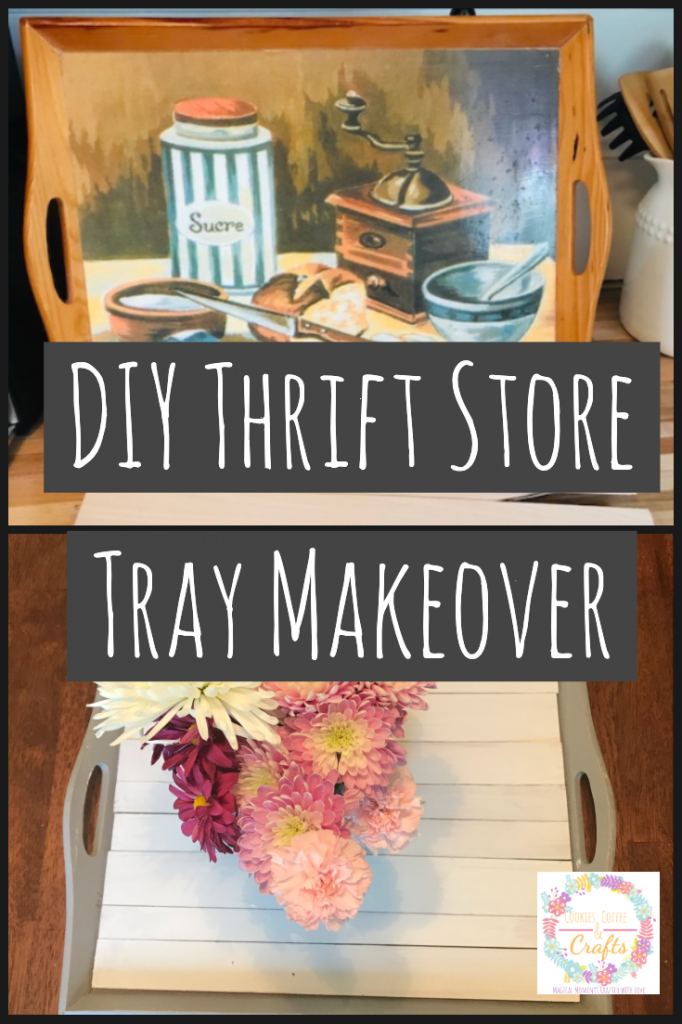 Note: As an Amazon Associate, I earn from qualifying purchases. If you click on a link from Amazon or another of my advertising affliates, I will earn a small commission at no additional cost to you. Please see my full disclosure policy here.
It finally happened- I found a wooden serving tray at the thrift store to give a makeover to. I have been searching and searching and finally all my trips to the thrift store have paid off. The other awesome thing about this tray was the price- $1.80. Don't you love having home decor that cost less than $2. My new DIY Thrift Store tray Makeover is perfect for this months Upcycle challenge, my thrifty friends always make amazing stuff.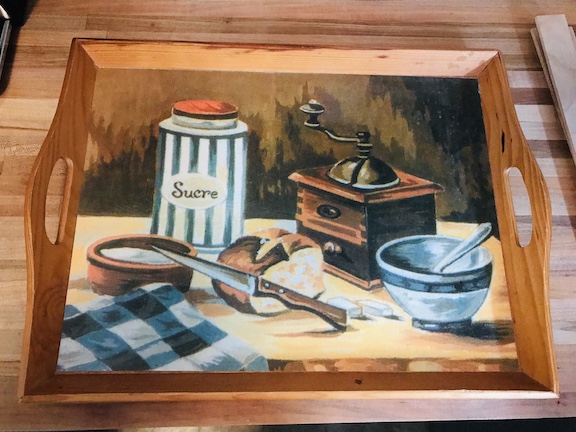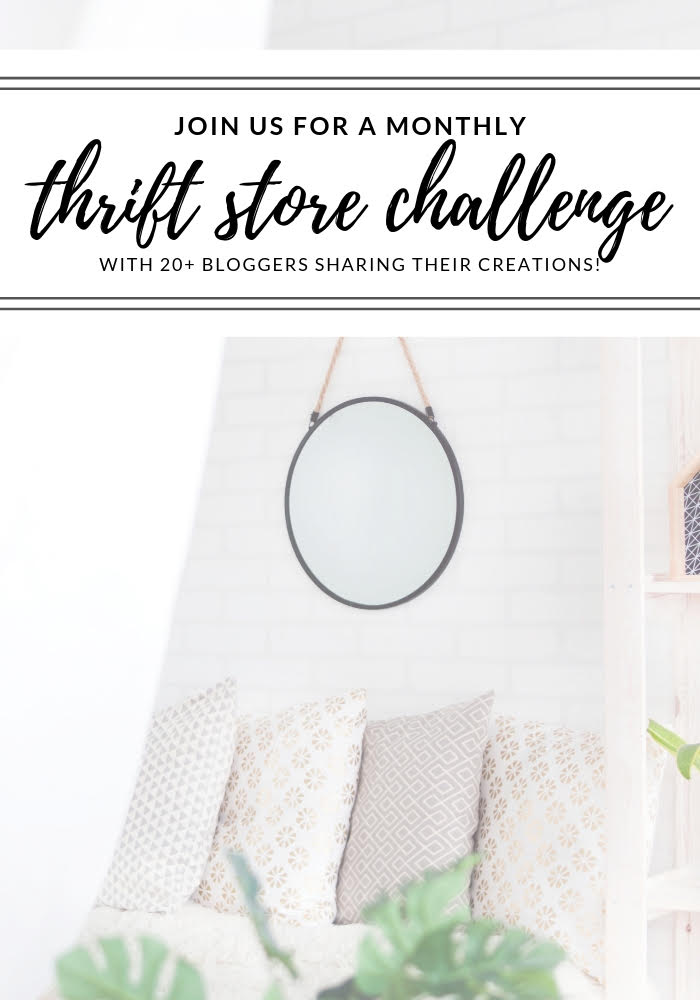 The Rules:
Upcycle an item(s) from a thrift store, resale store, or garage sale into a new piece of decor.
There's no monthly theme.
There's no budget to stick to.
Meet the Hosts
Angela | Simply Beautiful By Angela – Meredith | Southbound Blog – Angie | Grandma Creates – Denise| My Thrifty House – Jenny | Cookies Coffee and Crafts – Molly | Just a Little Creativity – Gail | Purple Hues and Me – Lynne | My Family Thyme – Michelle | Michelle James Designs
Make sure you follow our board on Pinterest for more upcycled decor inspiration!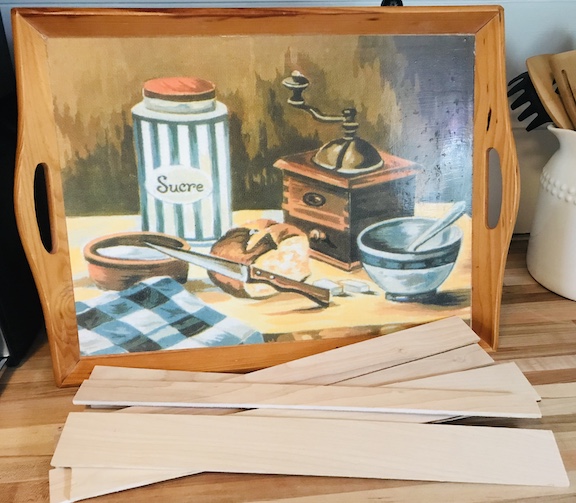 Supplies
Thrift Store Wooden Serving Tray White Paint- Snowbound from Sherwin Williams Grey Paint- Dovetail from Sherwin Williams 1/4 Sanded Plywood Wood Glue Paint Brush
Let's Give a Thrift Store Tray a Makeover
I had a hard time deciding how this tray should be used. Should it be an actual tray or maybe I should make a sign like my
Home Sweet Home Sign
. I decided I needed to take my kitchen table back from the kids and use this tray as a pretty centerpiece on the kitchen table. My colors in the kitchen are white and gray, which is perfect for my tray. I feel like this tray design could be for so may styles country, farmhouse, coastal or cape cod.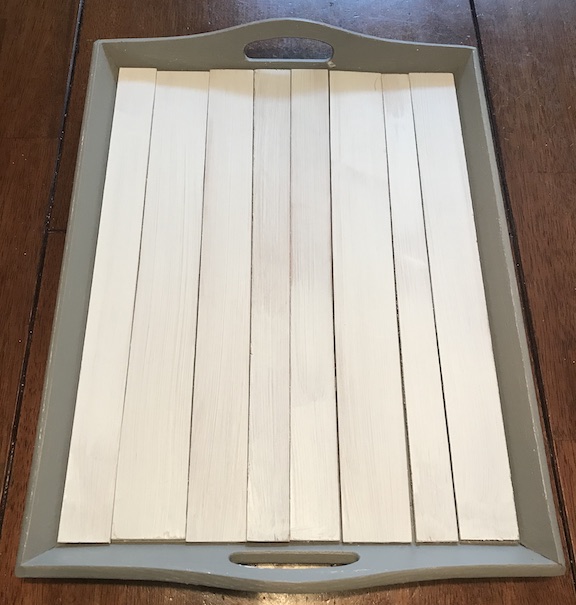 From redoing our
kitchen cabinets
we still have many pieces of the 1/4 sanded plywood leftover cut in strips. I'm always trying to think of ways to use them. They are perfect for the bottom of the tray. My husband cut them with his miter saw for the tray and then I painted them white. Now for the serving tray makeover, I wanted to remove the paper from the tray along the edges because the rest would be covered by the plywood strips. To do this I used olive oil, but found out we hardly had any olive oil. Yep my husband put it back empty. I removed a little bit, but decided to just paint it. After painting it, I wish I hadn't touched it at all because the paint covered perfectly. Oh well, you live and you learn.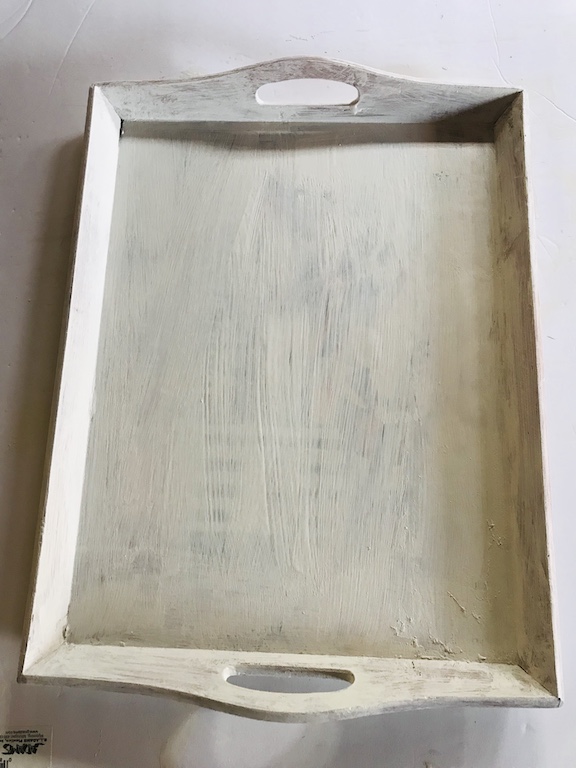 I primed the tray with
Zinsser Primer
.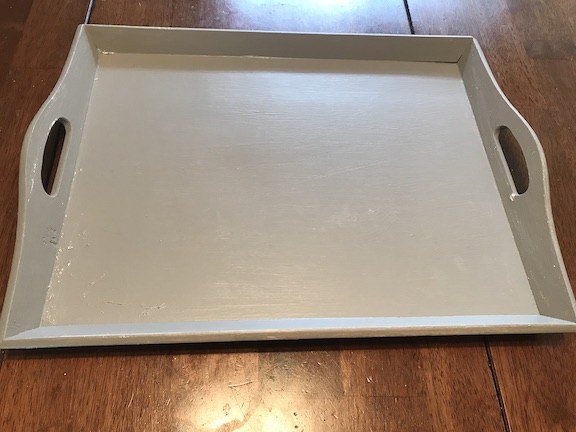 Then I painted it with the dovetail paint. Once it was dry, I wanted to give it a little sanding with fine sandpaper around the handles and the sides to give it an aged look.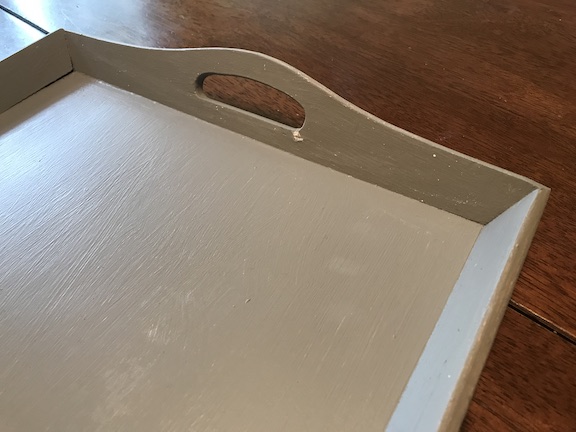 After it was dry I used wood glue to add the strips to the tray. Since the plywood is so thin, use a small amount of wood glue. If you use too much glue, the strips will bend. I also put something heavy on top of the wood after I glued it.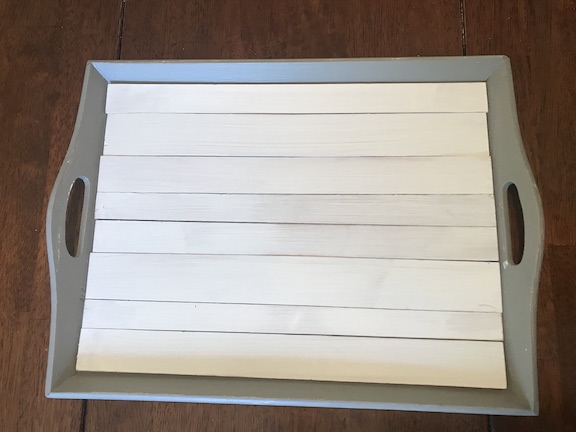 Decorating with the Thrift Store Tray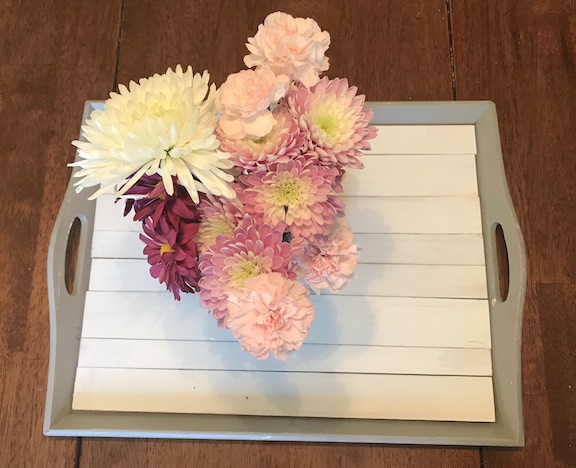 I cleaned off the table and added my new wooden tray centerpiece to the table with a pretty vase of flowers. It was the perfect fit for the kitchen and now the kids will have no where to put their toys on the table. I'm so happy with my new tray that cost less than $2, sometimes all you need is a little paint to make something match your decor. I'm loving the fixer upper vibe of this tray. It makes me smile every time I walk by or sit at the table. As soon as the weather gets warmer (spring is taking a long time to get here), I'm going to paint the chairs white and the bottom of our pedestal table gray. It will be a perfect match.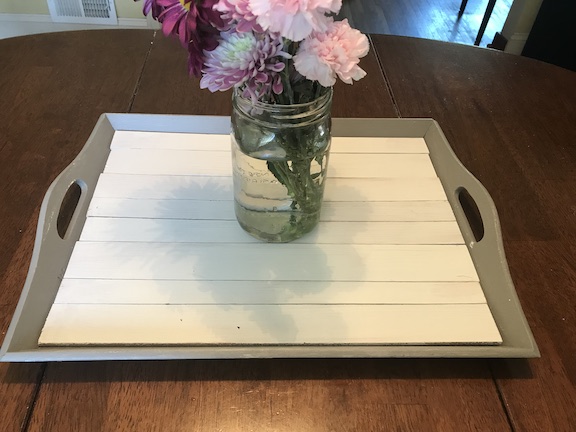 And now for more thrifty goodness!
Check out what my fellow upcyclers created below!