Easy Dollar Tree Sunflower DIY | Sunflower Farm Decor for Late Summer & Fall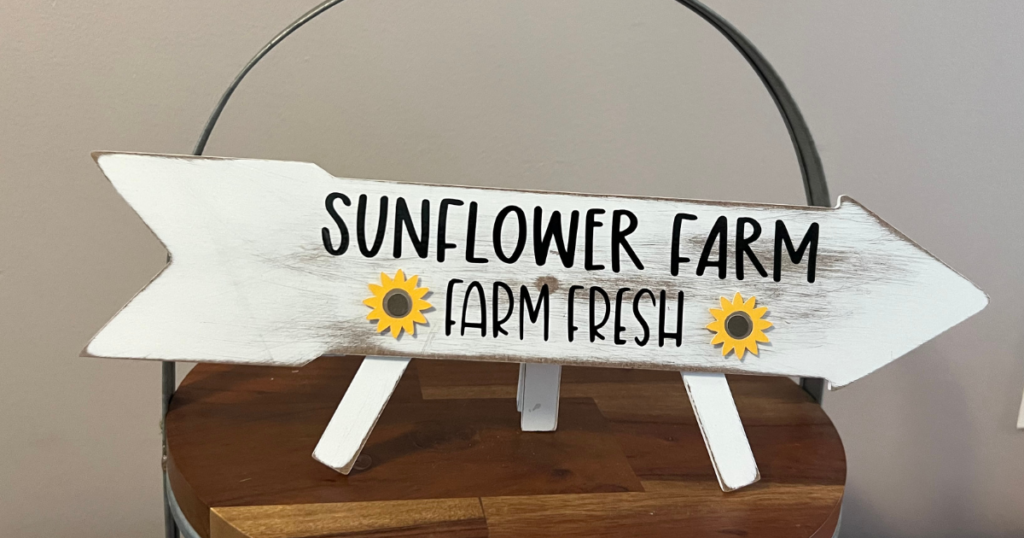 Note: As an Amazon Associate, I earn from qualifying purchases. If you click on a link from Amazon or another of my advertising affliates, I will earn a small commission at no additional cost to you. Please see my full disclosure policy here.
We all have times of the year that we love and sunflower time is one that I look forward to every year. For me it's like a happy goodbye to summer and a hello to fall. It's my August to September decor and the more sunflowers the better (I say). This year, I wanted to share my love of sunflowers, crafting and saving money by creating a bunch of Dollar Tree Sunflower DIY. If you are stuck and don't know what to decorate with, sunflowers are always a good idea this time of year.
I just went to the Dollar Tree so hopefully you can find the same items that I found. I will be using my Cricut with a lot of these crafts, but you could also use the rub on stickers from the Dollar Tree too.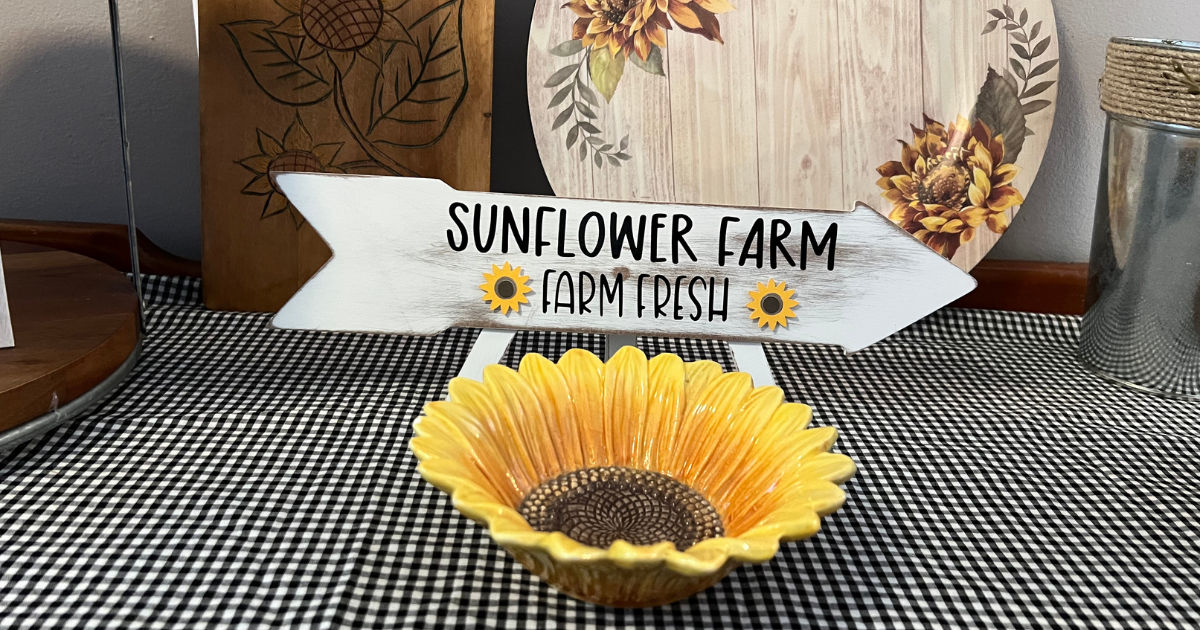 My Dollar Tree sunflower DIY this week is an arrow sign for the sunflower farm. Going to the sunflower farm is my favorite thing to do. If it was closer, I would go everyday, but it's not. When it comes to easy and inexpensive, this sunflower craft is perfect for it. I was all set to paint and sand and decorate, but I didn't have too. I just love simple, fun, and easy decorations like my DIY Dollar Tree Sunflower Wreath or my Dollar Tree Sunflower Topiary.
Sunflower Farm Sign Supplies
Dollar Tree Wedding Themed Arrow Shaped Sign
Sand Paper
Cricut Machine
Black Vinyl
Transfer Tape
Cardstock
Pop Dot Tape
Let's Create a Dollar Tree Sunflower DIY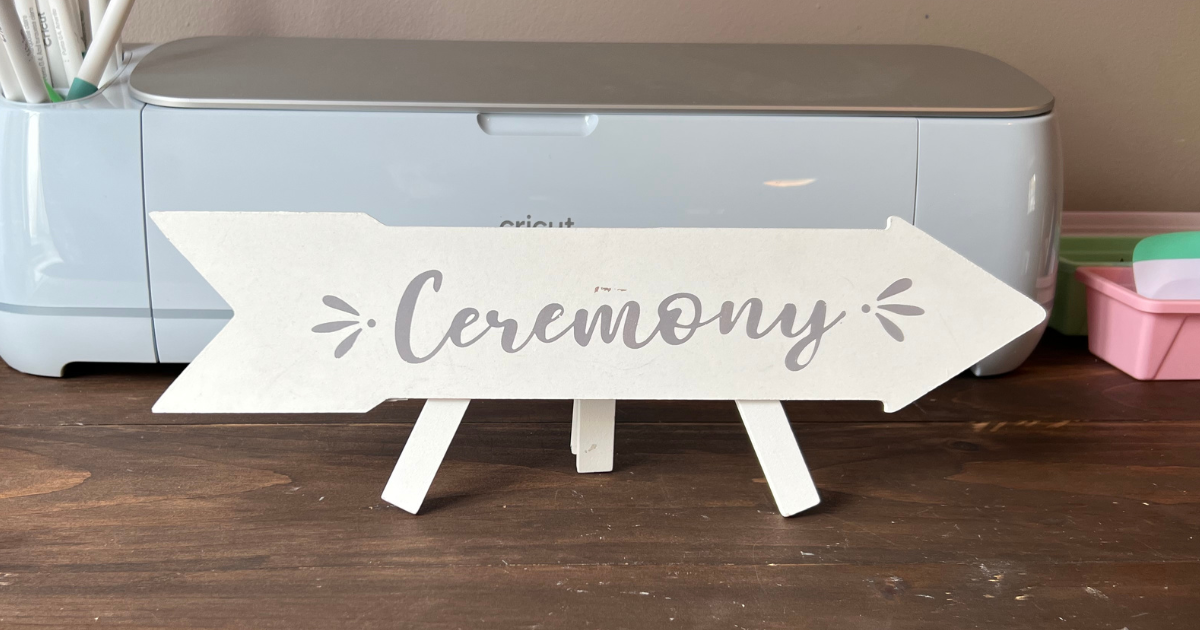 As I was wandering the aisles of Dollar Tree looking for items to jump out at me that say take me home, I found this standing arrow by the picture frames. I had been looking at the wooden arrows in the craft section, but I wanted it to stand. I guess if you send out your crafting needs, the Dollar Tree fairies will help you out.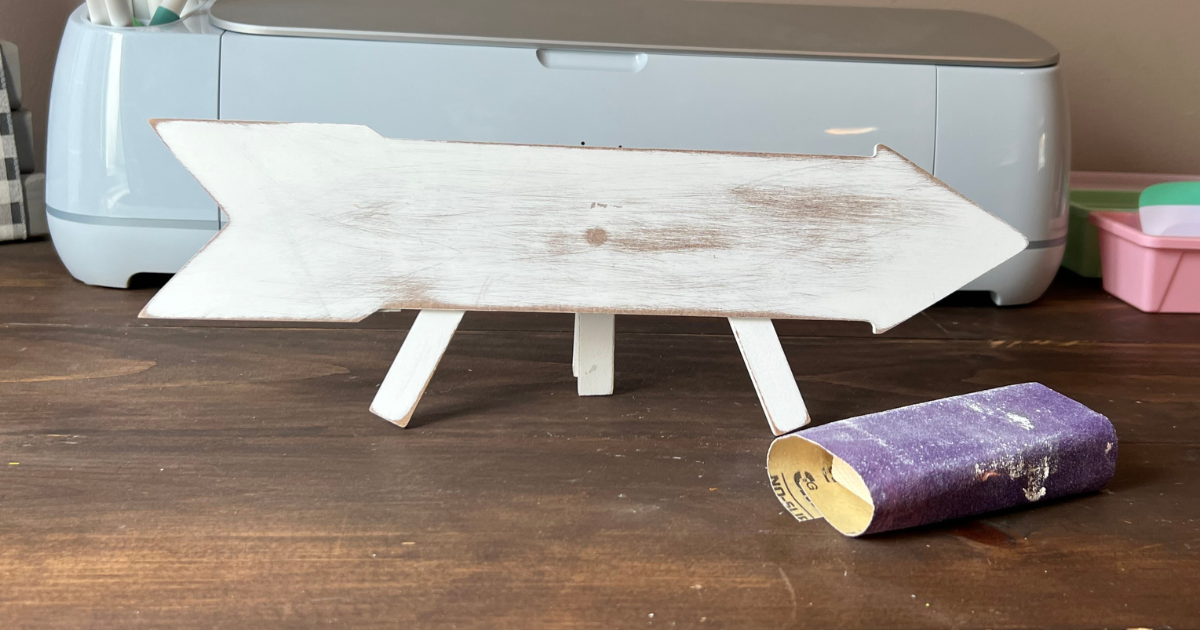 The sign was already white with wording on it and I wanted to sand it down before painting it. As I was sanding, I realized the lettering came right off and the sign was looking just the right amount of rustic. So no painting was needed. If you prefer to paint it, go right ahead.
I made sure I sanded down the legs of the arrow stand too. That was a little tough, but it worked out.
Creating the Sign in Cricut Design Space
In Cricut Design Space™, create an arrow as close to size as the arrow from the Dollar Tree. My arrow is about 2 inches wide and 12 inches long. I created the sunflower farm text with the BFC Rustic Cherry font and found a farm fresh coffee image that I liked. To use the farm fresh coffee image, I contoured the parts that I don't need. Next I added small sunflowers on either side of the farm fresh image.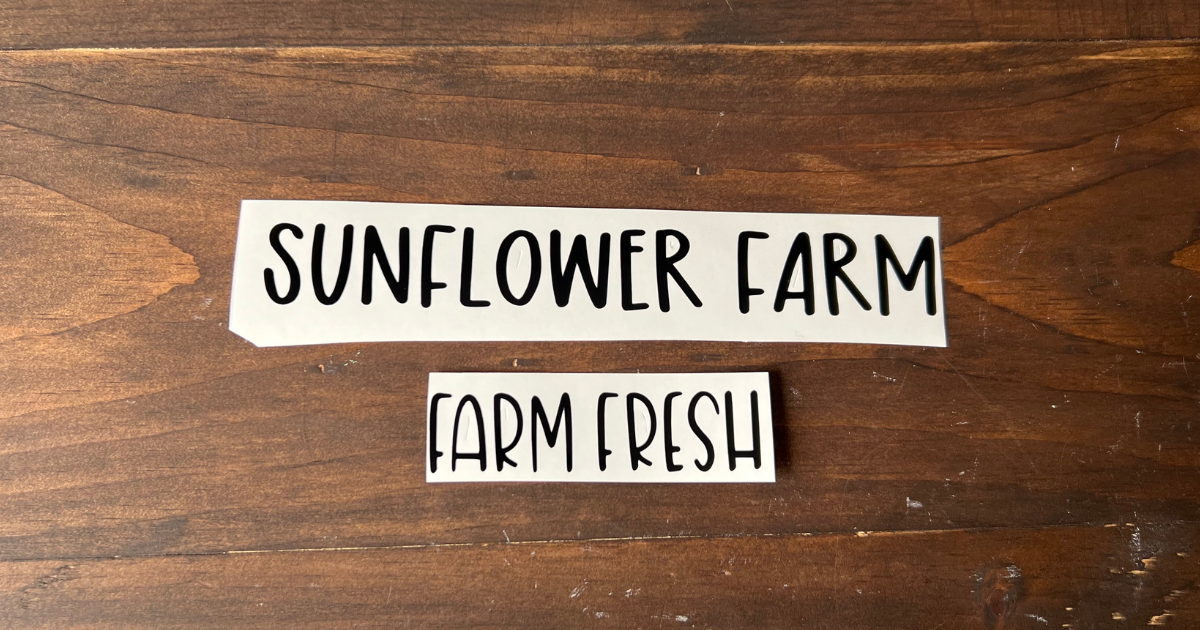 Complete the design and follow the instructions to cut the materials with Cricut. The text are cut in black vinyl and the sunflowers are made with cardstock. Weed the vinyl designs and use transfer tape to add the design to the arrow. After all the words are on the sign, add the cardstock sunflowers with 3D foam tape. You could also add faux sunflowers too instead of paper ones.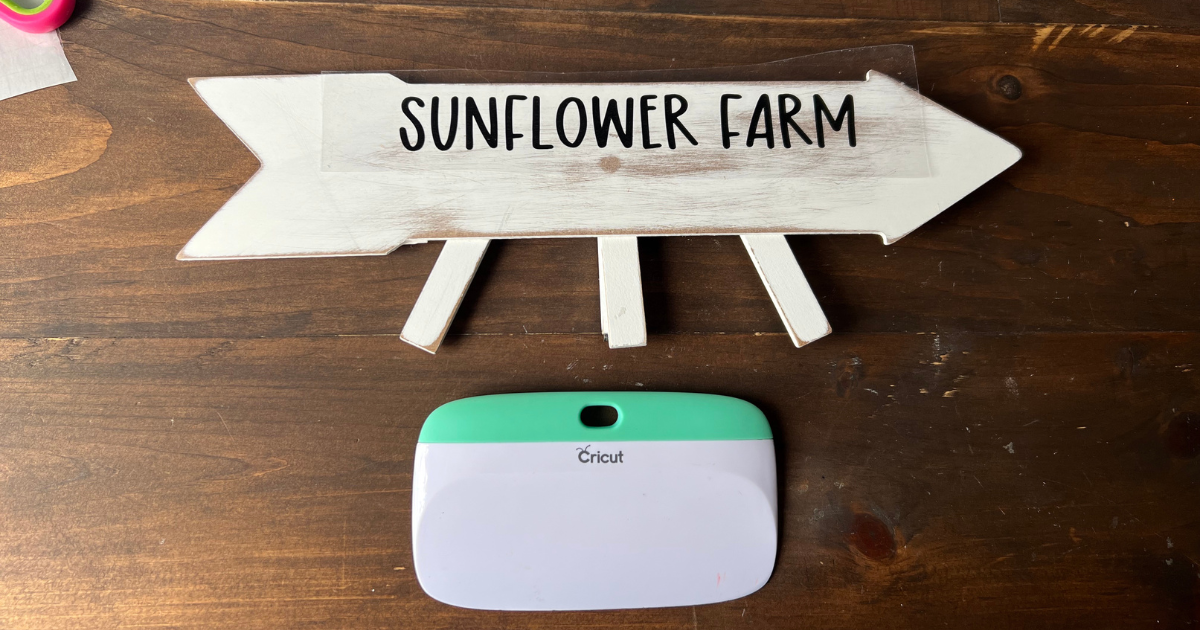 Cute, simple, inexpensive, and beautiful. I love how this Dollar Tree sunflower DIy decor can take me right into the fall and will go with just about any home decor.