Easy & Cute Watermelon PIzza Pan Craft for Sweet Summer Decor with 3 Ways to Use It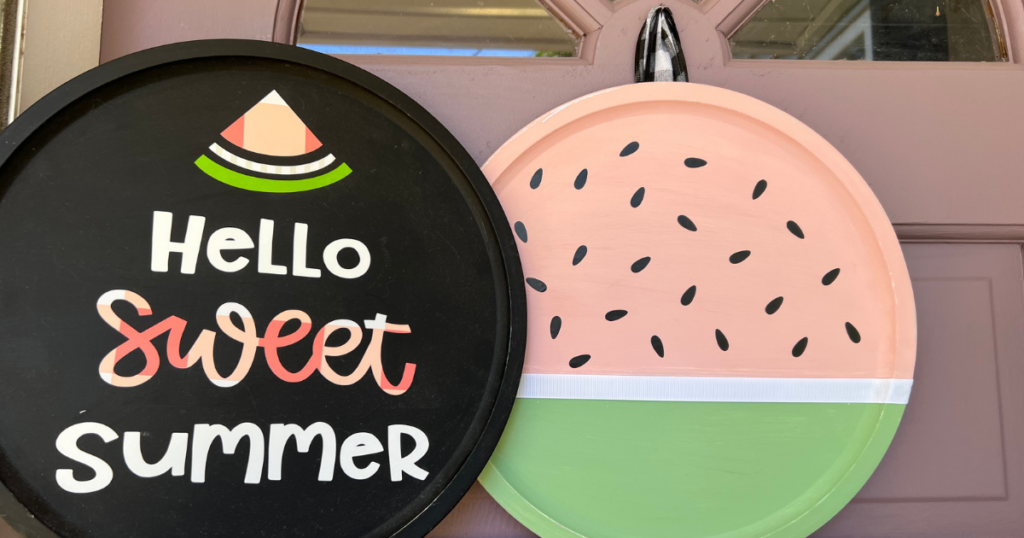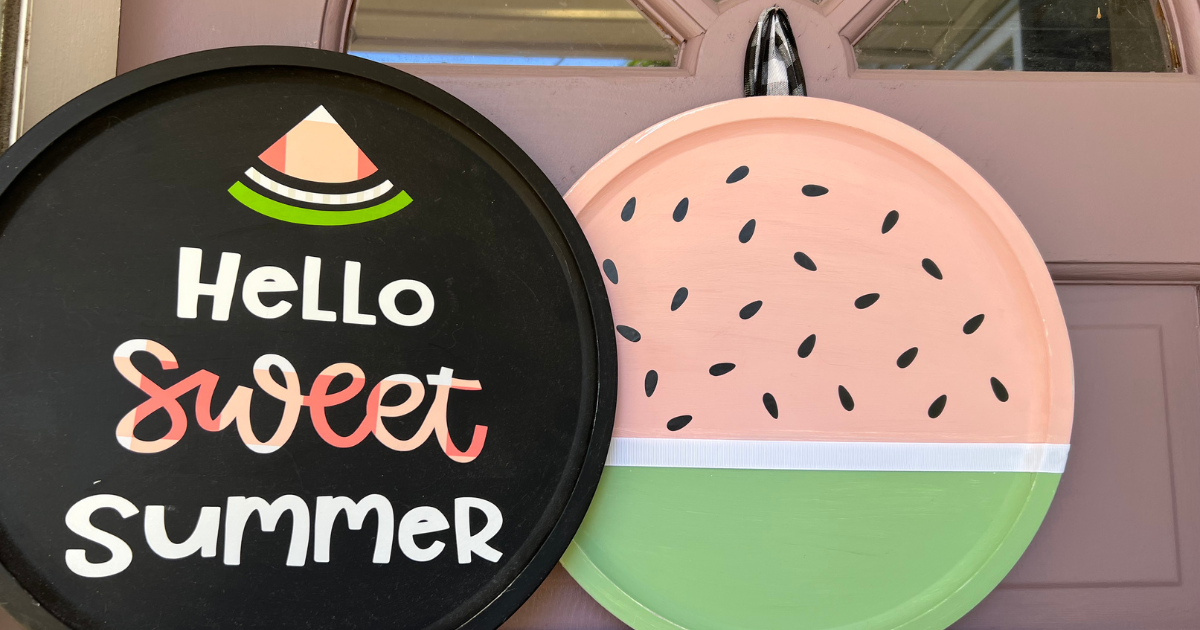 Note: As an Amazon Associate, I earn from qualifying purchases. If you click on a link from Amazon or another of my advertising affliates, I will earn a small commission at no additional cost to you. Please see my full disclosure policy here.
Now that the 4th of July is over with, it's time to decorate for summer and to put away all the red, white and blue. My porch came out so good for the 4th of July that I didn't want to take it down. So my goal is to make my porch look just as good with my summer watermelon decor. I realized as I was planning this out, that I didn't have a watermelon door hanger for each of my doors. Last year I made a summer pizza pan wreath summer pizza pan wreath and this year I'm making another watermelon pizza pan craft, but different. I love my doors to match, but not be exactly the same.
Dollar Tree pizza pans are one of my favorite crafting blanks ever. Seriously I always think about what I can make with them all the time. If you love affordable and fun crafts, make sure to check out the rest of my pizza pan crafts. One bonus for this watermelon pizza pan craft is that this can be used as a tray, wall decor or as a wreath on a door.
DIY Dollar Tree Pizza Pan Crafts
Easy Tray from a Dollar Tree Pizza Pan
Cute Spring Pizza Pan Wreath
Fall Dollar Tree Pizza Pan Craft
Winter PIzza Pan Craft
How To Make a Christmas Pizza Pan in 4 Easy Steps
Sunflower Pizza Pan Door Hanger
You are probably thinking I don't need another pizza pan wreath (my husband lovingly calls me the pizza pan lady), but it's time for a new one.
Watermelon PIzza Pan Craft Supplies
FolkArt Home Decor Chalk Paint– Sage Blossom, Ballet Slipper, Cottage White, Clear Wax
Painters Tape
Lint Free Cloth (for wax)
Black Vinyl
Cricut Machine
Pizza Pan
Ribbon
Hot Glue Gun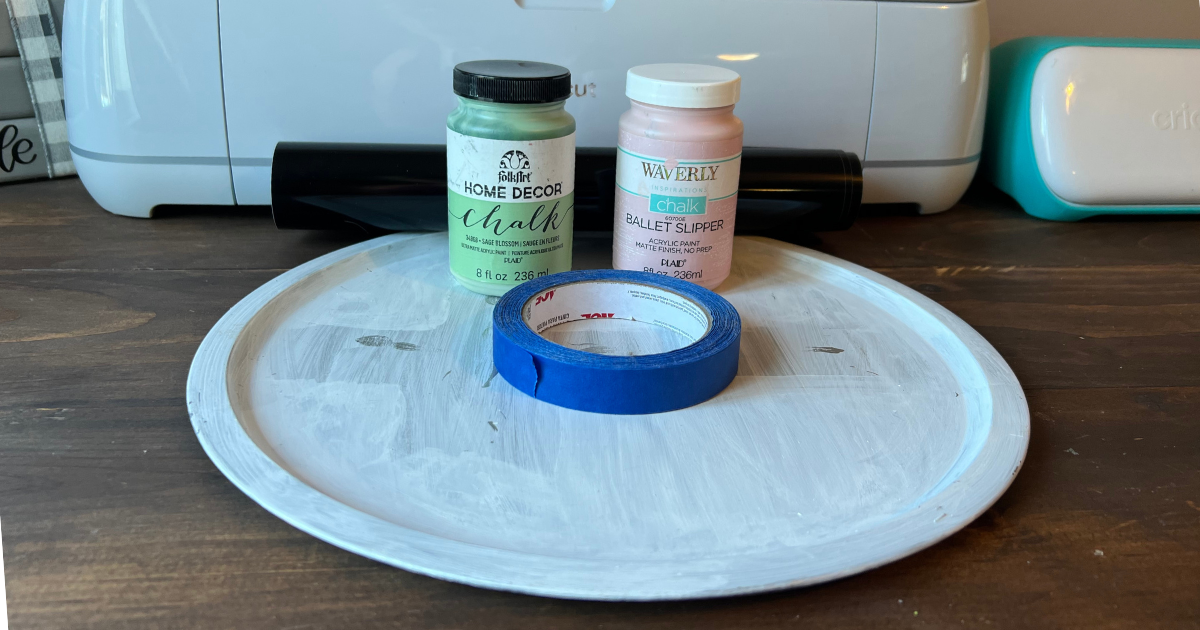 How to Make a Watermelon Pizza Pan Craft for Summer
I'm using a pizza pan from a craft gone wrong so mine was already painted white, but you can start with a blank pizza pan. I divided mine about 3/4 pink and 1/4 green with the painters tape. At first I was going to leave a white strip, but it just didn't look good from the craft gone wrong.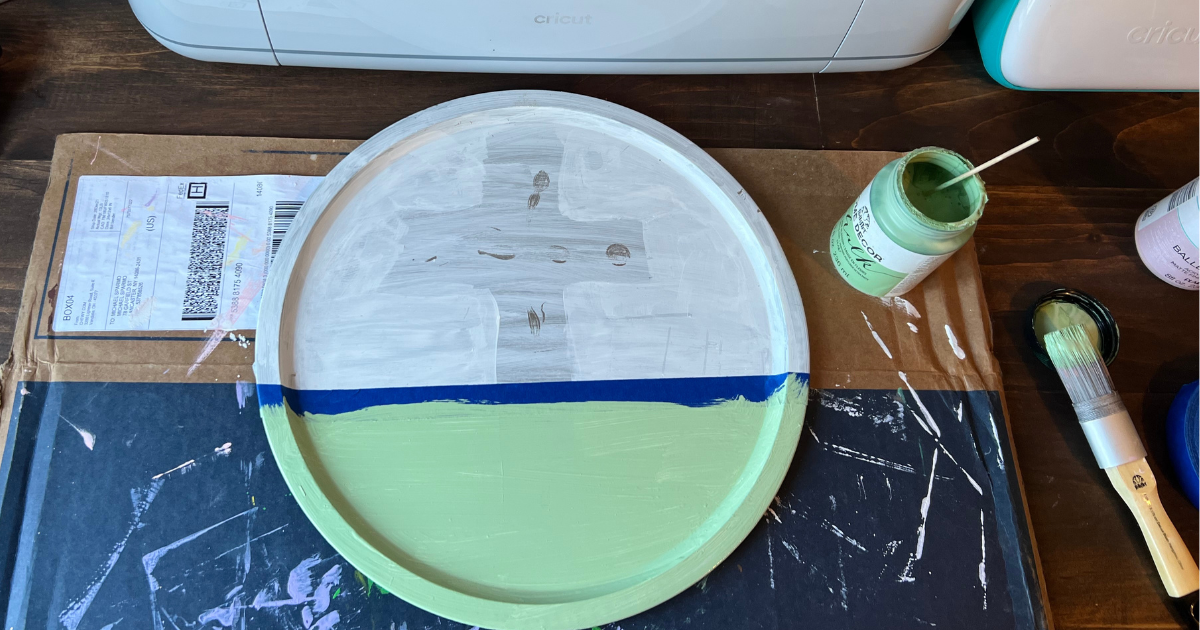 Using the chalk paint brushes, I did two coats of each color. The top pink is the ballet slipper (one of my favorite colors) and the green is the sage blossom.
Once the paint was completely dry, I added the clear wax over it with a lint free cloth. If you don't have any clear wax, then you can use mod podge to seal the paint. Let the wax dry 24 hours and then use the lint free cloth to buff it.
While waiting for the wax to cure, create your design in Cricut Design Space™ . For my pizza pan wreath, I'm adding black watermelon seeds to the pink area. The watermelon seeds are a little less than half of an inch. I easily found a watermelon seed in Cricut Design Space and just added them all over the top of the pizza pan.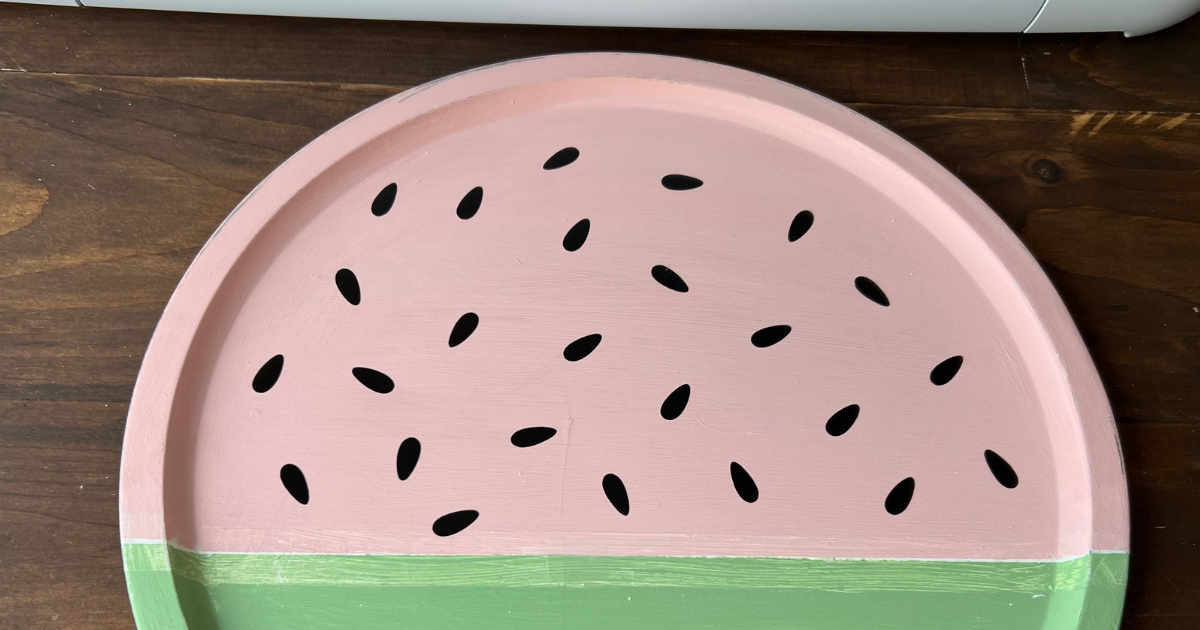 To divide the pizza pan and to give it more or a watermelon feel, I added a white gosgrain ribbon where the two colors meet. Hot glue the sides of the ribbon on the curve of the pizza pan.
Add ribbon (with hot glue) to hang the pizza pan and your watermelon pizza pan craft is ready for your front door.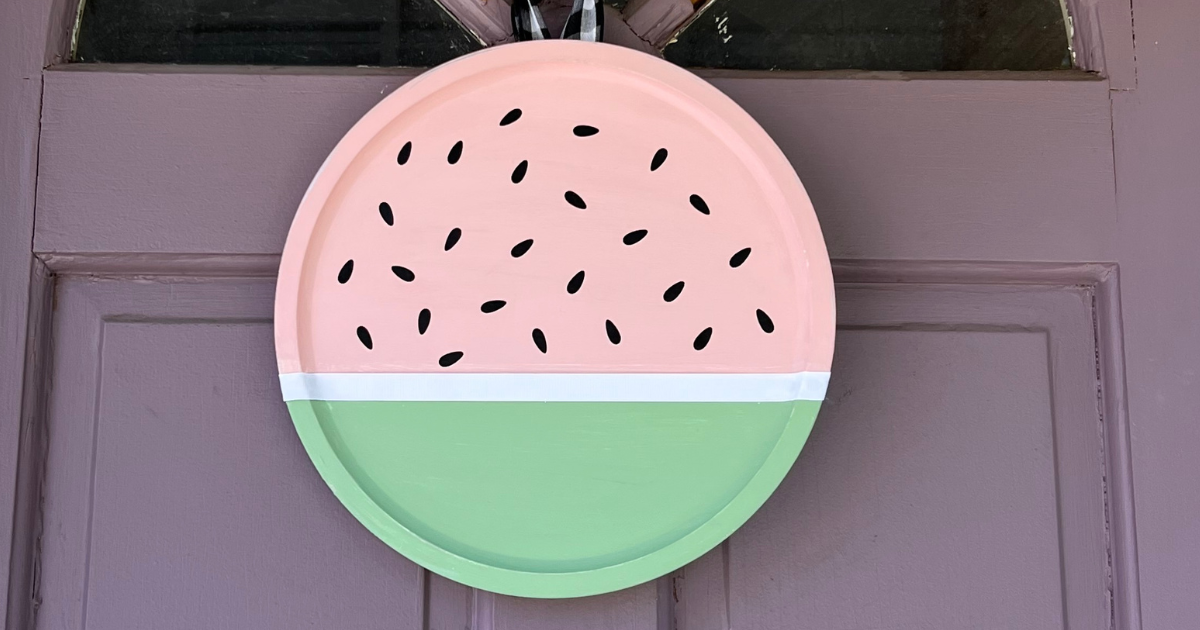 My two summer pizza pan wreaths compliment each other very nicely and look amazing. Now I have to make some porch signs and a watermelon flower to go with them.