Easy Cricut Fathers Day Gift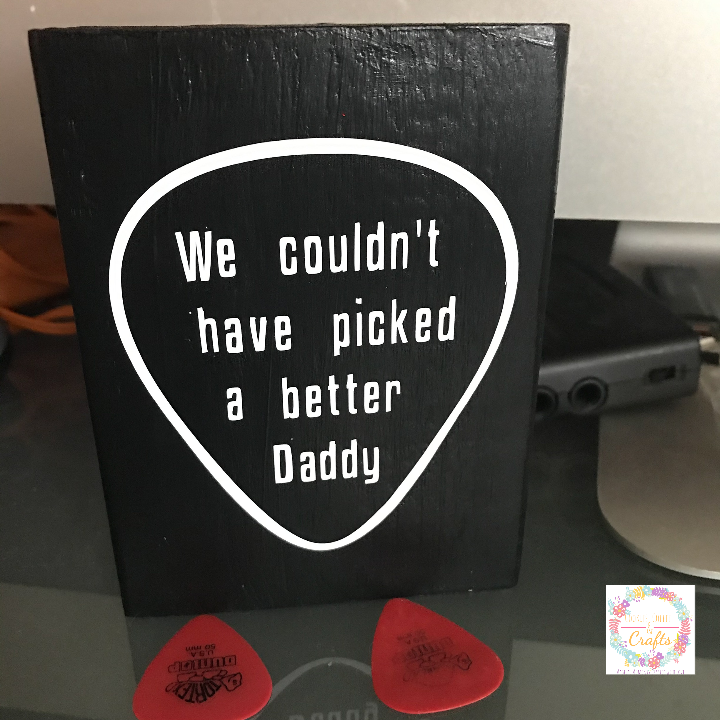 Note: As an Amazon Associate, I earn from qualifying purchases. If you click on a link from Amazon or another of my advertising affliates, I will earn a small commission at no additional cost to you. Please see my full disclosure policy here.
Do you ever see something and think I can make that? Well that is exactly how this project came to be. I happened to see on Amazon a guitar pick engraved that said "we couldn't pick a better dad." It was perfect because our daddy loves to play guitar. This Cricut Fathers Day gift is quick and easy (as long as you don't count the paint drying).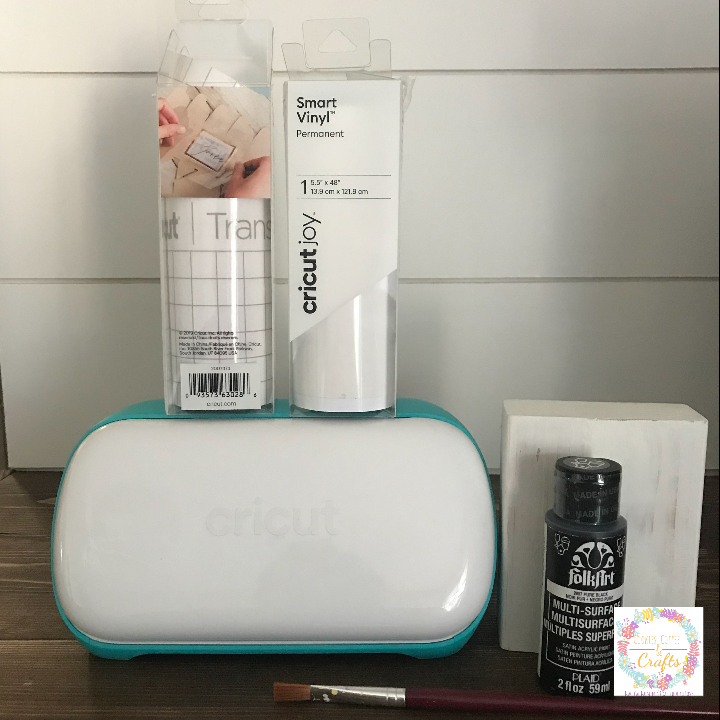 Materials for DIY Cricut Gift for Him
2×4 cut to 4.5 inches in length
Folkart Pure Black Paint
Plaid Nylon Paint Brush/Tray
White Permanent Smart Vinyl (Buy on Cricut or Buy on Amazon)
Transfer Tape for Cricut Joy (Buy on Cricut or Buy on Amazon)
Cricut Joy (Buy on Cricut or Buy on Amazon)
Cricut Tools (Buy on Cricut or Buy on Amazon)
Let's Create an Easy Cricut Fathers Day Gift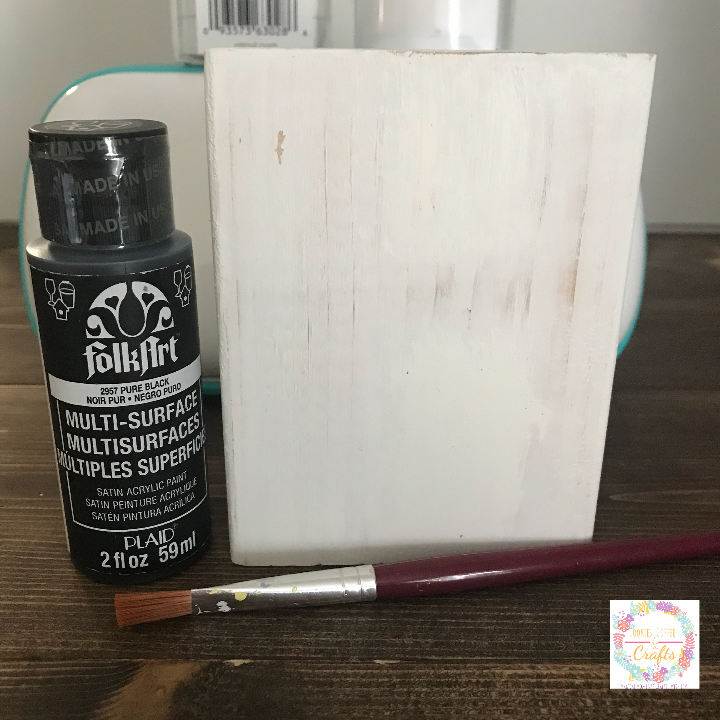 To get started choose your wood base. I'm using a 2×4 cut to 4.5 inches long. I have a few already painted white from my Ho Ho Ho Blocks . I made them for a craft show and had a few leftover. My husband loves the color black and I painted it with Folkart Pure Black Paint.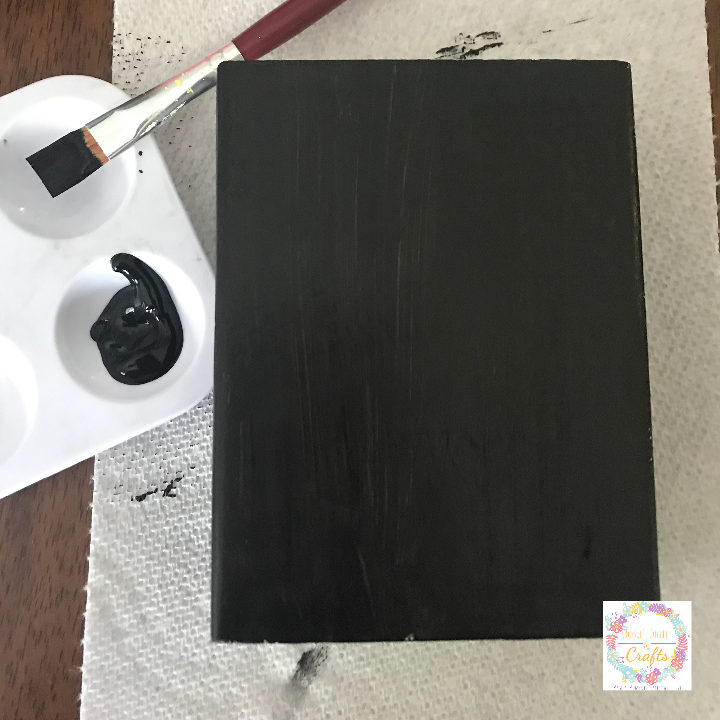 I painted the front and sides black and left the back white. On the back the kids wrote I love you and their names with a Sharpie. Don't forget to add the year because this is a keepsake!
As the paint is drying it's a great time to create your design in Cricut Design Space™. To do this I started by searching images for a guitar pick. This is the one I chose.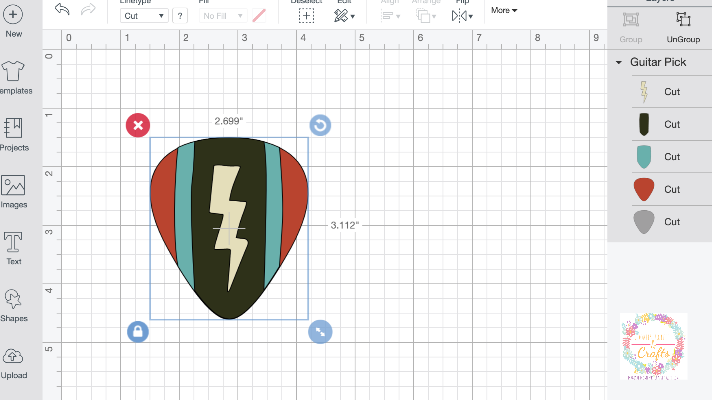 I hid the layers and just used the red and grey layers. I clicked on the guitar pick and clicked slice to get the thin guitar pick image.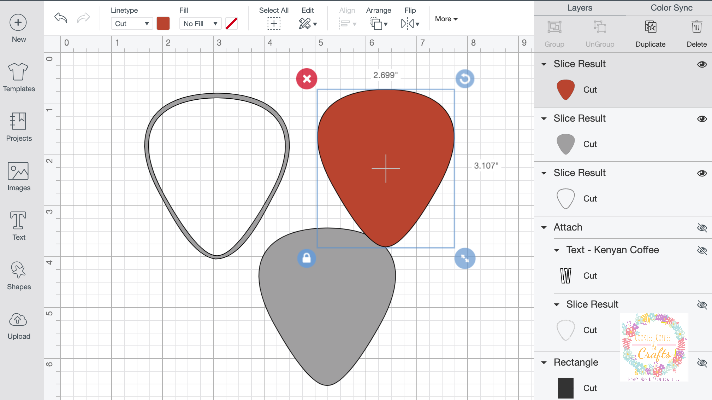 Next I created the wording for the Father's Day sign that will be cut in vinyl. I used the font Kenyan Coffee from Creative Fabrica. Once the text was sized to fit inside the guitar pick, I attached the pick and the text.
My husband likes plain and simple things so I didn't add any extras to his Father's Day gift, but that's the best thing about Cricut, you can change the wording and add extra if you want. Like music notes or a guitar.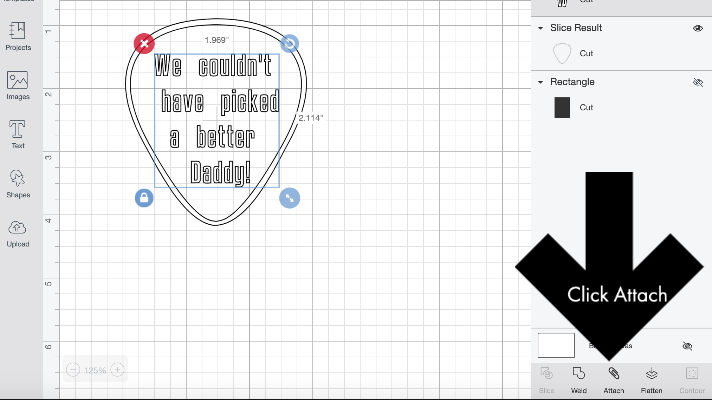 Using my Cricut Joy (but you can use any of the Cricut Machines) and Permanent Smart Vinyl, I cut the design.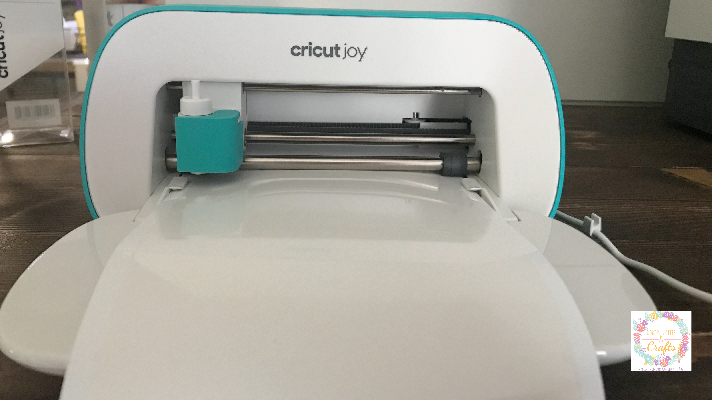 Next weed your design and be careful because these are small letters. I lost the a and had to cut another one (it happens to the best of us).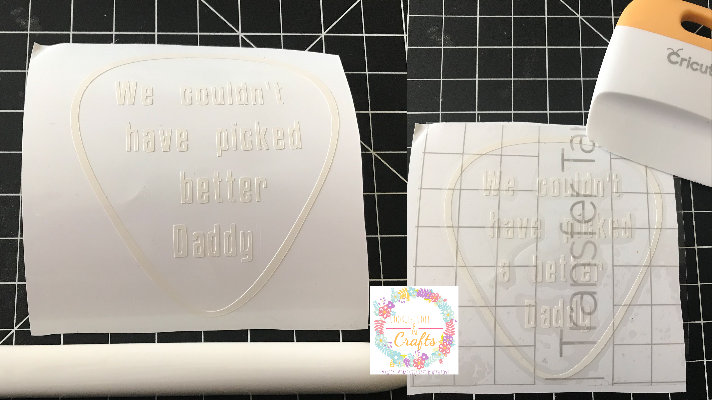 To complete the sign, I added the saying in vinyl to the wood using the Cricut Joy Transfer Tape.
Unique Cricut Fathers Day Gift Idea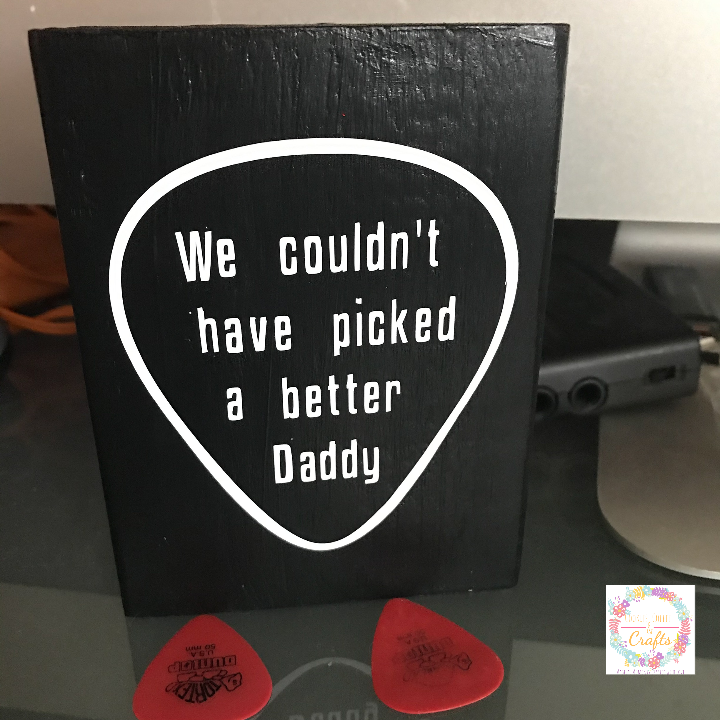 Now you have a unique and simple Father's Day Gift. It's perfect for Dad's desk, night stand, or on a shelf. Make it personalized for your dad and make it a Father's Day your dad will not forget.