Faux Patriotic Book Stack (with Cricut Joy)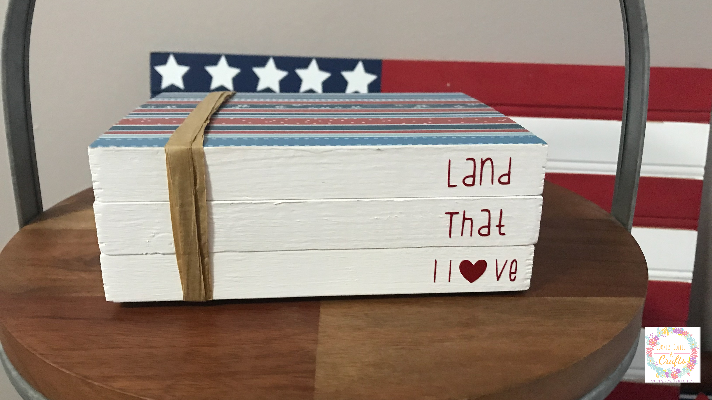 Note: As an Amazon Associate, I earn from qualifying purchases. If you click on a link from Amazon or another of my advertising affliates, I will earn a small commission at no additional cost to you. Please see my full disclosure policy here.
I've really been challenging myself lately to use up the stash that I have, whether it be paper, vinyl or wood. This project lets me use all three- it's a hat trick of crafting and it's perfect for the June Pin Challenge! Here is my take on a faux patriotic book stack (with the Cricut Joy).
It's time for the June Pin Challenge! The purpose of the Pinterest Challenge is to motivate us to not just pin, but to make it happen! This month's challenge is all about summer or July 4th projects. The pin I chose was to create a patriotic book stack.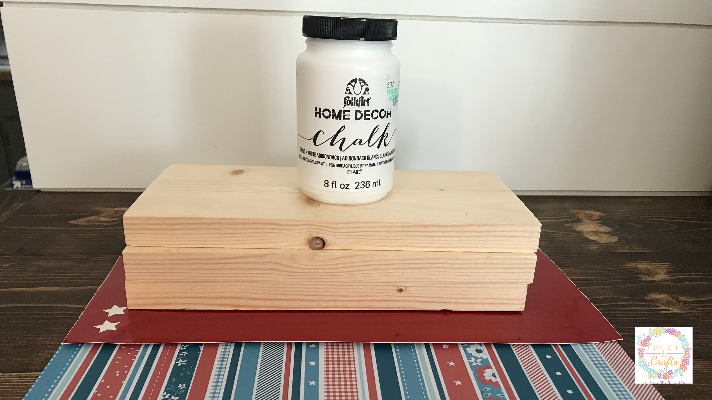 Materials for Wooden Patriotic Books
Cricut Joy (Buy on Cricut/Buy on Amazon)
Burgundy Oracal 651 Vinyl
Transfer Paper
Cricut Tools (Buy on Cricut or Buy on Amazon)
Folkart Chalk Paint in White Adirondack
Folkart Clear Wax
Lint Free Cloth
Patriotic Scrapbook Paper
Mod Podge Satin
Mod Podge Brush Set
1×5
Let's Create a Faux Patriotic Book Stack
It's a faux book stack because I like to make my book stacks out of wood. These are made with a 1×5 from our scrap wood pile. Originally I had the books much longer, but realized they were to long. No worries, I just cut them down and now I have two book stacks. One Patriotic and one for summer.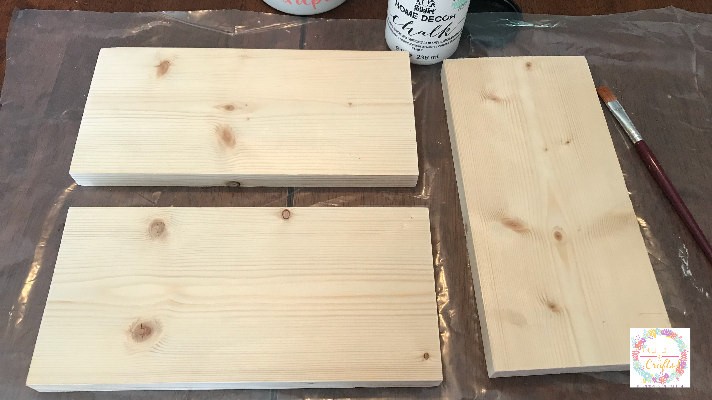 The first step was cutting and sanding down the wooden books. Next I painted them with the Folkart Chalk paint (my favorite one) and gave the books each two coats. After the books dried, I did a light sanding around the edges and applied the Folkart Clear Wax with a lint free cloth.
In Cricut Design Space™, I created the words Land That I love with a heart for the o in love. I used a new handwritten font called Mango Sticky.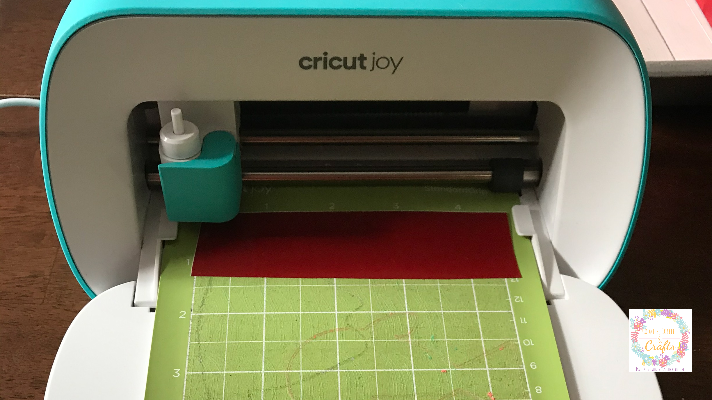 Using my Cricut Joy I easily cut the words in burgundy vinyl. The Cricut Joy is the best little crafting machine ever! I craft at the kitchen table and its easy to bring out and use for projects like this. I'm done in less than 2 minutes. If you are thinking about a Cricut Joy or are super curious, here is my Complete Guide to the Cricut Joy. It's perfect for when I scrapbook too.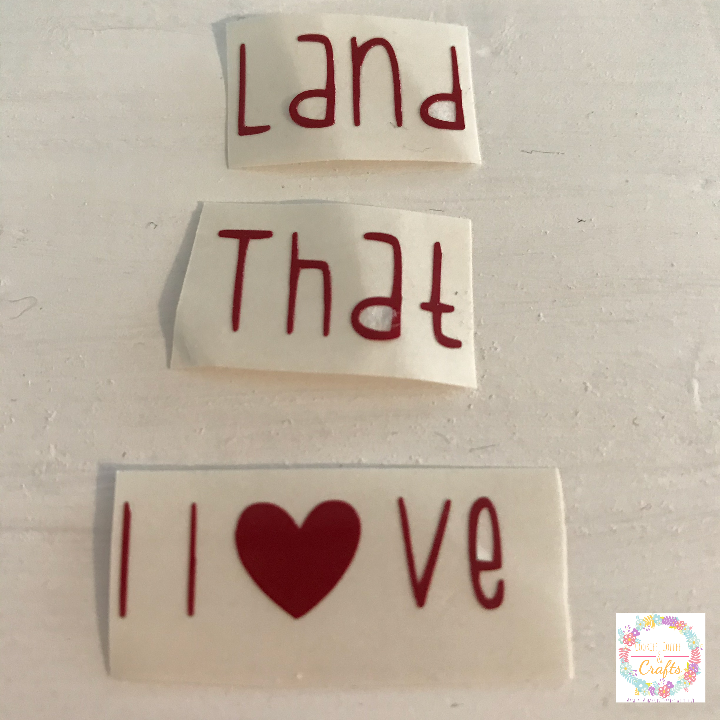 As with all vinyl projects, I weeded the design and used transfer tape to add it to the blocks. This is the moment, I realized my blocks were just to big and the saying looked lost.
Using Mod Podge and Paper to Decorate the Faux Book Stack
Once the faux wooden book stack was cut to the right size (6 inches long), I added patriotic scrapbook paper to the top. I used Mod Podge Satin to adhere it and as a top coat. This is my favorite finish because it's the middle ground between shiny (gloss) and flat like matte. For using Mod Podge, I highly recommend the brush set (this one is similar to mine. For the best results with Mod Podge and paper, I recommend using the Mod Podge Smoothing Tool to get the paper nice and smooth on top of the wood.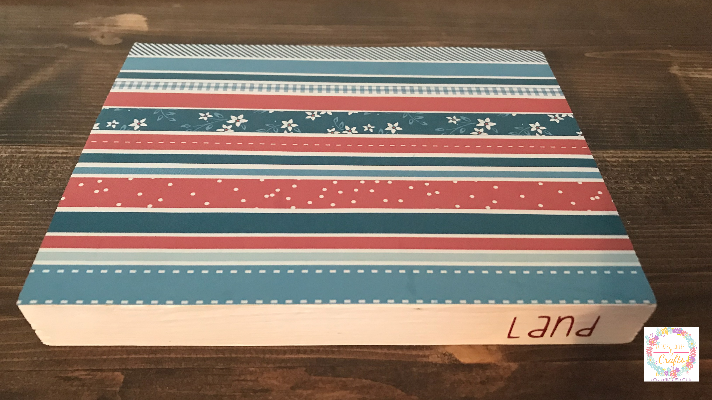 Cricut Patriotic Decoration Idea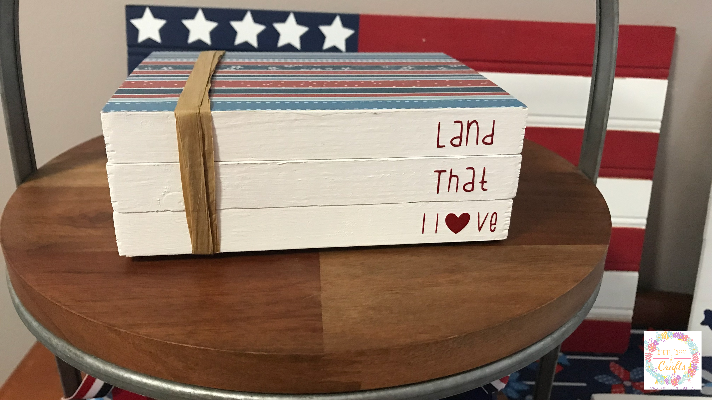 After the Mod Podge dried, I used this raffia ribbon to wrap around the blocks. I used hot glue to secure the ends of the the ribbon to the faux book stack after I wrapped it around three times.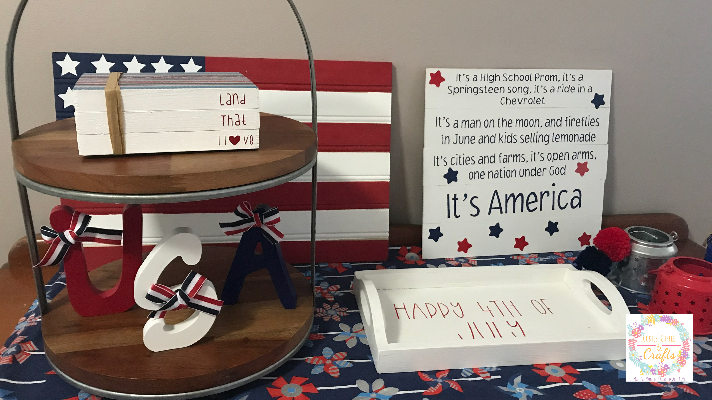 How adorable is this? It's different than my 2×4 book stack, but it's perfect for holiday decorations. I'm thinking I need a set for each holiday and season.
Do you need a faux patriotic book stack too?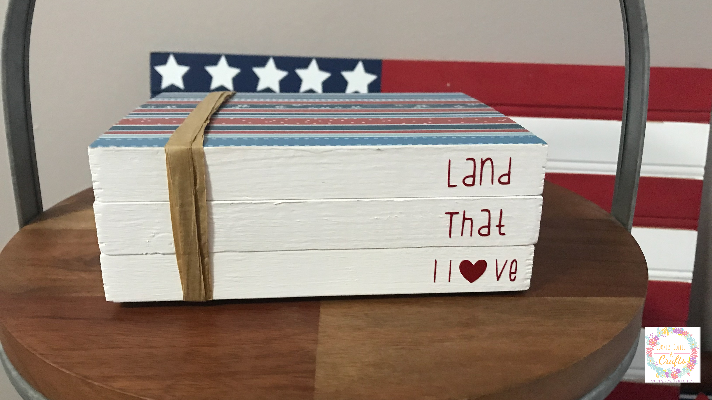 For more Pinterest inspired projects from this month's Pinterest Challenge hosts, check out the links below ↓
My Pinterventures • Across the Boulevard
Cookies Coffee and Crafts • Farm Girl Reformed • Slices of Life
Decorate and More with Tip • Purple Hues and Me
Life Beyond Kitchen • Created Homemade • Domestic Deadline
Mom Home Guide • Sum of their Stories • Teadoddles
Create with Cynthia
Now, let's see what the other hosts have created ⇓⇓
You are invited to the Inlinkz link party!