Easy American Flag Door Decor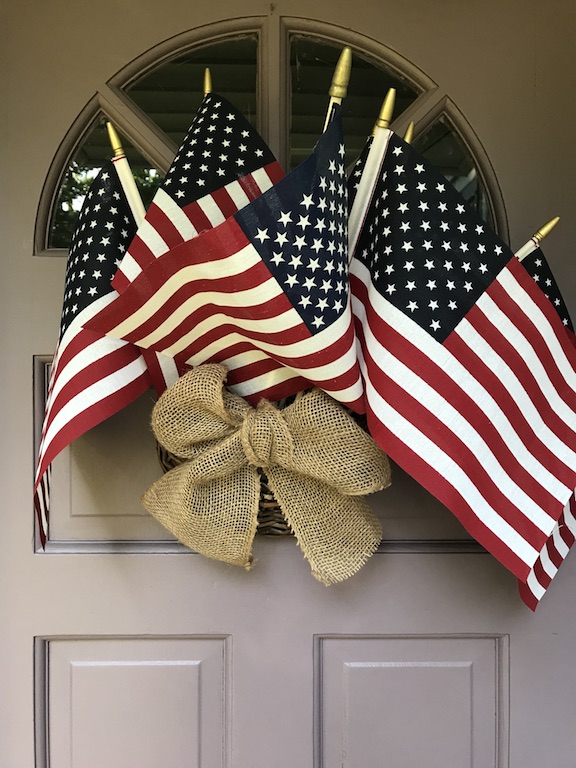 Note: As an Amazon Associate, I earn from qualifying purchases. If you click on a link from Amazon or another of my advertising affliates, I will earn a small commission at no additional cost to you. Please see my full disclosure policy here.
Decorating for a patriotic holiday or to show your pride, it's never been easier to have the best looking door on the block., This American Flag Door Decor can be made in 20 minutes or less and is so easy. No crazy craft skills needed.
It's that time of the month again for my favorite post- the Pinterest Challenge hosted by My Pinterventures. The purpose of this Pinterest Challenge is to motivate all the participants of this hop (and you too) to not just pin, but to make it happen! It's time for me to create and make a pin I've been hoarding. This time it's an easy American Flag Door Decor. I've seen on Pinterest the pretty door displays with American Flags in baskets and I love the look. It's patriotic and pretty and I had to create this for my front door. This is my inspiration Easy DIY American Flag Display for the Front Door via Chatfield Court.

Supplies for American Flag Door Decor
Basket (here is a similar basket on Amazon)
American Flags
Burlap Ribbon
Floral Wire
Let's Create a Flag Door Decor for the 4th of July
To get started I found a basket at the thrift store that works perfectly for this project. Talk about a great find! Then I bought 6 American Flags.
This project is seemed really simple, but I ran into some issues. I was going to leave half the flags tall and cut half the flags short, but my basket just isn't the right height for that. I ended up cutting about 3 inches off of each flag.
How to Make a 4th of July Flag Wreath
Figuring out how to make the flags stand in the basket was tricky. My basket is not very wide and I had to cut the floral foam and it fell apart. Next I tried hot glue, but that didn't work either. I went to sit on the couch (feeling really defeated) and learned about killer whales eating sharks (my husband was watching it), which was fascinating. All of a sudden I had the idea to use floral wire to attach the flags because the basket has slats. It worked out perfectly! I was able to attach the flags nice and tight to the back and front of the basket.
Then I tried to wrap the twine around the basket, but it just didn't work on the rounded basket. So I used my favorite, burlap, to create a bow just like I did on my decorative milk can. The burlap bow worked out great because the basket looks a little rough in a few places, but now all you see is a beautiful bow.
This project had some ups and downs because my original plan didn't work at all. I'm so glad I kept going because this flag door decor looks fantastic. It's simple, but patriotic and fits in perfectly with with my patriotic decor.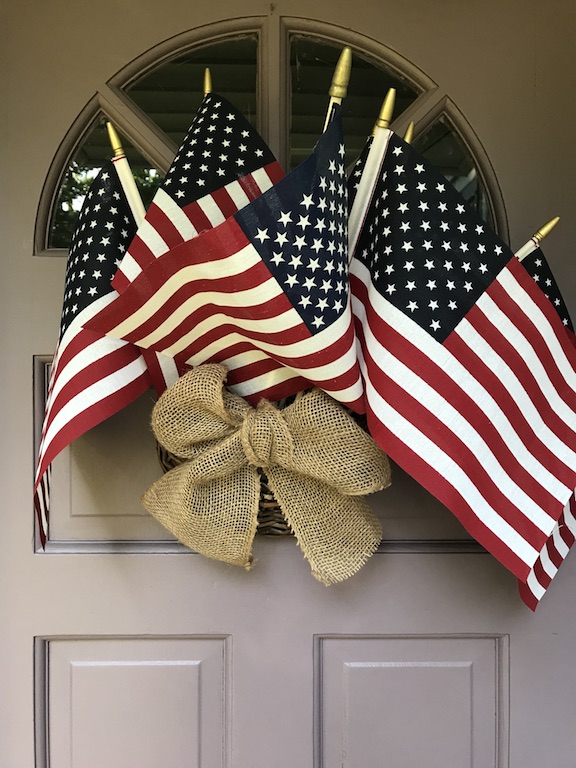 ---
Now let's see what other things Pinterest inspired! Head over and visit the other hosts to see what they crafted, cooked, built, or tried!
Erlene – My Pinterventures • Lauren – Mom Home Guide
Debbee – Debbee's Buzz • Laurie – My Husband Has Too Many Hobbies
Bri – Halfpint Design • Julie – Sum of their Stories
Lisa – Blogghetti • T'onna – Sew Crafty Crochet
Pili – My Sweet Things • Debra – Shoppe No. 5
Roseann – This Autoimmune Life • Terri – Our Good Life
Chelc – Inside The Fox Den •
Leslie – Once Upon a Time & Happily Ever After
Kelley – Simply Inspired Meals • Joanne – Our Unschooling Journey
Jenny – Cookies Coffee and Crafts • Gail – Purple Hues and Me
Beverly – Across the Boulevard • Habiba – Craftify My Love
Kristie – Teadoddles • Shirley – Intelligent Domestications
Kelli – The Olympic Nest • Lydia – Lydia's Flexitarian Kitchen
Michelle – Our Crafty Mom • Emily – Domestic Deadline