Easy Dollar Store Easter Centerpiece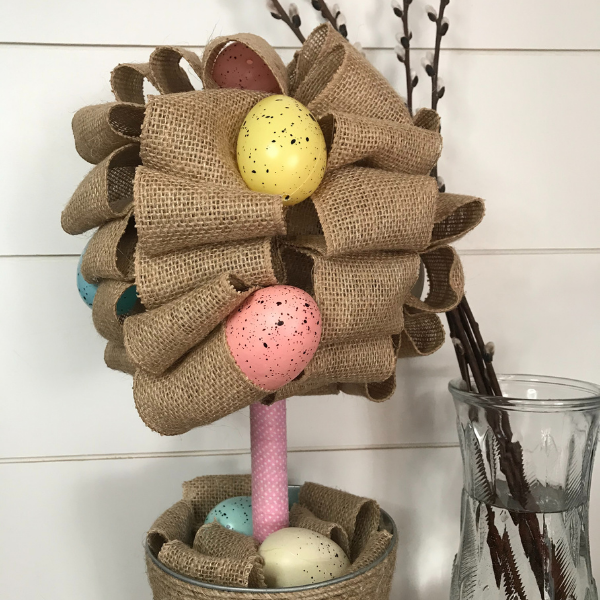 Note: As an Amazon Associate, I earn from qualifying purchases. If you click on a link from Amazon or another of my advertising affliates, I will earn a small commission at no additional cost to you. Please see my full disclosure policy here.
I feel like Easter is sneaking up on me and it's one of the holidays, I don't have as many decorations as I would like. It's time to change that with this easy Dollar Store Easter Centerpiece. This Easter centerpiece is perfect for the Easter table or any place you like to put Easter decorations.
My son actually saw something like this in a magazine and I said "Oh I can make that." Why buy it, when you can make it! He really enjoys decorating his room for different holidays and seasons. Now I have to make another one so I can have one too.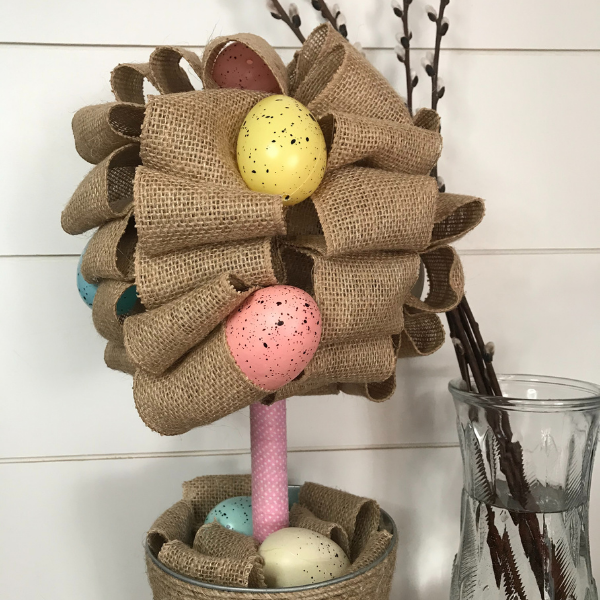 The whole project takes less than 30 minutes to make and is super easy. If you can use a hot glue gun, then you can make this. I highly recommend having the **Hot glue finger caps for this project because the hot glue goes right through the burlap. These really saved my finger tips.
I did end up doing this over because I started the project with wireless burlap ribbon and that doesn't work. So please make sure you have burlap wired ribbon. You can get this ribbon at the Dollar Tree, but when I went they were out of it. I bought a roll of wired burlap at Hobby Lobby for $5 (on sale) with 30 feet of ribbon and I have a little left over. That's probably the best deal for this Easter craft.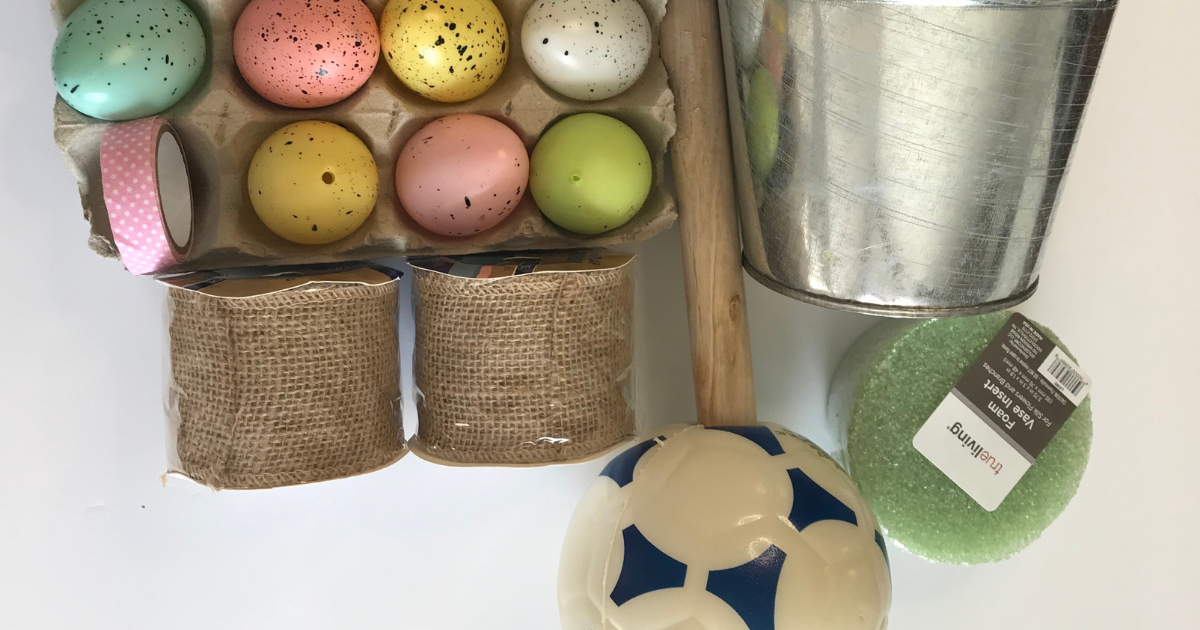 Supplies for Easy Easter Egg Topiary
Wired Burlap Ribbon (similar to this one)
Metal Bucket Vase
2 Foam Pieces
Plunger (from the Dollar Store for the dowel)
Washi Tape
Decorative Easter Eggs
Cordless Glue Gun– It's amazing!!!
Glue Sticks
Foam Soccer Ball (from the Dollar Tree)
Let's Create a Dollar Store Easter Egg Centerpiece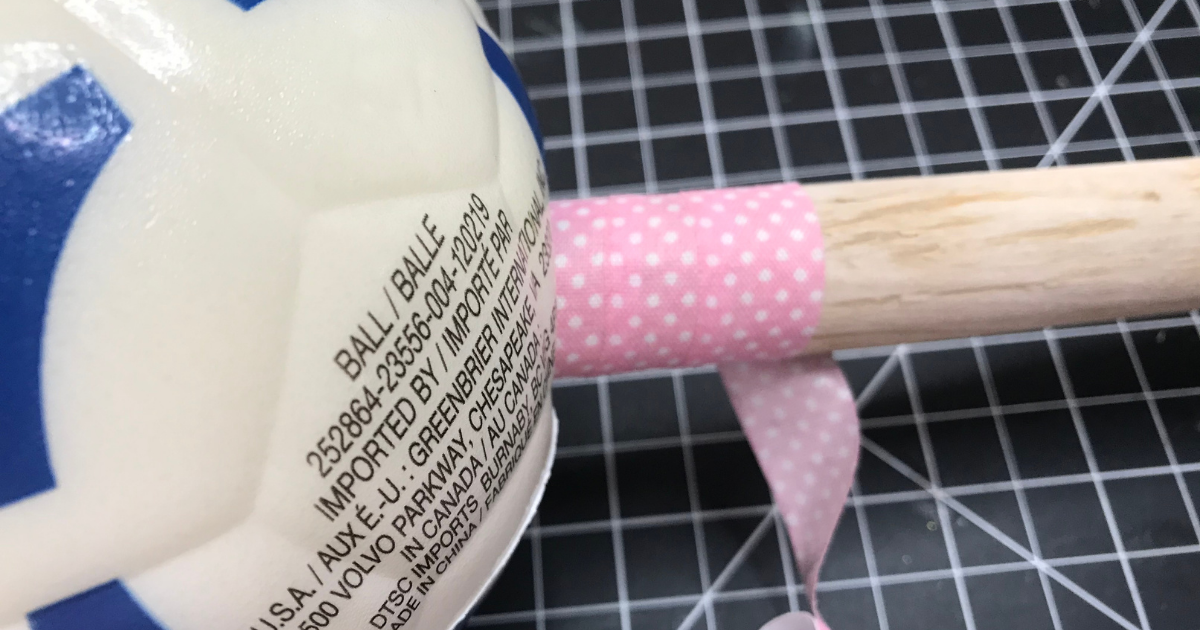 The first step is to drill a hole in the bottom of the soccer ball to insert the dowel (from the plunger) into it. I wanted the dowel a little shorter, so I cut about 3 inches off of it.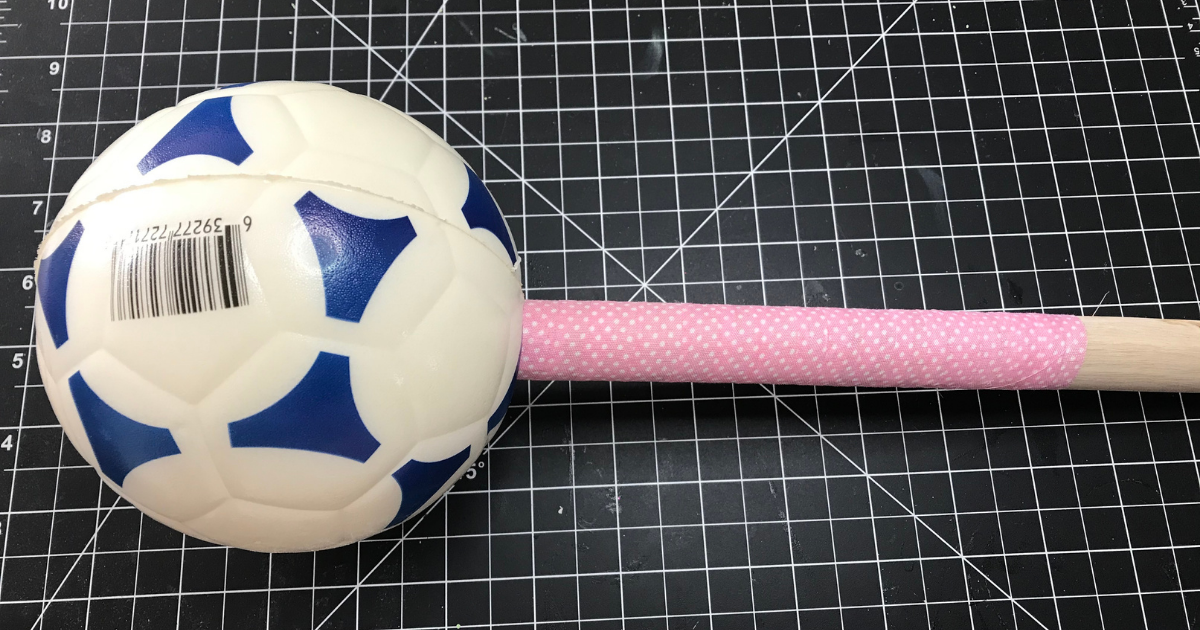 Next I wrapped the dowel in pink polka dot washi tape. I wasn't planning on doing this, but when I took the price tag off of the plunger, the wood was awful underneath it. I didn't want anyone to get a sliver and it didn't look good.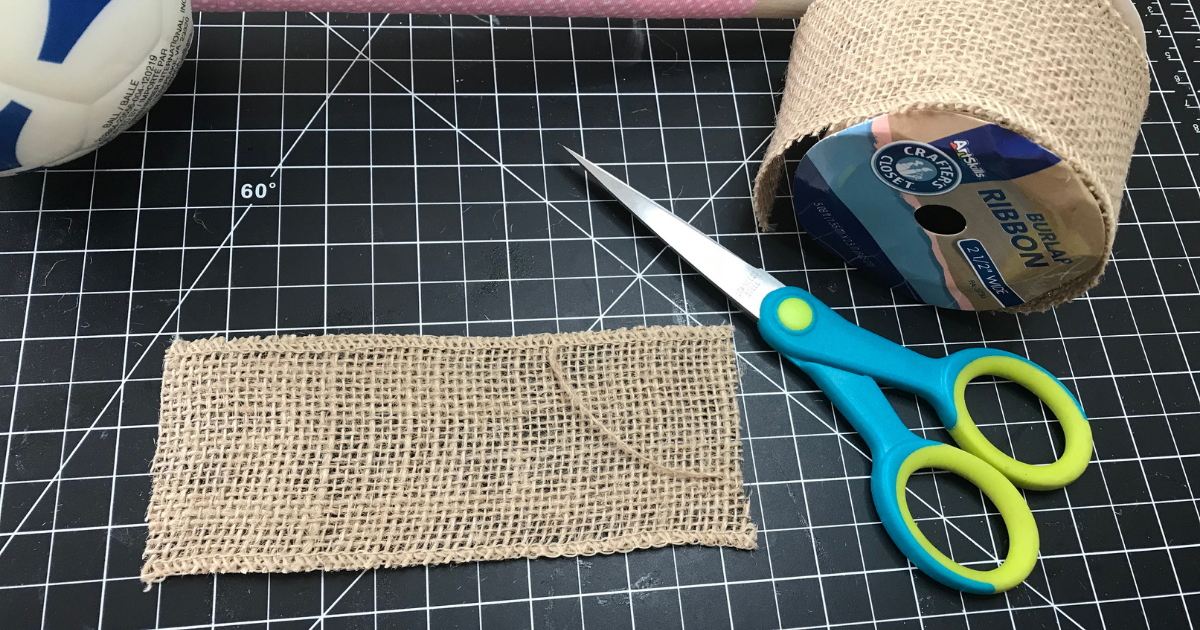 Cut the burlap ribbon 6 inches. I did about 10 strips at a time and glued them to the soccer ball and kept going. This way I wouldn't end up with extra cut ribbon.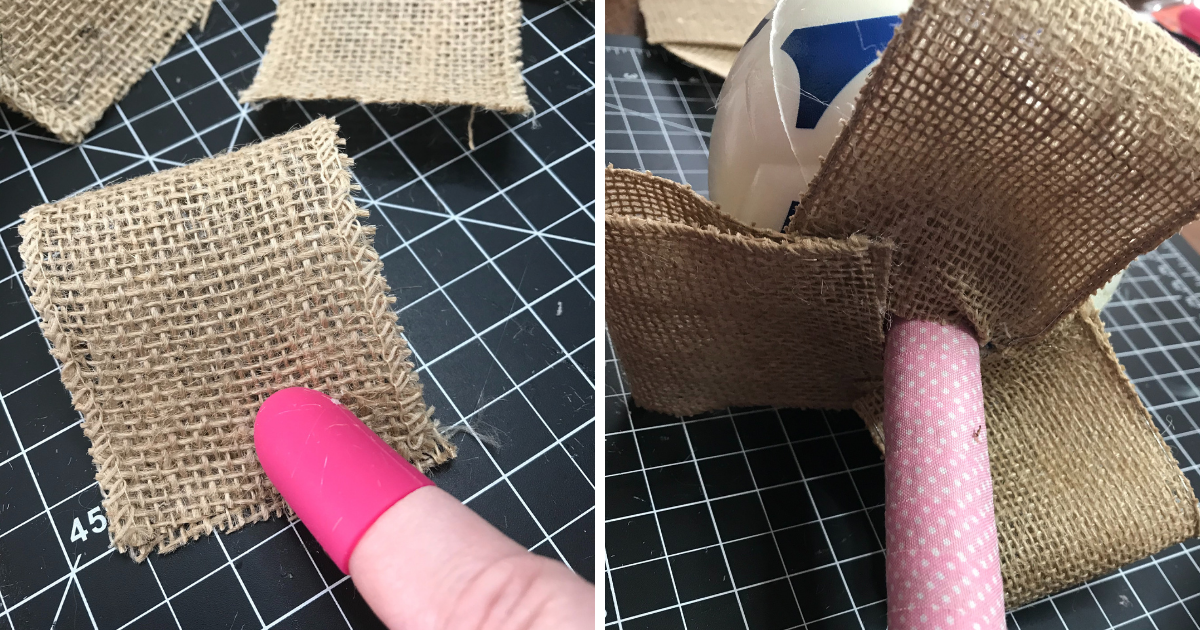 Start on the bottom of the ball and glue the burlap strips in half. Then glue the burlap onto the ball.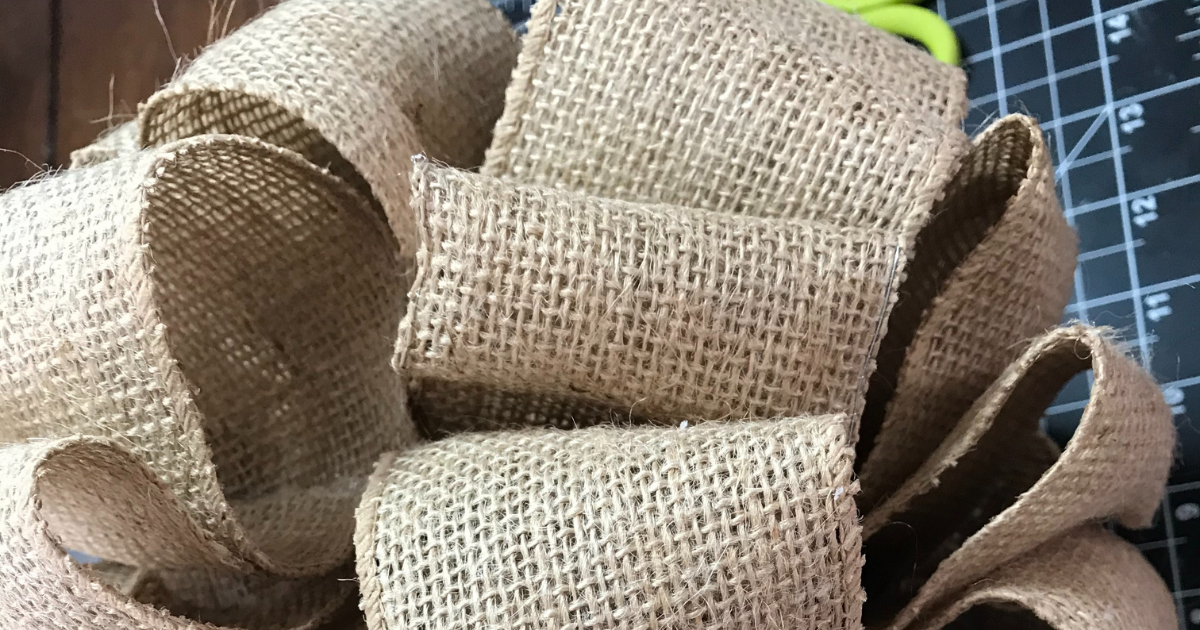 Just keep doing this until the ball is covered with the strips. Warning- this uses a lot of hot glue sticks.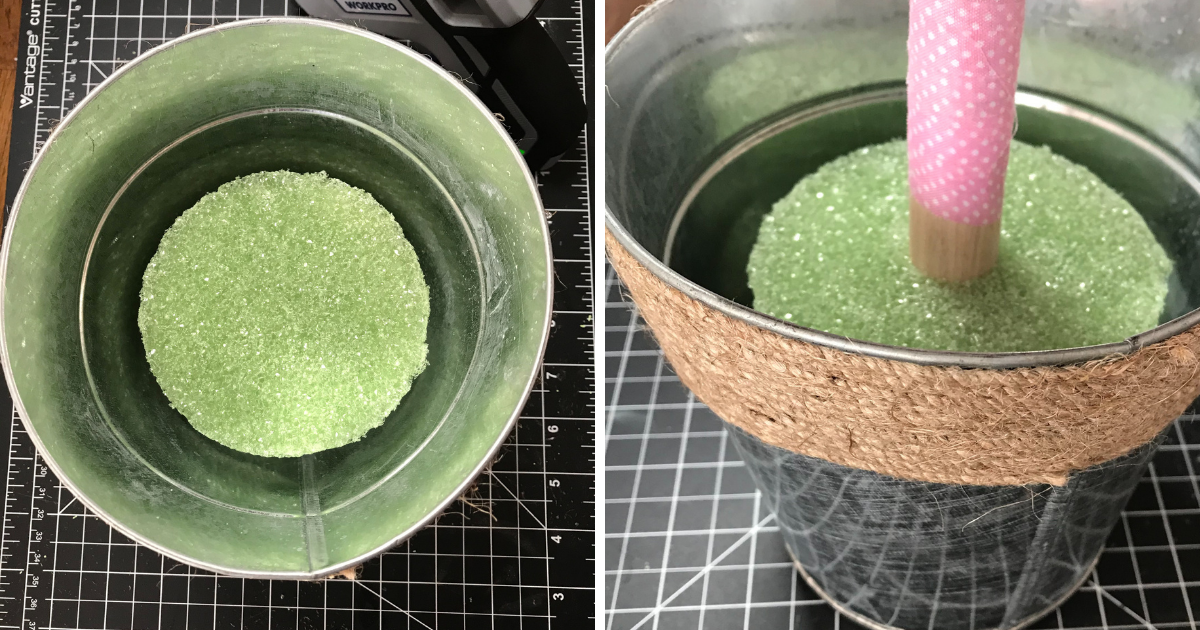 Once the ball is covered, hot glue both pieces of the green floral foam into the metal bucket. Then push the egg centerpiece into the floral foam. When I made my sunflower ball topiary, it needed more support so this time I used two foam floral pieces.
Go around the Easter decoration and fluff the burlap ribbon.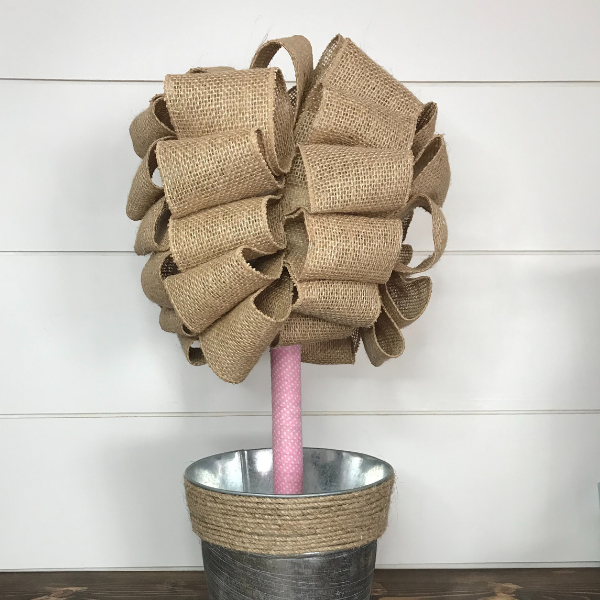 Now it's time to add the eggs to the Easter centerpiece. I just randomly hot glued the eggs around the topiary.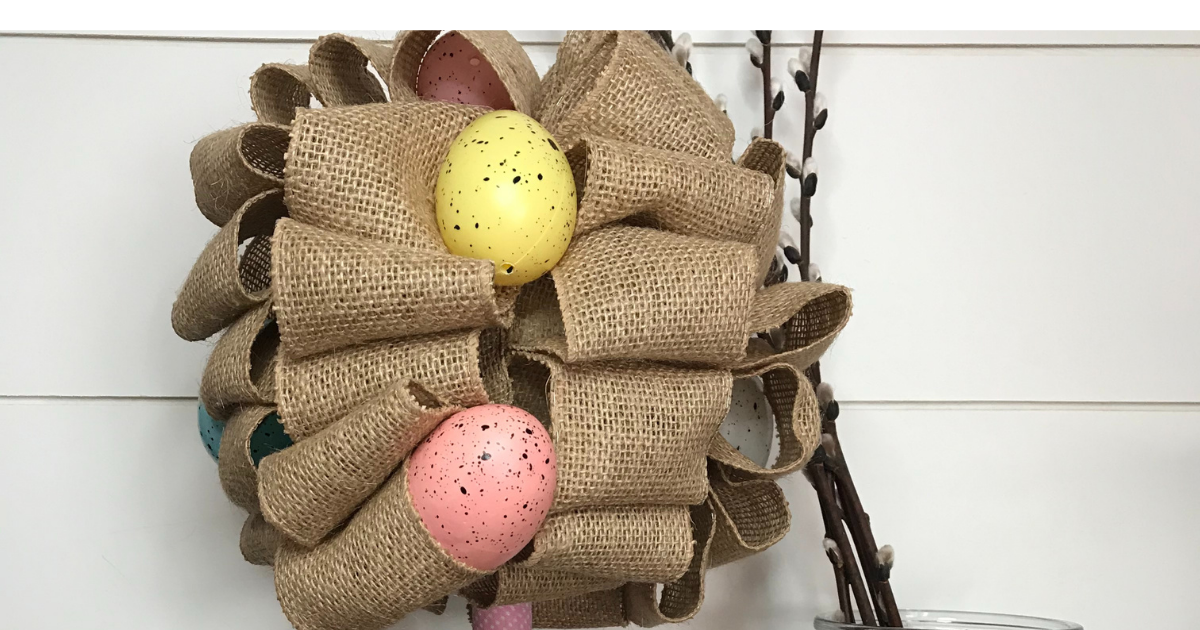 It was super easy and it looks adorable.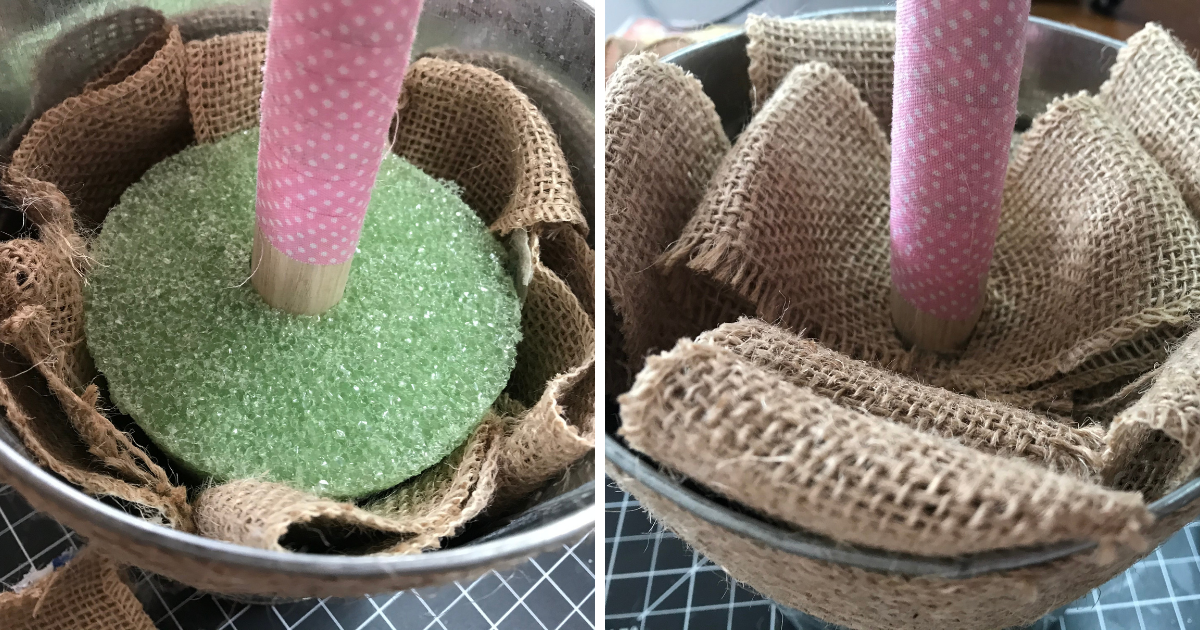 I don't like to waste craft supplies so I took the burlap (the wireless stuff) that I had to remove and put it around the floral foam in the bucket. Then I took other burlap pieces and glued them around the top of the floral foam.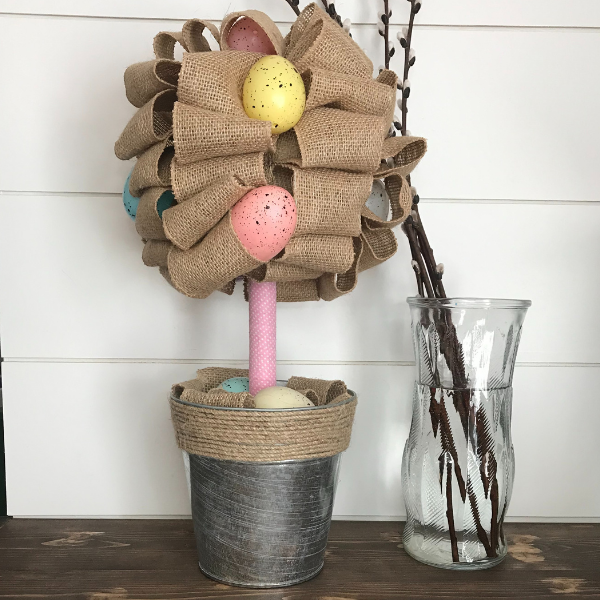 For added Easter egg decor, I added two eggs on the bottom. How adorable is this Easter decoration.