Easy Halloween Corner Bookmarks with Cricut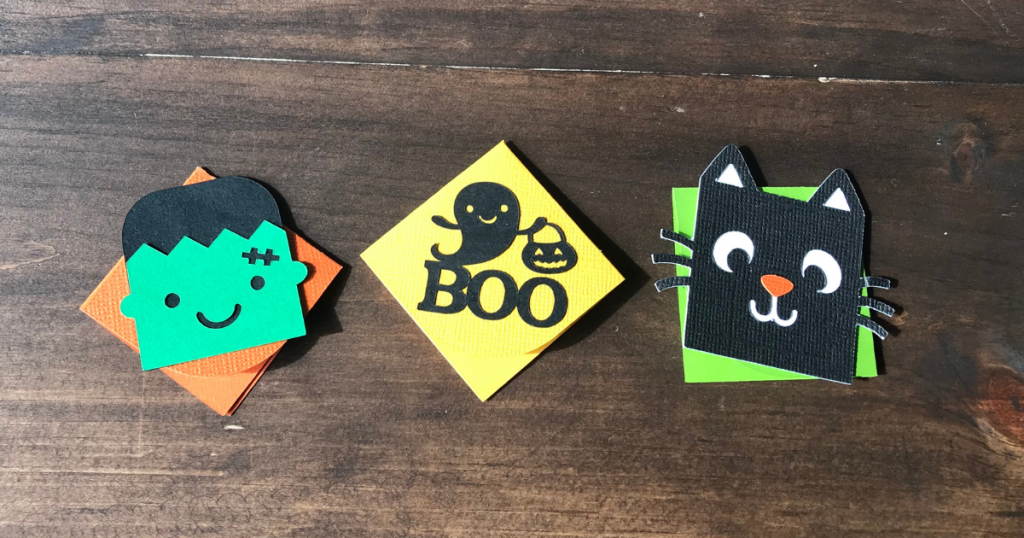 Note: As an Amazon Associate, I earn from qualifying purchases. If you click on a link from Amazon or another of my advertising affliates, I will earn a small commission at no additional cost to you. Please see my full disclosure policy here.
Who's ready to get crafty and make some fun Halloween party favors? I love making Halloween treat bags for my kids to pass out. This year I thought, why don't I put my talents to work and make a Halloween craft for their treat bags this year. Both of my kids love to read so Halloween corner bookmarks were the perfect thing to make.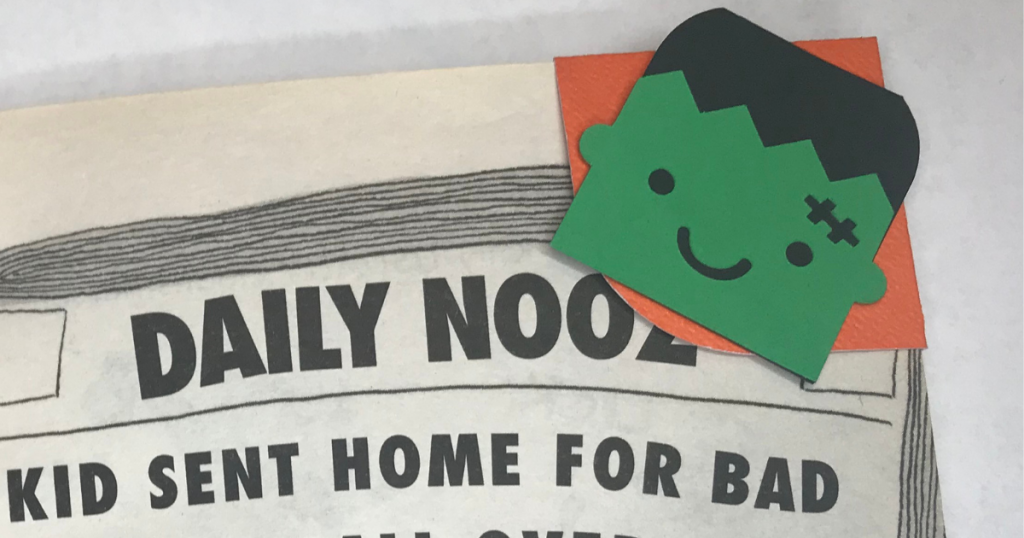 I'm a Cricut mama so I made this with my Cricut and it was super easy. I'm sharing three corner bookmarks ideas for Halloween, a cat, Frankenstein, and a ghost. If you are a Cricut Access Standard member these will be completely free and included in the membership. The corner bookmarks are super easy to slide onto the corners of pages and look so cute. My daughter loves seeing her cat ears stick up above the book.
Quick, easy, cute and fun is what these bookmarks are all about. They will be a huge hit as a party favor in a treat bag or as a fun Halloween craft for the kids to put together at a party. If you like making party favors, try out these Halloween Coloring Cards.
Materials for Cricut Corner Bookmarks
Cricut Cutting Machine
Scoring Wheel or Stylus
Card Stock (this is my favorite kind to use)
Double Sided Squares or Double Sided Tape
Cat Corner Bookmark Design Space File
Frankenstein Corner Bookmark Design Space File
Ghost Corner Bookmark Design Space File
Let's Create a Halloween Corner Bookmark with Cricut
The first step is to open Cricut Design Space™ and search for corner bookmark.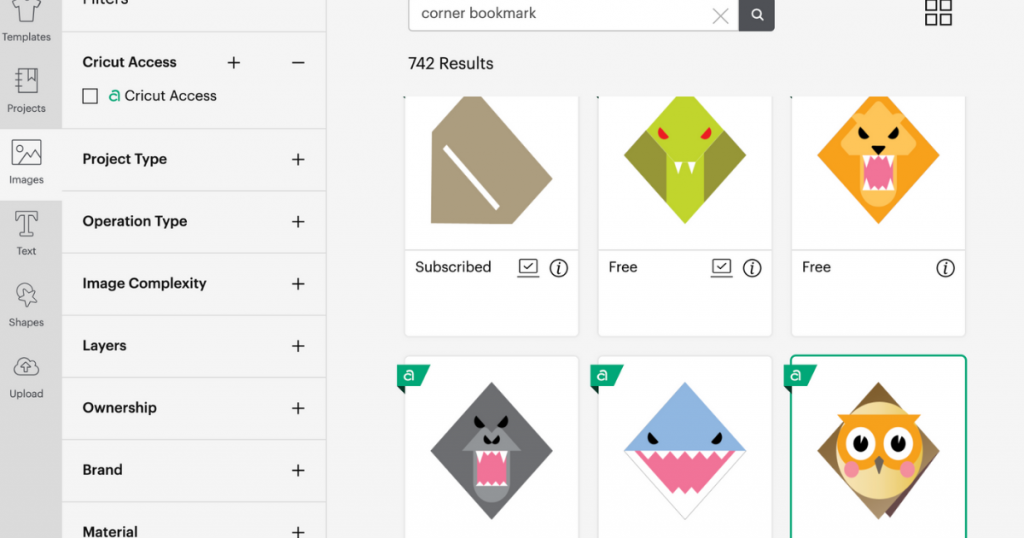 Choose the owl bookmark and click add to canvas. Don't just pick any corner bookmark because some of them have the shape or teeth of the animal. Then delete the owl and leave the corner bookmark shape (as shown in the picture below).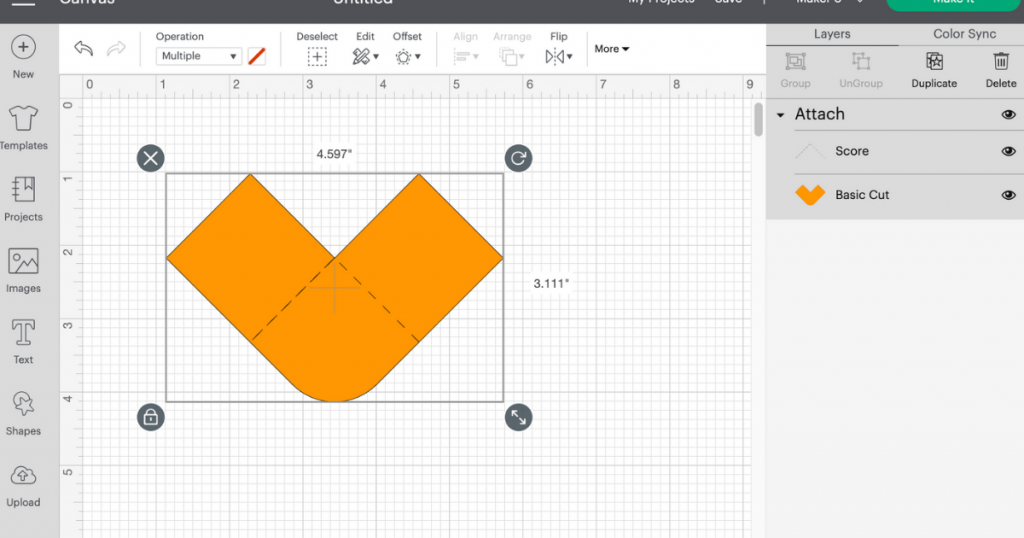 Pick your Halloween image that you want to add to the Halloween bookmark. Cricut Design Space has so many cute and adorable images to choose from. My son asked for Frankenstein so I chose this cute image, click the unlock in the corner and size it to fit on the bookmark.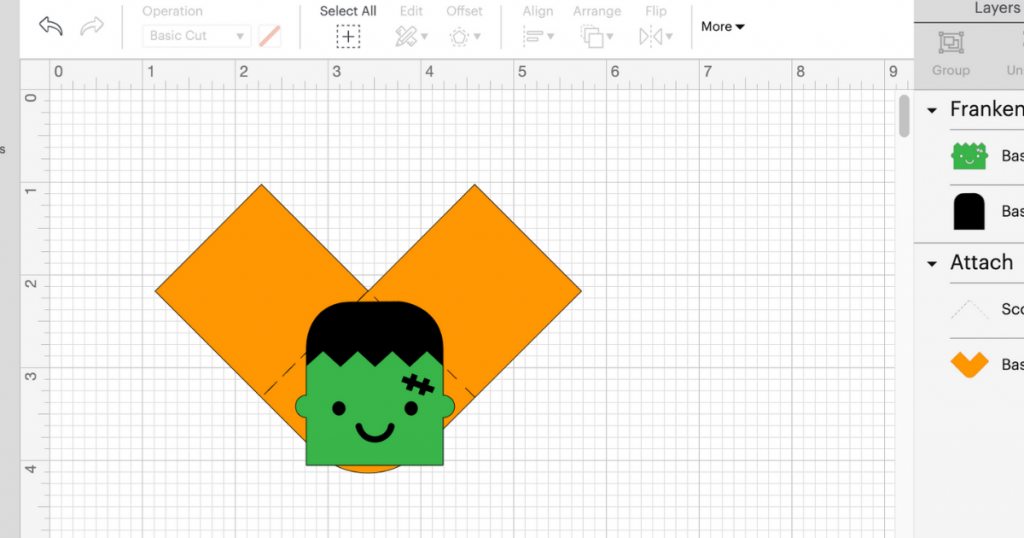 For this Halloween corner bookmark, you have to use a scoring wheel/stylus so you have to use the Cricut Air or Maker (any version of these will work).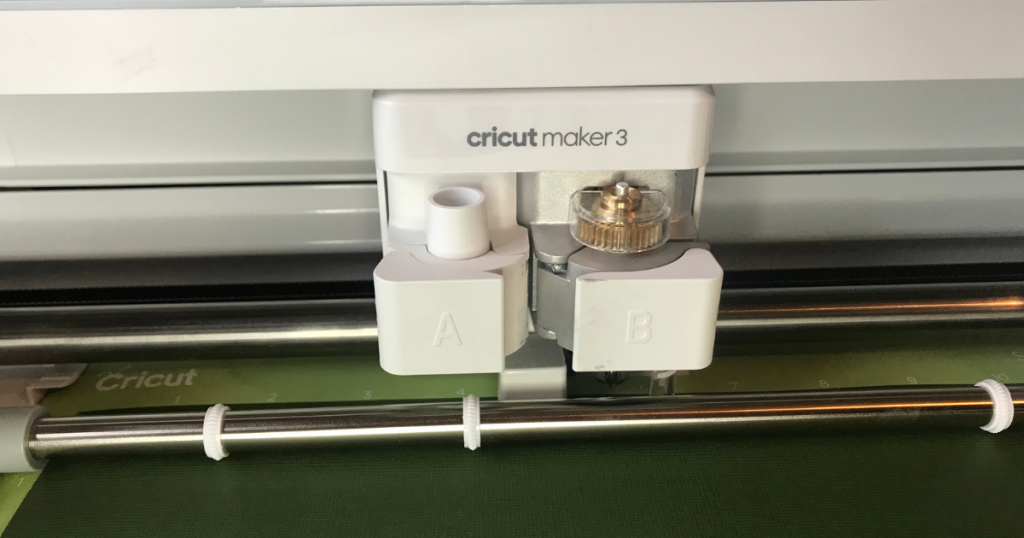 Complete your design and click make it. Follow the instructions for when to load the scoring wheel and blade. I used tons of scrap pieces for these bookmarks, so adjust your images on the mat so you can cut several at one time. I love projects that use up a ton of scraps.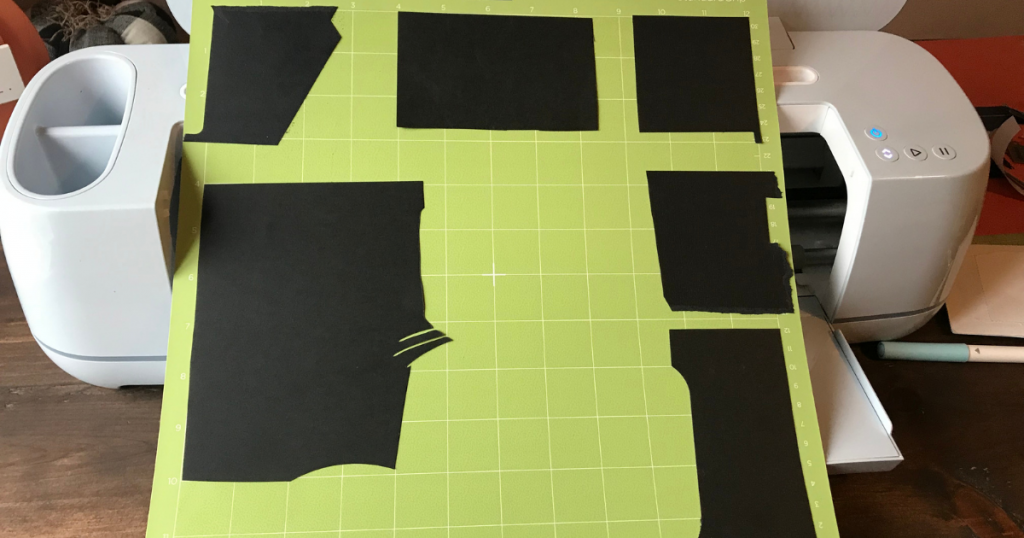 How to MaKe a Halloween Bookmark
Get started by glueing all the Frankenstein pieces together. This one is only two layers so it's really easy and quick. For projects like this, I prefer to use double sided tape or squares. It holds really well and has no messy glue residue.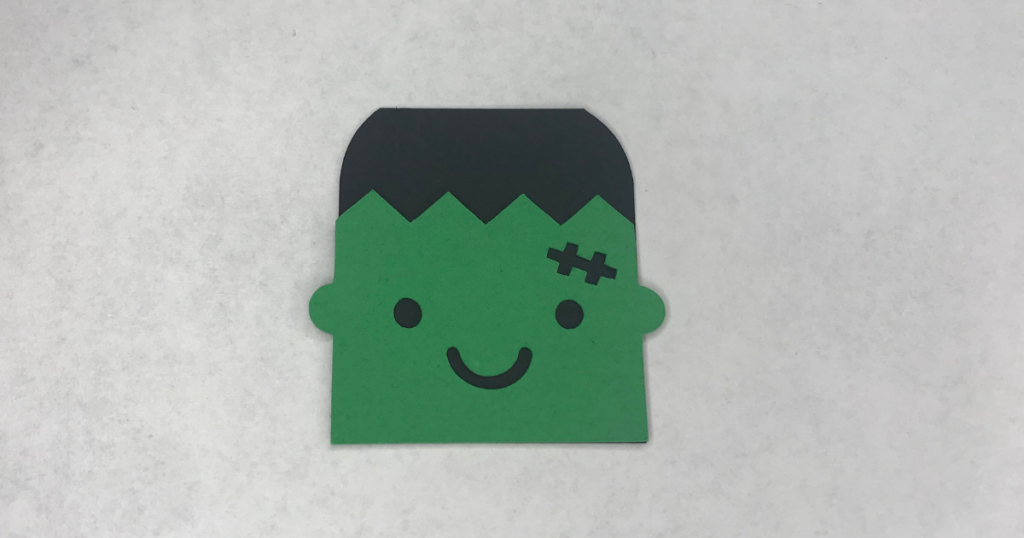 Next start putting together the corner bookmarks. Start by folding the right square down.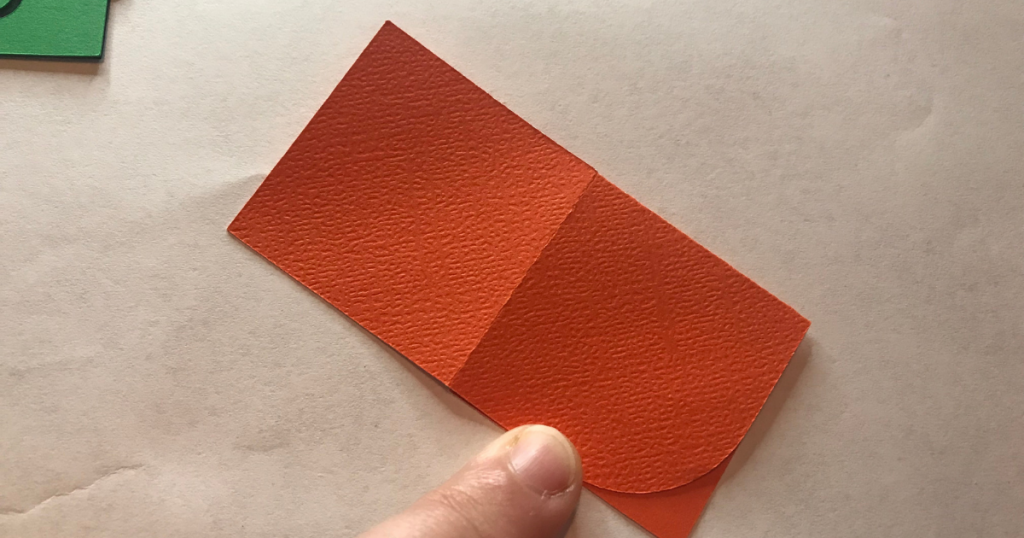 Then fold the left square down so it looks like the photo and flip it over so the curved part is on the bottom.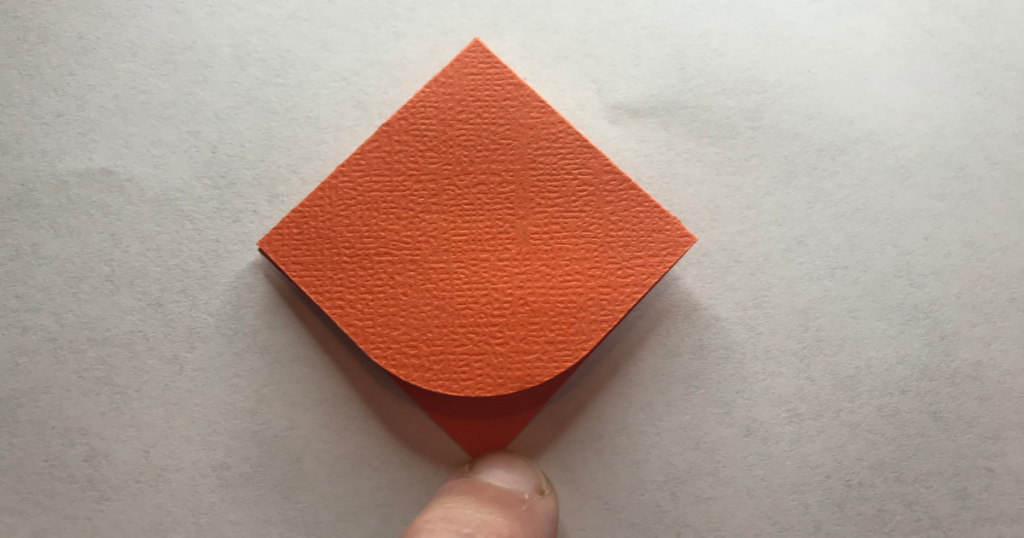 Open the top and glue the corner bookmark together.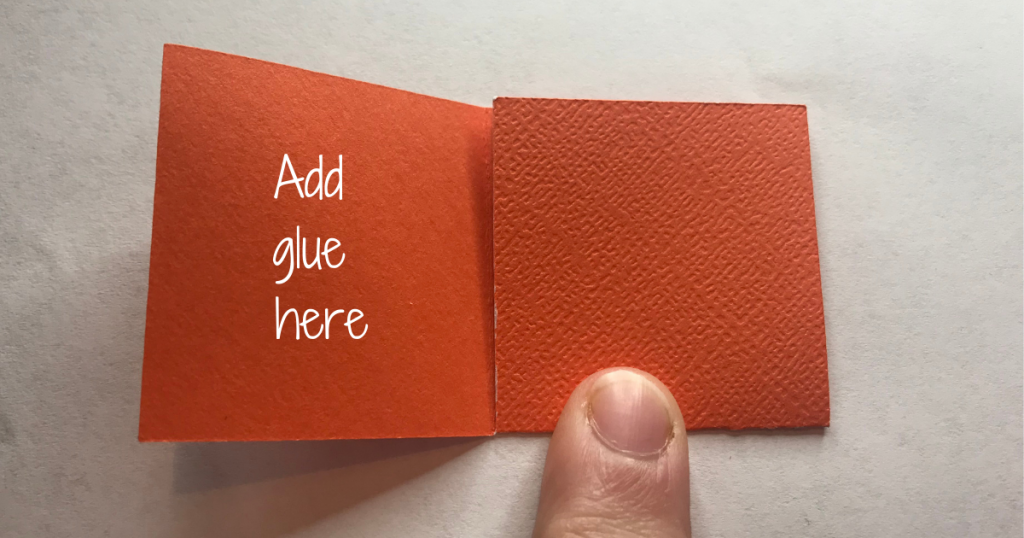 Now add Frankenstein to the front of the corner bookmark and you are all done!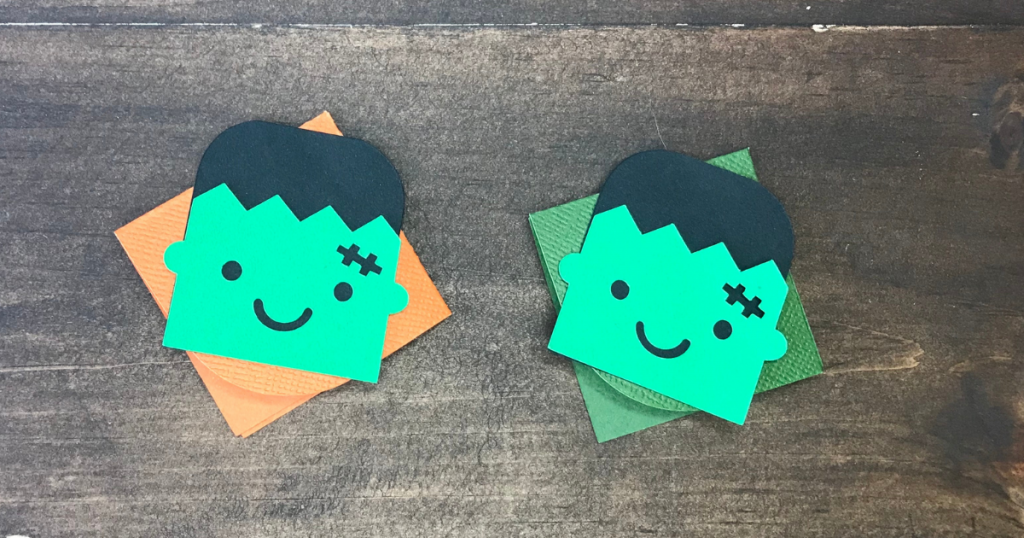 Easy, fun, adorable and the kids will love this Halloween party favor. These bookmarks would make a great Halloween craft for the kids too. The directions are really simple and it only takes a few minutes to make.
After seeing the Frankenstein corner bookmark, my daughter asked for cat bookmarks. I did the same thing again, but made the bookmark just a little larger. She is in 1st grade and I thought a little bigger would be better. My son is in 3rd grade and the smaller size fits better on the chapter books. For each of the corner bookmarks, you put them together using the same steps from above.
Cat Corner Bookmark with Cricut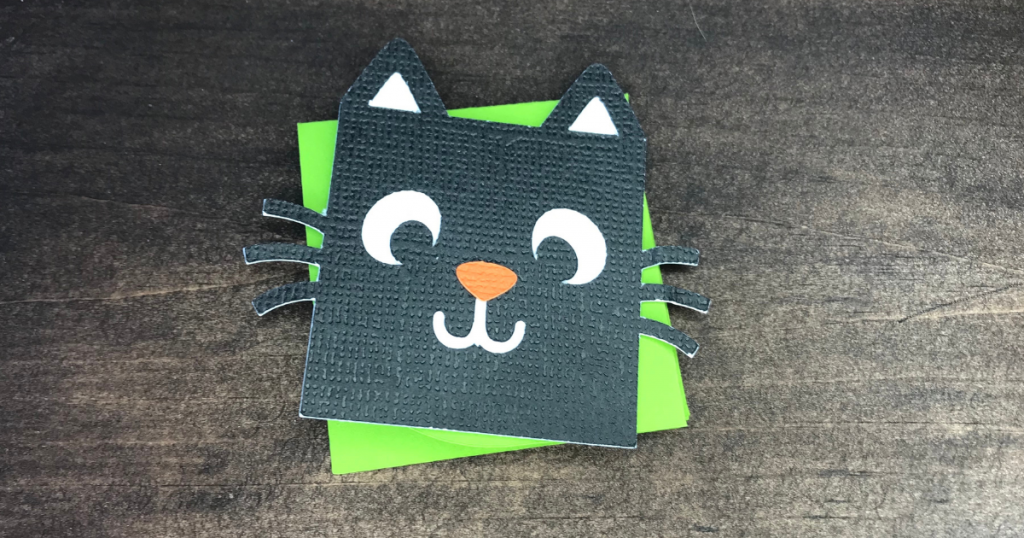 Ghost Corner Bookmark with Cricut