Cute Halloween Houses- DIY Halloween Wood Crafts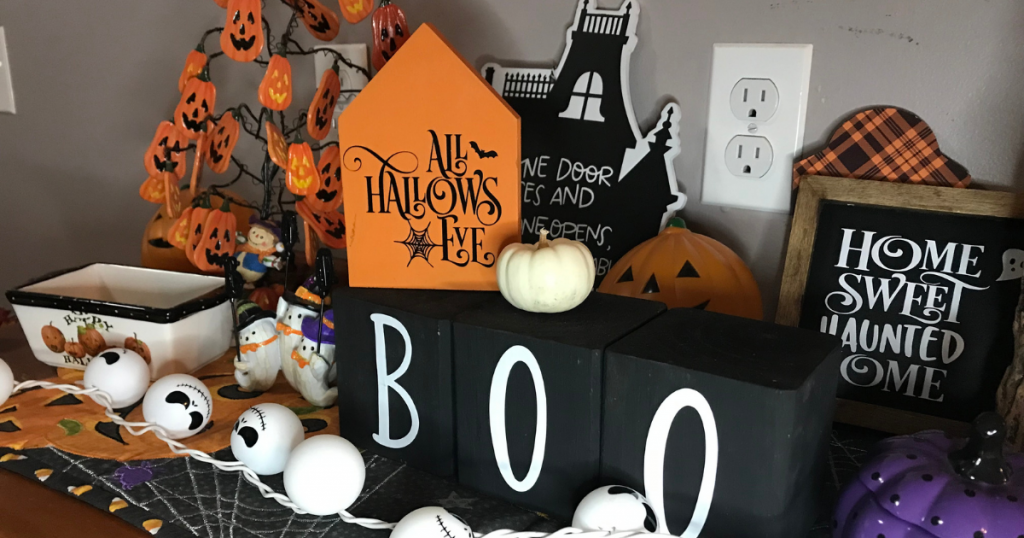 Note: As an Amazon Associate, I earn from qualifying purchases. If you click on a link from Amazon or another of my advertising affliates, I will earn a small commission at no additional cost to you. Please see my full disclosure policy here.
I've seen so many of these cute little wood block houses that I had to have some. I was hoping to find some at the Dollar Tree, but it's been months. So I put my husband to work to make some for me. Using up the wood in our scrap pile is one of my top priorities (plus it makes for cheap projects). Are you ready for some cute DIY Halloween Wood crafts of block houses?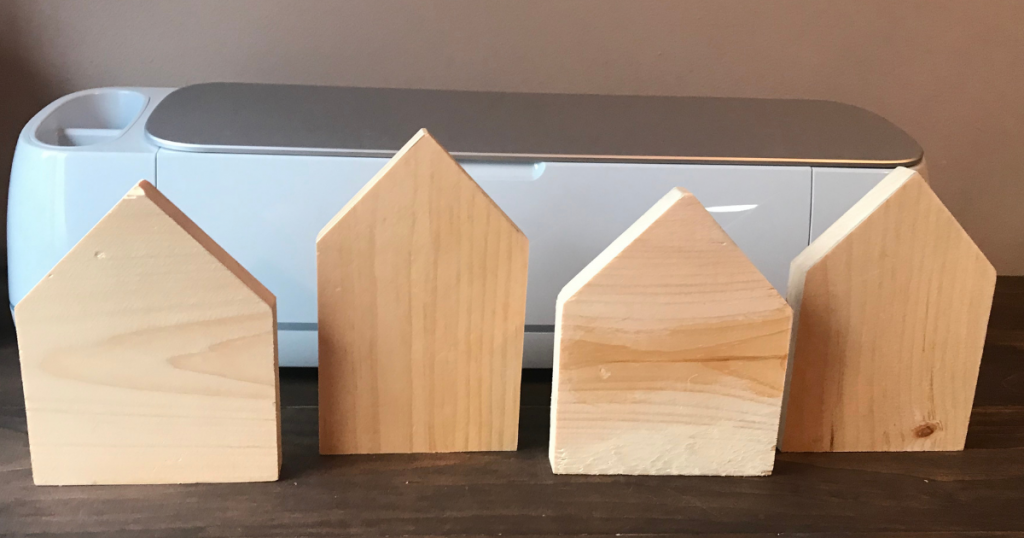 My husband is cut the wood block houses out of scrap 3/4 plywood, but you can make them out of any wood that's thick enough to stand. Also you can just skip the steps of cutting and sanding and buy the wooden block houses already made.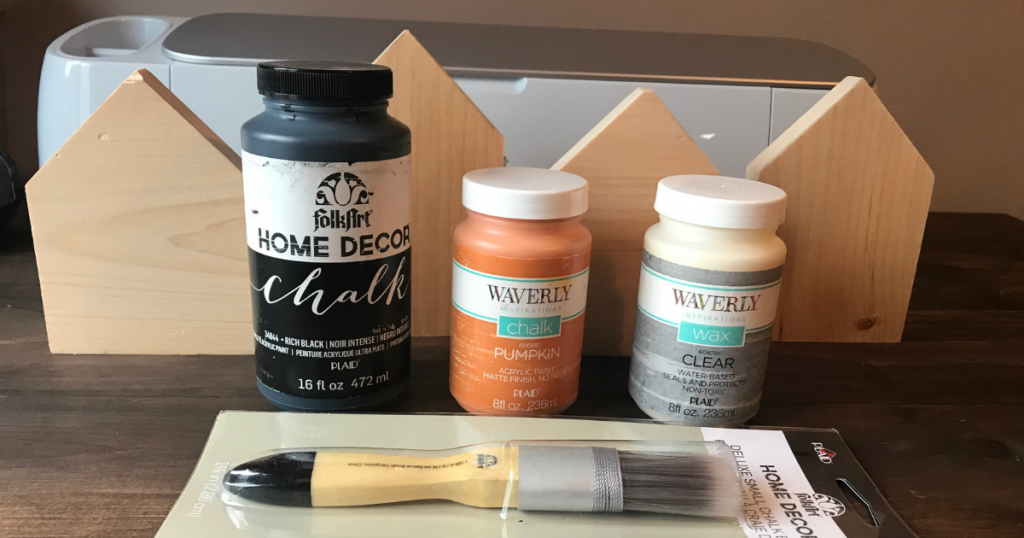 Materials for Easy DIY Halloween Wood Decor
Blank Wood Block Houses
Rich Black Chalk Paint
Pumpkin Chalk Paint
Waverly Clear Wax or Folkart Clear Wax (I love both)
Chalk Paint Brushes
Lint Free Cloth
Cricut Maker 3
Black Cricut Permanent Vinyl
White Cricut Permanent Vinyl
Transfer Tape
Let's Create DIY Halloween Wood Crafts- Halloween Block Houses
First step is to paint your blocks. Either create them out of scrap wood or purchase the blank wooden block houses. I did two of the wood block houses in black and two in orange because I like the classic colors for Halloween decorations.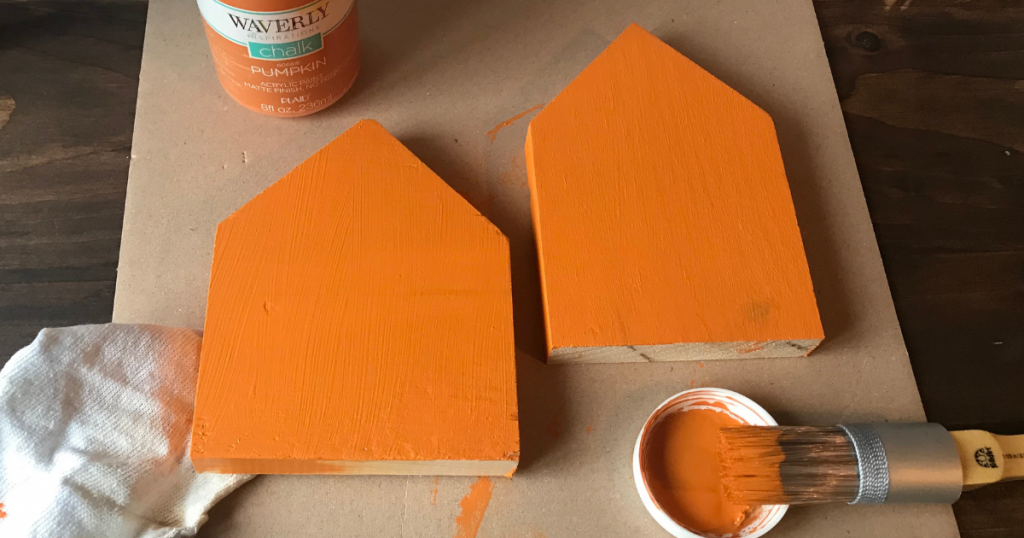 Let the blocks completely dry and using a lint free cloth put on the clear wax over the entire block house. When the wax is dry, in 24 hours, take a lint free cloth and buff the wood block. If you use regular craft paint, just move onto the next step. Using regular craft paint will make for a quicker craft because it dries in about 20 minutes.
If you are waiting for the wax or paint to dry, then get started on creating the vinyl decorations for the cute Halloween houses. Even without a cutting machine, you can still make cute vinyl decorations.
Creating the Cute Halloween Block Houses in Cricut Design Space
In Cricut Design Space™, I found these new designs that I don't remember from past Halloween decorations. I picked all of these images from the Sarah Hurley Halloween image collection. They are whimsical and have such cute sayings.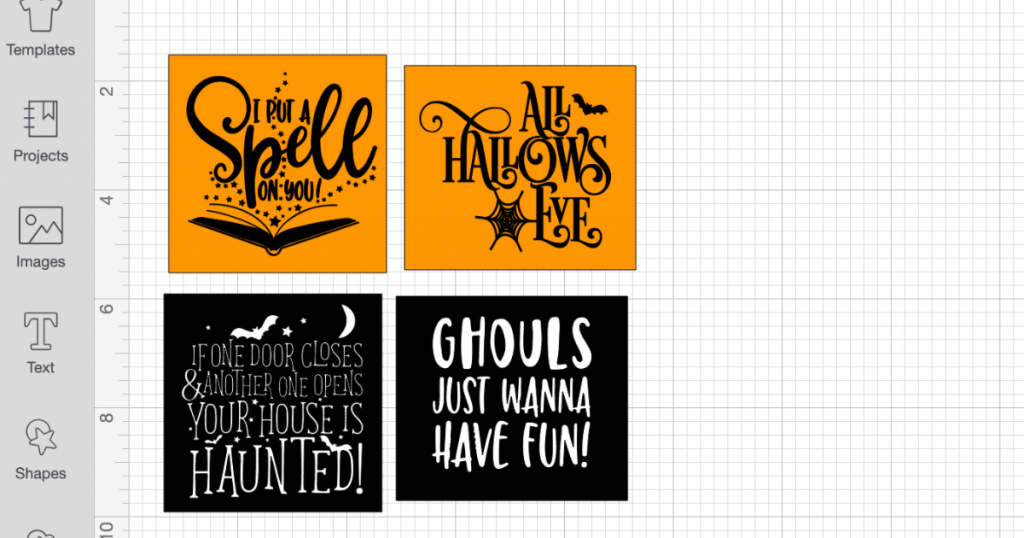 To size the designs, I made them to fit the square part of the house. The shorter houses are 4.25×3.75 and the longer houses are 4×4. Here is the Halloween Block House Design Space File if you would like to use the same images for your Halloween decorations. Before cutting the designs, hide the squares.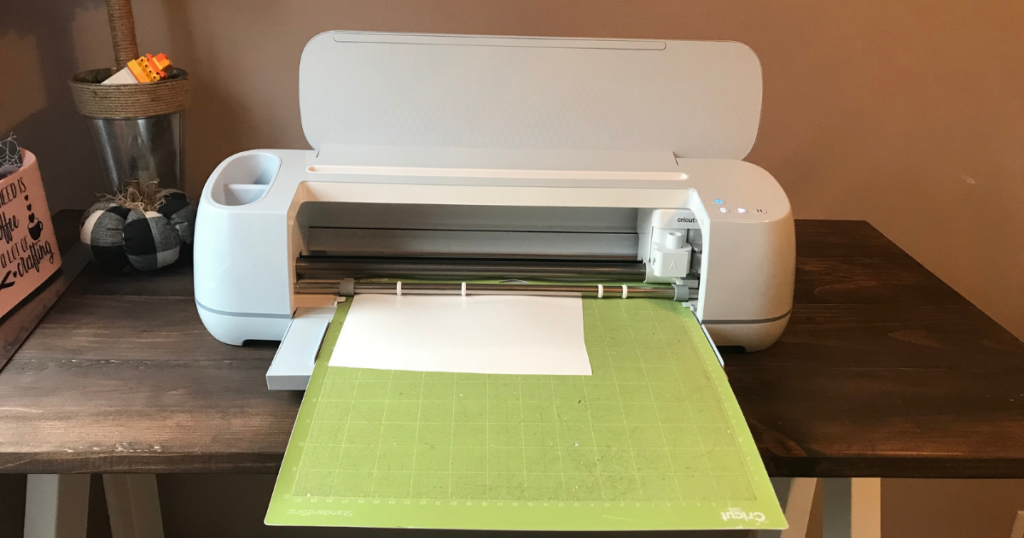 Cut the designs in permanent vinyl. The black houses have white vinyl designs and the orange houses have black vinyl designs. Then weed the designs and remove all the extra pieces.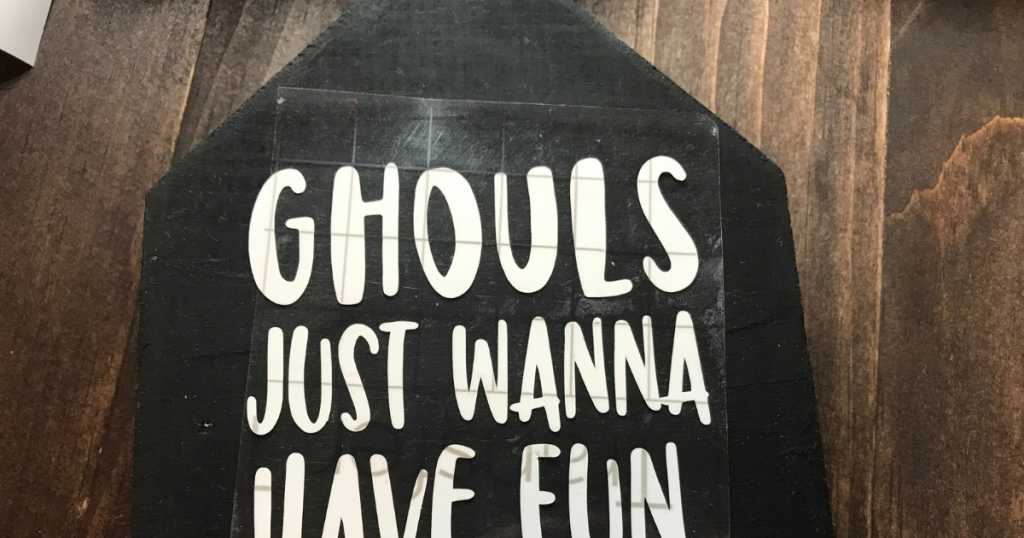 When the Halloween wood block houses are dry and ready, use transfer tape to add the designs to the wooden houses.
DIY Halloween Wood Crafts- Block Houses
I'm in love with my Halloween block houses and they match my Halloween decorations so well. I haven't decided if I want to put on a roof or ribbon yet. Sometimes I feel like you have to look at them for a bit in your space to decide. If I decide to add anything, I will update with pictures.
This one would look great by my Halloween potion bottles, but there is no space on that shelf. Plus my son pointed out that I love Hocus Pocus, but had no decorations for it. Now I do!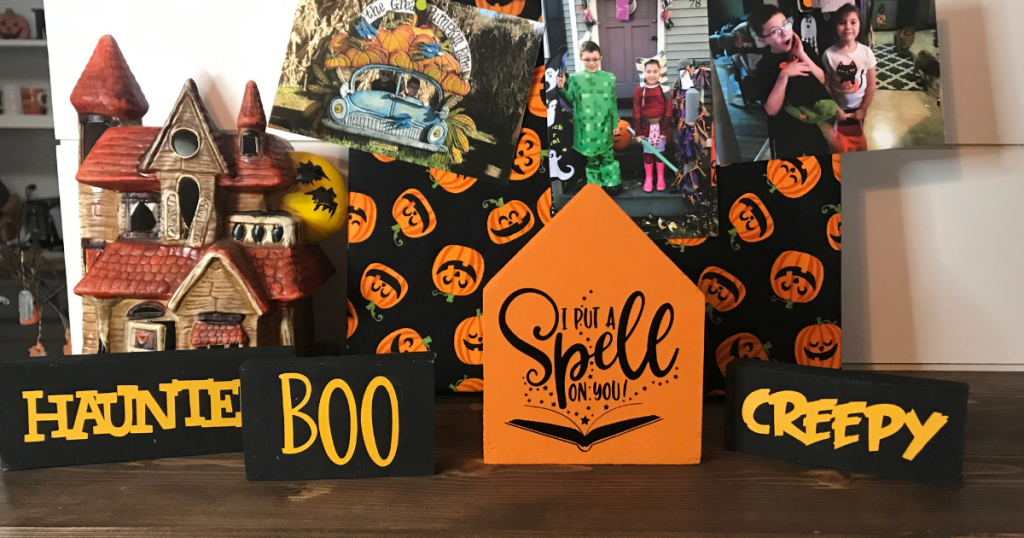 The haunted house block looks great by my spooky letters.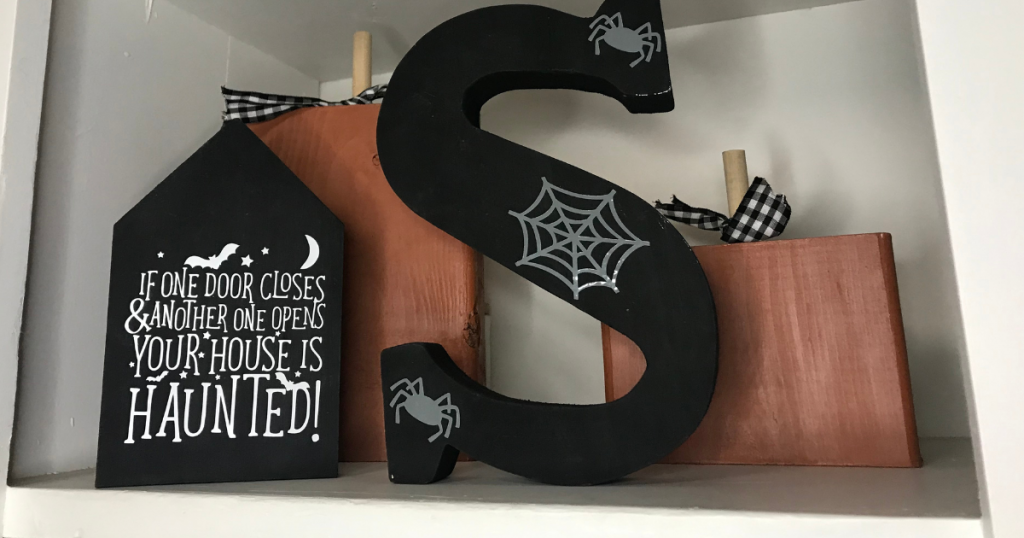 Next is my ghouls just wanna have fun. It looks cute by these little ghost.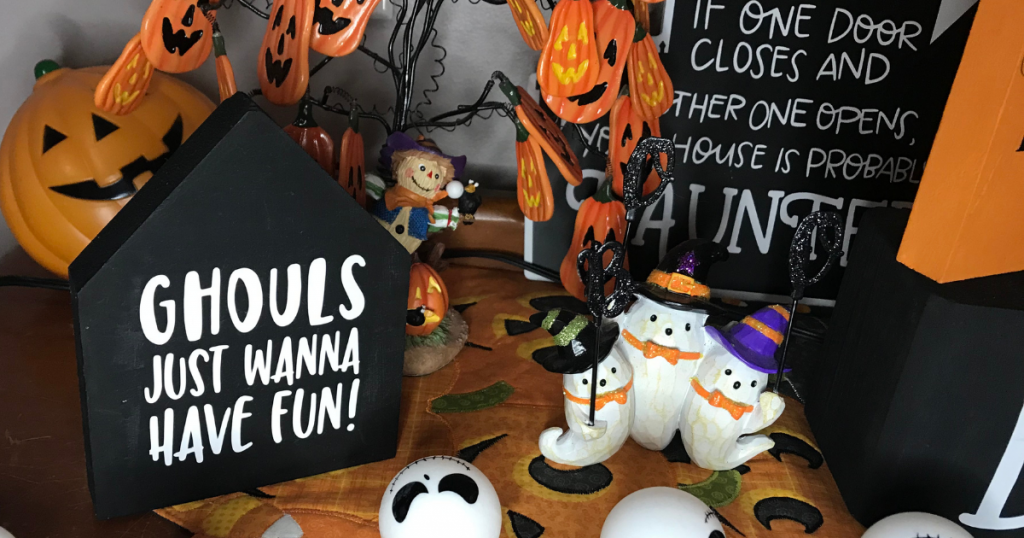 Here is the last one. It looks great with my boo blocks (also a Halloween scrap wood craft) and my Jack Skellington ping pong ball lights.