Easy Kids Obstacle Course Ideas for Summer Fun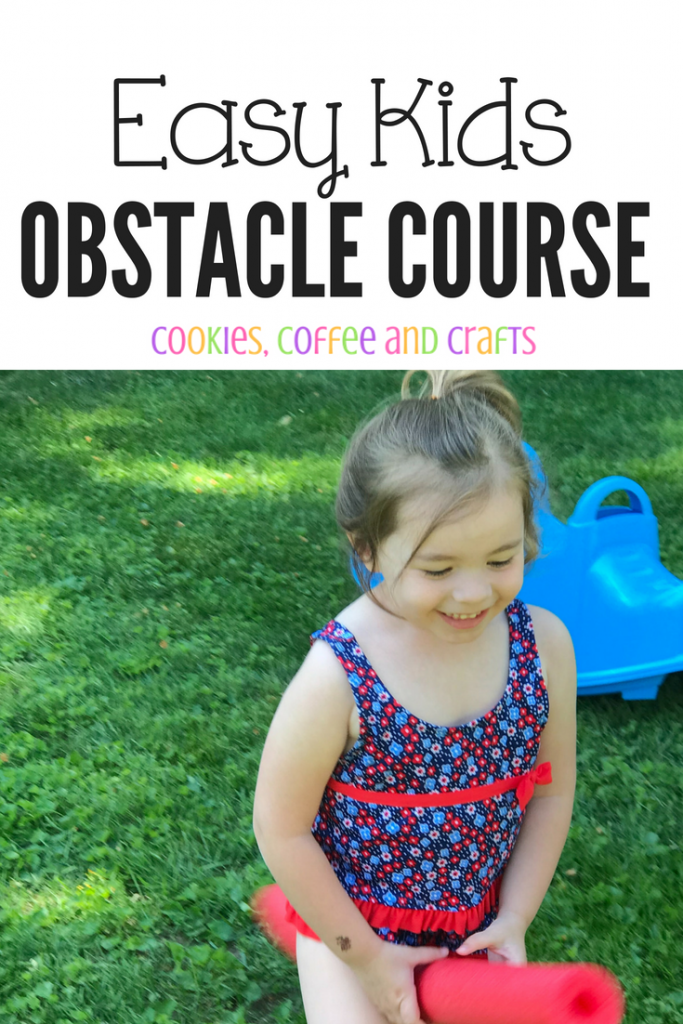 Note: As an Amazon Associate, I earn from qualifying purchases. If you click on a link from Amazon or another of my advertising affliates, I will earn a small commission at no additional cost to you. Please see my full disclosure policy here.
Do you remember that last day of school excitement as a kid? It was years ago, but I remember it like it was yesterday. Summer vacation is here and it's time to have some fun! These easy kids obstacle course ideas are fun, made for outdoors, physical (hopefully it will tire the kids out) and have so many possibilities.
---
Welcome to the Summer Family Fun Blog Hop
We have teamed up with a few of our blogging friends to bring you some fun summer activity ideas for children of all ages! From June 4th through June 8th, we'll be sharing 3 new projects each day. Our goal is not only to survive the summer break but provide some enriching activities to keep the boredom at bay as much as possible because mom's have the best ideas! Just take a look at what these Mom bloggers have come up with and you'll see what I mean! But first, enjoy the tutorial I am sharing for Easy Kids Obstacle Course Ideas for Summer Fun!
Visit my blogging friends below for more summer family fun ideas!
Monday
How To Install A Ring And Hook Game @Intelligent Domestications
Fairy Garden Fun for Kids @Two Chicks And A Mom
Tropical Shrinky Dink Charms and Pins @My Pinterventures
Tuesday
DIY Painted Rocks That The Kids Will Love To Make @Our Crafty Mom
DIY Sharpie Mug Bird Feeder @Glitter On A Dime
How To Turn Admission Tickets Into A Bookmark@Craftify My Love
Wednesday
DIY Giant Backyard Frisbee Tic-Tac-Toe Game @DIY Adulation
Book Themed Outdoor Play Ideas for Kids @The Moments At Home
5 Easy Ways to Have Fun with DIY Bubbles This Summer @Hunny I'm Home DIY
Grandma Camp @Intelligent Domestications
Thursday
Easy Kids Obstacle Course Ideas @Cookies, Coffee And Crafts
How to Make a Fun Kids Swim Towel @Dazzle While Frazzled
Polymer Clay Charms @Domestic Deadline
Friday
Nerf Battle Paint Splatter T-Shirts @The Inspiration Vault
How to Make Easy Farmhouse Planter Herb Markers @Raggedy Bits
Below are some affiliate links and I may make a commission for purchases made through the following links.
This easy obstacle course is created by using items you already have at home. The only thing I had to buy where two pool noodle from the dollar tree (we didn't have any). I wanted this to be a cheap summer fun activity that the kids could do and create with what you already have and use their imagination. My kids love all of these toys used in the obstacle course, so if you have to buy some outdoor toys, I think it will be worth it.
One of the greatest things about this obstacle course is the kids can be creative too and take turns creating a new obstacle course or it can be turned into a relay race also. Also I think it would be cool to name the obstacles something fun and silly or dangerous. Like if your using the sprinkler call it "run through the whirly twirly whirlpool" or "jump over the hot lava." Honestly my 5 year old will probably come up with better names then me for the obstacles.
Easy Kids Obstacle Course Ideas
Balance Beam using wooden boards or a 2×4
Jump/Hop through hula hoops
Run through the Sprinkler
Basketball Hoop
Baseball Tee
Soccer Net
Zig Zag through cones
Crawling under chairs (or anything you have)
Shoot balls off tee with water gun
Throw Water Balloons or move water balloons on a spoon
The kids obstacle course I created is for my 3 and 5 year old, so it's created more for preschoolers or toddlers. These ideas though can be modified and changed for kids of all ages. All kids love jumping, crawling, running, throwing, shooting, and more.
Toddler Obstacle Course
The start of the course is the frisbee and then it's the bunny hop through the hula hoops.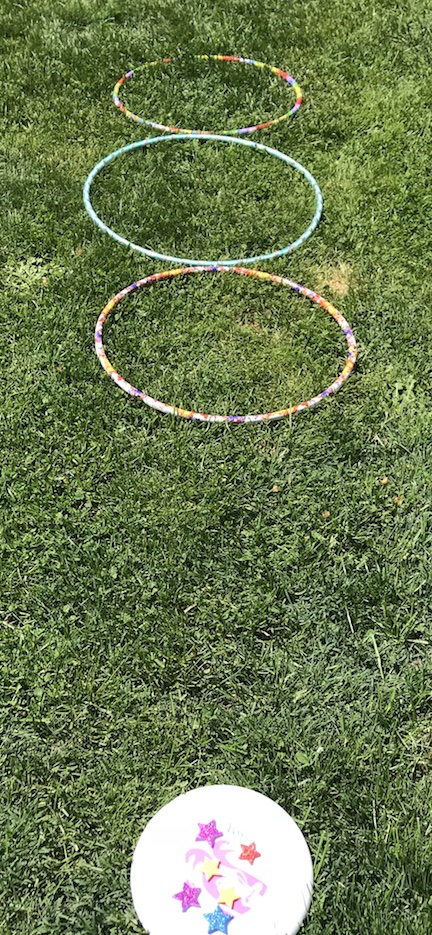 Next is the daring tight rope across the canyon. Check out our cute Pomeranian who wanted to be a part of the action. In the background is my daughter's favorite outdoor toy the Sand Table
. It even has an umbrella to keep the kids shaded on those sunny and hot summer days.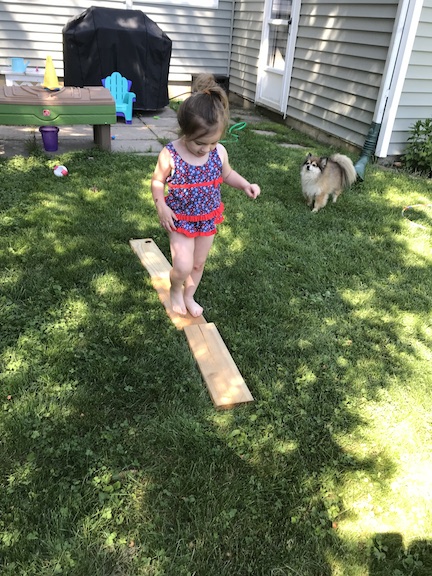 Now it's the rock climb, down the slide, and climb over the mountain (the see saw).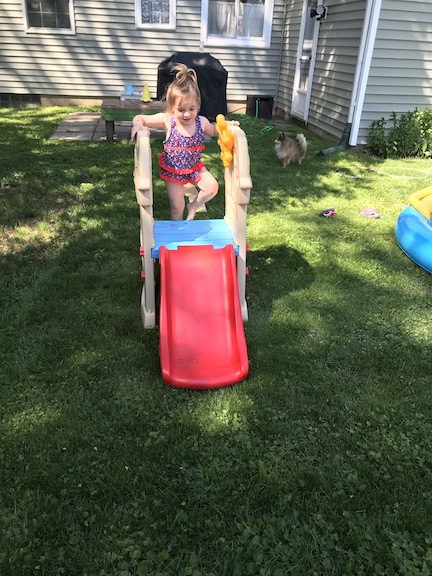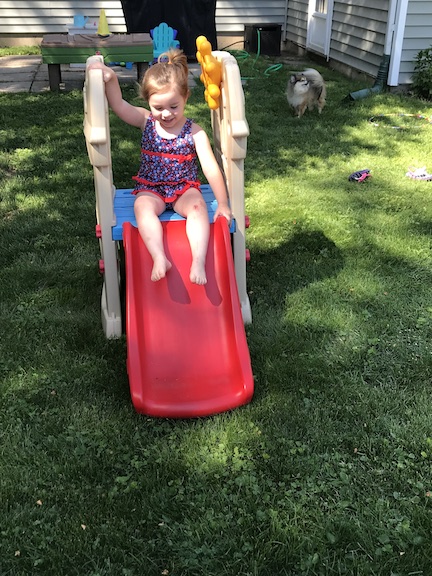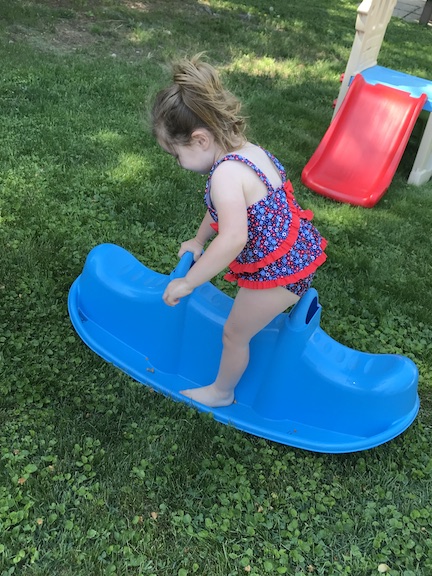 Giddy Up Time! Ride your pool noodle like a stick horse.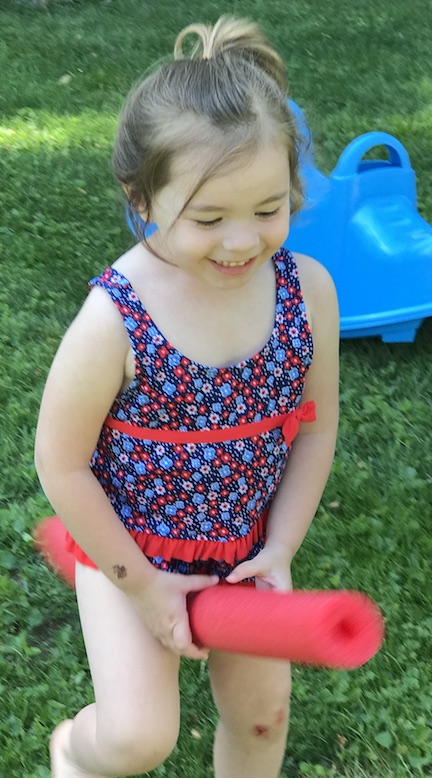 Crawl through the cave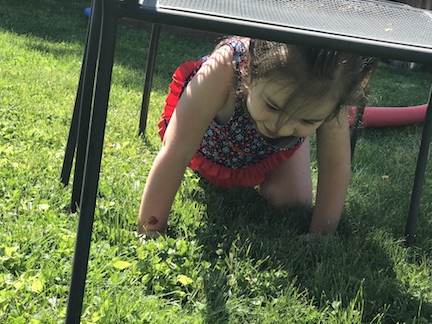 Tee Time, Batter Up! My daughter was to fast and I didn't get a picture.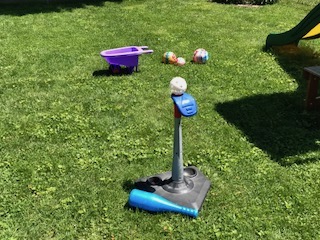 Fill your wheelbarrow and zig zag through the cones. My daughter didn't zig or zag, she chose the straight path.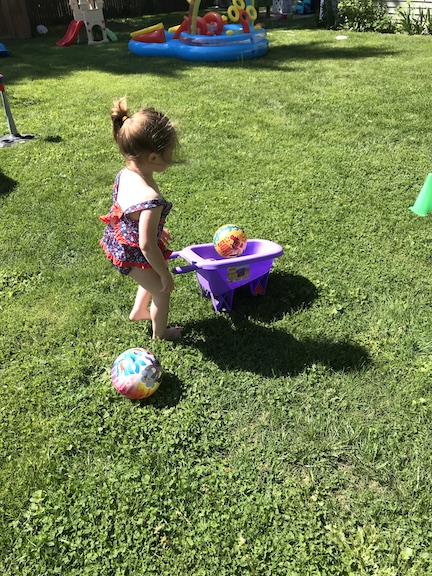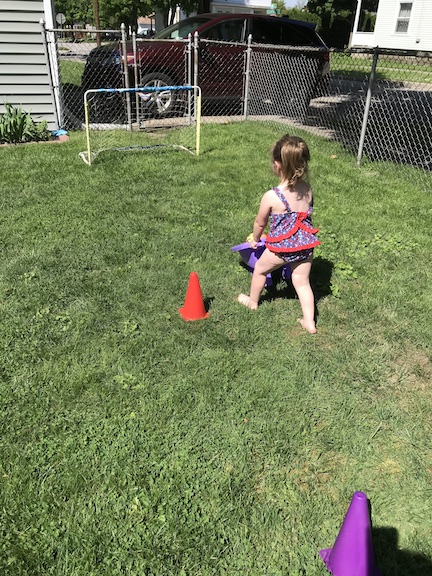 Kick your balls into the net and score!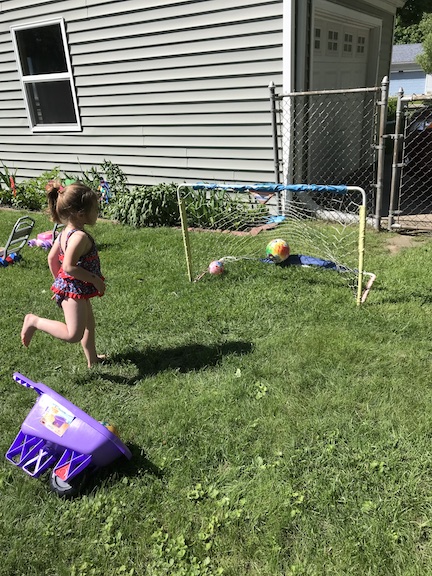 Race your bubble mower to the start and jump into the pool! My daughter didn't want to race her bubble mower and just jumped into the pool instead. My kids love their rainbow pool
.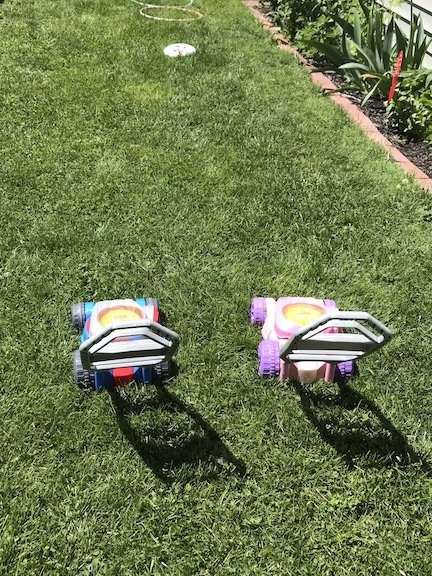 Obstacle courses will be so much fun to create and play in this summer. Have an obstacle course play date, time the course, give out prizes, make it a relay race, and kids will love it most of all if the grown ups do the obstacle course too! I'm also hoping that the kids exhaust themselves running around the obstacle course and that I will get some quiet time to.
Visit my blogging friends below for more summer family fun ideas!
Monday
How To Install A Ring And Hook Game @Intelligent Domestications
Fairy Garden Fun for Kids @Two Chicks And A Mom
Tropical Shrinky Dink Charms and Pins @My Pinterventures
Tuesday
DIY Painted Rocks That The Kids Will Love To Make @Our Crafty Mom
DIY Sharpie Mug Bird Feeder @Glitter On A Dime
How To Turn Admission Tickets Into A Bookmark@Craftify My Love
Wednesday
DIY Giant Backyard Frisbee Tic-Tac-Toe Game @DIY Adulation
YOUR TITLE AND URL@The Moments At Home
5 Easy Ways to Have Fun with DIY Bubbles This Summer @Hunny I'm Home DIY
Grandma Camp @Intelligent Domestications
Thursday
Easy Kids Obstacle Course Ideas @Cookies, Coffee And Crafts
How to Make a Fun Kids Swim Towel @Dazzle While Frazzled
Polymer Clay Charms @Domestic Deadline
Friday
Nerf Battle Paint Splatter T-Shirts @The Inspiration Vault
How to Make Easy Farmhouse Planter Herb Markers @Raggedy Bits
DIY Creative Summer Journal @My Pinterventures