Easy Love Scrapbook Page with Cricut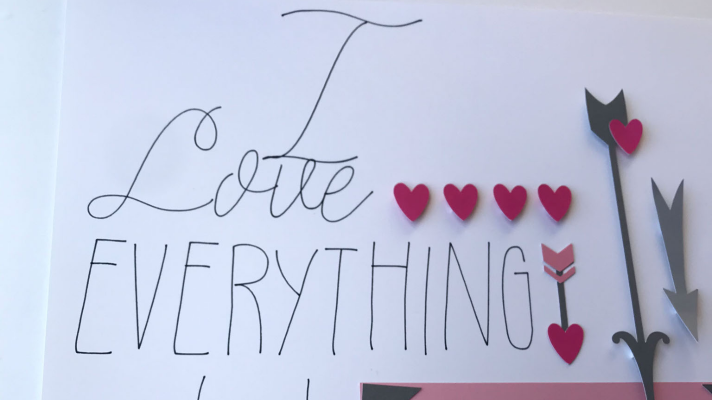 Note: As an Amazon Associate, I earn from qualifying purchases. If you click on a link from Amazon or another of my advertising affliates, I will earn a small commission at no additional cost to you. Please see my full disclosure policy here.
Do you have a paper buying problem? Like you see cute scrapbook paper and you have to buy it? Or notepads or cute post its? Join the club of paper lovers. For a craft destash I can always make something with paper, it's something I always have. Plus when I went into my horrible disaster of craft supplies (total face palm), I really don't have any extras for this time of the year. For a fall craft destash, I'm ready. For this craft destash, I'm going to make a simple love scrapbook page with Cricut. With Valentine's near, I'm feeling the love and I've been wanting to work on a scrapbook of my husband and I.
To make this love scrapbook page, I'm going to be using my Close To My Heart (CTMH) card stock and my Cricut Maker. It's my favorite to use with my Cricut. The CTMH always cuts smooth and clean. I'm a Close To My Heart Maker and I'll be sharing some links to the products that I love and use. If you have any questions, please ask. Later in the post I share a great secret about CTMH card stock that is perfect for paper crafts and scrapbooking.
Who's ready to make a love scrapbook page in 15 minutes? Yes that's how easy this page is with the Cricut Maker and the CTMH card stock.
Let's Create a Love Scrapbook Page with Cricut
Before we get started, sometimes I get asked "Can you use a Cricut for scrapbooking?" Yes! Yes you can. You can create pages completely in Design Space, like I did with this amusement park themed page or you can create embellishments to add to your page. You can create titles, make mats for your pictures and add on cool designs. Anything that's in Cricut Design Space can be used on a scrapbook page.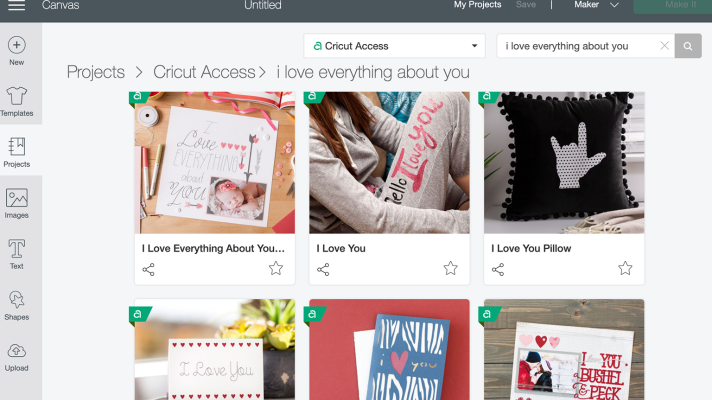 In Cricut Design Space™ projects, you can find scrapbook pages already made. Most of them are free with Cricut Access Standard. That's how I found this one, titled "I Love Everything About You Layout." This heart layout is simple and easy to cut and create. Just click Cricut Access All Projects and search using the title for the layout.
Supplies for the Easy Scrapbook Page
Close To My Heart Card Stock in white daisy, pewter (gray), raspberry (darker pink), flamingo (pink)
Cricut Maker (Buy it on Amazon or Buy it on Cricut)
Adhesive
Open the Cricut Design Space file and click Make It (if your ready than) or hit customize to save it and create it later.
Start with the white daisy card stock to write the page title on with the black pen in the Cricut Machine. Then follow the instructions in Design Space and cut the rest of the Close To My Heart card stock.
I'm about to blow your mind with one of the best things about CTMH card stock. The CTMH card stock has one dark side of the color and one light side of the color. This scrapbook page was perfect for that since the grays are just slightly two different shades and so is the one pink. I used the light pewter side for the small arrow and the dark pewter side for the rest. Talk about a great way to save paper! The same for the flamingo, I used the lighter shade for the mat and the darker shade for the arrow ends. Also you can buy it in a custom card stock packs of 12 or 24.
Creating the Cricut Scrapbook Page
When all the pieces are cut, get ready to make the page (I like to lay everything out before glueing). For adhesive I like to use adhesive squares, 3D foam dots, and the adhesive runner. It seems like a lot, but they are all used for different pieces of the scrapbook page.
Use the 3D foam to add depth to your page and make things you love stand out on the scrapbook page. I used the 3D foam on the two larger arrows above the photo and on the small hearts.
Start glueing the pieces together and make the page. I found this great picture of my husband being silly which is something I love about him, but I have to print the picture in portrait.
For this page, you have to wait to add the picture to put the corner pieces on. If you don't have a picture, just put the corner pieces aside. Also don't add glue to the end of the arrow since it overlaps the photo.
In a few minutes you will have a new love scrapbook page filled with hearts and happiness.
Across the Blvd
Stone Cottage Adventures
Purple Hues and Me
Sew Crafty Crochet
Domestic Deadline
Coastal Bohemian
Slices of Life
Sum of Their Stories
Cookies, Coffee, & Crafts
You are invited to the Inlinkz link party!