Creative Cricut Scrapbook Ideas with Cricut Joy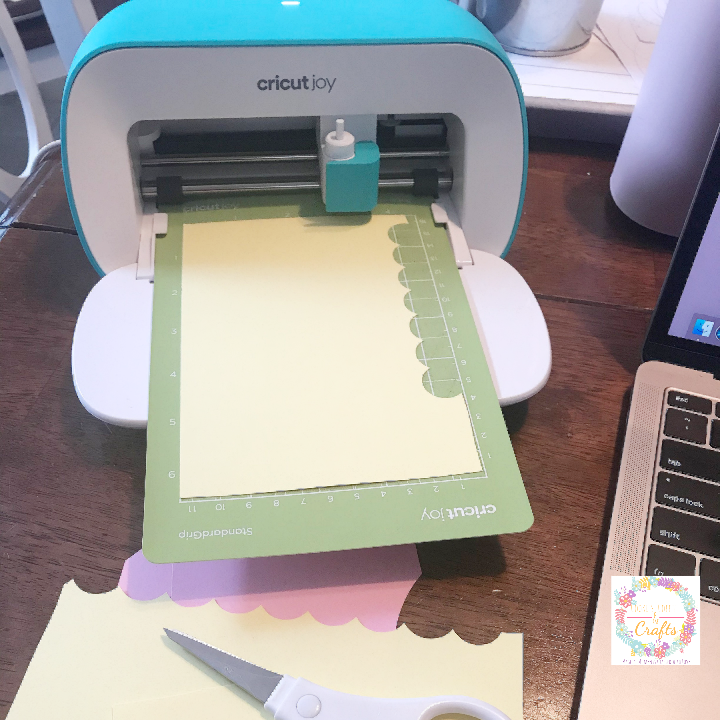 Note: As an Amazon Associate, I earn from qualifying purchases. If you click on a link from Amazon or another of my advertising affliates, I will earn a small commission at no additional cost to you. Please see my full disclosure policy here.
May is National Scrapbooking Month and I'm all about it. I have always tried to scrapbook whenever I can, but it's tough when you use the kitchen table. Now that I have the Cricut Joy, I have scrapbooked more than ever. No it's not because we've been staying home, but because the Cricut Joy makes creating creative Cricut Scrapbook Ideas so easy.
Supplies for Scrapbooking with Cricut Joy
Cricut Joy (Buy it on Cricut /Amazon)
Smart Vinyl (Buy it on Cricut/Amazon)
Cricut Vinyl (Buy it on Cricut/Amazon)
Cricut Joy Mat 4.5×12 (Buy it on Cricut/Amazon)
Variety of Paper
If you follow along, you know my husband originally bought me the Cricut Explore to make scrapbook embellishments. Making your own DIY scrapbook embellishments allows you personalization, creativity, and in the end it's a lot cheaper than buying all of those embellishments and stickers. Don't get me wrong, I still love scrapbook kits, but I also love freely creating pages too.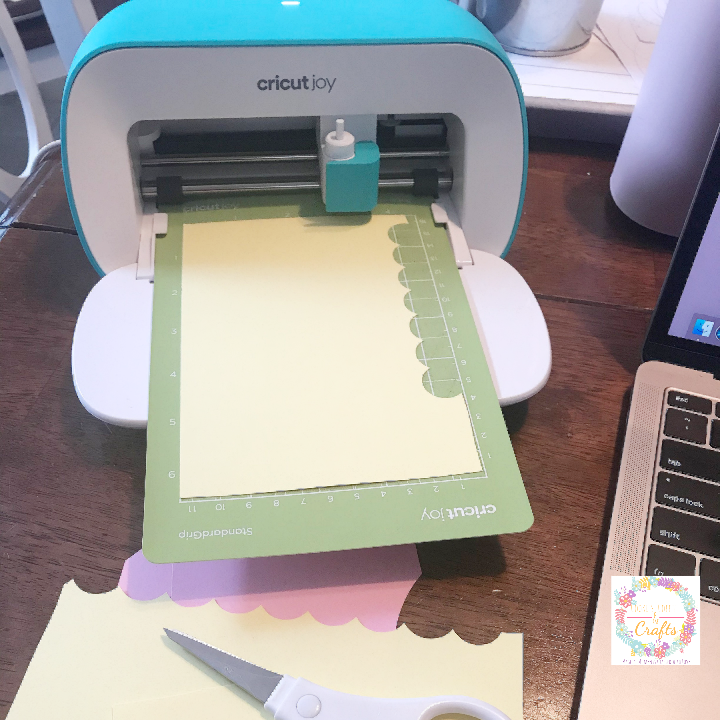 Let's Create Creative Cricut Scrapbook Ideas with Cricut Joy

Shop
from:
Cricut

I couldn't live without my Cricut Joy because it makes scrapbooking so much easier. It's the perfect size for the table, counter or your craft space. My biggest pet peeve with it (sorry Cricut) is that it's not wide enough to make a mat for a 4×6 picture. Yes, if you use smaller pictures no problem, but for 4×6 or bigger, you need to get out your larger Cricut or cut using a paper trimmer .
For the sparkle embellishment, I had to use the Cricut Maker to create the circle to put the smart vinyl embellishment on. When it comes to favorites, this one just came out so good.
What is Cricut Joy?
You might be saying "What is a Cricut Joy?" Well I have the answers for your in my Cricut Joy: A Complete Guide. I try to cover everything about it and my experiences.
Let your creativity shine and Cricut Design Space™ is full of images and ideas to use in your scrapbook. Did you know that Design Space has free Cricut Scrapbook Layouts? Creating DIY embellishments is great for using up all those paper and vinyl scraps. I've loved using the Cricut Joy for all of those scrap pieces. The smaller mat just makes it so easy, again it's changed my crafting world. What would I do without it.
For scrapbooking, I use mostly vinyl and card stock. The Cricut Joy does a great job cutting both of them. The Cricut Joy uses Smart Materials, which don't need a mat or you can use regular vinyl and card stock on the Cricut Joy Mat.
Cricut Joy Mats
The Cricut Joy has two mat sizes of 4.5×6 and 4.5×12. The 4.5×12 is great for making large headings for scrapbook pages. The other really cool thing is the Cricut Joy Adhesive Backed Paper. This is going to be awesome for scrapbooking and card making. It just arrived yesterday so I haven't had a chance to play with it yet.
I'm so happy that I'm almost done with January 2019! Scrapbooking right now is my therapy for all that's happening in this world.
Are you ready to make the Cricut Joy your best friend to scrap with?