Easy Spinach Artichoke Dip Recipe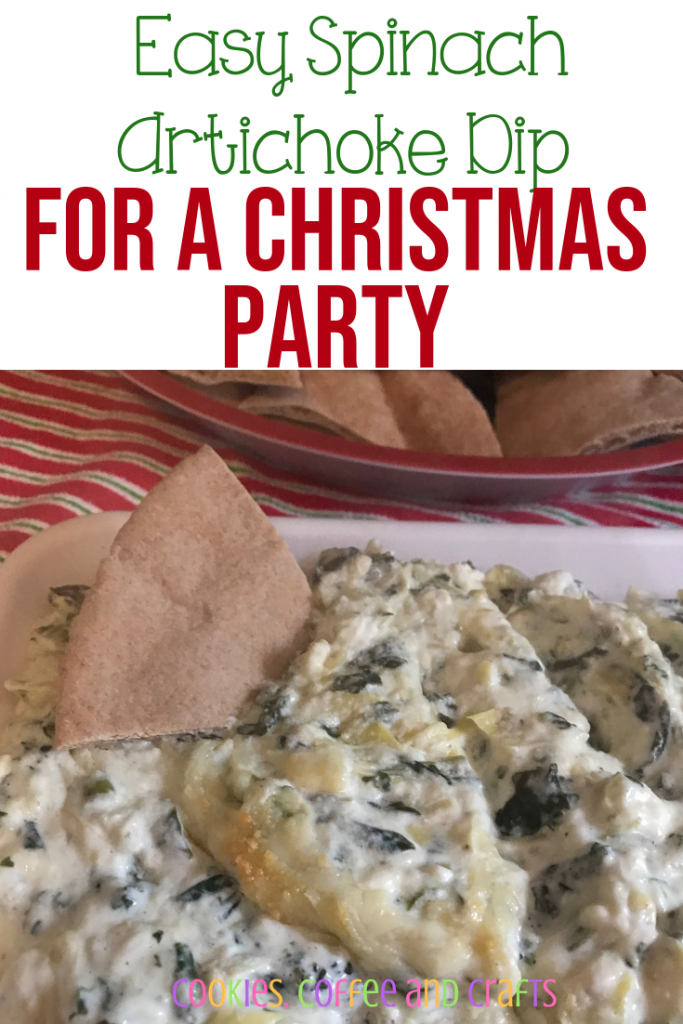 Note: As an Amazon Associate, I earn from qualifying purchases. If you click on a link from Amazon or another of my advertising affliates, I will earn a small commission at no additional cost to you. Please see my full disclosure policy here.
Do you have a favorite dish you eat out, but never make at home? That was Spinach Artichoke Dip for us. We loved having it out, but I thought it would be hard to make. I was completely wrong, it's so easy and makes a great party food. Last year I finally made it for Christmas Eve and it was a huge hit. Spinach Artichoke Dip has now become a Christmas Eve tradition for us. If your just too busy or overwhelmed to cook for a party, here are 3 Christmas Party Foods for a Busy Mom , just add to a cute tray!
Welcome to Day 5 of the Fourth Annual 12 Days of Christmas Series!
We have teamed up with 50 plus bloggers to bring you a oodles of DIY Ideas and Recipes to make your holiday season merrier. There are 12 different posts in the series and we have spread them out over a four week period with three posts per week. Now is the time to subscribe!
Go Here for the complete list of Dates and Topics plus a collection of most popular holiday ideas including ornaments, games, recipes and more from all 50 plus talented bloggers!
It's Day 5 and we are sharing Holiday Party Food Ideas!
---
Let's Make Easy Spinach Artichoke Dip
Everyone asked for the recipe and wanted to know all the details of how I made it. You know something is good when everyone stays around the table to have some. It's always nice to feel you have impressed your guest.
A funny story about making this, is I found out spinach is very very very popular at Christmas time. This was a surprise to me and I couldn't believe it when the shelves of frozen spinach were empty at the grocery store. I even asked for help, like maybe it's on display or something and I missed it, the employee just laughed and told me they had been out of spinach for days. A couple stores later I did finally find some, so this year I planned ahead and already have my spinach for Christmas.
Easy Spinach Artichoke Dip for your Christmas Party #Christmas #ChristmasParty #MerryChristmas #Recipe #Appetizer #PartyFood #12daysofChristmas @jennysparmo
Click To Tweet
Spinach Artichoke Dip can be good with so many things- bread, chips, crackers or veggies. Choose one for the party or choose a variety. My favorite is with pita bread. When my sister visits, us girls (my mom, sister, and me) go to a local restaurant and have this dip. They serve it with warmed pita bread and it's so good! It's a great time to snack and catch up.
Just follow the recipe and instructions and you will be in food heaven! It's easy and great for busy moms to prepare. Make sure you remember to take out the cream cheese to soften and the frozen spinach to thaw so you can make the dip. I like to sprinkle some parmesan cheese on top before I put it in the oven. Then just measure, mix, and bake!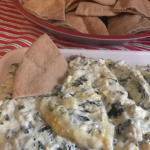 Easy Spinach Artichoke Dip
Ingredients
2

Cups

Shredded Mozzarella Cheese

10

oz

Thawed Finely Chopped Frozen Spinach

1

can

Small Artichoke Hearts (14oz can)

2

Cloves

Garlic

1

Cream Cheese (8oz)

2/3

Cup

Greek Yogurt

1/3

Cup

Mayonaise

Parmesan Cheese
Instructions
Preheat the oven to 400 degrees.

Drain and Chop the can of small artichoke hearts.

Mix 1 1/2 cups of cheese mix, spinach, artichokes until combined.

Next add garlic, cream cheese, yogurt, and mayo into the spinach mix.

Pour into an 8x8 baking pan. Top the dish with 1/2 cup of cheese mix and sprinkle a little parmesan cheese on top too.

Bake 25-30 mins until the cheese is golden and bubbling on the top.
Scroll down for many more Holiday Party Food Ideas for your holiday season!
---
Loading InLinkz ...