3 Christmas Party Foods for a Busy Mom
Note: As an Amazon Associate, I earn from qualifying purchases. If you click on a link from Amazon or another of my advertising affliates, I will earn a small commission at no additional cost to you. Please see my full disclosure policy here.
Christmas is a magical fun time, but it is also busy and at times overwhelming and stressful. Here are 3 Christmas (really anytime of the year) party food tips that I use. These require little prep and no cooking is involved. Just put on a cute tray and your party food is ready to go. These party foods are perfect for entertaining at home or for taking to a Christmas party.
---
They have all been busy as Elves creating, decorating, cooking and crafting tons of new ideas for you to try this holiday season!
Shirley~Intelligent Domestications I Alli~An Alli Event I Michelle~Our Crafty Mom I Marie~DIY Adulation
Erlene~My Pinterventures I Beverly~Across The Blvd. I Debra~Shoppe No. 5 I Victoria~Dazzle While Frazzled
Megan~C'mon Get Crafty I Michelle~Michelle James Designs I Amanda~Domestically Creative
Deborah~Salvage Sister & Mister I Jeanie~Create & Babble I Sherry~Olives & Okra
Jenny~Cookies Coffee & Crafts I Emily~Domestic Deadline I Bonbon~Farmhouse 40
Leanna~Of Faeries & Fauna I Pam Larmore~P.S. I Love You Crafts I Kelly~North Country Nest I
Marie~The Inspiration Vault I Gail~Purple Hues and Me I Lynne~My Family Thyme I
Karen~Dragonfly and Lily Pads I Trisha~Blowing Away Out West Lorrin~Embrace The Perfect Mess I
Terri~Christmas Tree Lane I Sam~Raggedy Bits I Cyn~Creative Cynchronicity Valeria~Val Event Gal
Yami~The Latina Next Door I Jeannee~Centsably Creative I Tania~Little Vintage Cottage
Lauren~Wonderfully Made I Vanessa~DIY 180 I Kimberly~A Wonderful Thought I
Kim~Everyday Parties I Dru~Polka Dot Poplars
---
Below are some affiliate links and I may make a commission for purchases made through the following links.
Check out the Dollar Tree Christmas Catalog for entertaining products and so much more during the Christmas season.
When my son saw the tray, he asked me if this was a polar bear dressed as Santa and if I could hurry because his tummy was hungry for chips. Kids do say the cutest thing and Santa does look a little like a polar bear.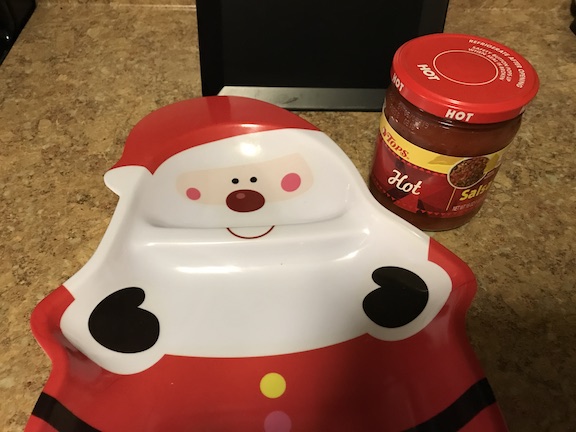 I host my family on Christmas Eve after dinner and it's a crazy busy time. The kids are super hyper and excited, my husband and I are cleaning up from dinner, and getting ready for our family to visit. I also try to pick party food that is inexpensive. I have found Aldis has amazing food for the holidays. Last year I found danishes for Christmas morning, the cheese ball, crackers, chips and dip that fit perfectly in our Christmas budget and taste delicious. I do splurge on the Xochitl chips though because they are so good and the colors of Christmas, trust me once you try them you will agree.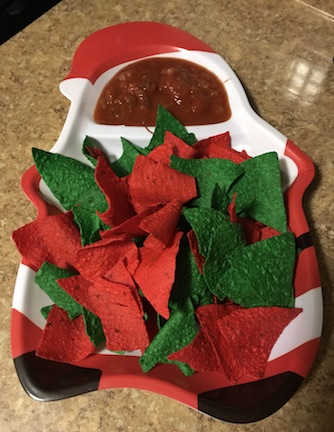 #1 Chips and Dip
I love the red and green chips for Christmas by Xochitl (these are my favorite chips), but they are more expensive (about $5 a bag)
Use Salsa or any dip that you like
This party food cost about $8 (including the cost of the Santa Tray)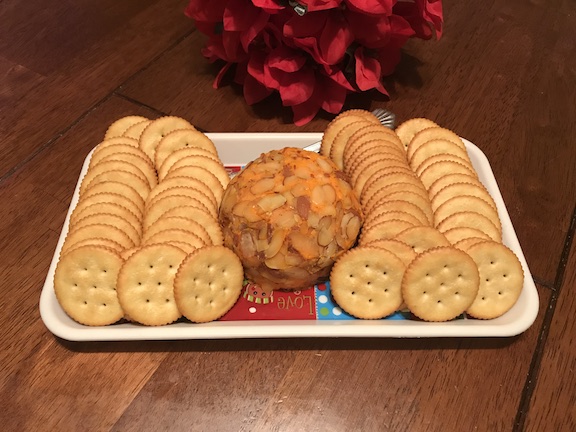 #2 Cheese Ball and Crackers
Just take out of the package and place with crackers on a tray
Remember to take the cheese ball out about 20-30 minutes early, so that it will soften
This party food cost about $5
There is never any cheese ball left after a Christmas party

#3 Bread and Dip
Pick your favorite bread and buy a round loaf and dip. Our favorite is pumpernickel and dill dip.
Cut the bread and place the bread and the dip on the tray
This party food cost about $8
These party foods will be easy to create and make your Christmas party fabulous. Add something healthy a fruit or vegetable tray or add something delicious like Christmas Cupcakes or Cookies. I always try to have something sweet, something salty, something healthy, and to make sure all of them are easy to create. Enjoy the Christmas season and create lasting memories with your family. Merry Christmas!
---
Be sure to visit our fellow 12 Days of Christmas Bloggers below for even more creative ideas this holiday season!