Easy Wonder Woman Costume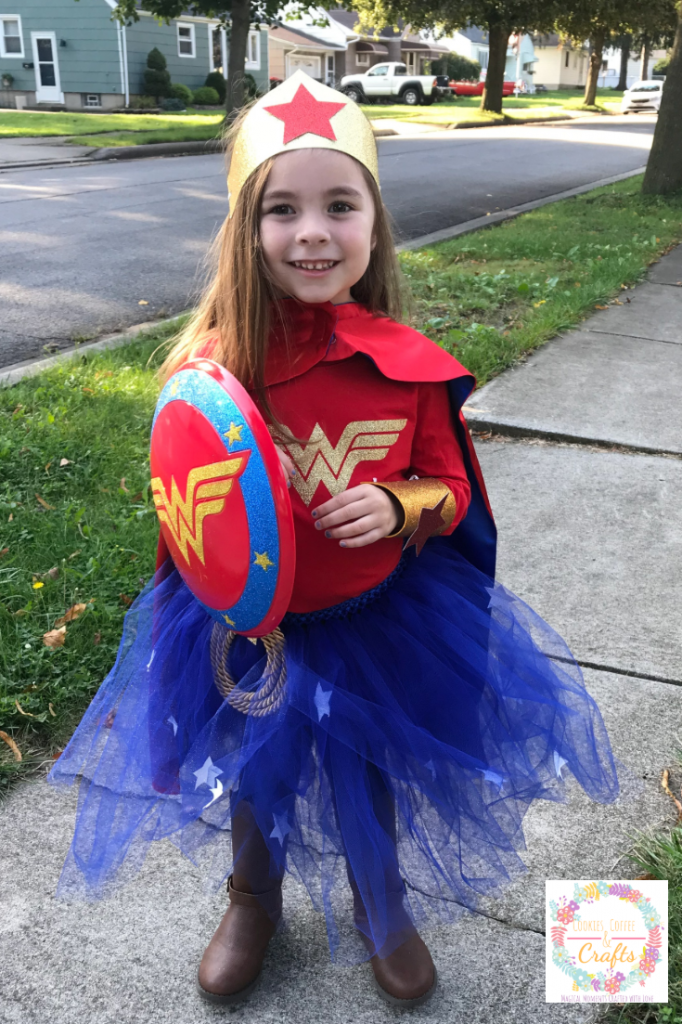 Note: As an Amazon Associate, I earn from qualifying purchases. If you click on a link from Amazon or another of my advertising affliates, I will earn a small commission at no additional cost to you. Please see my full disclosure policy here.
Do you ever try and get your kids to wear similar Halloween costumes? I tried so hard this year. It's the cutest! Both of my kids love the Justice League and my daughter wanted to be Wonder Woman so I thought that would be so cool if my son was also a superhero (he said "no!"). Oh well, a mom can dream right! My tutu loving little girl wanted a Wonder Woman costume with a tutu of course. Here is an easy Wonder Woman Costume that you can make!
This post contains affiliate links which means I may make a small comission of any sale that is made by clicking on any of the products with no cost to you. Your support is greatly appreciated.
Girls of all ages love Wonder Woman and this costume will work for little girls and adults. Just make it your size. I had a lot of fun with this one, there was a few nail biters that made me nervous, but it all worked out. Last year I made her a cat tutu costume for Halloween, I feel like we are on a tutu skirt roll.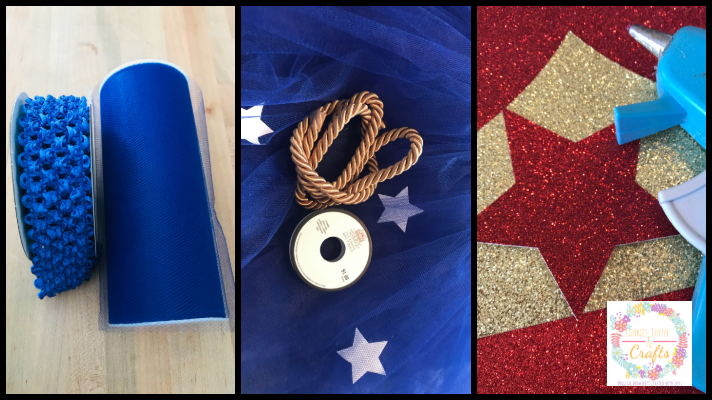 Supplies for Super Hero Tutu Costume
Blue Tulle- 2 Rolls
Elastic Ribbon in Blue
Thin Gold Ribbon
1 foot of gold cording
Red Shirt
Gold Glitter Iron on
Poster Board: Gold Glitter
Foam: Gold Glitter
Red Glitter Card Stock
Elastic
Hot Glue Gun
White Iron on
Cape (optional)
Cricut Maker and Cricut Easypress
Honestly this costume cost about $15. I did buy almost everything on sale or used coupons because I love to be thrifty and stay on budget. Watch Hobby Lobby sales because the ribbon and tulle is usually 50% off when it's on sale.
Let's Learn How to Make an Easy Wonder Woman Costume
How to Make a Wonder Woman Tutu Halloween Costume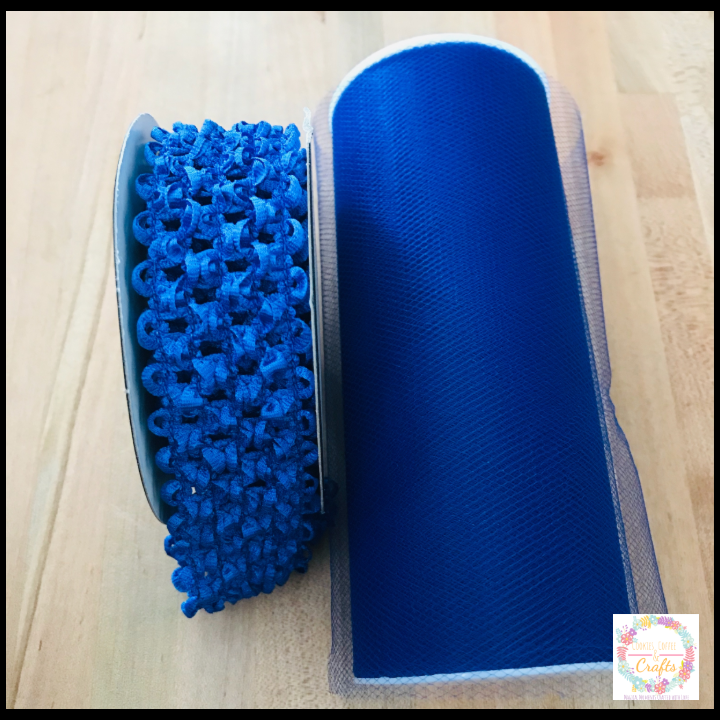 I have to say, the sales associate at Hobby Lobby helped me out so much. I do not sew and I was worried about the elastic for the tutu. She showed me this cool elastic ribbon that's perfect for tutus. You even use the little holes to tie the tulle onto the tutu. Are you blown away? I totally was- it's a game changer!
Measure the length of the tutu, I did about 15 inches long for my daughter (she's 4). Cut your strips 30 inches long since you will be tying it onto the elastic ribbon. Measure the waist and cut the elastic ribbon leaving space to over lap the ribbon. I did the first piece of the tutu overlapping the holes so the elastic was connected. Then I used tulle to tie the elastic ribbon together.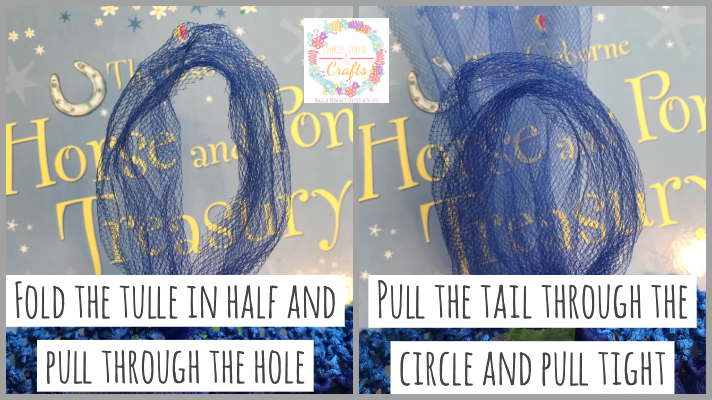 I used a book to put the elastic ribbon on and began tying on the strips of tulle.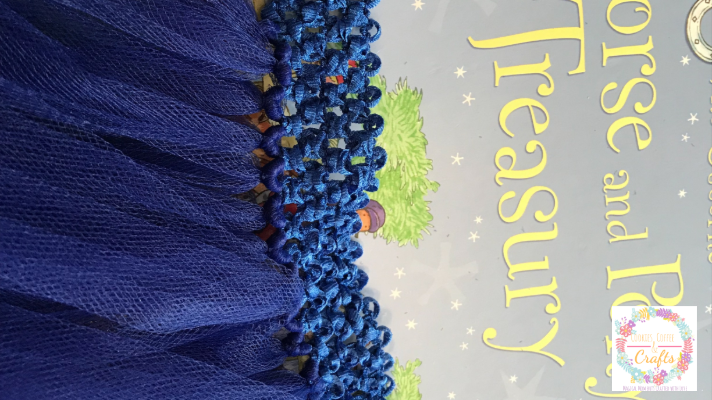 Just keep tying!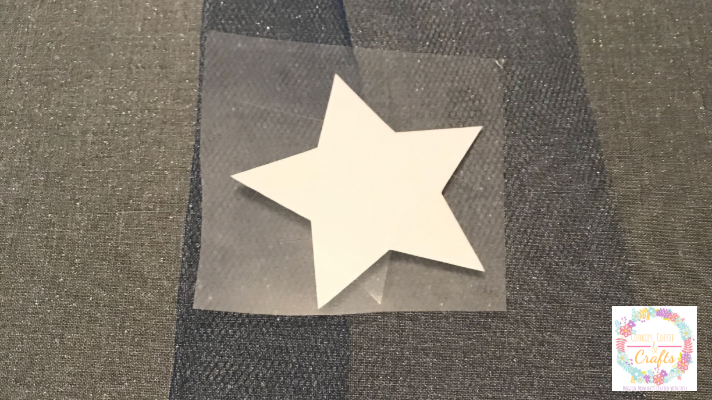 To add the stars, I used the Happy Crafters Happy Cut HTV in white. It was perfect, it only takes 5 seconds to attach at 275 degrees so I didn't have to worry about the tulle burning at all. Smaller stars worked better on the tutu, my stars are about 1.7 inches.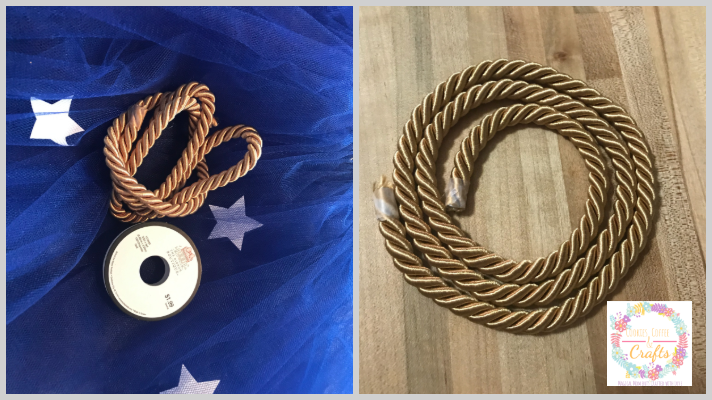 A Wonder Woman costume is not complete without a lasso, but I can't have her lassoing people at school (she totally would). I used the gold cording to create the lasso. I rolled it like a lasso and then hot glued the pieces together. Then I used gold ribbon to tie it onto the tutu. Again the holes in the elastic worked out perfectly.

Creating Wonder Woman's Shirt for Halloween Costume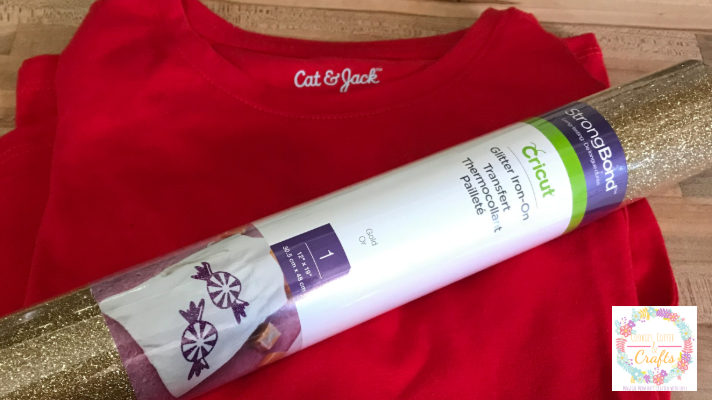 We live where Halloween is usually cold so I went with a long red sleeve shirt. Next I heat pressed the Wonder Woman symbol on the shirt. If you don't have a heat press, you can always hot glue the symbol in gold glitter. You won't be able to wash it, but it will work.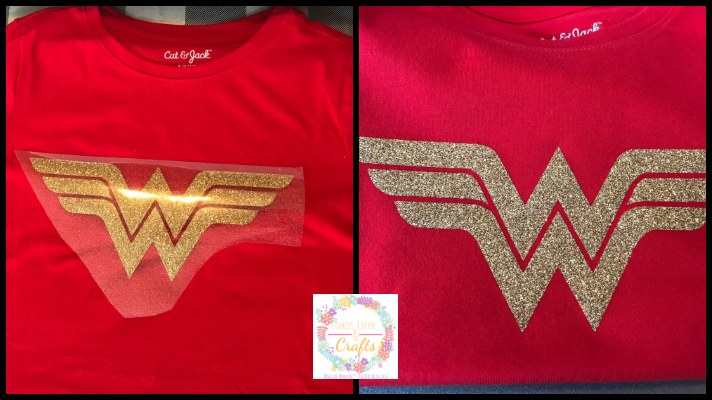 Wonder Woman Halloween Costume Accessories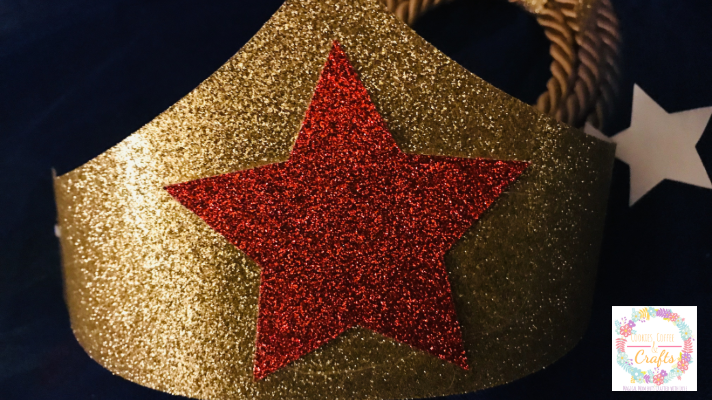 Wonder Woman's accessories, are created with the gold poster board for the crown and the gold foam for the wrist bands. To make the crown I used a Wonder Woman crown template and added the star in red glitter card stock.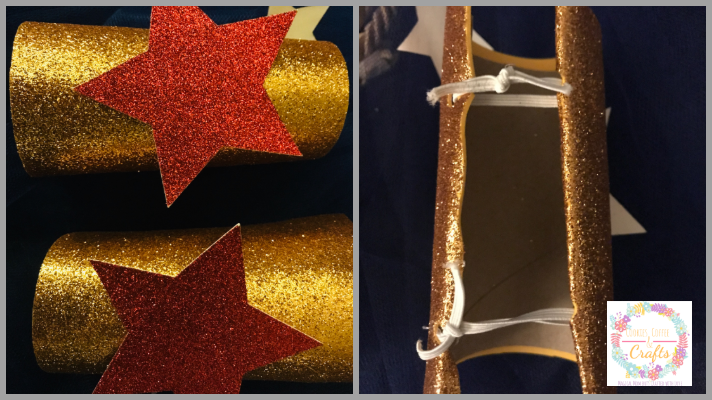 The cuffs are made out of a paper towel roll that I cut to size. Then I made the gold foam rectangle a little bigger and hot glued them to the paper towel roll. Add the red glitter star and the elastic to slide them on. My daughter loves them!
The last piece is the cape. I think the cape is totally optional. On the cape add the Wonder Woman symbol (just like the shirt) with gold glitter iron on.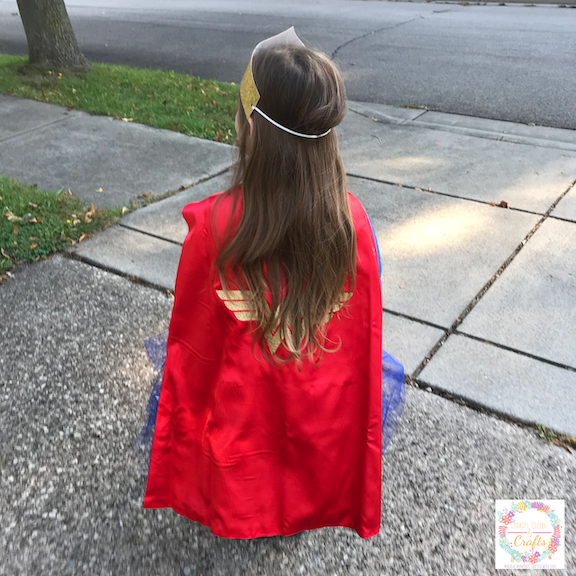 Super Hero Tutu Halloween Costume for Little Girls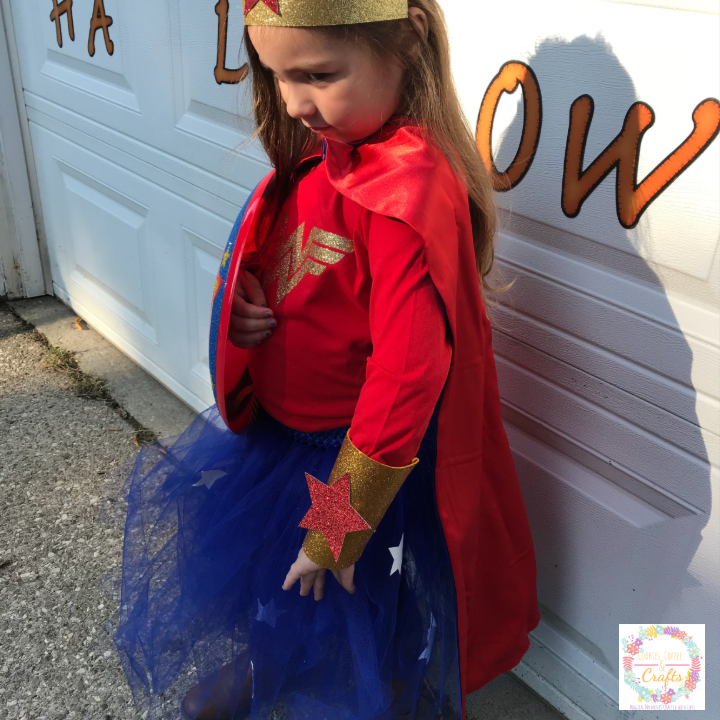 How cute and easy is this? You can have a DIY Wonder Woman Costume in a couple of hours. The longest part is the tutu, but everything else takes about 5 mintues. I cut the crown, stars, and the iron on with my Cricut Maker, but you can easily do it by hand to. Randomly in the Halloween aisle at Walmart there was a Wonder Woman shield she just had to have. It's the perfect glittery addition.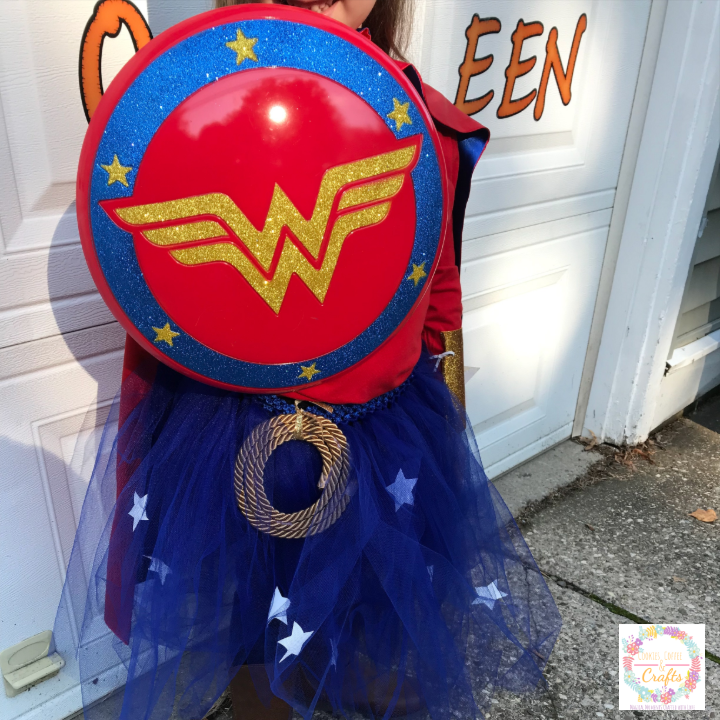 Do you think Wonder Woman will be offended if I call her cute? Your little super hero will look so cute and fierce in this easy homemade Wonder Woman Costume.