DIY Cat Tutu Costume for Kids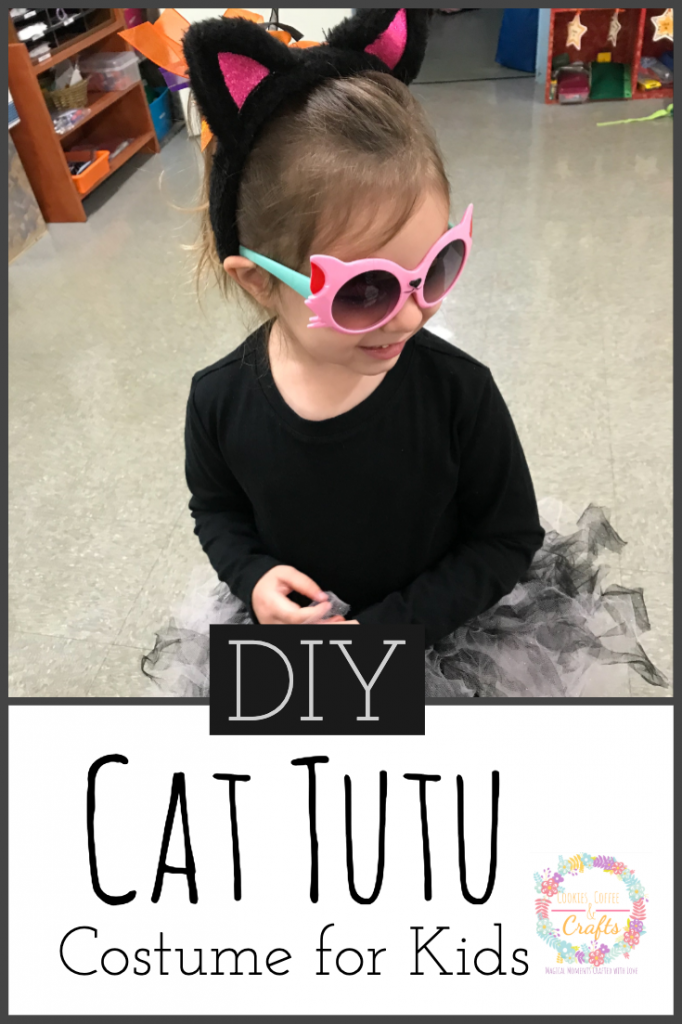 Note: As an Amazon Associate, I earn from qualifying purchases. If you click on a link from Amazon or another of my advertising affliates, I will earn a small commission at no additional cost to you. Please see my full disclosure policy here.
In my house Halloween is a big big deal! From costumes to decor, we go all out. I remember as a kid all the DIY homemade costumes my parents made me and I loved them. I have tried to carry on the tradition with my kids and make them homemade costumes too. My son wanted to be Jack Skellington so we just bought Jack, but I'm going to share how I made my daughter the cutest ever DIY cat tutu costume. I was inspired by this DIY Cat Costume to make this cat costume for my daughter. She wanted a black and pink kitty so I did the best that I could. My little girl loved it and she left glitter everywhere she went. The September Pinterest Challenge Blog Hop hosted by My Pinterventures is the perfect time to create my daughters cat halloween costume.
---
Let's meet this month's Pinterest Challenge hosts!

Cookies Coffee and Crafts Sew Crafty Crochet •
To join next month's #pinterestchallenge, click here to sign-up ⇒ October Pinterest Challenge
This cat halloween costume is so easy and you don't have to be crafty at all to make it. You just have to be able to tie knots to make the tutu (or buy a tutu). My daughter is pink, glitter, and sparkles everywhere! When we were looking at Halloween costumes, she fell in love with the cute tutu ones. My husband dislikes tutus, but of course he gave into his little pumpkin to have a cat tutu costume. He says the rock ruined tutus for him from the tooth fairy movie (he's crazy, but I love 'em).
Supplies for Cute DIY Halloween Cat Cosume
Black and Pink Tutu with tulle and elastic
Cat Ears
Cat Tail
Black Shirt
Black Leggings
Let's Create a Cute DIY Cat Tutu Costume for Kids
The only thing homemade is the tutu. At Target again in the dollar spot, I found a pink glittery tutu for $3. I've never made a tutu before and thought I could cut the tutu into strips. Then tie on the other tulle I bought. Nope it didn't work at all, I had to cut off all the material and just use the elastic band to make the tutu. Measure how long you want the strip, then double it. Cut all your tulle strips and tie them onto the elastic. It's really easy.
My daughter wanted pink and black so I did pink tulle and black glitter tulle. Warning: if you use glitter tulle it will go everywhere. Every time the costume is worn, it will leave glitter and sparkles everywhere.
I bought the cat ears and the tail for the Halloween costume because I found them in the Target dollar bins and you can't beat $3 and saving time. I'm all about creating and making, but I also like easy. As a busy mom, I take easy whenever I can.
I highly recommend buying more than one set of cat ears. At the first Halloween event my daughter lost her cat ears. It's still a mystery today because we searched everywhere for them and never found them. We all know the closer it gets to Halloween, the harder costume accessories are to find. After that, we were like crazy people making sure she had her cat ears.
For her Halloween costume, we did a black long sleeve shirt and black leggings. We live in the Buffalo, New York area and it could be snowing on Halloween, you just never know. She wore this costume last year and it wasn't too bad, a little wet, but that's better than snow. Target pretty much supplied everything for this costume because I found a winter cat hat for her to wear on Halloween because it was chilly. Who else just loves Target? I'm going to be starting her Wonder Woman Costume next week and will be sharing it hopefully before Halloween.
Cost of the DIY Cat Costume
Black Shirt $5
Black Leggings $5
Tutu- $9
Cat Ears & Tail- $3
I did buy black makeup to decorate her face, but I bought it, put it somewhere safe, then I couldn't find it. Oh well! She has these cute cat sunglasses that she wore with her costume to school and she kept them on throughout the whole party. It was so cute!
You already might own some of these items for the costume, my daughter always has a pair of black leggings. Then the other items can be used for dress up. My daughter still loves to dress up as a kitty. Do you know a little girl who would love to be a black cat this year for Halloween?
Now, let's see what the other hosts have created ⇓⇓
Loading InLinkz ...