Farmhouse Chalkboard- Thrift Store Upcycle Challenge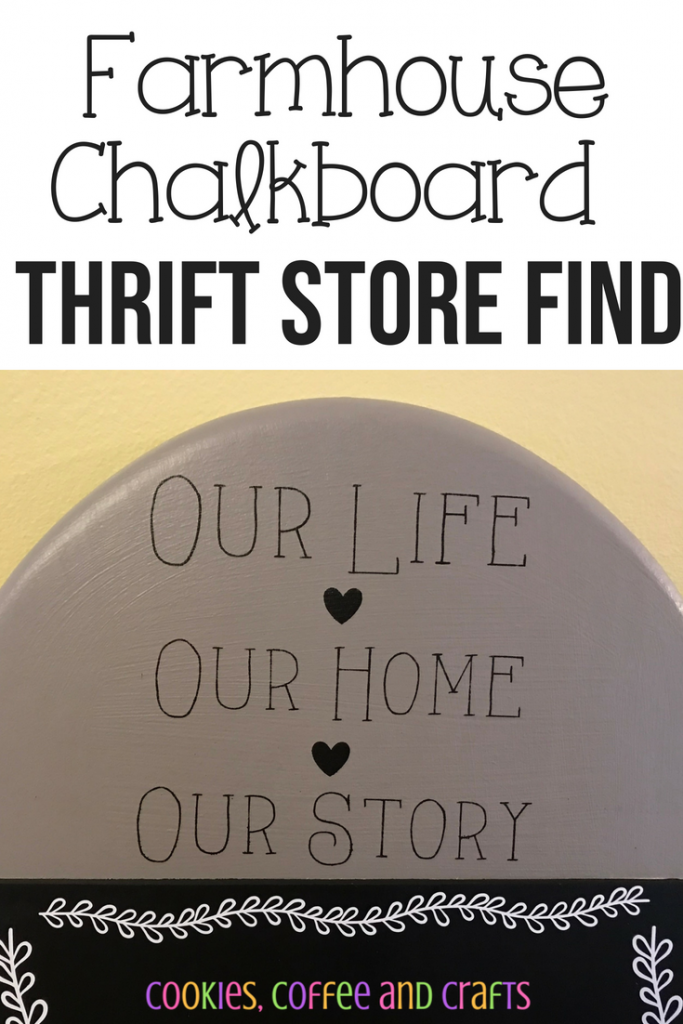 Note: As an Amazon Associate, I earn from qualifying purchases. If you click on a link from Amazon or another of my advertising affliates, I will earn a small commission at no additional cost to you. Please see my full disclosure policy here.
Welcome to the Thrift Store Upcycle Challenge for July! Everyone had to find a thrift store item and upcycle it for under $10. This was a great find to make a Farmhouse Chalkboard. That's the thrill of a thrift store. Find out how I created this and look to see what everyone else discovered at the thrift store.
I went to the thrift store with a list in my head of items I'm in the market for, but I didn't find any of those. This is even better because I've been thinking about making a farmhouse chalkboard and this board will be perfect.
Let's Create a Farmhouse ChalkBoard
To start I took off the molding around the cork board and it was time to sand. I really liked the painted flowers, but it won't go with my farmhouse design and it's dated. I still felt bad sanding off someones hard work.

Next I painted the whole board Dovetail Gray from Sherwin Williams (it's our bottom kitchen cabinet color). I measured the area of the cork board and had my husband cut thin sanded plywood that size.

He glued the plywood to the board using wood glue and then nailed it in with the nail gun. Now it was time to paint the black chalkboard. Before writing on your chalkboard, make sure you season it according to the directions on your chalkboard paint.

In Cricut Design Space, I created a design and cut a stencil in removable vinyl. Then I added it to my board and painted the stencil. Add painters tape around the stencil to give yourself more of an edge (this is my first time doing this and it's brilliant). I like to use a makeup wedge and dab up and down slowly.
Also in Cricut Design Space I made branches to go around the edge of the chalkboard in white permanent vinyl as a border. These branches took a lot of patience to weed, but was worth it. I love the way it looks. The branches match my other farmhouse decor I have created like my Home Sweet Home Sign and my Farmhouse Tray.
For this Thrift Store Challenge you have to stay under $10. The wooden cork board was $2.98, the small bottle of chalkboard paint was $1 (I used a coupon at Joanns) and I had all the other supplies at home. Going to the thrift store for home decor is a steal! Just a little DIY and creativity and you have something beautiful for your home!
I love this quote!


I can't wait to finish the kitchen and hang this up. What would you write as the first message?

My Husband Has Too Many Hobbies • Across the Blvd
Cookies, Coffee, and Crafts • Intelligent Domestications • Sew Crafty Crochet
Coastal Bohemian • Stone Cottage Adventures • This Autoimmune Life