Halloween Jar Lanterns for Kids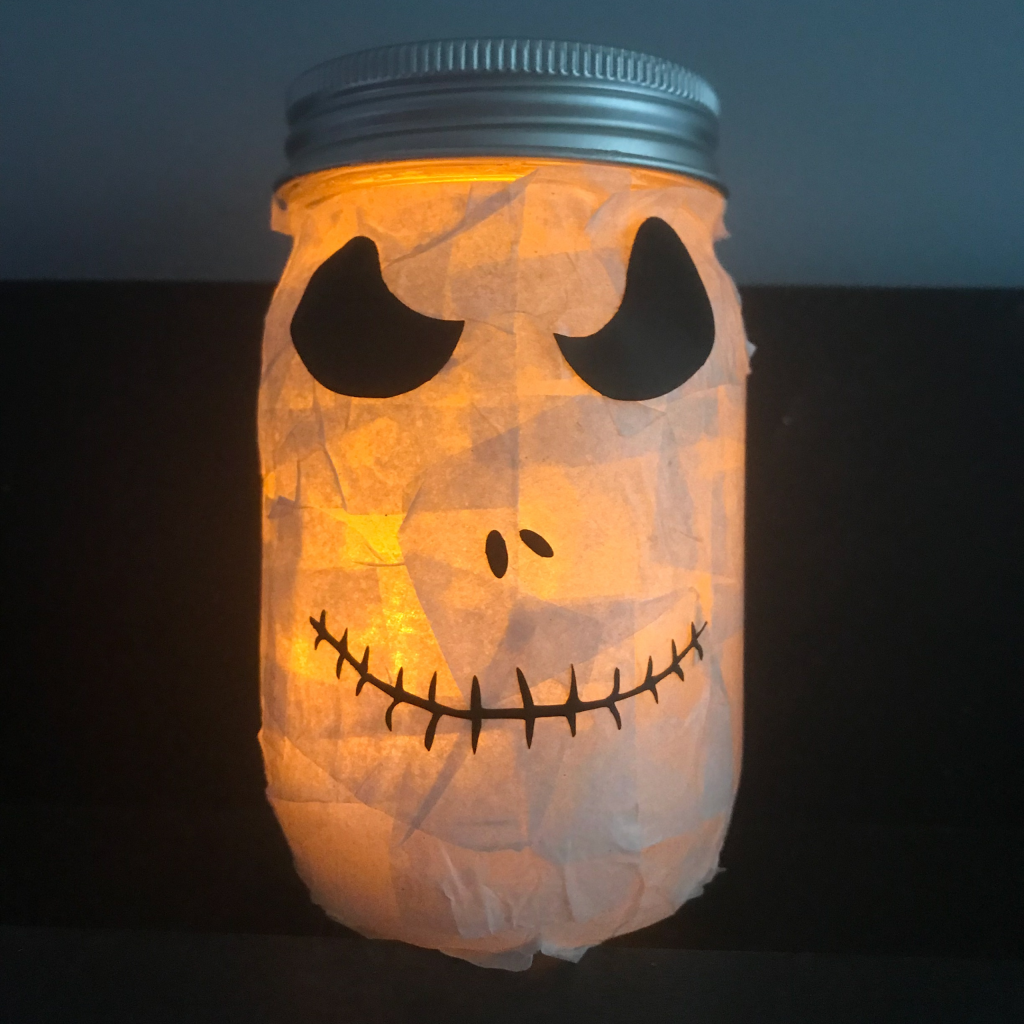 Note: As an Amazon Associate, I earn from qualifying purchases. If you click on a link from Amazon or another of my advertising affliates, I will earn a small commission at no additional cost to you. Please see my full disclosure policy here.
Halloween is a favorite in my house and the kids are really excited to decorate their bedrooms this year for Halloween. They have been buying fun stuff at the dollar store, but I thought it would be fun for them to make some decorations too. I mean that's what I do and the kids love getting crafty! We made these fun Halloween Jar Lanterns for Kids from the Dollar Tree. The kids really loved using mod podge.
The cool thing about the jar lanterns, is all the ways you could decorate them as a Halloween decoration. You could make a witch, monster, jack o'lantern, a candy corn jar and so much more.
Supplies for Kids Halloween Lantern Craft
Crafters Clear Plastic Crafting Jar
White Tissue Paper
Black Crepe Paper
Mod Podge Matte Craft Adhesive
Luminessence Flameless Battery-Operated LED Tealight Candles
Small Paint Brushes
Cupcake LIners
Decorations for Jar Lanterns
Scissors
Craft Tray
For this craft, I prepared my craft tray with all the supplies. It's always so much easier when crafting with the kids that everything is in one place. The kids were so excited to use mod podge, it was the cutest thing because it's just glue (I mean really cool glue, but glue). I cut the tissue paper and the crepe paper in about 2×2 squares, before we got started.
The plastic clear crafting jars are perfect for the kids because you don't have to worry about them breaking a glass jar. I'm so glad the Dollar Tree has these.
Let's Create Halloween Jar Lanterns for Kids
To get started, I gave them each a cupcake liner with a little squeeze of mod podge in it. This will make clean up so easy, just toss the liners when you are done. I kept the lids on the crafting jars and showed them how to start painting at the top of the jar, but not on the silver lid. The most important tip I can give, is make sure they paint the mod podge on the jar, don't try putting it on each piece of tissue paper or crepe paper.
The kids just kept painting on the mod podge and glueing on tissue paper, until the whole jar was covered. Make sure the paper overlaps on the lantern jars.
We gave the jars about 20 minutes to dry and then applied a coat of mod podge all over the jar lanterns.
My daughter chose to make a black cat and I used the black crepe paper I had and my son chose to make Jack Skellington with white tissue paper.
Decorating the DIY Halloween Jar Lanterns for Kids
There are so many creative unique ways to decorate the jars, you could use markers to decorate them, google eyes, paper, paint or adhesive vinyl.
For my son's Nightmare Before Christmas Jack Skellington Jar Lantern, I cut Jack's face using my Cricut Maker with black adhesive vinyl.
My daughters cat, has glitter vinyl ears, nose, mouth and google eyes. The kids applied the adhesive vinyl, just like a sticker and finished their luminaries.
The final step was to add in the tea light and the Halloween Lantern Jars for kids are all set for Halloween. What a super cute and easy kids halloween craft from the dollar store.
My kids are so proud of these and had so much fun creating them. They have shown their jars to everyone and love the tea lights.