Easy DIY Kids Halloween Party Ideas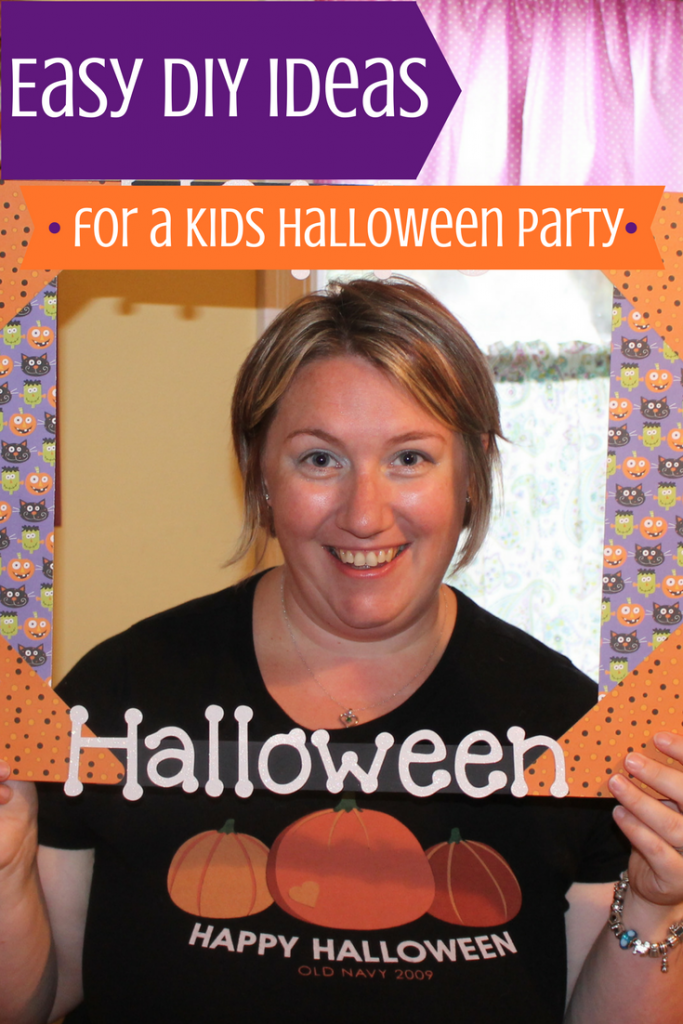 Note: As an Amazon Associate, I earn from qualifying purchases. If you click on a link from Amazon or another of my advertising affliates, I will earn a small commission at no additional cost to you. Please see my full disclosure policy here.
It's Halloween Party time! I have been planning and preparing for this party for weeks and all my hard work has paid off. The smiles I saw on everyones faces warmed my heart, yes I know its Halloween time, but it was to sweet and fun to be scary. We had 9 three year olds, a couple toddlers, and babies in attendance along with all the parents. Our house was crowded, but full of spooky halloween fun!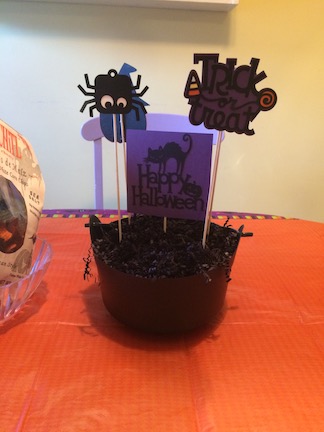 I made a fun Halloween center piece in a witches cauldron from the dollar tree on my cricut explore to decorate the table.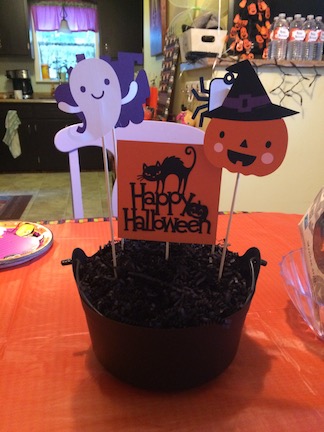 I used a cute tablecloth from the Dollar Tree and the matching plates. I also hung a cupcake liner pom poms from the ceiling fan above the table.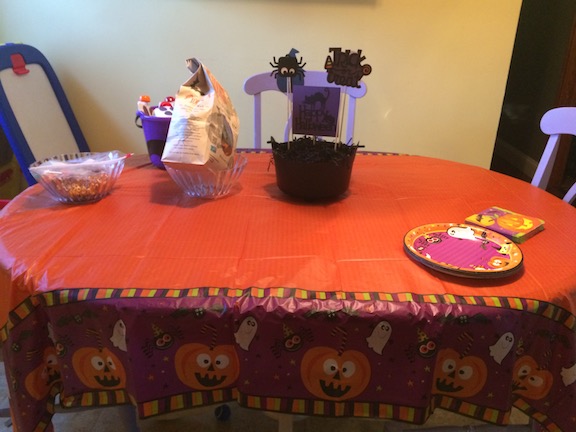 For the games I have been searching on Pinterest and picked my favorites and the easiest ones to do. Plus my husband made a ghost piñata. I'm not a fan of super messy things and I hate balloons so it was not a project for me.
Games:
Witch Ring Toss- I bought 4 kid size witches hats from the Dollar Tree and I placed them on top of my sons cones from outside.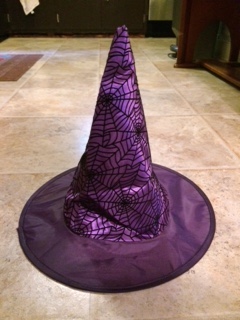 Then I used my sons ring toss rings to throw onto the witches hats.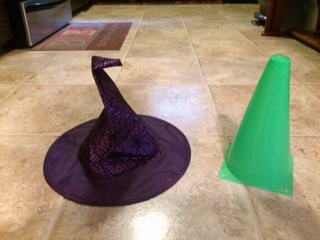 Pumpkin Bean Bag Game- I bought this at Target for $5 and it was a huge hit. My son still plays with it everyday. The object is to throw the bean bags into the jack o'lantern eyes, nose or mouth.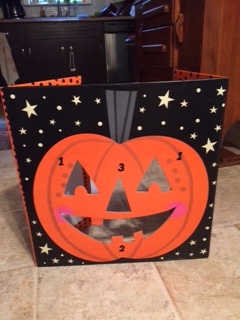 Feely Boxes- I bought plastic small containers at the Dollar Tree and I covered them in Halloween fabric. I covered the boxes with black garbage bags and hot glued them to the boxes with slits in the middle for the party guest to stick his/her fingers in.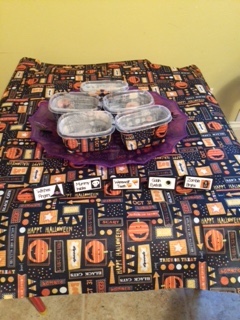 For the boxes I did olives as goblin eyeballs, jello as zombie brains, butternut squash for witches fingers, spaghetti as mummy insides, and popcorn kernels as werewolf teeth. Clean up was so easy, I just peeled off the top and threw it out. I put a Halloween tablecloth on the kids table and placed the boxes on top of Halloween trays from the Dollar Tree. The boxes were a hug hit.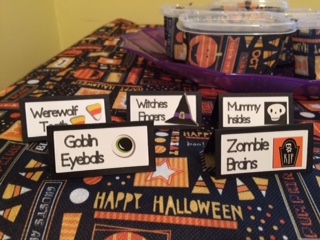 Ghost Piñata- My husband used a latex balloon from the Dollar Tree and used a flour and water mix to make the paper mache piñata. He put on 3 coats of the paper mache and he let it dry completely between layers. Then he covered it in white crepe paper and put long streamers a the bottom to make it look like a ghost. I added on black crepe paper for the eyes and mouth. I'm so disappointed because we didn't get a picture of it. We were so happy it was a nice day and we hung it on a shepherds hook outside. The kids loved it!
After each game, the party guest got a prize for doing the game. I had eyeball and pumpkin bubbles from the Dollar Tree, halloween stamps from Michaels, slime from Target, foam craft from Michaels, and of course candy for the piñata. Then I placed each prize in cute halloween boxes I found in the Target dollar section.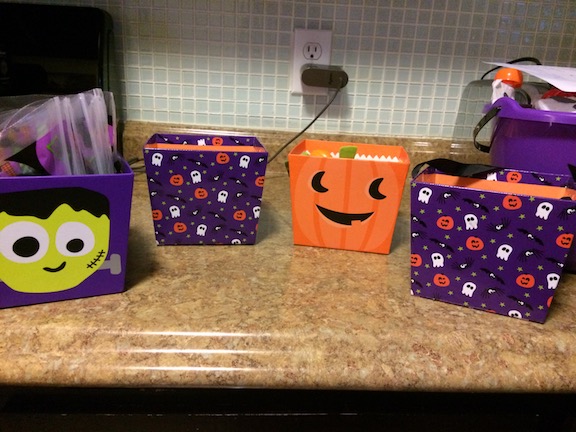 For the foam craft I bagged each craft individually in a halloween plastic bag and put in a picture of what the finished craft looks like.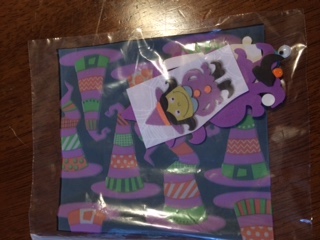 For the treat bags, I bought a value pack of bags at Joanns with handles because it would be easy for the little ones to carry. I made the bags into jack o lanterns and put a tag on them to label the bags with the party goest names. I had the treat bags out and the guest picked what color treat bag he/she would like and I wrote his/her name on it. Then the party guest picked out a cup and wacky straw to and placed it in their bag.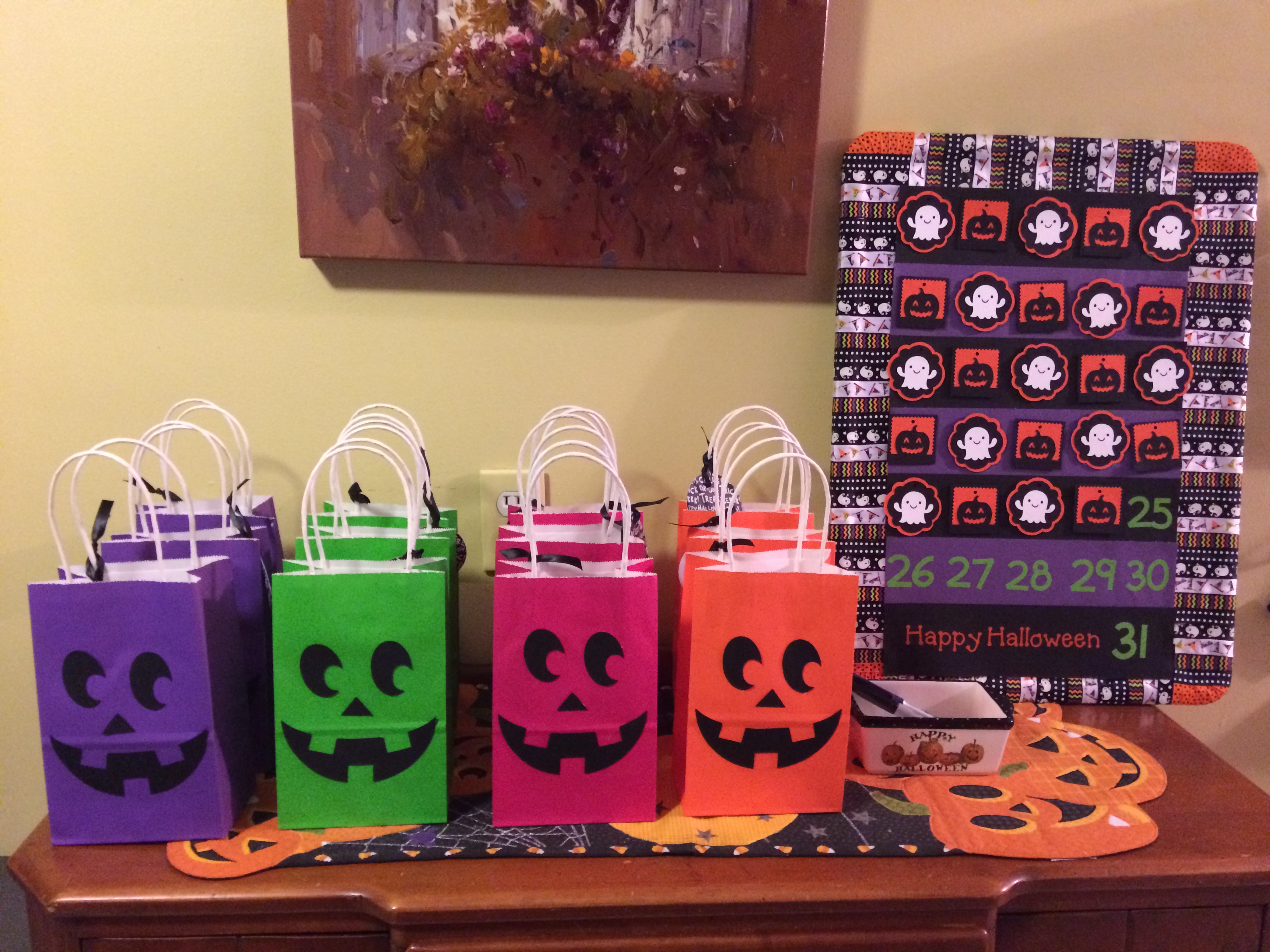 I also did a Halloween Photo Frame for the party guest to take his/her picture in. I just used a foam black board and cut out the middle. Then decorated it for the party.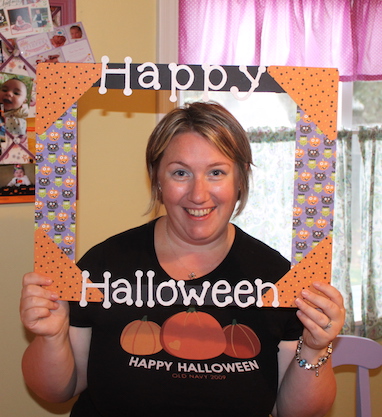 Another great part of a party is the treats. I made applesauce pouches into ghost, ghost sugar cookies, and bought orange and black tortilla chips. All of the parents had asked to bring something and we ended up with amazing halloween goodies. We had monsters with grapes and marshmallows, monster cupcakes, clementines as pumpkins, rice krispy treat pumpkins, Doritos, veggie tray. It was a full table of yumminess!!!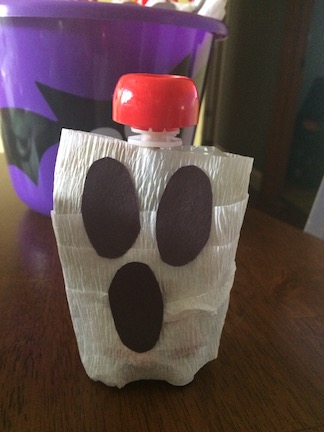 Throwing my first Halloween Party was a huge success! Everyone, parents included had a good time. The kids were super excited and loved playing all the games. They loved all the good stuff to eat to! My son asked later that day if he could have a winter party to, my husband said no way. I told him I think we will stick with Halloween and his birthday. I'm already looking forward to our party next year and creating a fun tradition for our children and our family.
Happy Halloween!
My son's favorite holiday is Halloween so we threw a Halloween Party for his preschool friends. I love simple and easy DIY Ideas, so we had spooky fun games, decorations and treat bags. Find out how we did this on a budget and start planning your party today.