Heart Waffle Ice Cream Sandwiches (the Easy Way)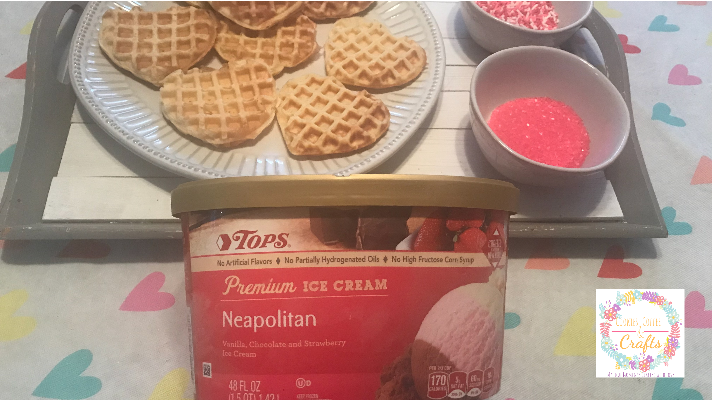 Note: As an Amazon Associate, I earn from qualifying purchases. If you click on a link from Amazon or another of my advertising affliates, I will earn a small commission at no additional cost to you. Please see my full disclosure policy here.
Get ready for the easiest, but cutest Valentine's Day treat to make your kids or someone special. You don't have to be Betty Crocker or love to bake, you just have to buy a few simple supplies already at the store and put it together. Super easy right? I'm all about easy recipes. Everyone will be oohing and aahing over your creativity and skill with these heart waffle ice cream sandwiches (the easy way). My kids are super excited to make these heart shaped treats!
Let's Create Heart Waffle Ice Cream Sanwiches (the Easy Way)
To get started choose your favorite frozen waffle, ice cream and toppings for the side.
Now you can make your own homemade waffles with this adorable heart waffle maker , but you don't have to. For the waffle shape, either free hand it (if you are awesome like that) or use a cookie cutter to cut it out after its toasted.
Once your waffles are ready, take out your ice cream so it's soften and easy to scoop.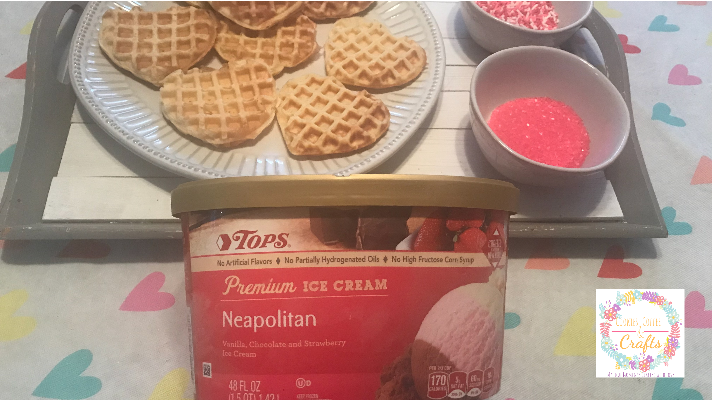 I'm using Neapolitan because one wanted vanilla and the other strawberry. My kids can never agree on the same thing. Neapolitan is good for me because I get chocolate!
When your ice cream is soft put a scoop on a waffle, then add another waffle on top to make a heart shaped ice cream sandwich.
Heart Ice Cream Sandwich
Top View
Adding Treats to Heart Valentine's Day Treat
Now that your heart shaped dessert is almost ready, add some sprinkles or chocolate chips, mint chips, nuts, whatever you like to the side of the ice cream sandwich with a spoon.
We used sprinkles because we love sprinkles on everything in our house (well they would put it on everything if I let them). I put the sprinkles in a bowl and the kids used a spoon to add the sprinkles to the side of their ice cream. At Target, I found these cute packages of sprinkles for a $1 to use.
Super easy right? The heart waffle ice cream sandwiches only take a few minutes to make. You can make them ahead of time and put them on a tray in the freezer, but remember to put them on parchment paper. Or make these treats with the kids for some Valentine's Day fun. It' s a fun idea for after school, a play date or as an ice cream treat for a birthday party!
These were a huge hit and they were all eaten. Daddy came out to see what was going on and finished them up. He thought they were amazing and called me brilliant!