How to Mod Podge Paper to Wood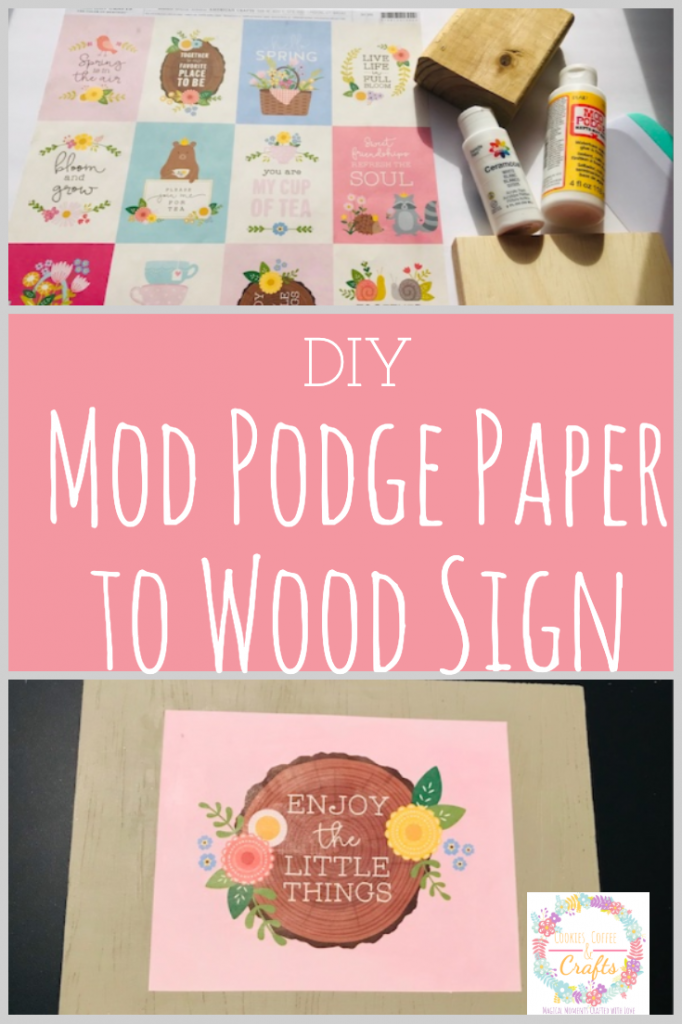 Note: As an Amazon Associate, I earn from qualifying purchases. If you click on a link from Amazon or another of my advertising affliates, I will earn a small commission at no additional cost to you. Please see my full disclosure policy here.
How do you feel about Mod Podge? I feel like we have a love/hate relationship, but after this project we are in love again. Haha! Seriously this project was so easy and cost 30 cents to make. Wow- right? Even if you had to buy a few supplies, it's still a cheap way to make a pretty sign. I'm going to share how to Mod Podge Paper to Wood today, it will be awesome! My crafty blogging friends are sharing Mod Podge projects today for the Bring on the Crafts Blog Hop, so take a scroll to see what they have created.
This post contains affiliate links which means I may make a small comission of any sale that is made by clicking on any of the products with no cost to you. Your support is greatly appreciated.
Supplies for Mod Podge Wood Sign
Mod Podge Matte
Scrap wood
Scraper
Make up wedge
Paint
Foam Brush
Let's Create a Mod Podge Paper to Wood Sign with Scrapbook Paper
If you like to scrapbook or collect pretty paper then you probably have some paper in mind for a project like this. I was taking my relaxing stroll around the craft store when I saw this pretty paper. It's perfect for spring and I love to put cute motivational messages around the house. I honestly have tons of these cute embellishments from all the scrapbook kits I buy, but this paper caught my eye. Don't you agree, you can always use new paper? Now here is another great way to use the embellishments.
From all of our projects we have a growing scrap wood pile and I try to use pieces from it whenever I can. If you don't have any scrap wood, you can buy a small wooden plaque or rectangle from the craft store or make a small sign with paint sticks. I also used Mod Podge to add glitter to this Believe in Magic Unicorn Sign made from scrap wood.
To get your sign ready, paint it with your desired color. I always get sample cans before I paint so I used Zeus from Sherwin Williams (it's the color of our hallway & my favorite color in the house). It just matches perfectly. I gave it 2 coats. At first I was going to use white, like in the supplies picture, but I decided I liked Zeus better.
Cut your scrapbook paper for the desired piece you want to use. I love the message and the florals on this piece. Apply a thin layer of Mod Podge to the back of your paper with a makeup wedge. Then place on the wood.
Use a scraper or roller to get out any bubbles and press the paper to the wood. I totally forgot I have a Mod Podge roller that I could of used. I'm thinking I need a craft supply list- haha! If you don't have either a credit card works good too.
How do I seal my paper to wood
To seal your sign, apply a thin coat of mod podge over the paper with the makeup wedge. Let it dry 15-20 minutes between coats. Do between 2-3 coats to seal it, I did 3. Just set a timer and relax while you wait.
After you seal your sign, your new decor is ready to decorate your home. Easy, simple and pretty!
I couldn't stop at just one so I made some more!

Bring on the Crafts — A Craft & DIY Blog Hop
On the first Friday of each month, a group of DIY and crafty bloggers join forces. Together with hosts Marie from The Inspiration Vault and Habiba from Craftify My Love, they bring you the #BringontheCrafts blog hop. Each blogger creates a fun craft or DIY project to share that follows a monthly materials theme. March's theme is Mod Podge! Each blogger chooses their own craft to make as long as they love it and it uses Mod Podge in the project.
Our March Co-hosts
Jenny at Cookies, Coffee and Crafts • Gail at Purple Hues and Me
Heather at Glitter on a Dime • Marie at DIY Adulation • Janet at Try It – Like It
Join in on the fun! If you'd like to participate next month, you can request to join our Bring on the Crafts Facebook Group. Next month's theme is Flowers!
Not a blogger, but a creative mind none the less!? Don't worry, Share your awesome creations in our Craft Cult Facebook Group. This is also a great place to ask craft & DIY related questions and find inspiration for your next project.
Now let's see all of those amazing Craft and DIY Projects!