Italian Christmas Cookies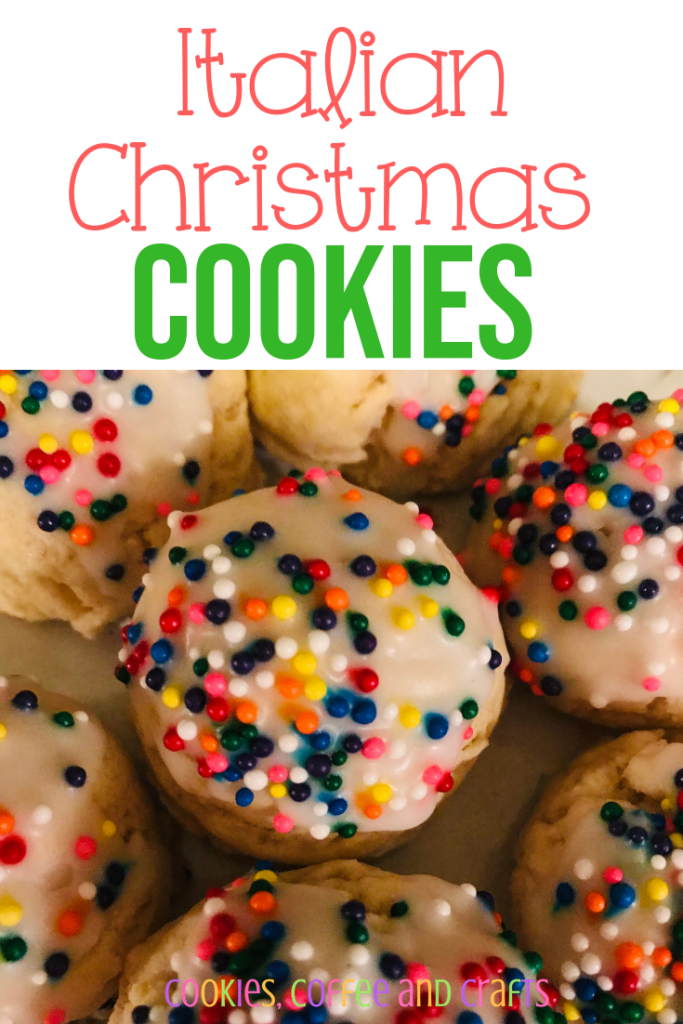 Note: As an Amazon Associate, I earn from qualifying purchases. If you click on a link from Amazon or another of my advertising affliates, I will earn a small commission at no additional cost to you. Please see my full disclosure policy here.
Traditions come in so many shapes and forms, but Christmas cookies are a huge part of many families Christmas traditions. My husbands Christmas cookie tradition are these Italian Christmas Cookies. He loves, loves, loves them. His mom and dad have worked and perfected this recipe for years. I knew my husband missed having his Italian Cookies and I asked his mom for the recipe years ago. I had to ban him from the kitchen so I had cookies to decorate and photograph because he started eating them as soon as they came out of the oven. Today I'm joining with other talented bloggers to bring you their favorite family recipes.
Meet this month's co-hosts:
My Husband Has Too Many Hobbies • Across the Blvd
Peppermints and Cherries • Stone Cottage Adventures
This Autoimmune Life • Our Unschooling Journey
Purple Hues and Me • Cookies, Coffee, and Crafts
Sum of Their Stories • Coastal Bohemian
Domestic Deadline • Comfort Spring
This recipe is easy to make with simple directions, just remember to take out the butter to soften and the eggs for room temperature. I start off using my mixer, but once you start adding the flour, mix by hand. This dough is thick and I always fear it's going to break my mixer. I don't normally eat Italian Cookies because I'm lactose intolerant, but these don't have ricotta cheese. As I was making these the house started to smell like Christmas and it made me feel all warm and fuzzy for the holiday. These cookies are moist, scrumptious, and flavorful. I asked my husband for some description words and he said "They are yummy in my tummy." See they are irresistible!
Italian Christmas Cookies make about 45-50 cookies from one batch so it's the perfect choice for a cookie exchange or for a party.
Let's Make Italian Christmas Cookies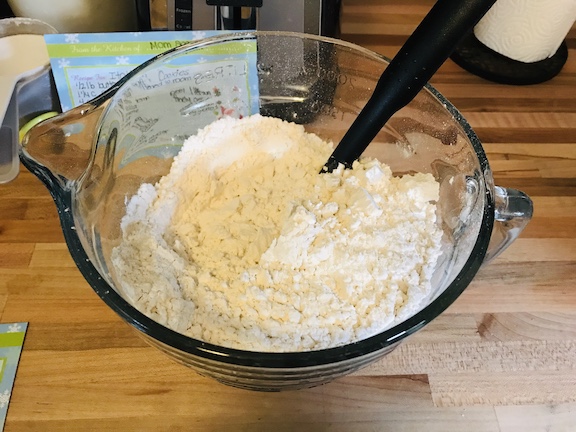 To get started mix your flour and baking powder in a separate medium to large bowl.
Then in a large bowl (this is when I use my stand mixer) add the butter and sugar until well combined. Next add the vanilla, anisette, and lemon peel. I use a cheese shredder to get the fine pieces of lemon. Make sure you save the lemon and use the lemon for the icing.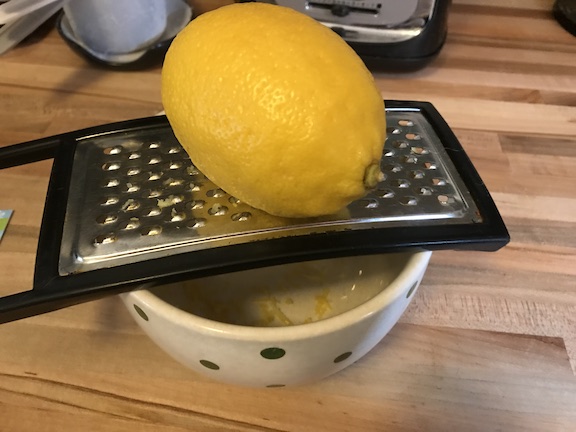 Then add the eggs one at a time and beat after each one.
Now it's time to add the flour mix. Remember start with the mixer, but I usually end up mixing it by hand.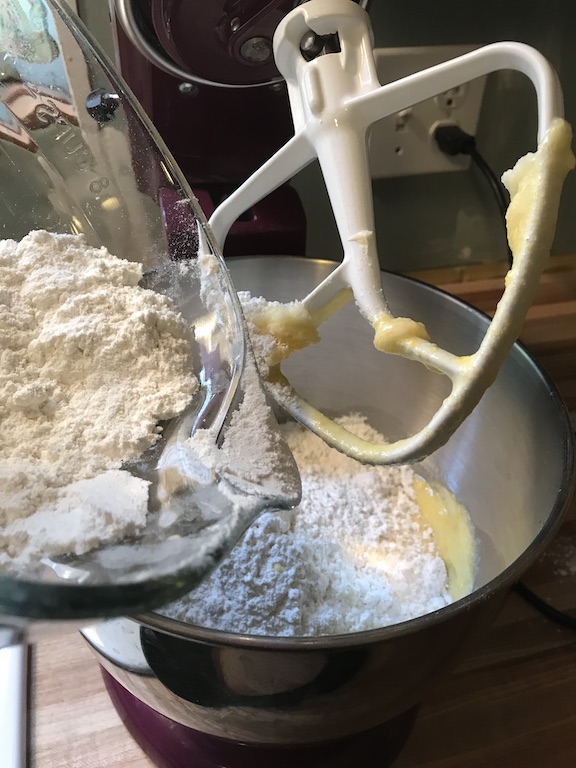 Now that the dough is all mixed it's time to bake the cookies. I use parchment paper on my cookie sheets for the cookies. To get that nice ball shape, use a round tablespoon to drop the cookies onto the cookie sheets.
The rounded tablespoon works great to get that perfect shape.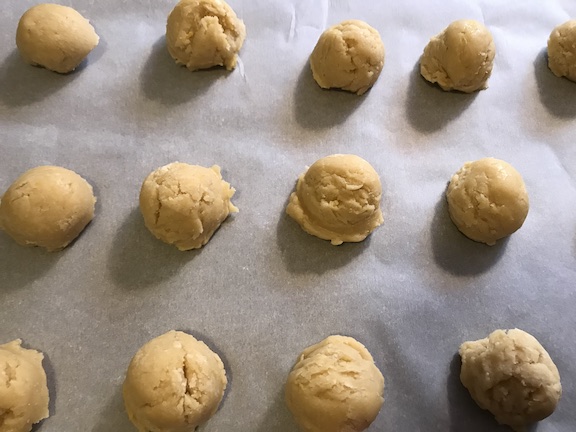 Bake the cookies at 425 degrees for 7 minutes. Let the cookies cool completely before adding the icing.
Let's Ice the Italian Christmas Cookies
For the icing, combine the powdered sugar, anisette, and the juice of a half of a lemon. Next add small amounts of water at a time to get the desired consistency- not to watery and not to thick.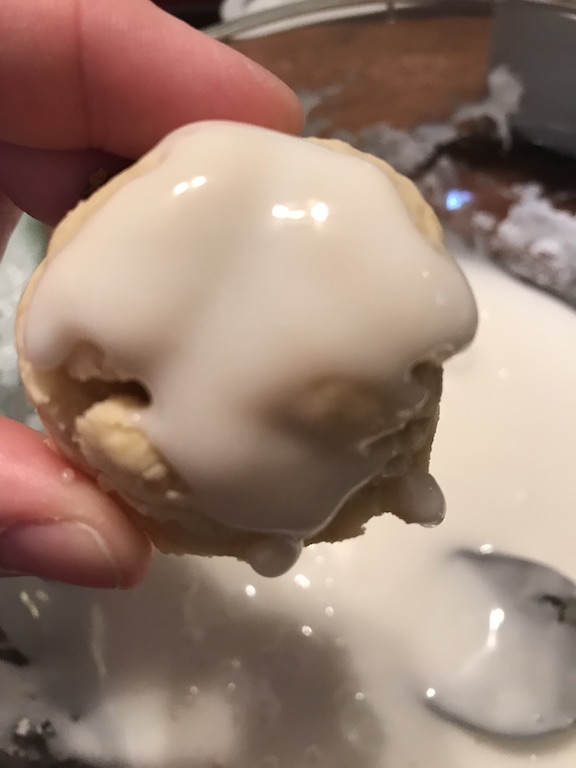 This part can get messy. So I like to do the nonpareils over a bowl because sprinkles go everywhere.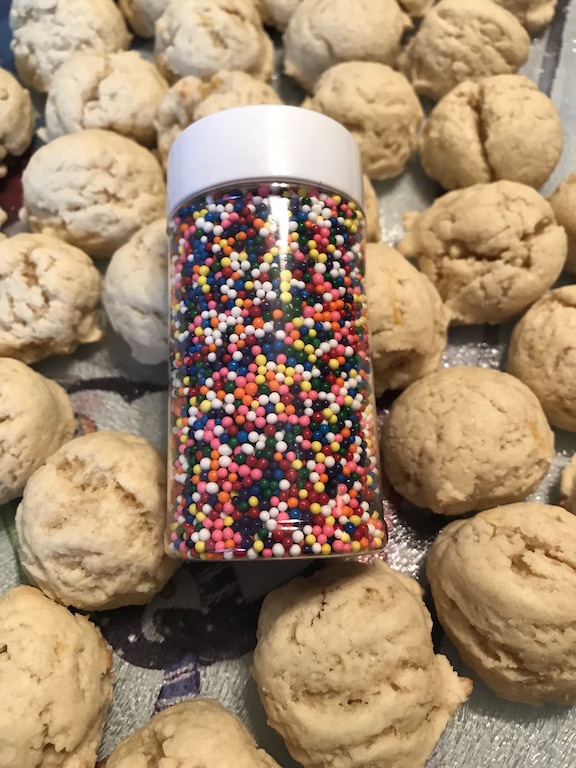 At this point my hands are really sticky and I didn't take any pictures. Just use a teaspoon to drop the icing on the cookie and then add the nonpareils.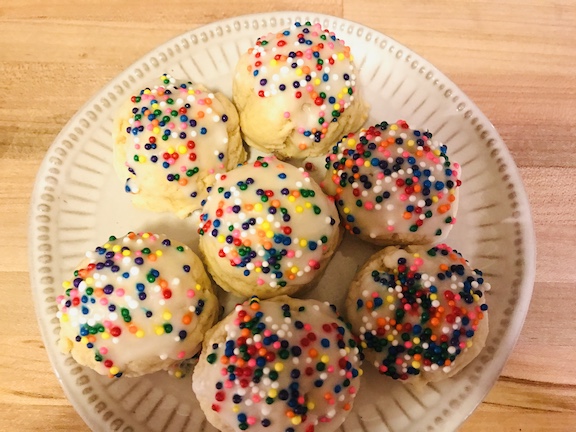 These cookies are amazing with coffee!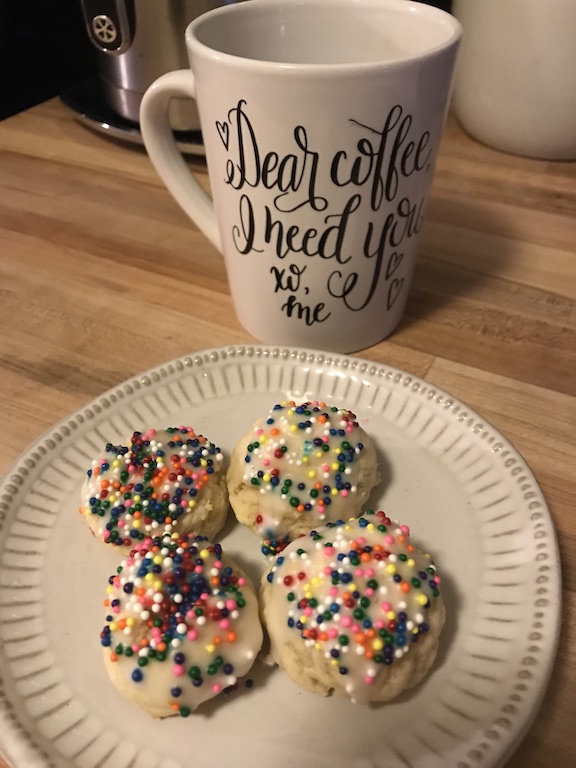 As I was trying to take pictures, all I heard was "Can I have a cookie" "Are you done yet" then it turned into "I want a cookie." My family is a bunch of cookie monsters! What's your favorite Christmas cookie?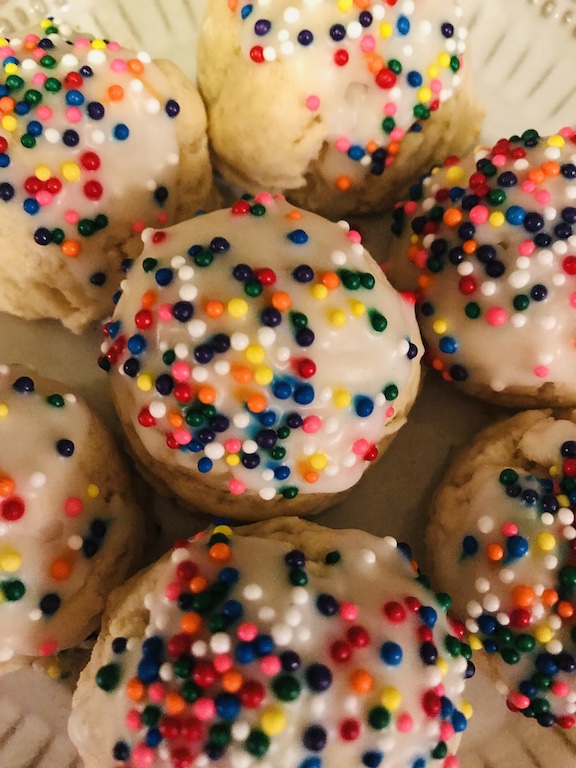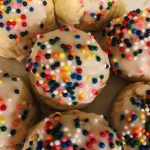 Italian Christmas Cookies
Traditional Italian Christmas Cookies with Anisette
Ingredients
1/2

lb

Butter

Soften to Room Temperature

1 1/4

Cup

Sugar

4

Eggs

Warmed to Room Temperature

2

tsp

Vanilla

1

tsp

Anisette

4 1/2

Cups

Flour

2

tsp

Baking Powder

1

Lemon

Finely grated lemon peel
Instructions
In a medium size bowl combine flour and baking powder, set aside.

Mix butter and sugar until well combined. Then add vanilla, anisette, and the lemon peel. Then add the eggs one at a time, beating after each one.

Gradually add the flour mix until well combined.

Grease the cookie sheet or use parchment paper and drop the cookies using a rounded tablespoon.
Italian Christmas Cookies Icing
Ingredients
2

Cups

Powdered Sugar

1

tsp

Anisette

Juice of half of a lemon

water

Nonpareils
Instructions
Combine all the ingredients except the nonpareils. Add the water as need to achieve the consistency. Coat the cookies with the icing and immediately add the nonpareils. Allow the cookies to dry completely before putting in container.
Loading InLinkz ...