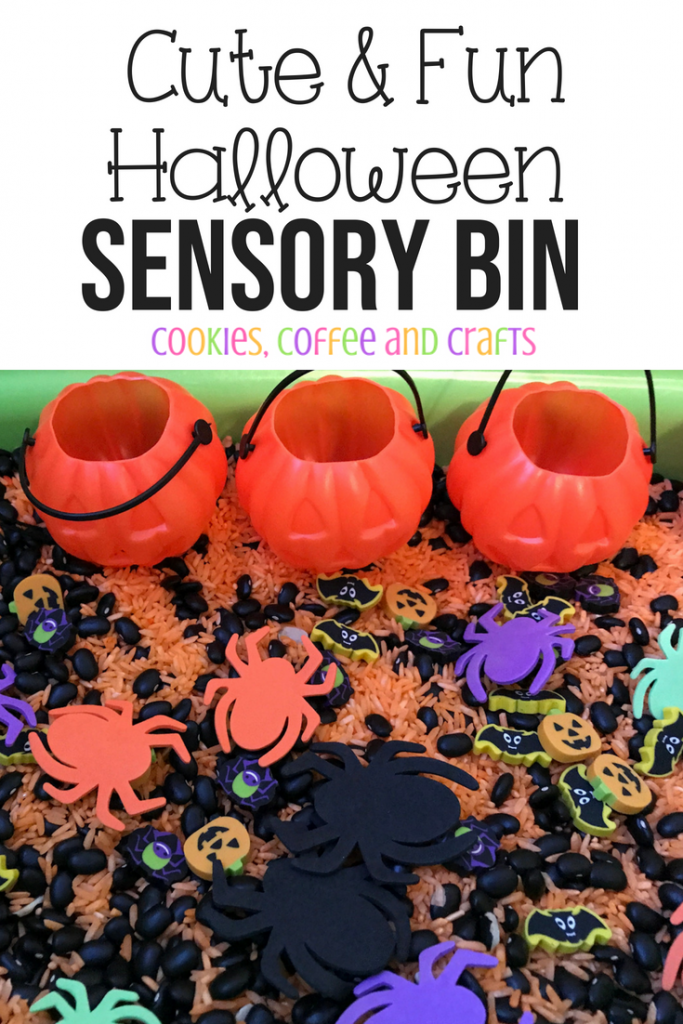 Note: As an Amazon Associate, I earn from qualifying purchases. If you click on a link from Amazon or another of my advertising affliates, I will earn a small commission at no additional cost to you. Please see my full disclosure policy here.
October is here and this is my favorite month. It's fall, my birthday, my anniversary, pumpkins everywhere and Halloween. I had to create a Halloween Sensory Bin for this spooky and fun time of the year.
Below are some affiliate links and I may make a commission for purchases made through the following links.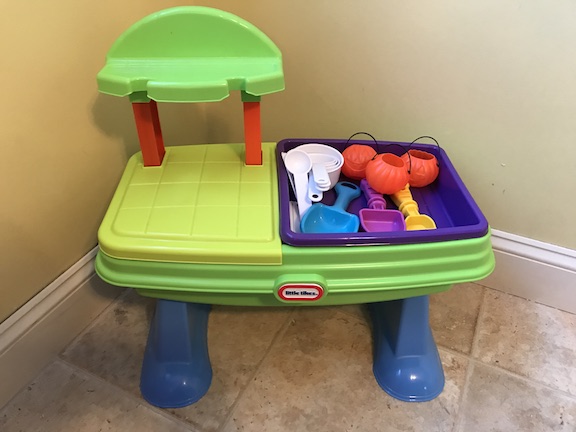 The Little Tikes Garden Table
makes a perfect sensory bin. It's the perfect size and depth and to make an amzing sensory bin. My daughter recieved this is a birthday present from her grandparents and she plays with it all the time.
Let's Create a Halloween Sensory Bin
I decided to color some rice orange and use the black beans from the summer sensory bin and mix them together for the base of this sensory bin. Coloring rice was so easy. I got a giant bag at Target and used about half of it. I used 1 cup of rice, 1 tablespoon of vinegar, and wilton gel food coloring. Mix this all together in a ziploc bag and lay the rice out to dry on wax paper or parchment paper for a couple hours. Add as much food coloring as you want to get the desired color. I always started with a little food coloring and added more to make it bright orange.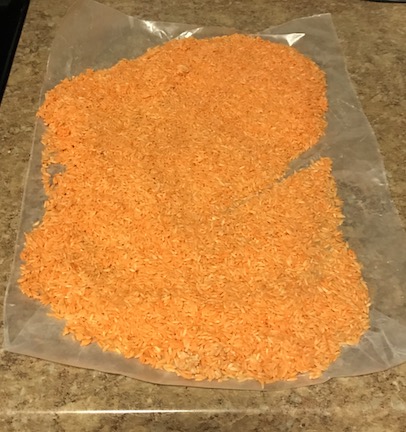 Then in all my boxes of teaching stuff downstairs (I used to teach Kindergarten) I knew I had little plastic pumpkins, but I found a whole bunch of goodies that I could use for the sensory bin to. I was so happy and excited to find this stuff. I found Halloween themed erasers, the little pumpkins, a big spider, and small foam spiders. Anything for Halloween would work in this bin- pom poms, spider/bat/skull rings, minifigurines, eyeballs, and balls to name just a few.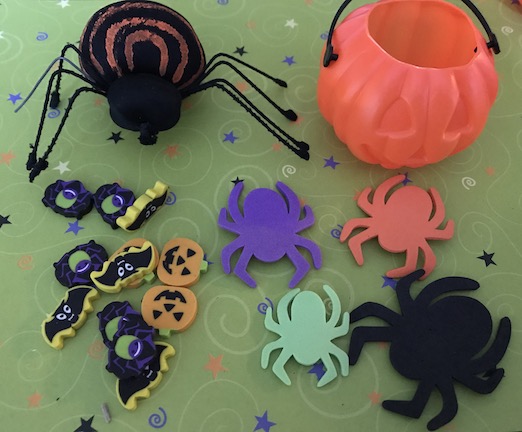 This bin looks so fun, spooky, and colorful! The kids are going to love playing with it. I love the colors!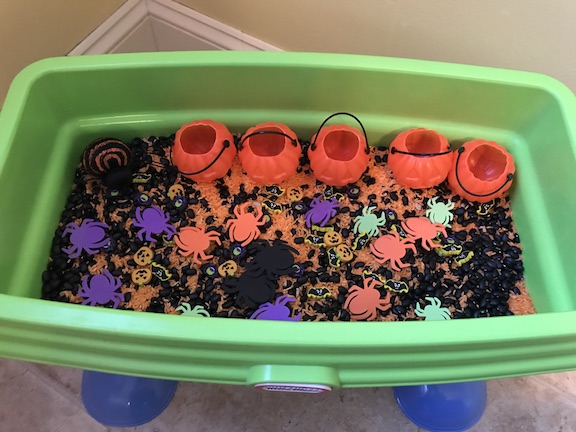 I'm going to put the shovels, rakes, measuring cups and spoons in the bin to explore with. The kids loved the apples sensory bin and I know they will love this one to. I love the imagination, the creativity and the hours of fun this bin will bring.
Happy October! Happy Halloween! Happy Playing!