Our Family Christmas Tree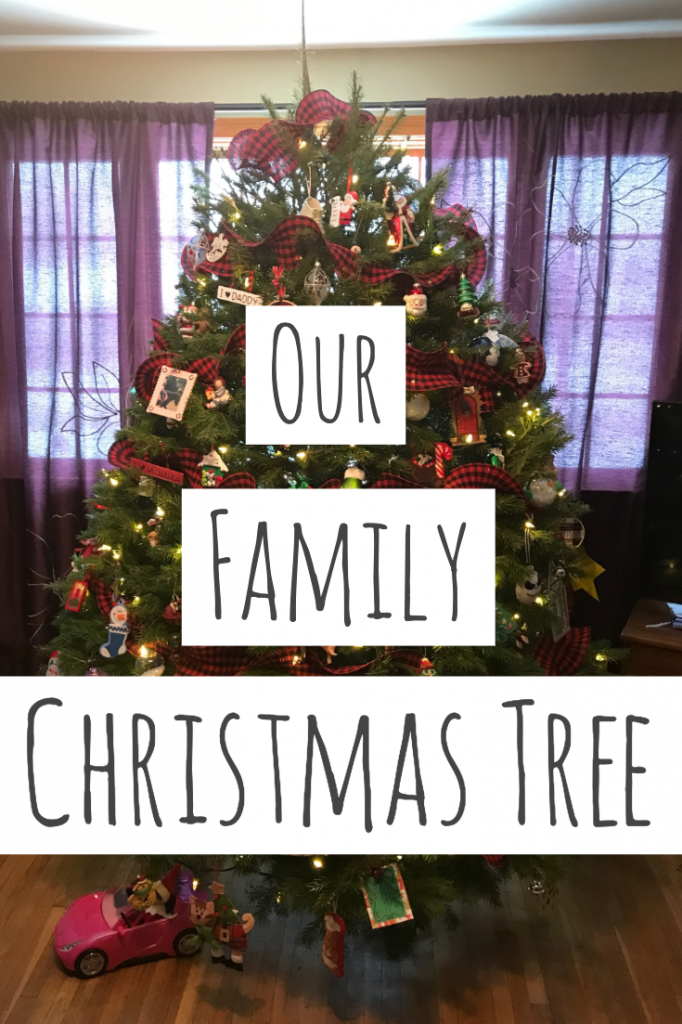 Note: As an Amazon Associate, I earn from qualifying purchases. If you click on a link from Amazon or another of my advertising affliates, I will earn a small commission at no additional cost to you. Please see my full disclosure policy here.
Who else loves the smell of a fresh new Christmas tree? Oh the joys that smell brings. Our pleasantly plump tree is perfect, has hardly any holes and is the best tree I think we have ever had. Okay, I probably say that about all of them, but each one holds a special place in my heart. Every year our tree represents our family and captures those moments in time that turn into keepsake ornaments.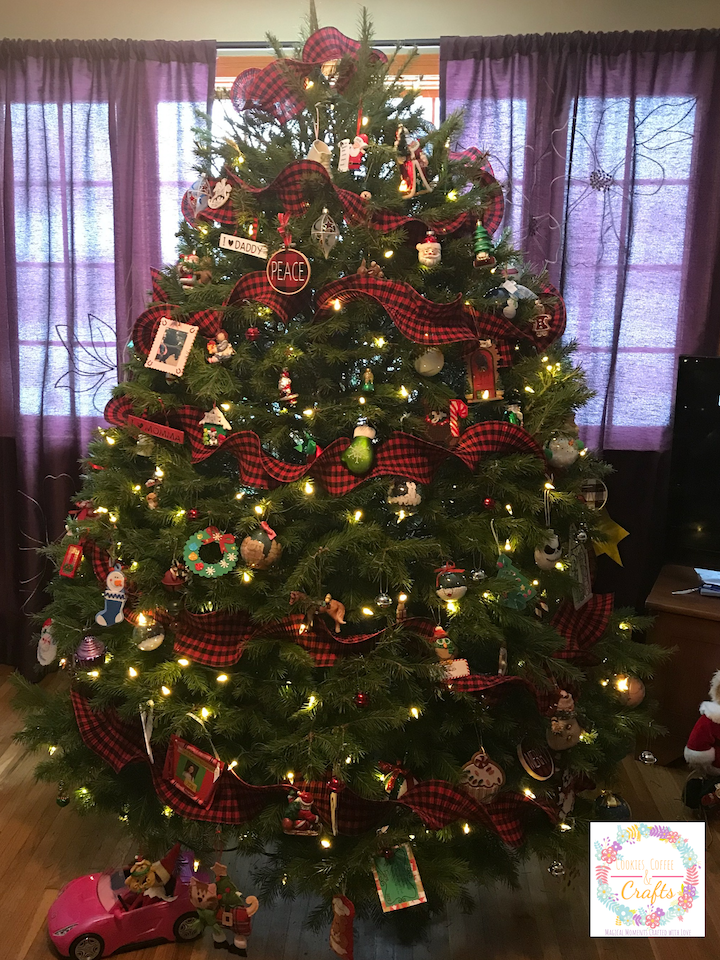 Welcome to the 5th annual 12 Days of Holiday Ideas event, hosted by Shirley of Intelligent Domestications and Erlene of My Pinterventures Between Nov. 11th and December 6th there will be hundreds of new ideas shared by over 55 Co-host bloggers!
Go Here to see our kick-off collection of Holiday ideas as well as all of this years talented participating DIY and Foodie Blogs. Download this years November and December calendars with all of the topics and dates so you can make plans to watch for ideas!
We are hosting a BIG GIVEAWAY from our Sponsors this year! Be sure to scroll all the way down for more information and to enter to win!
Our Family Christmas Tree
My husband has been wanting to get a tree at the corner tree lot, but I wasn't sure about that. Well the weather didn't cooperate with our original plans to get our tree the Sunday after Thanksgiving because it was an ice storm. It all worked out though because I was able to do the rest of the decorating before tree time.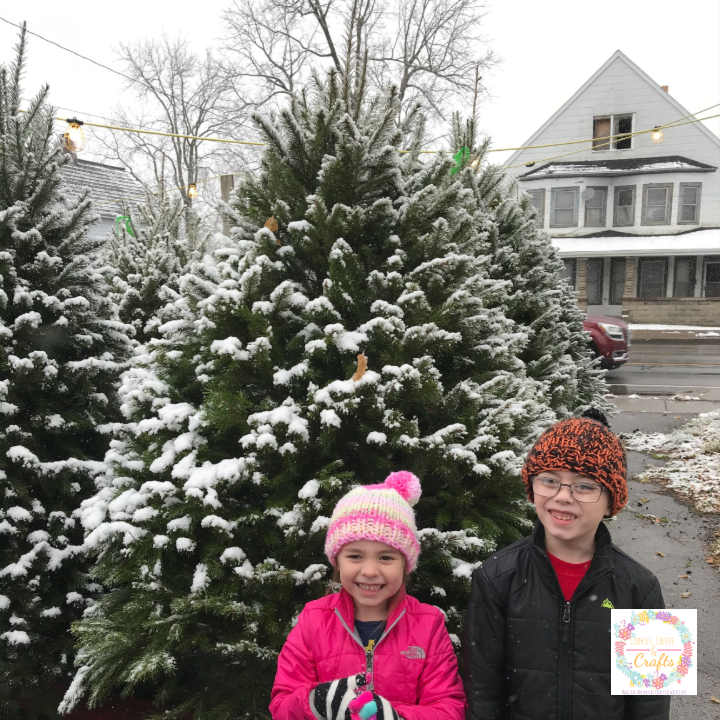 So on Monday, we picked the kids up from school and went to the tree lot on the corner. It was perfect. It was lightly snowing and it was fun to pick out a tree outside. For me it was memories of going to the tree farm as a kid and picking out a tree or my dad cutting one down. My kids had a blast making snowballs with the snow and throwing them around.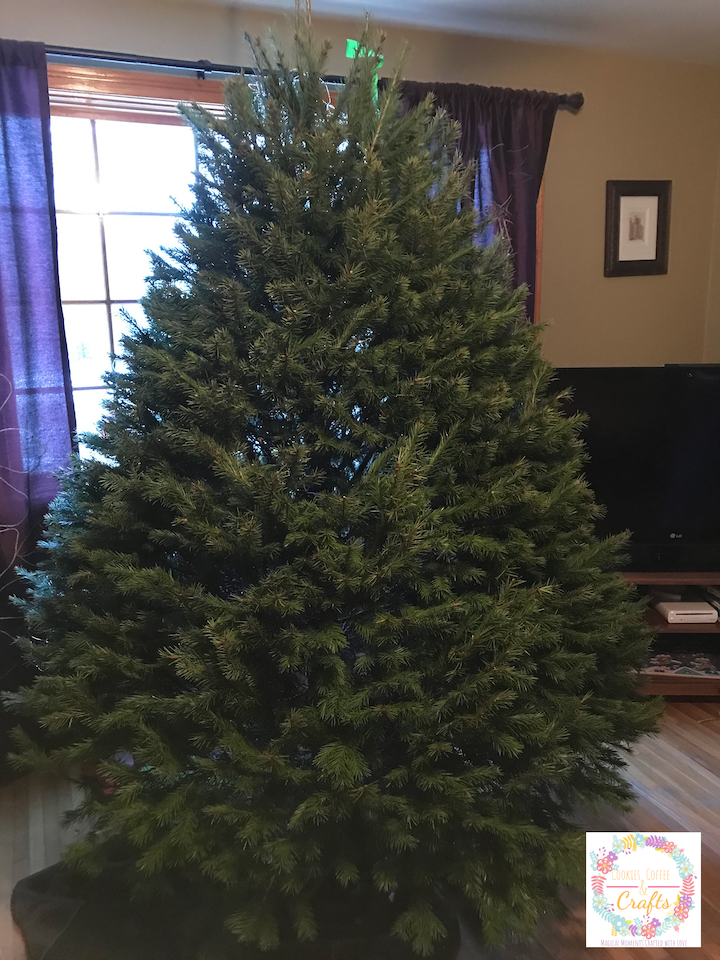 Now the tree didn't look that big on the lot, but once we got it home the realization hit that we probably bought a tree that was too big and round. The tree is so perfectly shaped it was hard to put the ribbon on because normally I just put it in the holes of the tree, this year it was't so easy to add the ribbon.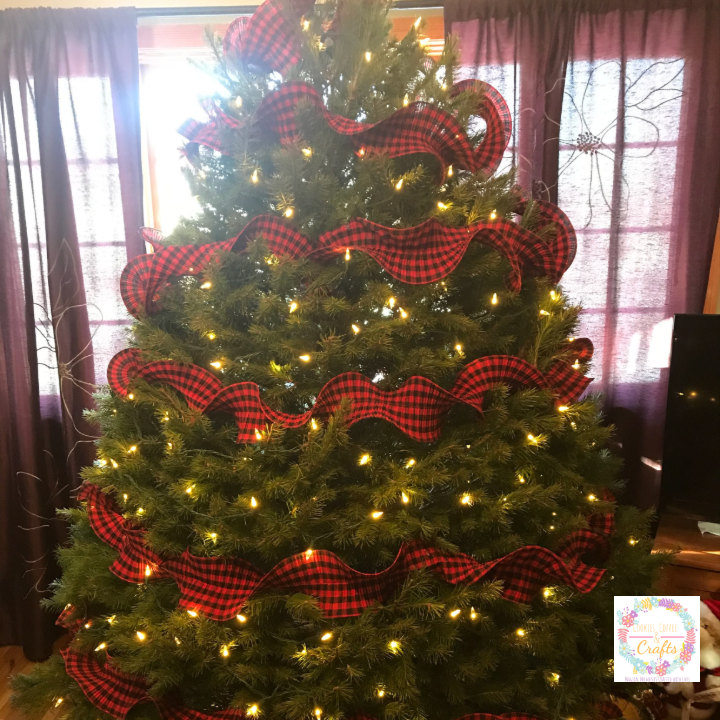 As for decorating, this isn't a designer tree or a themed tree (but oh how I love them), but just a tree filled with love and memories.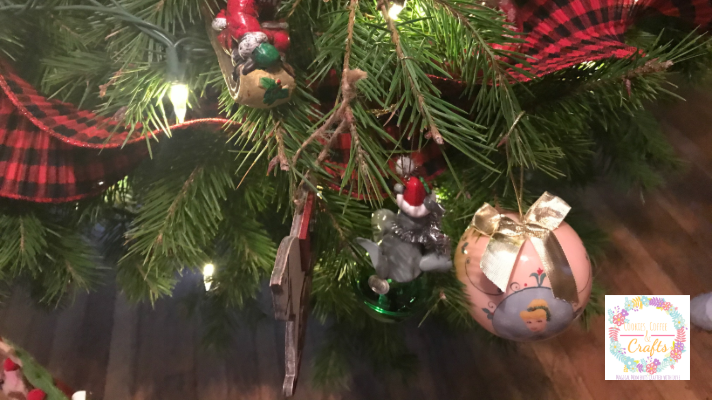 My daughter put all of her ornaments close together and we had that experience of trying to put as many ornaments as she could on each branch. Her older brother kept reminding her it was one ornament per branch. The joy on their little faces seeing their ornaments again was wonderful, I really should have recorded it.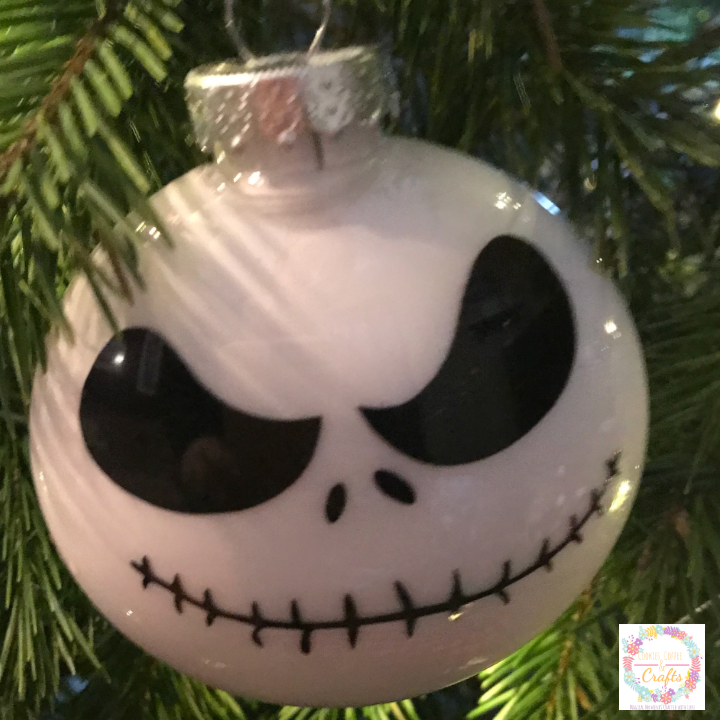 My son as so excited to see his Jack Skellington Ornament and my daughter was excited to see her horse ornament.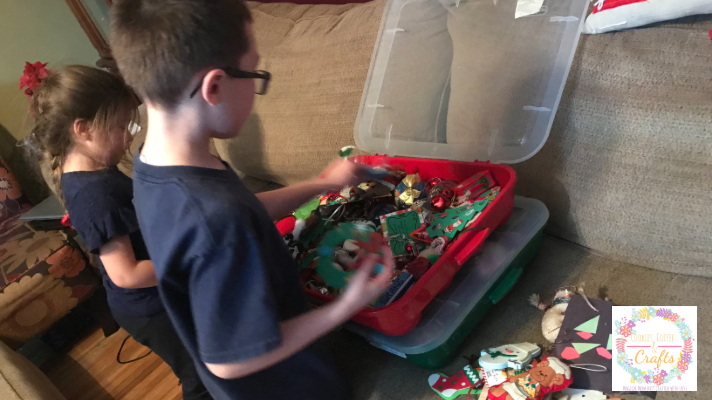 After losing several ornaments last year, when I put the ornaments away I made a box just for the kids to put on the tree. It worked out perfectly and they were so happy to decorate. Don't I have the cutest helpers around?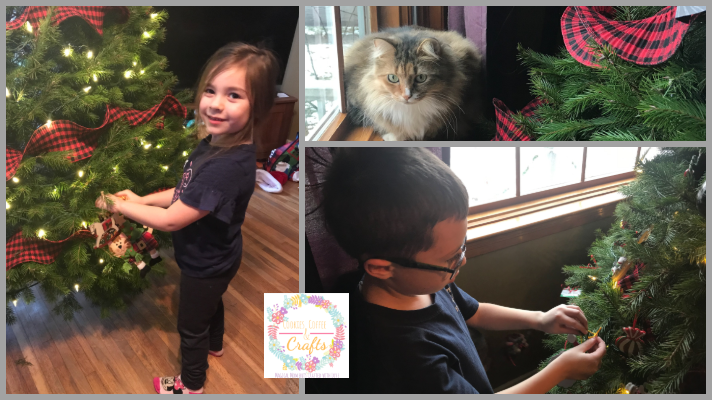 Our Christmas Tree Ornaments
I have my buffalo check ribbon and all the adorable homemade ornaments I have made ( and ornaments made by the kids).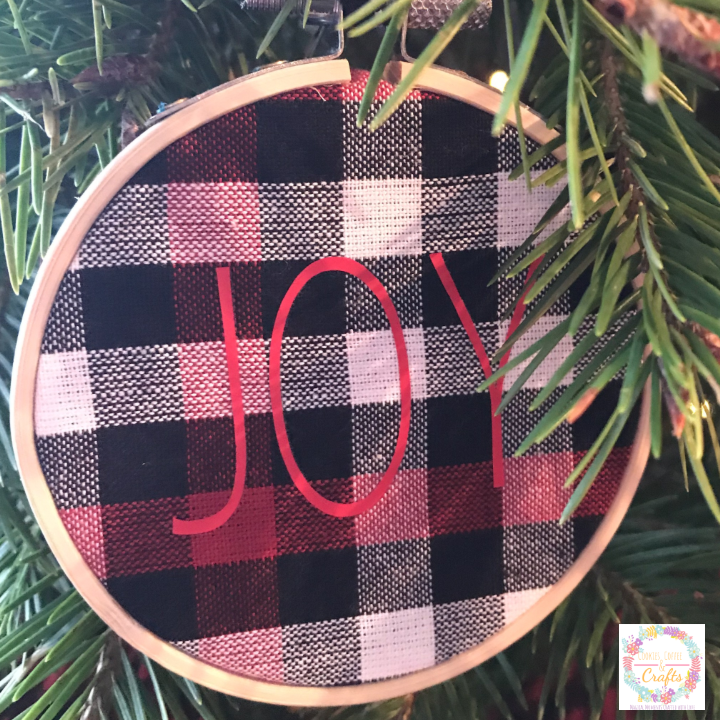 My new ornaments from the ornament exchange are perfect. Taking out the ornaments and seeing each one, is like seeing an old friend for the first time in along time. The paint stick ornaments were a perfect addition to the tree.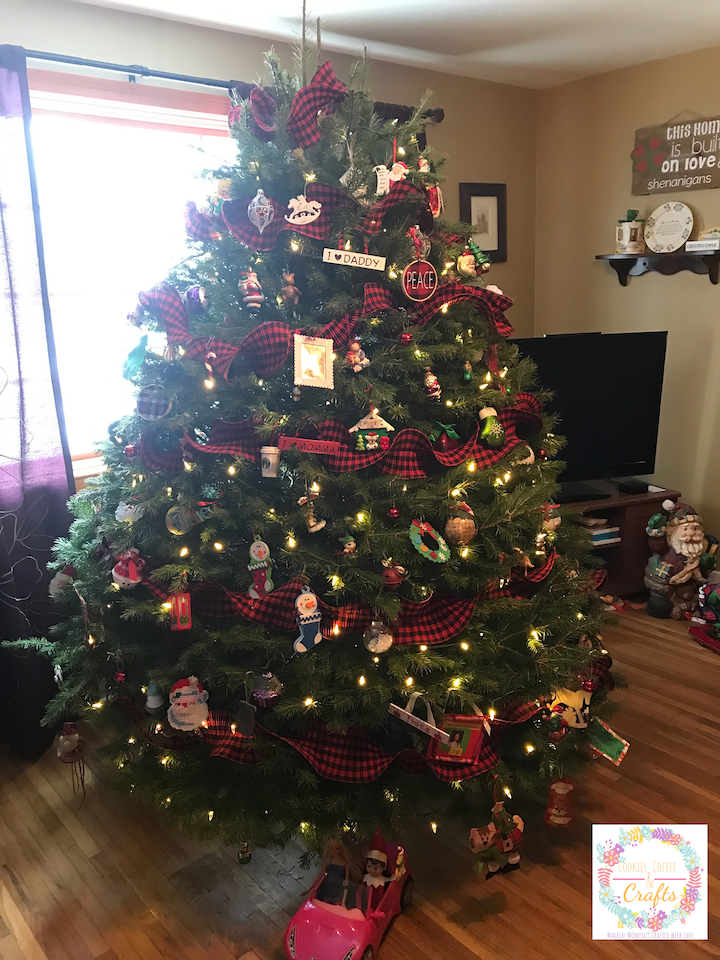 Seeing the tree lit up every night makes my heart happy and gives me that warm fuzzy feeling inside. Did you seen elf on the shelf under the tree? He must of had a good time last night driving. My decorating is done and it's time to enjoy the season. I'm wishing you and yours a happy holiday season!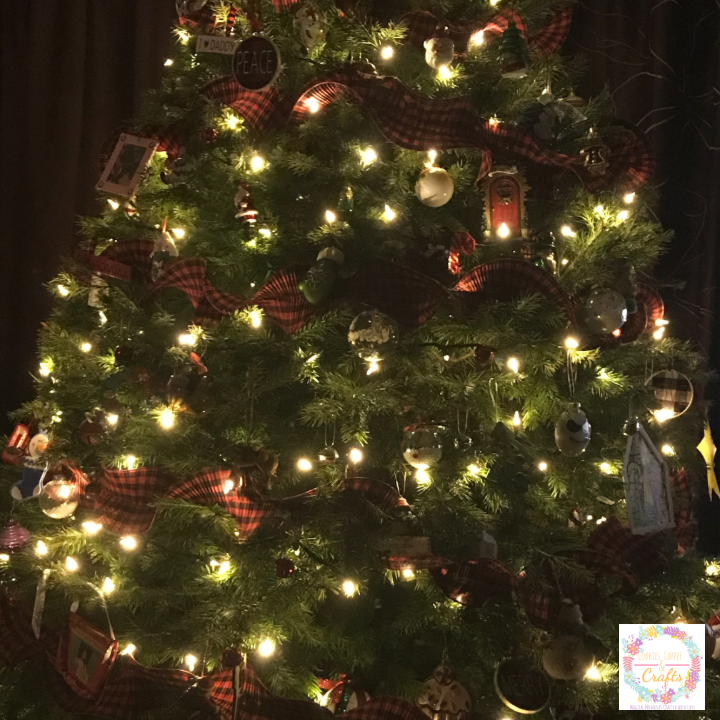 You are invited to the Inlinkz link party!
MEET OUR SPONSORS who have generously donated fabulous prizes for the Big Christmas Giveaway!
DecoArt winner will receive a prize package valued at $100!
Dixie Crystals/Imperial Sugar winner will receive a Keurig Coffee Maker valued at $100!
Oriental Trading winner will receive an OrientalTrading.com gift card valued at $200!
Cabot Cheese winner will receive a gift basket of Cabot products valued at $75!
Burlap Fabric winner will receive a prize pack of products valued at $50!
Zulay Kitchens winner will receive one Milk Frother and a Lemon Squeezer valued at $21
It's Home To You winner will receive one wooden Santa sign valued at $65
Giveaway begins Nov. 8, 2019 and ends Dec. 6, 2019. Winners will be notified by December 13, 2019. Sponsors will ship each prize to the winner. There will be a total of six winners, one for each prize. Drawing is by random selection using the Rafflecopter widget.
Must be 18 to win. Open to U.S. residents only.