Pete the Cat Graduation Party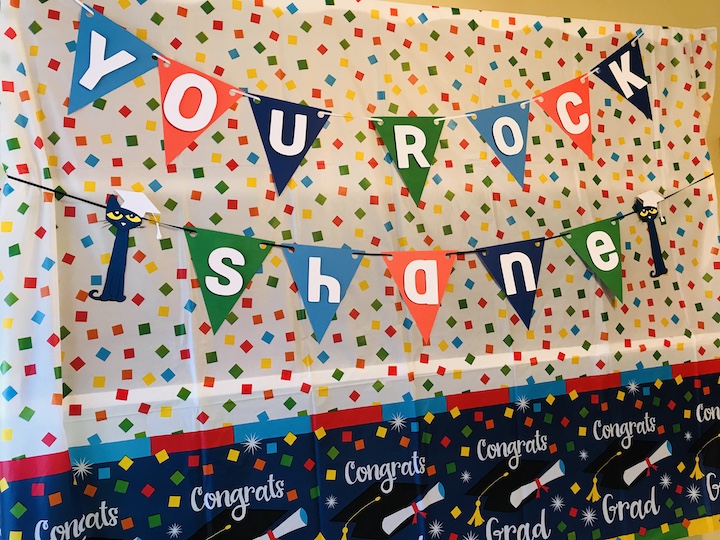 Note: As an Amazon Associate, I earn from qualifying purchases. If you click on a link from Amazon or another of my advertising affliates, I will earn a small commission at no additional cost to you. Please see my full disclosure policy here.
Preschool graduation is here! To celebrate this special milestone, here is my son's Pete the Cat Graduation Party. Pete the Cat is my son's favorite book character and he's one cool groovy dude. This party was fun to create and was really easy.
This post contains affiliate links which means I may make a small comission of any sale that is made by clicking on any of the products with no cost to you. Your support is greatly appreciated.
Pete the Cat is a fun theme because you can use any of his books to build a party around. I used a combination of Pete the Cat I Love My White Shoes and Rocking in My School Shoes. For party supplies I hit up the local Dollar Tree for the cute graduation plates, napkins and tablecloths. The colors were perfect for the party. The Dollar Tree is always my first stop for party supplies!

Let's Create a Pete the Cat Graduation Party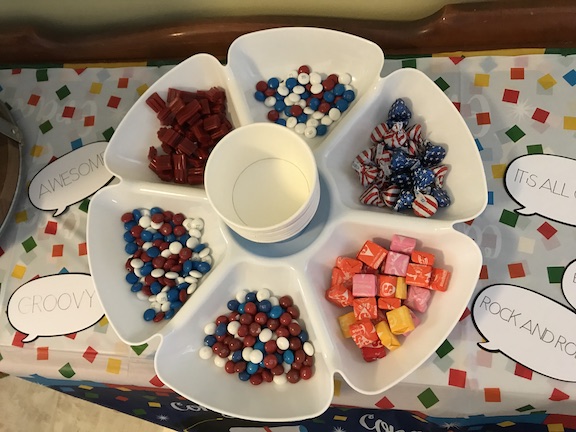 My son's favorite thing to eat (like most kids) is candy. A Candy Bar at his party was a must. Pete the Cat's favorite saying "Because it's all good" was perfect for it. I mean candy is always a good idea. I added some word bubbles to the decor of Pete's favorite sayings- awesome, groovy rock and roll and more, just like the books.
Graduation Banner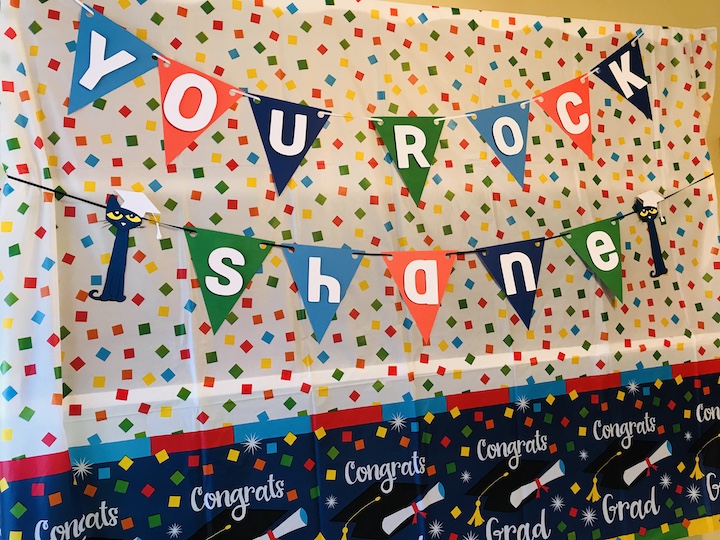 For a banner I made a simple triangle banner with my Cricut Maker
. It's so cute and colorful. The tablecloths always make good backdrops. I created a simple centerpiece with an SVG from Lovesvg graduation collection and added some stars. The little buckets come in handy for centerpieces, napkins and silverware.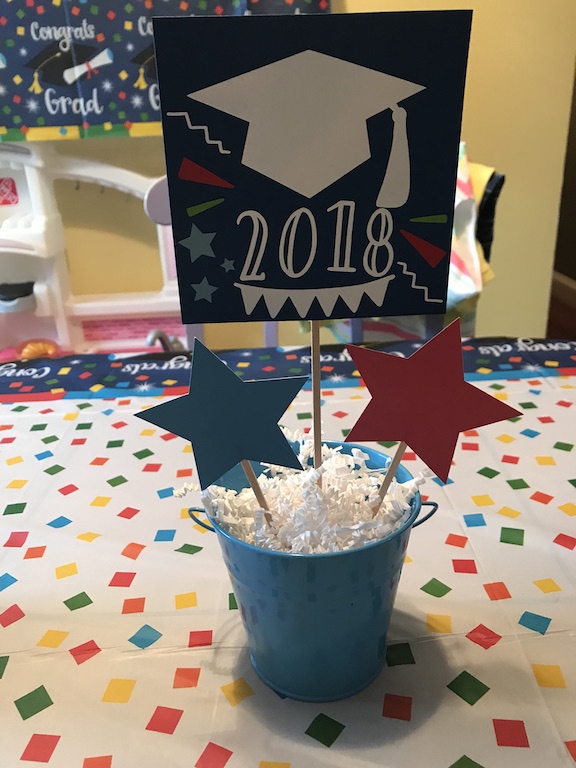 For table decor, we had lots of graduation balloons (also from the dollar tree), but the kids loved running around and playing with them so they never made it to the table.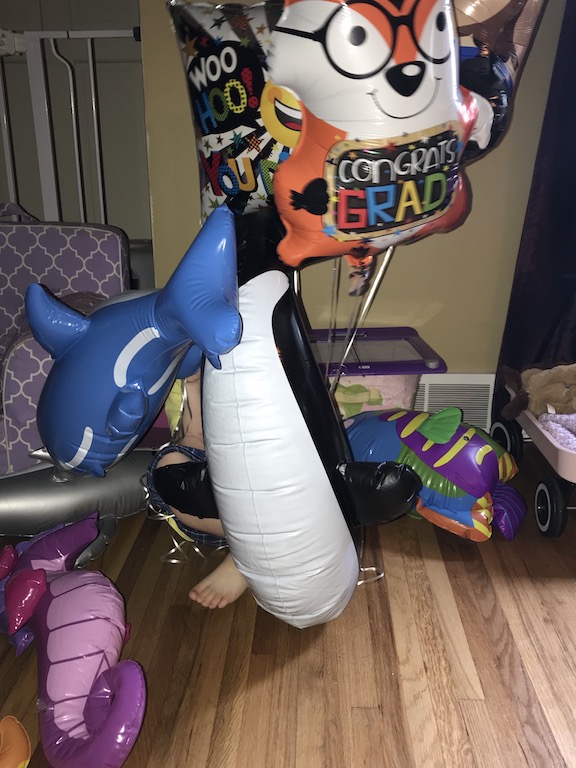 Photo Booth Fun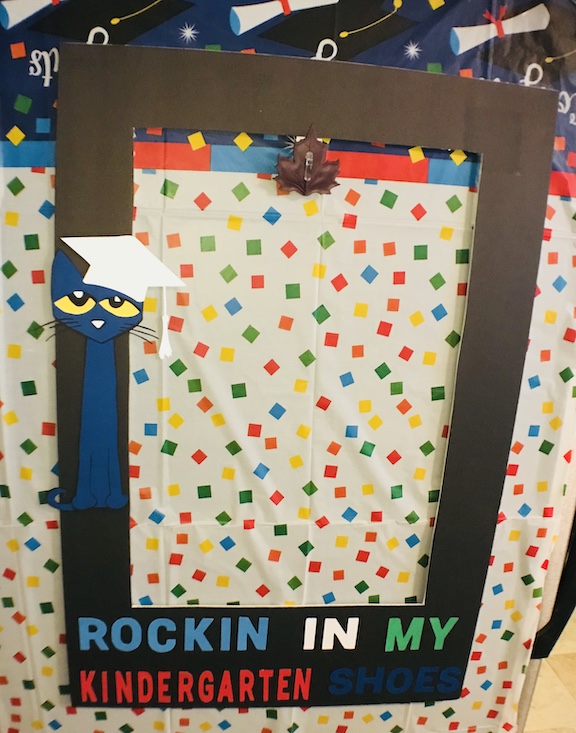 For photo fun, i used another graduation tablecloth as a backdrop and created a photo frame with black foam board from the Dollar Tree. To tie in Pete, I added Rockin in my Kindergarten Shoes since he's off to kindergarten. Tears may of been falling as I made all of this.
Graduation Keepsake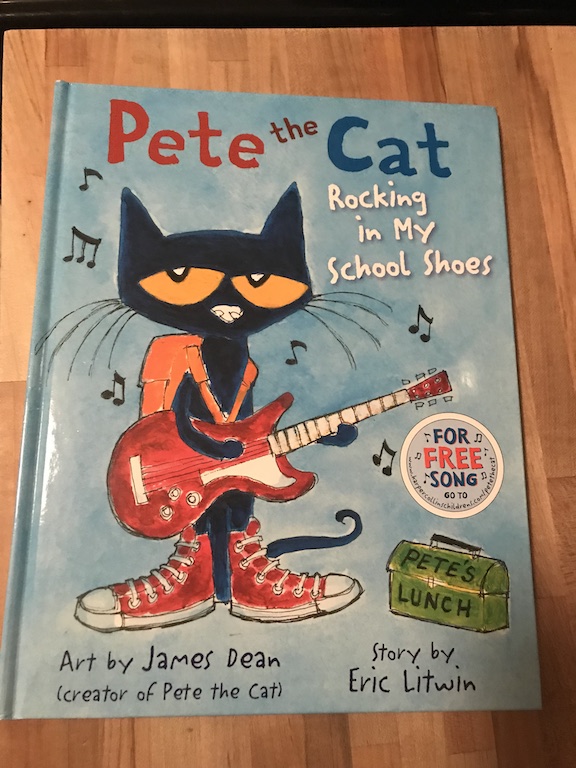 As a special memory, I used a hard copy of Pete the Cat Rockin in My School Shoes and had the guest write a message to my son. This will be a wonderful keepsake for him as he starts his school journey.
Junes weather was perfect, so my husband grilled hamburgers, hot dogs and italian sausage. The kids enjoyed playing outside and running around. Grandma and Papa bought my son inflatible ocean animals and he was in love with them and had so much fun playing with them (he still does).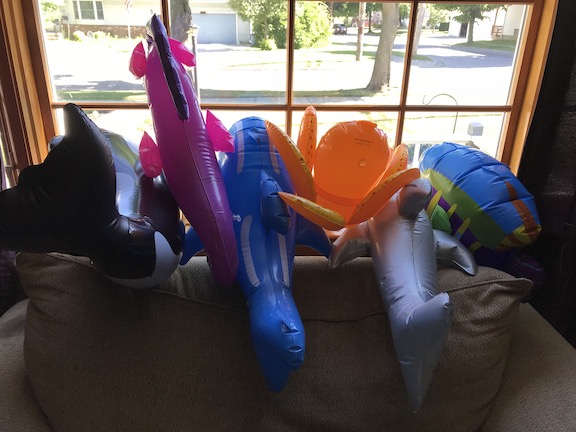 Just creating a few decorations and choosing a theme made this day extra special for my son. Sometimes small things make a huge difference. The biggest hit of the party was the candy bar. Kids and the adults all enjoyed it. These Pete the Cat ideas are perfect for a birthday party too. Would a Pete the Cat party be a hit at your house?
amzn_assoc_placement = "adunit0";
amzn_assoc_search_bar = "true";
amzn_assoc_tracking_id = "jsparmo-20";
amzn_assoc_search_bar_position = "bottom";
amzn_assoc_ad_mode = "search";
amzn_assoc_ad_type = "smart";
amzn_assoc_marketplace = "amazon";
amzn_assoc_region = "US";
amzn_assoc_title = "Shop Related Products";
amzn_assoc_default_search_phrase = "Pete the cat";
amzn_assoc_default_category = "All";
amzn_assoc_linkid = "5511875a838c197f6c941d3772f97534";