Quick and Easy Easter Decoration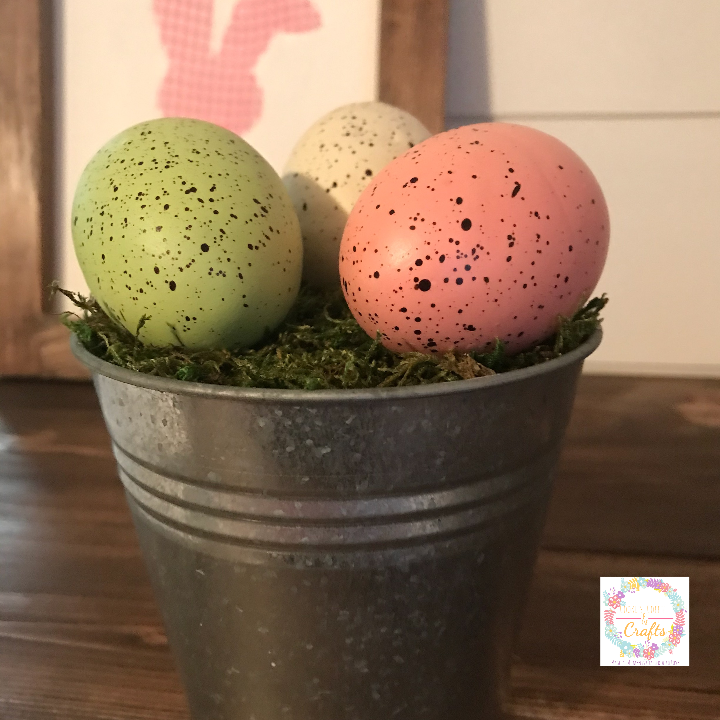 Note: As an Amazon Associate, I earn from qualifying purchases. If you click on a link from Amazon or another of my advertising affliates, I will earn a small commission at no additional cost to you. Please see my full disclosure policy here.
Honestly I wasn't sure if I would be able to participate in the Thrift Store Challenge this month because of the virus and how rapidly the world changed. For me crafting is like therapy and is my way of coping with what's going on in the world. This project can be themed with "Living on a Prayer" and "Don't Stop Believing." I say this because I wasn't sure what I already had in my craft stash from the thrift store and I just went with it. Here is a quick and easy Easter Decoration that I was able to make.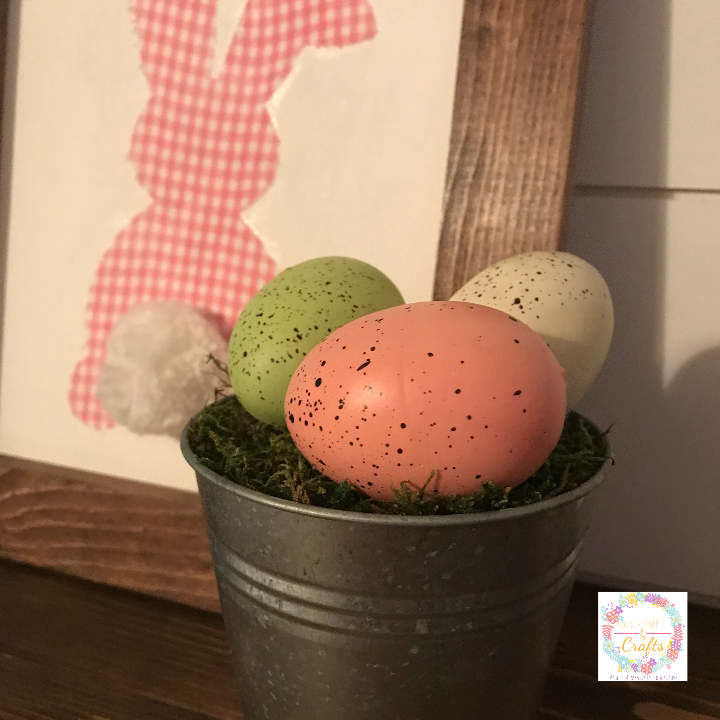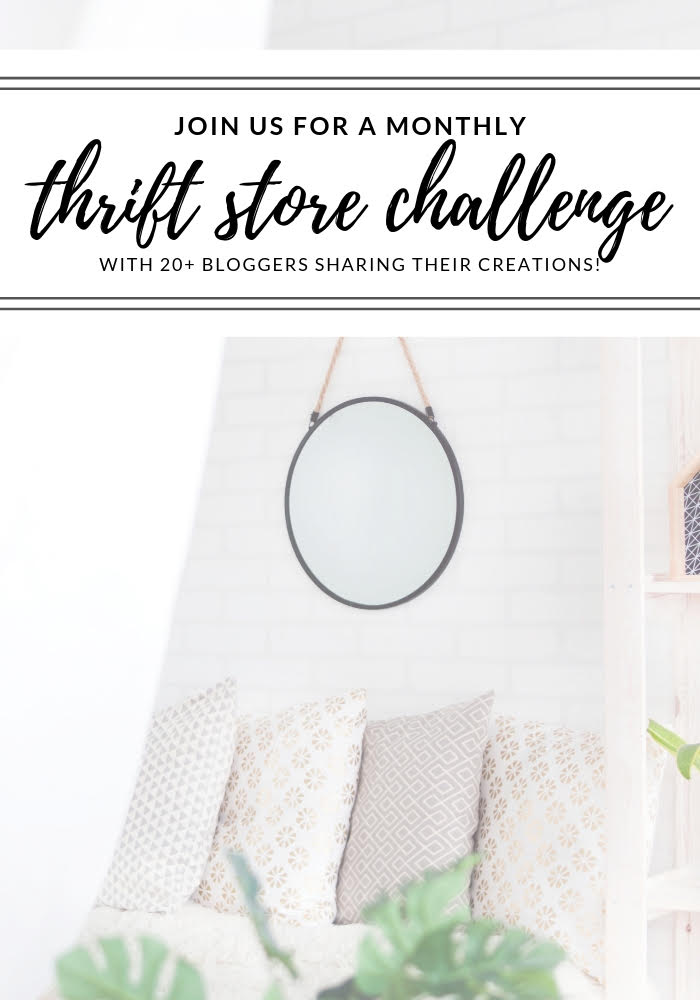 The Rules:
Upcycle an item(s) from a thrift store, resale store, or garage sale into a new piece of decor.
There's no monthly theme.
There's no budget to stick to.
Meet the Hosts
Angela | Simply Beautiful By Angela – Beverly | Across the Blvd Gail | Purple Hues and Me – Chas | Chas' Crazy Creations – Jenny | Cookies Coffee and Crafts
If you are making a dollar tree run, you can find all the supplies there. The moss, the metal bucket and the eggs.
As you can see in my supplies photo, their are a few extra things I didn't end up needing. The metal pot with the flower is from the thrift store that I had bought for $1 (sometime ago) and new it would come in handy some day. Today is that day! My back up plan (if the foam piece was no good and it had to come out) was to fill the metal bucket with crumbled paper and cover it in the fabric.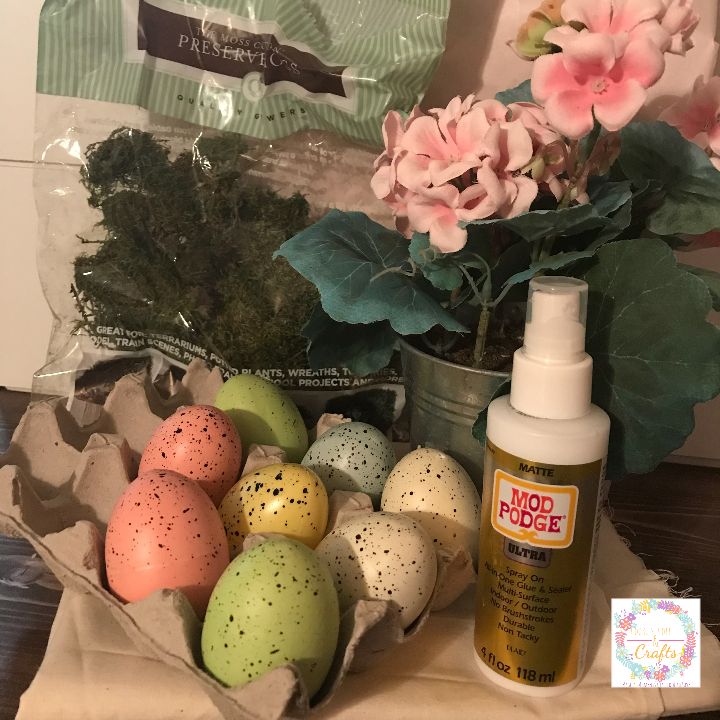 Supplies for the Easy Easter Craft
Metal Pail
Moss (similar to this one)
Decorative Easter Eggs (similar to these)
Matte Mod Podge Ultra Spray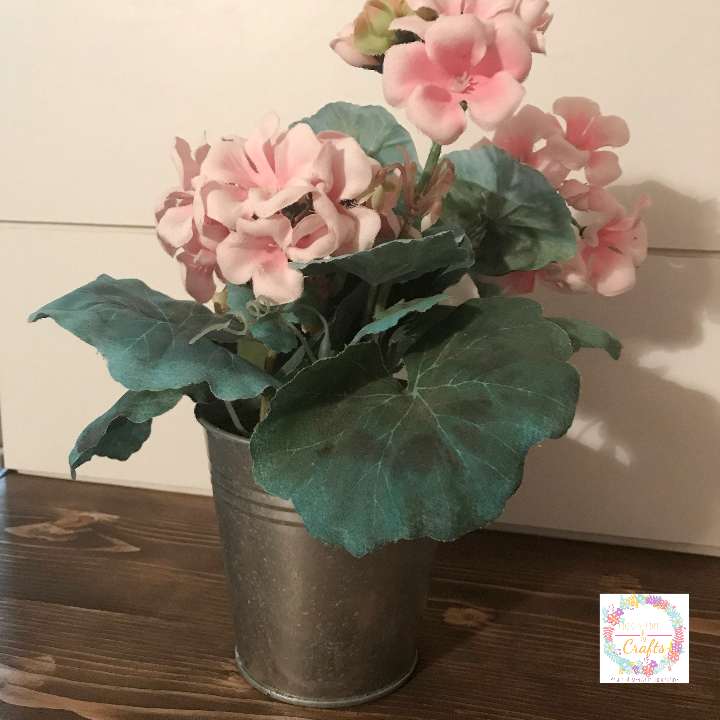 This whole Easter Decoration took about 10 minutes to make, honestly probably less than that. The best part of this whole craft was using the Matte Mod Podge Ultra Spray
to add the moss on top of the foam in the pail. Seriously, I used this moss on my Easter Egg Wreath using hot glue and it was so hard (I got burned a lot).
Let's Create a Quick and Easy Easter Decoration
If you are using a thrift store item, like me I just pulled out the old flowers from the foam. Next I scrapped off the excess foam and loose moss.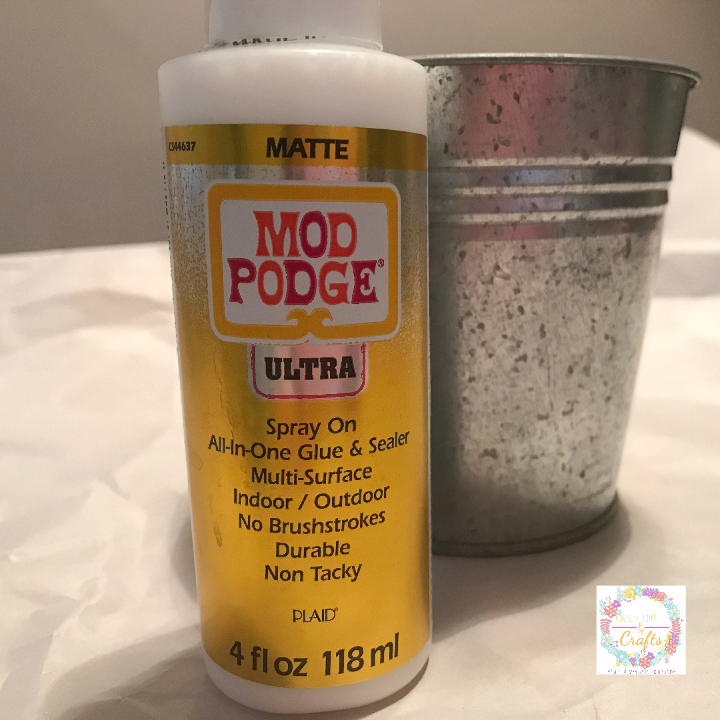 Cover your work area with paper when you are ready to use the mod podge ultra spray. Spray the whole area of the foam with the mod podge. Then starting at the edge, cover the foam with new moss.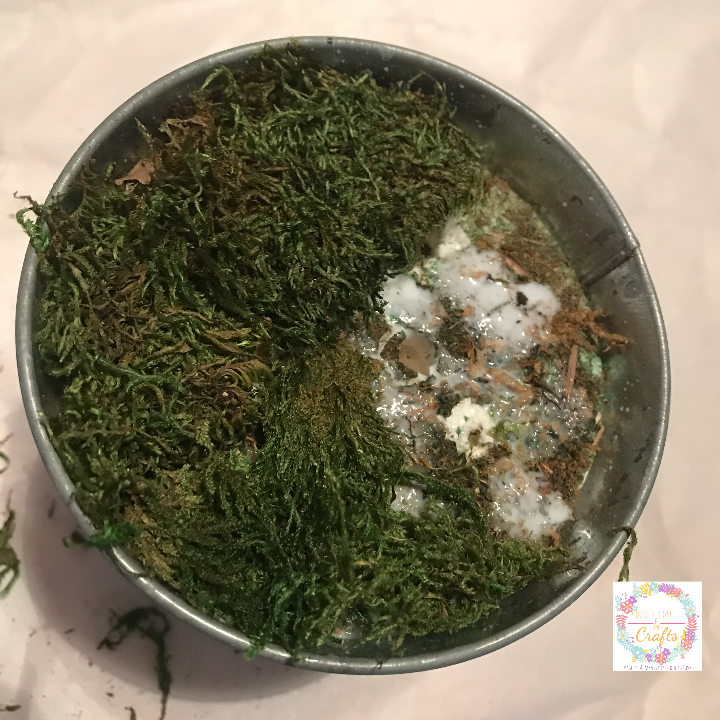 I liked the look of more moss so I did a double layer of moss.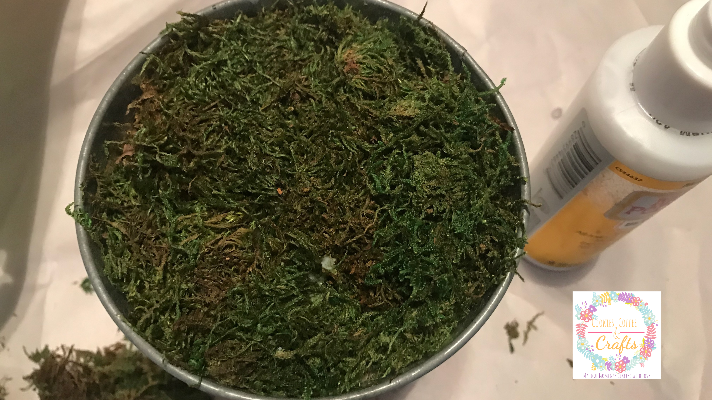 Choose what color eggs you would like to use and decide how you want to display them.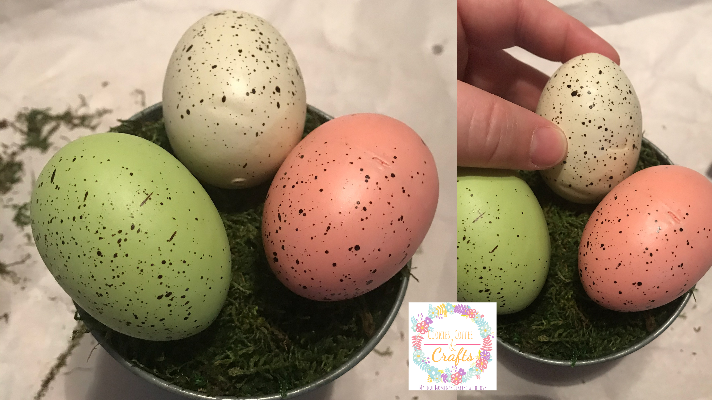 Spray the eggs with the Matte Mod Podge Ultra Spray
(this stuff is awesome) and press your Easter eggs onto the moss. Hold for a few seconds and do that with each of the eggs.
When you are done using the mod podge ultra spray, remove the nozzle and clean it by running water through it. You don't want the nozzle to get clogged so you can use it again. If you haven't tried the spray yet I highly recommend it.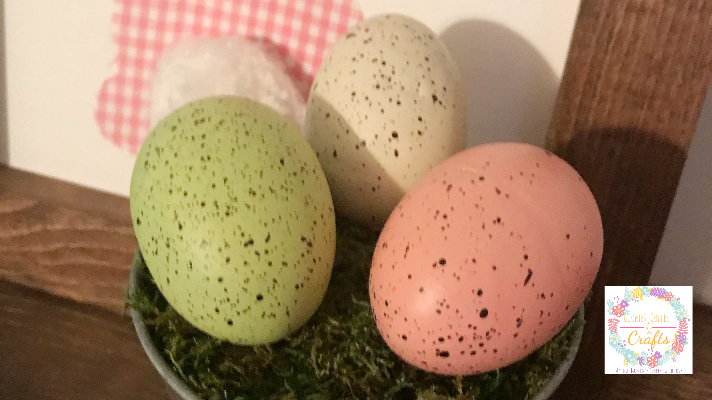 Let the eggs dry and in a few minutes the mod podge spray will harden and you have a new Easter Decoration. Quick and easy Easter crafts are the best (especially if you have little ones at home like me). Such a simple DIY decorating idea that will look great with all kinds of Easter decor. I love the natural look of the moss and the pastel eggs. If you want more Easter craft ideas, this is the tutorial for my rustic DIY bunny sign .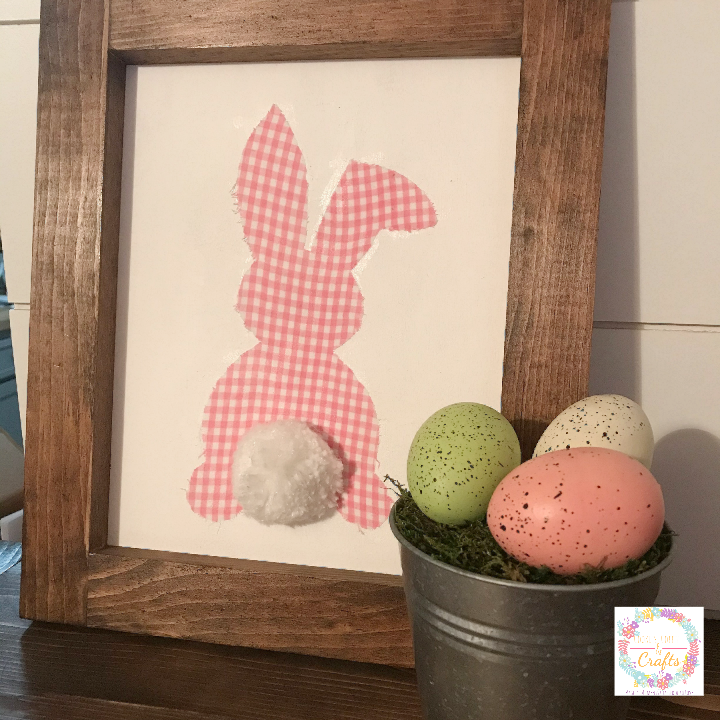 Check out what my fellow upcyclers created below!
You are invited to the Inlinkz link party!