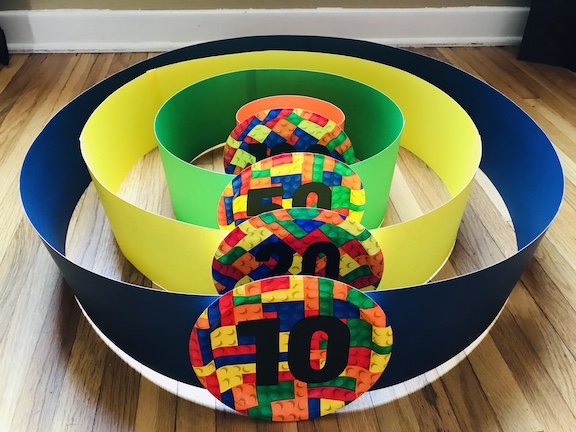 Note: As an Amazon Associate, I earn from qualifying purchases. If you click on a link from Amazon or another of my advertising affliates, I will earn a small commission at no additional cost to you. Please see my full disclosure policy here.
I have been getting ready for my son's LEGO Movie 2 themed birthday party for a few weeks now, working on it here and there. Now it's crunch time to finish up. The April Pinterest Challenge Blog Hop hosted by My Pinterventures is the perfect time to try out one of the many LEGO Birthday pins I have. The purpose of this Pinterest Challenge is to motivate all the participants of this hop (and you too) to not just pin, but to make it happen! This is my inspiration pin..
To join next month's #pinterestchallenge, click here to sign-up ⇒ May Pinterest Challenge
Let's meet this month's Pinterest Challenge hosts!
Erlene – My Pinterventures • Jenny – Cookies Coffee and Crafts
Lynne – My Family Thyme • Pili – My Sweet Things
T'onna – Sew Crafty Crochet • Julie – Sum of their Stories
Erin – The DIY Nuts • Roseann – This Autoimmune Life
Beverly – Across the Boulevard • Kristie – Love My Little Cottage
Ali – Home Crafts by Ali • Cherryl – Farm Girl Reformed
Leslie – Once Upon a Time & Happily Ever After • Terri – Our Good Life
Lauren – Mom Home Guide • Joanne – Our Unschooling Journey
Shirley – Intelligent Domestications • Gail – Purple Hues and Me
Audra – Renewed Projects • Kristie – Teadoddles • Alayna – Alayna's Creations
Marie – The Inspiration Vault • Susan – Suzerspace
Lydia – Lydia's Flexitarian Kitchen • Terrie – Decorate and More with Tip
Emily – Domestic Deadline • Marci – Stone Cottage Adeventures
This post contains affiliate links which means I may make a small comission of any sale that is made by clicking on any of the products with no cost to you. Your support is greatly appreciated.
This fun skeeball toss for kids had no directions on how to make it. It was easy enough to figure out from the pictures. I used a 4 pack of colored poster board that I found at Walmart for under $3 and a pack of LEGO plates from the dollar tree.

Supplies for LEGO Themed Skeeball Toss
4 Pack of Colored Poster Board
Ruler
Pencil
Double Sided Tape (this is similar to mine)

Hot Glue Gun/Glue
Black Card Stock

LEGO Plates
Cricut Maker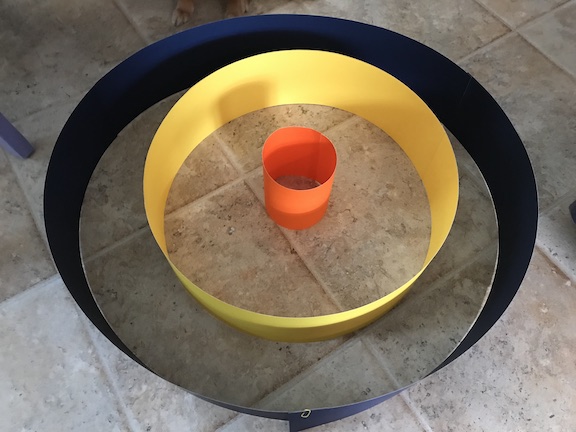 Let's Create a Skeeball Toss for Kids-LEGO Themed
I didn't measure the lengths of all the poster board pieces put together for each color. However I do have the amounts that I used for each color. To make the game, cut all the poster board pieces vertical the long length of the poster board. I made all my strips 5 inches wide. As I was creating it I put the pieces together and paper clipped them to make sure it looked right.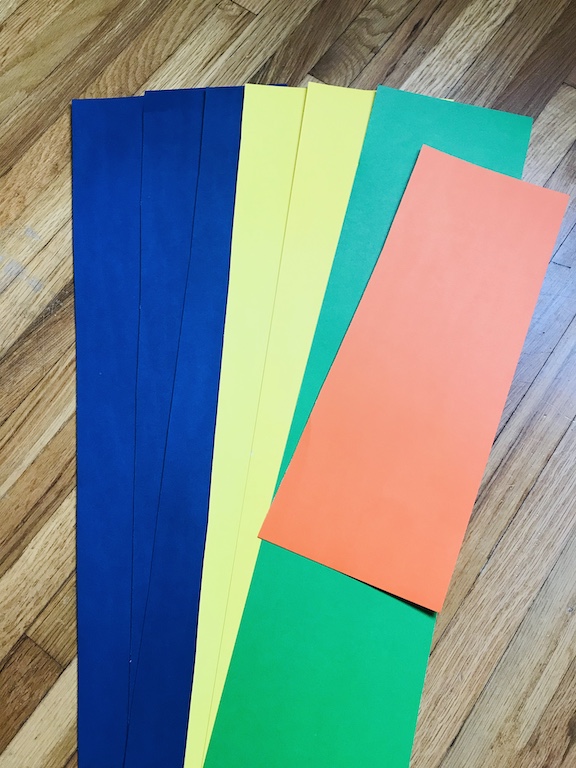 Blue Poster Board- 3 1/2 strips
Yellow Poster Board- 2 1/4 strips
Green Poster Board- 1 1/2 strips
Orange Poster Board- 3/4 of a strip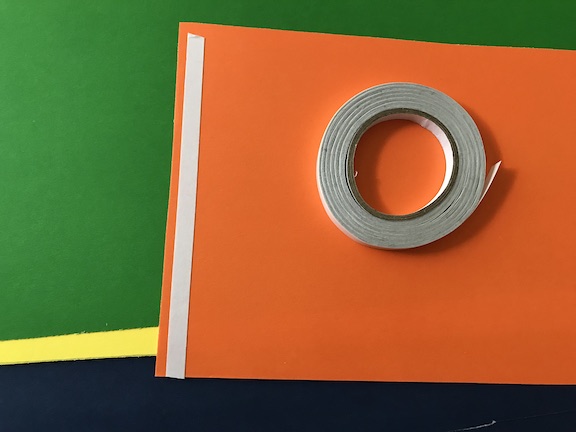 For connecting the poster board strips I used double sided tape. I tested the tape and left the game out for a couple hours on the floor. All the pieces stayed connected except for the orange one. so hot glue to the rescue. I did connect all of these pieces into rings and stored them which was not a good idea. The rings had to be bent back into circles. I would suggest laying them flat until you go to the play the game.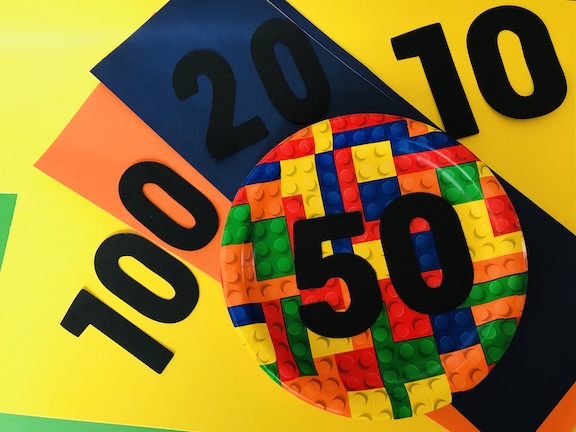 To add on the numbers, I used LEGO plates from Dollar Tree. Decorative plates don't have to be just for eating, use them for games and decor too. The Dollar Tree has a great selection for a LEGO party. I made the numbers using my Cricut Maker in black card stock and attached them to the plates. Then hot glue the plates to the rings. If you don't have a Cricut, print out the numbers, or use a stencil or stickers.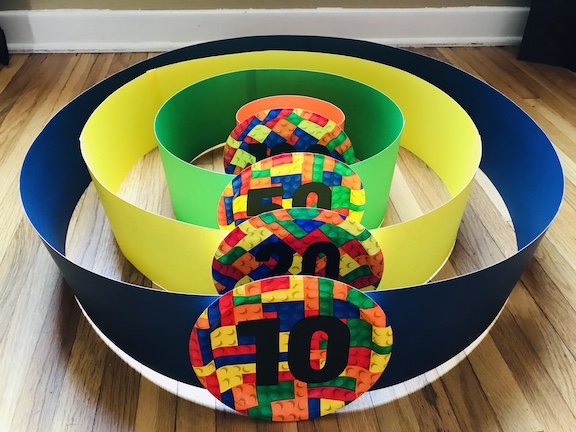 The kids will love it if they get a 100! To play the game you can use small bean bags, I wouldn't use super heavy ones, or small balls. We have the balls for inside a ball tent and those worked great too.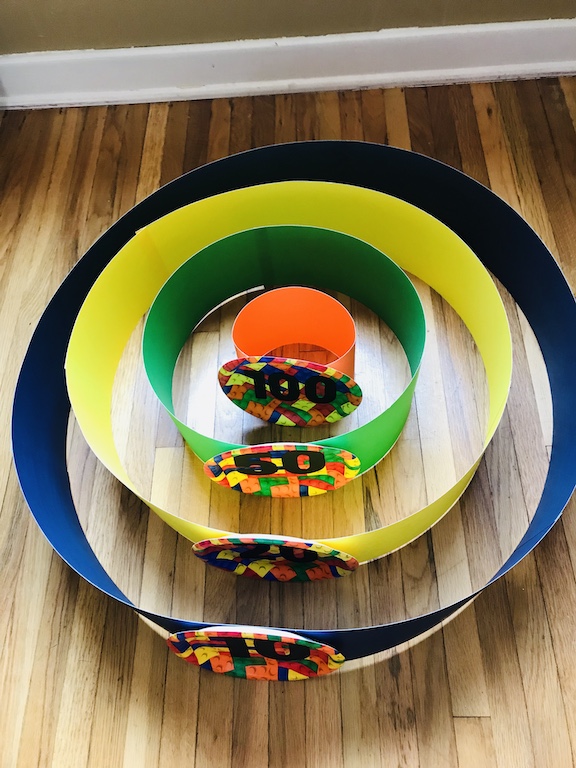 This game would be great for a class party at school or a carnival game day or to beat summer boredom. Do you know someone who would enjoy this?
Loading InLinkz ...