Rainbow St.Patrick's Day Sensory Bin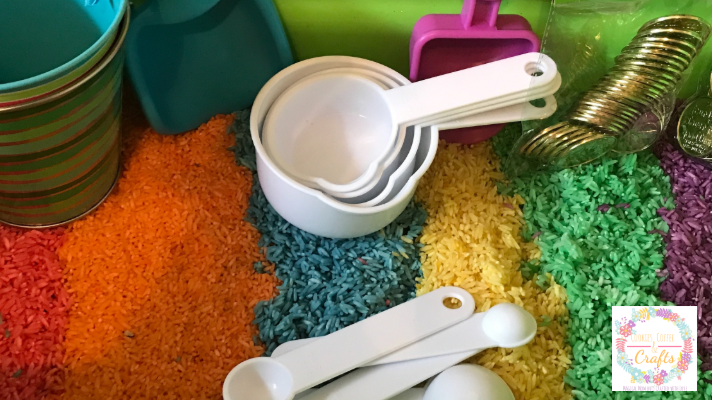 Note: As an Amazon Associate, I earn from qualifying purchases. If you click on a link from Amazon or another of my advertising affliates, I will earn a small commission at no additional cost to you. Please see my full disclosure policy here.
Get ready for leprechauns, gold, shamrocks, and rainbows because St. Patrick's Day is here. Today I am sharing my St.Patrick's Day Sensory Bin. The munchkins love playing in the sensory bins that I create, but there favorite one to play in was the rice at Halloween. For the St. Patrick's Day bin I decided to use rainbow rice since gold is found at the end of the rainbow.
This page contains affiliate links at no extra cost to you. Please see my full disclosure here.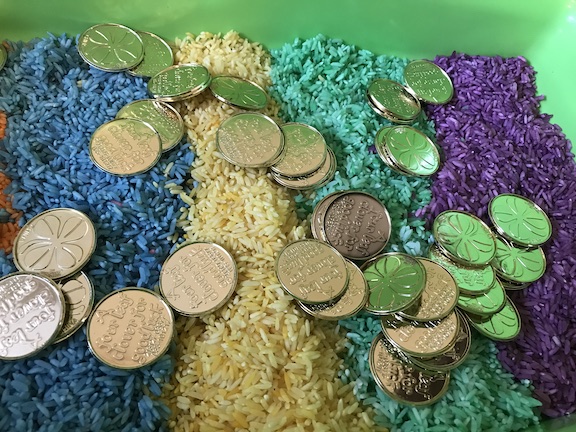 My 4 year old loved helping dye the rice and putting in the color drops and squishing, squeezing and shaking the bag to dye the rice. I made all the colors except for orange because I had orange rice downstairs in my sensory bin area from Halloween Sensory Bin.
How to Dye the Rainbow Rice for the Sensory Bin
cup of rice
tablespoon of vinegar
food coloring
sandwich bag
parchment paper or wax paper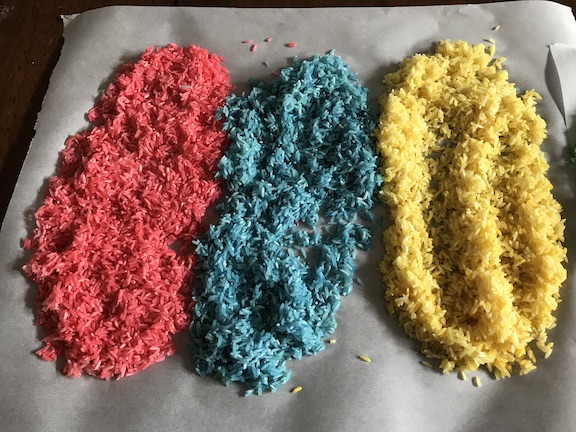 In the sandwich bag put the cup of rice, the vinegar, and the food coloring in and then squish and squeeze it. Then dump the rice out of the bag and spread it onto parchment paper or wax paper to dry.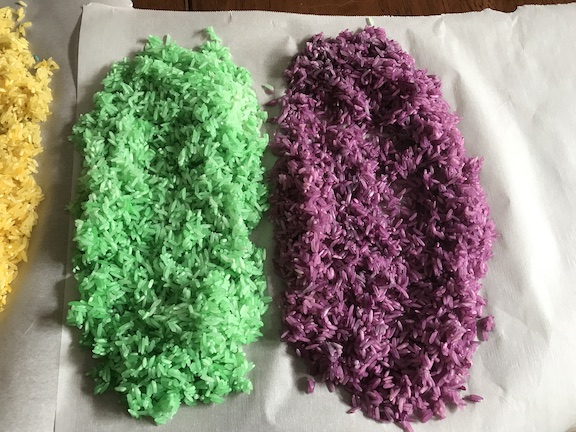 Your rainbow rice is going to look beautiful in the bin (even after the munchkins mix it all up).
Let's Create a St. Patrick's Day Sensory Bin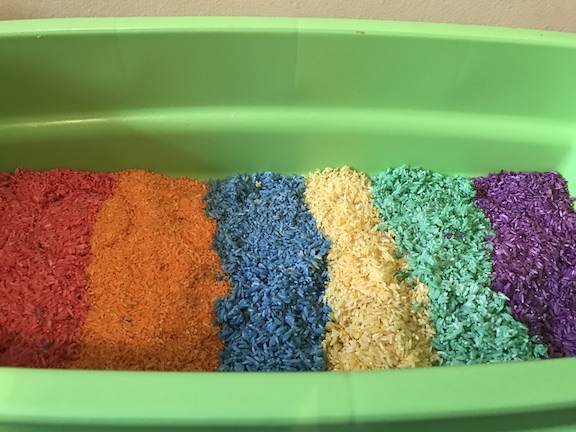 Our sensory bin always goes in our Little Tikes Garden Table
. I highly recommend this toy for any child toddler to kindergarten age. It is so much more then a garden table and can be played with throughout the year. This bin will have the rainbow rice and hidden in the rice will be shamrocks and gold of course. I tried finding little pots for the munchkins to put their gold in, but I couldn't find any in the price range I was willing to pay. That is also one of their favorite things about the sensory bin is the box, basket, bag, bucket to put their treasures in. For playing and digging in the rice I will put in measuring cups and spoons to use. I found the shamrocks, the gold coins, measuring cups, and spoons at the Dollar Tree.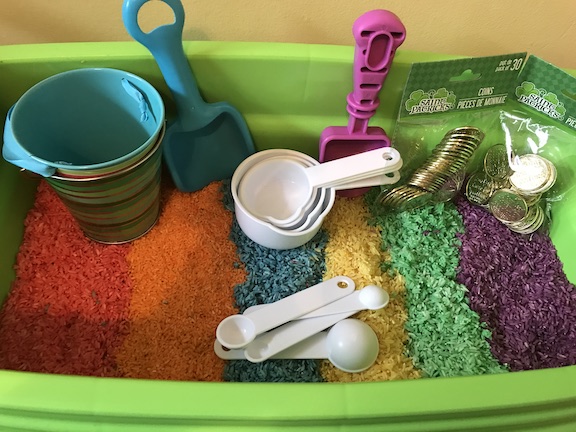 To get ready to play in the St. Patrick's Day sensory bin, we like to read books and learn about St. Patrick's Day, the colors of the rainbow, and learn about leprechauns and gold. This way the munchkins have an understanding of what St. Patrick's Day is.
For this bin we will work on color recognition and counting with the coins. It's also a great way to compare sizes with the measuring cups.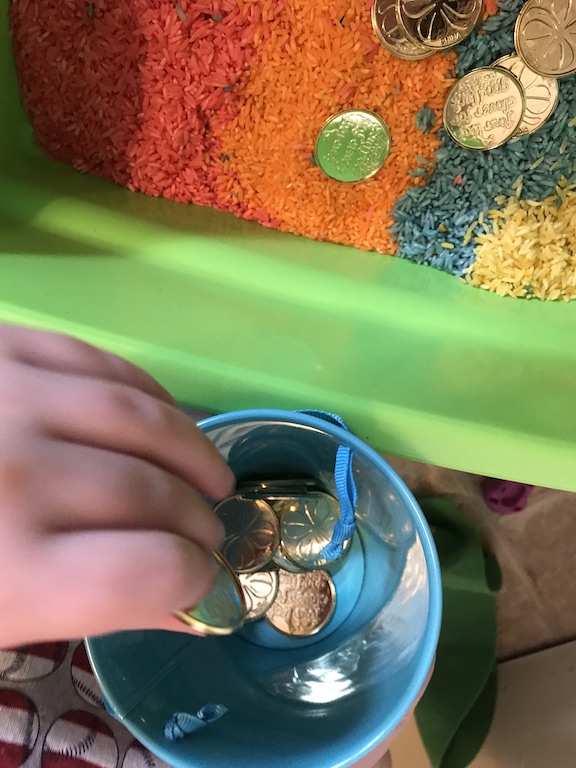 My son's favorite thing to do was count the coins and put them in his bucket and my daughter loves scooping the rice into her bucket. They played for hours talking to each other and sharing so well. Enjoy this fun St. Patrick's Day Sensory Bin.