5 Thanksgiving Crafts to Decorate Your Home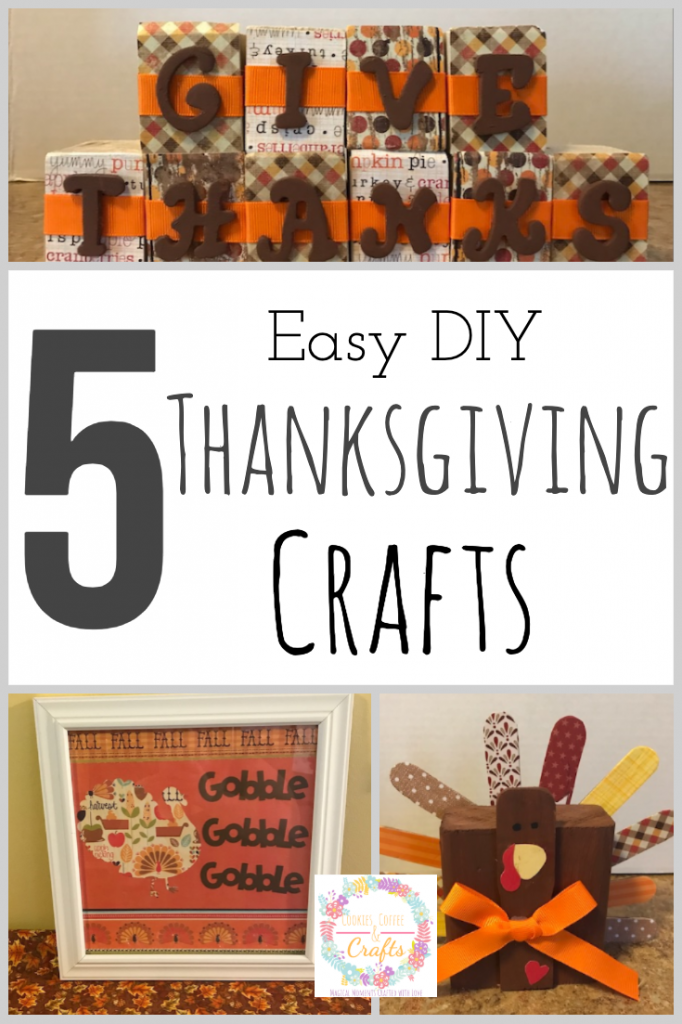 Note: As an Amazon Associate, I earn from qualifying purchases. If you click on a link from Amazon or another of my advertising affliates, I will earn a small commission at no additional cost to you. Please see my full disclosure policy here.
I love buying and creating holiday decorations especially ones for the fall. I go all out for Fall and Halloween and of course Christmas, but Thanksgiving felt like the forgotten holiday. I found 5 DIY Thanksgiving Crafts for my home and had to share them. They are simple, easy and affordable. If you love to decorate for Thanksgiving and fall, here are some more Thanksgiving Ideas you will love.
It was time for our house to be Thanksgiving ready, plus my son kept asking "Where are the turkeys?" I found some great crafts on Pinterest and created some of my own. These are truly my first crafts I started to make as decorations for our home. Cute, unique and creative Thanksgiving crafts are perfect for our home! Plus these crafts can withstand children.
Below are some affiliate links and I may make a commission for purchases made through the following links.
5 DIY Thanksgiving Crafts to Decorate Your Home
2×4 Wooden Turkey Craft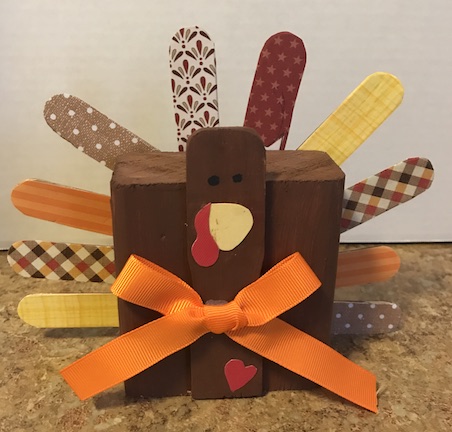 This turkey was so easy to make and create. It literally only takes a few minutes and then you have this cute turkey. It's amazing how cute turkey decorations are compared to the real thing. I love crafts that can be personalized like the paper of the turkeys feathers. You don't need a lot of paper for this craft, I used all scrap paper for this.
Simple Paper Turkey Thanksgiving Craft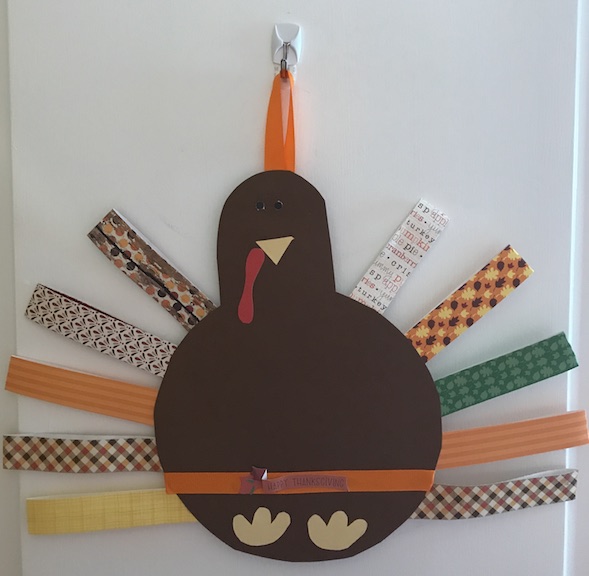 My favorite thing to craft with is paper. When I saw this turkey I knew I had to make this. Again use any paper you love to create the turkeys feathers. I'm a horrible artist (I really am) and I was trying to freehand the body for the turkey, it took several tries. Personally I love the uniqueness of creating this by drawing the pieces. Just remember to hang this turkey where it won't get wet.
Give Thanks Wooden Blocks Thanksgiving Craft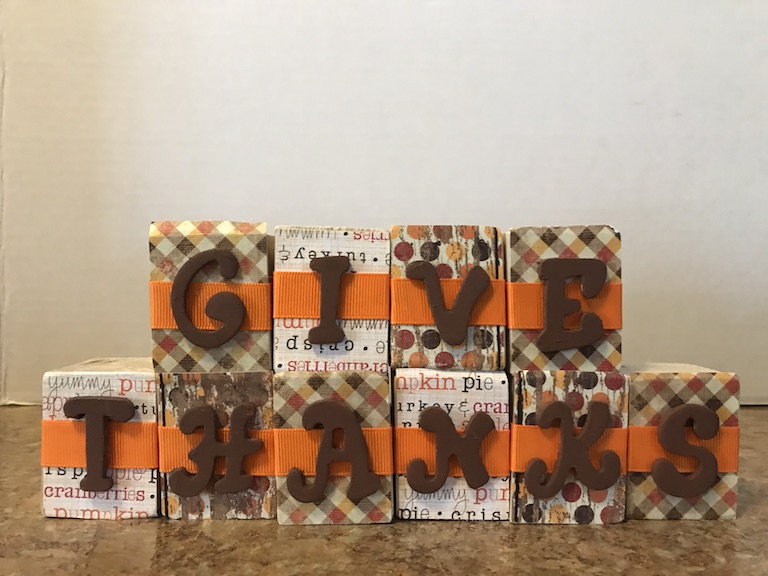 I created these using a crafting board I bought at home depot. My dad cut the cubes (blocks) and sanded them. I used Mod Podge to attach the paper to the blocks, added ribbon and the wooden letters. I painted the letters with acrylic paint and hot glued them onto the blocks. My children love these blocks and steal them from my decorations all the time and build with them. At least the blocks are not breakable and they are still looking good.
Thanksgiving Plates Decorating Idea
This is my newest decoration this year. I have this shelf in my kitchen that was my Grandmas and it's made for plates. The shelf is so special to me because my Grandpa built it and it's a huge reminder of them. I love that it hangs next to my table just as it did at my Grandmas house. Ok enough of that because I am starting to tear up.
The hardest part of this project was choosing the sayings to go on the plates. There are just so many good ones for Thanksgiving. I found the plates at the Dollar Tree in this pretty orange mid-tone color thats perfect for fall. Here is the link for the tutorial for the Thanksgiving Plates.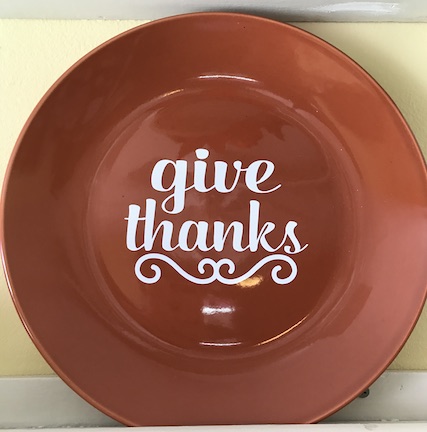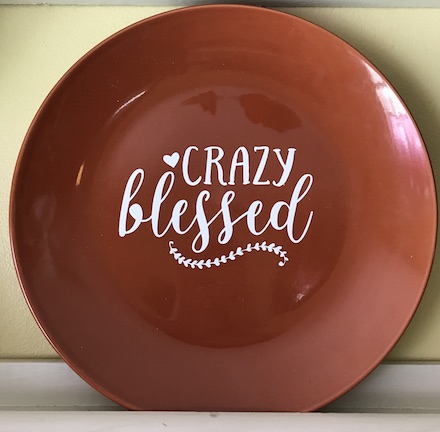 12×12 Paper Thanksgiving Craft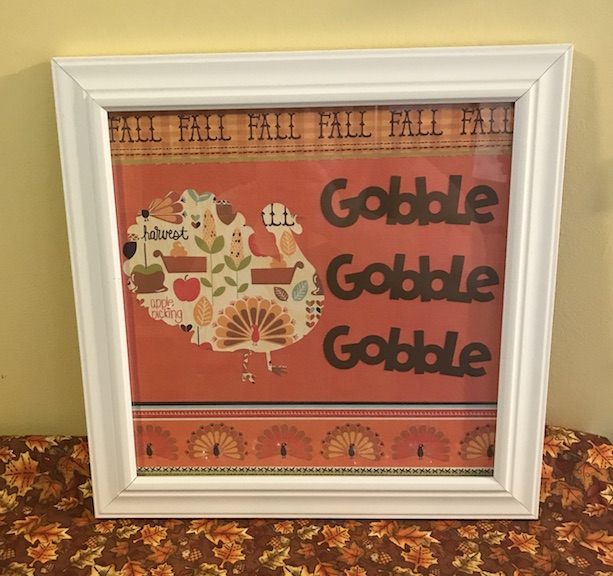 This was a fun project where I used paper from the All Season Paper stack from Hobby Lobby. It's a great stack for scrapbooking and crafting because it has all the holidays and seasons with a variety of papers that match. I use mine all the time. I used the paper for the top and bottom and then created the turkey and Gobble Gobble Gobble on my Cricut Explore. I glued everthing to the 12×12 orange card stock and my decoration is ready.
I create new papercrafts for this frame throughout the year. Here is the link for my post that shows other decorations I have made for this frame.
Have a terrific Thanksgiving! Enjoy your family, friends, and gobble til you wobble! If you make any crafts for Thanksgiving I would love to see them.