Wooden Pumpkin Blocks Idea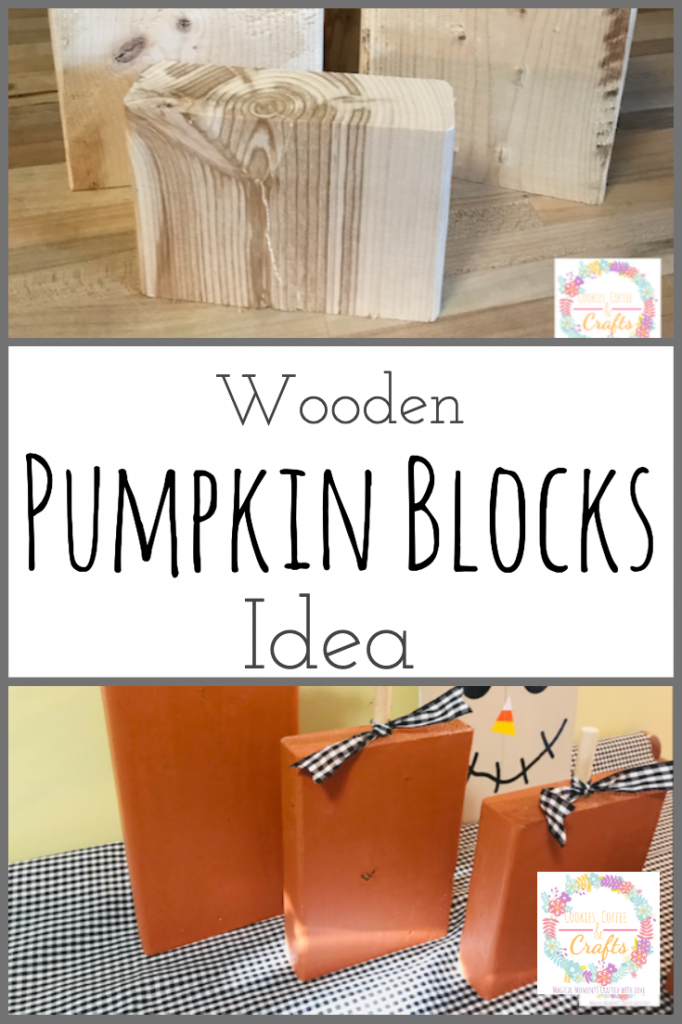 Note: As an Amazon Associate, I earn from qualifying purchases. If you click on a link from Amazon or another of my advertising affliates, I will earn a small commission at no additional cost to you. Please see my full disclosure policy here.
Who else loves crafting and creating with wood? I love creating signs, cut outs, holiday decorations and home decor. Seriously wood is not just for building furniture, you can make the cutest decorations. For this project, I went to our scrap wood collection to see what we had. In the pile my husband showed me some 2x6s that were leftover from building our sons loft bed. They were perfect to create some wooden pumpkin blocks.
This post contains affiliate links which means I may make a small comission of any sale that is made by clicking on any of the products with no cost to you. Your support is greatly appreciated.

Bring on the Crafts — A Craft & DIY Blog Hop
On the first Friday through Sunday of each month, a group of DIY and crafty bloggers join forces to create a fun craft or DIY project to share that follows a monthly materials theme. Together, with hosts Marie from Elle Marie Home and Habiba from Craftify My Love, they share the #BringontheCrafts blog hop with you. September's theme is Wood! Each blogger chooses their own craft to make as long as they love it and it uses Wood for the project.
Our September Co-hosts
Jenny at Cookies, Coffee and Crafts • Gail at Purple Hues and Me
Beverly at Across the Blvd
Join in on the fun! If you'd like to participate next month, you can request to join our Bring on the Crafts Facebook Group. Next month's theme is Paint!
Not a blogger, but a creative mind none the less!? Don't worry, Share your awesome creations in our Craft Cult Facebook Group. This is also a great place to ask craft & DIY related questions and find inspiration for your next project.
The wooden pumpkin blocks are perfect for fall decor and Thanksgiving. You can easily make a set with faces too for Halloween, which I might be doing. This is seriously a simple and easy craft idea for fall decor. Even if you don't cut wood, you can always ask to have your wood cut at your local home improvement store. For about $3 you can make many DIY painted pumpkins. You can make white pumpkins, orange pumpkins or get creative with your pumpkin decor.
Supplies for Painted Pumpkins
2×6 (cut in the sizes below)
Miter Saw
Paint Brush
Sherwin Williams Pennywise
Wooden Dowel
Wood Glue
Let's Create Wooden Pumpkin Blocks for Fall Decor
It was a really hard choice to decide what to do with the wooden block pumpkins, but I decided to go with my favorite fall color. It's pennywise from Sherwin Williams. My daughter told me I should make them pink, but she wants everything pink.
The pumpkin sizes are:
4 inches
6 inces
7.25 inches
10.5 inches
This is a really easy tutorial and you will learn how to make these in no time at all. Who's ready for a quick, easy craft idea?
Get started by painting all of your scrap wood blocks with the paint color of your choice. I did two coats on all of my wood blocks.
To turn them into pumpkins it was time to add the stems. I used a 7/16 dowel, drilled a hole in the top and used wood glue to secure the stems.
To give the pumpkins a touch of buffalo check, I tied some ribbon around the stems to match my other fall decor. Isn't it amazing how a piece of wood can be transformed with a little creativity?
It's the perfect way to decorate your home on a budget for the fall. The pumpkins look great together or separated. How do you think you would decorate with them?