3 Elf on the Shelf Craft Ideas to Try (easy to make in under 10 minutes)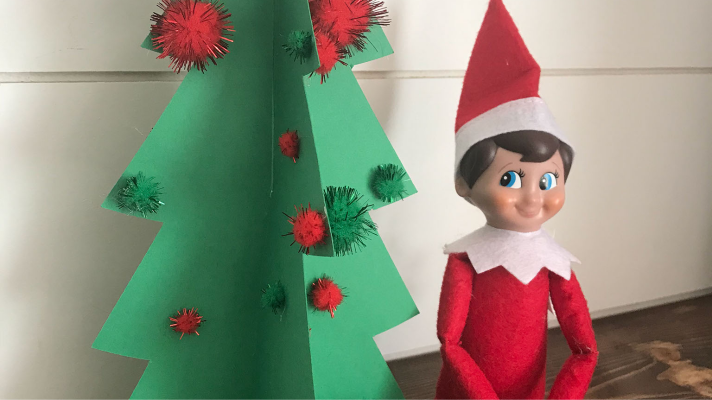 Note: As an Amazon Associate, I earn from qualifying purchases. If you click on a link from Amazon or another of my advertising affliates, I will earn a small commission at no additional cost to you. Please see my full disclosure policy here.
I never planned on getting an Elf on the Shelf, but when my oldest started school (you know what happened). We had to get one and started this crazy journey of elf ideas. I know all of us grown ups out there get elf fatigued and sometimes your tired brain can't think of a good idea. This year I wasn't going to let that happen and came up with 3 Elf on the Shelf craft ideas that anyone can make. With a few simple supplies and about 10 minutes, you can make these.
Honestly I was rushing to get these made and hiding pictures on my phone so the kids wouldn't see them. The COVID numbers have increased here and the kids are now doing remote learning. At the end of the post I'll be sharing the my first 14 days of Christmas Elf Ideas and I hope you find them helpful.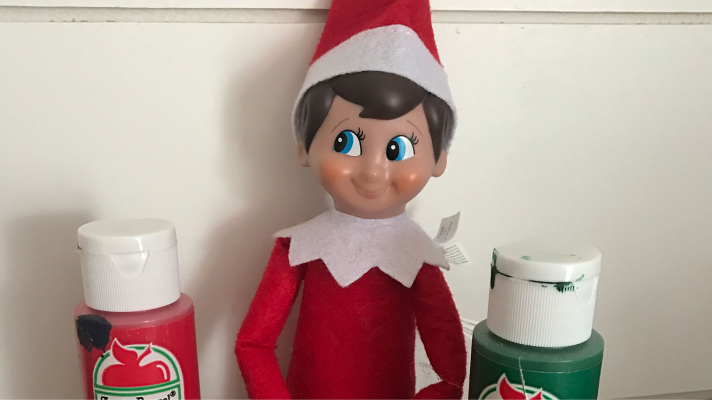 Super easy ideas that only take a few minutes to create lasting magical Christmas memories is my goal. I know the kids are going to love these ideas. I also thought of all of the grown ups out there too. These are all made with simple supplies you may have or can grab at the Dollar Tree or the grocery store.
Let's Create 3 Elf on the Shelf Craft Ideas to Try
Elf on the Shelf Craft Ideas: Christmas Tree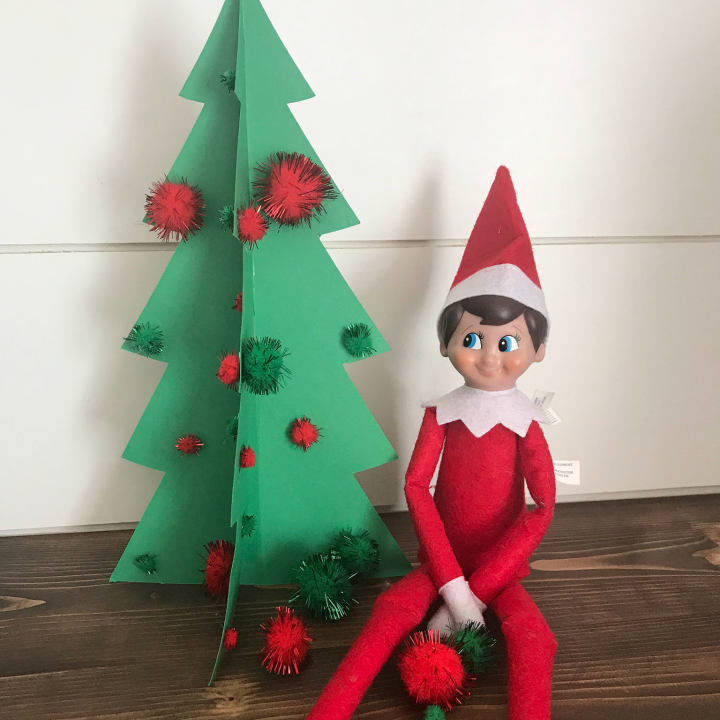 Materials for Christmas Tree
Green Card Stock or Poster Board
Double Sided Tape
Hot Glue Gun/Sticks
Red and Green Pom Poms
I made the Christmas Tree on green card stock with my Cricut, but to make this you just have to trace 2 Christmas trees the same size. Cut one down the center at the top about 6 inches. Then cut the other from the bottom up about 6 inches and slide them together. Or just print a 3D Christmas tree and assemble. It's really easy to do, but make sure you use a heavier paper like card stock or poster board so it will stand.
At the Dollar Tree I found some red and green pom poms and hot glued them to the tree. I'll save a few extras and put them around the elf like the kids caught him in the middle of decorating.
Elf on the Shelf Craft Idea to Make a Ladder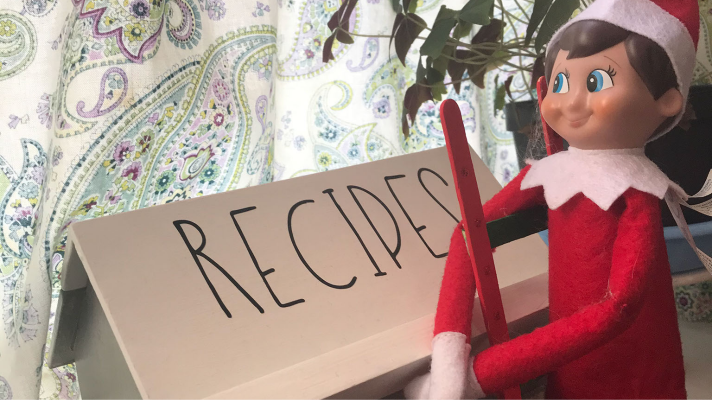 Materials for Elf's Ladder
Popsicle Sticks
Scissors
Flag Red Apple Barrel Acrylic Paint
Christmas Green Apple Barrel Acrylic Paint
Hot Glue Gun/Glue Sticks
Red Glitter Glue (this is similar)
Start by cutting 4 popsicle sticks in half. How many popsicles you cut will depend on the size of your ladder. I painted the popsicles cut in half green and the ladder sides (full popsicle sticks) in red. Craft paint dries really fast. Now I decided to add on a little glitter and I did let it dry over night, but that's up to you. It was red glitter glue in a bottle and I just put dots along the red popsicle sticks.
Once it was dry, I hot glued the red sides together, just overlapping a little with the hot glue gun. Next I glued on the rings of the ladder every 2 inches.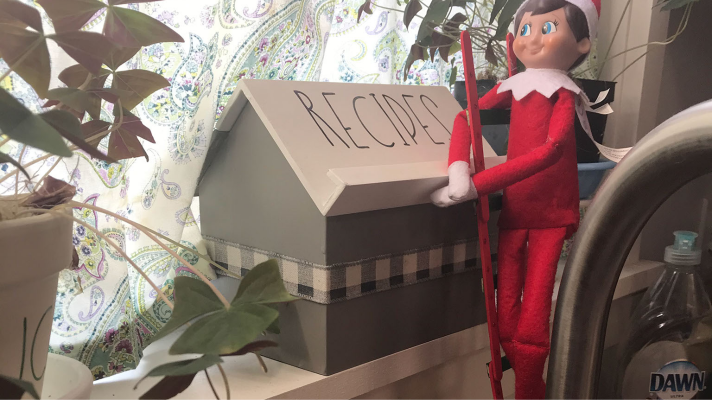 Your mischievous elf can go anywhere now with his/her new ladder.
Elf on the Shelf Snow Fort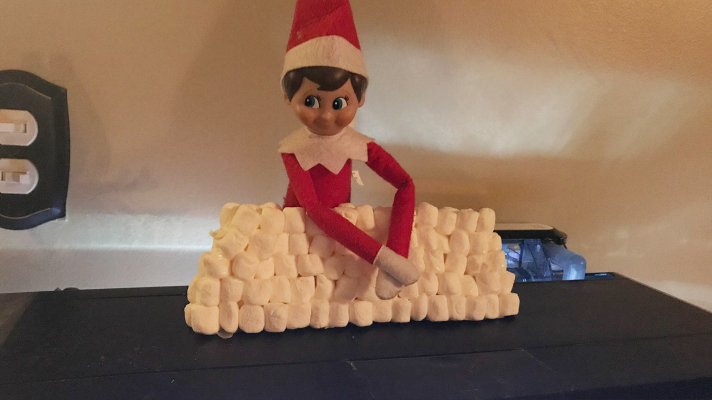 Materials for Elf Snow Fort
Mini Marshmallows
Cupcake Liner
Parchment or Wax Paper
I will warn you this one can be a little messy, but super easy to do. Put some mod podge (you can find it at the Dollar Tree) in a cupcake liner. Lay out a piece of parchment paper or wax paper to build the snow fort on.
Dip the marshmallows on the side into the mod podge and start glueing them together. Then keep adding on rows on top of each other. Our Elf is going to have a snowball fight with his Arctic Fox Pet and maybe a few other friends.
Set the snow fort aside and let it dry. It will dry sturdy and the kids will love it. If it gets stuck to the paper, just cut around it.It will look like snow since the paper is white.
These Elf on the Shelf Craft ideas are new this year for us and I hope they inspire you for some Elf on the Shelf fun!
14 Days of Elf on the Shelf Ideas
1- Arriving with his new Arctic Fox Elf Pet in the middle of the kitchen table
2- Sitting on a shelf with wrapped toy advent calendars for each of the kids
3- Sitting in the kitchen on our letter S or anywhere up high
4- Hanging from the bookcase with a ribbon (like he went bungee jumping)
5- Elf on the Shelf in the living room
6- Marshmallow Snow Fort being built- put the fort with some marshmallows around the Elf
7- Snowball Fight with mini marshmallows and some toy friends
8- Playing a game with the Arctic Fox
9- Peeking out of the Christmas Tree
10- Visiting the kids bedroom
11- Visiting the kids bedroom (have the elf visit each of your kids bedrooms)
12- Sitting in the bathroom stuck in a toilet paper roll that's decorated for Christmas
13- Decorating a Christmas Tree with pom poms
14- Climbing a ladder to some place high